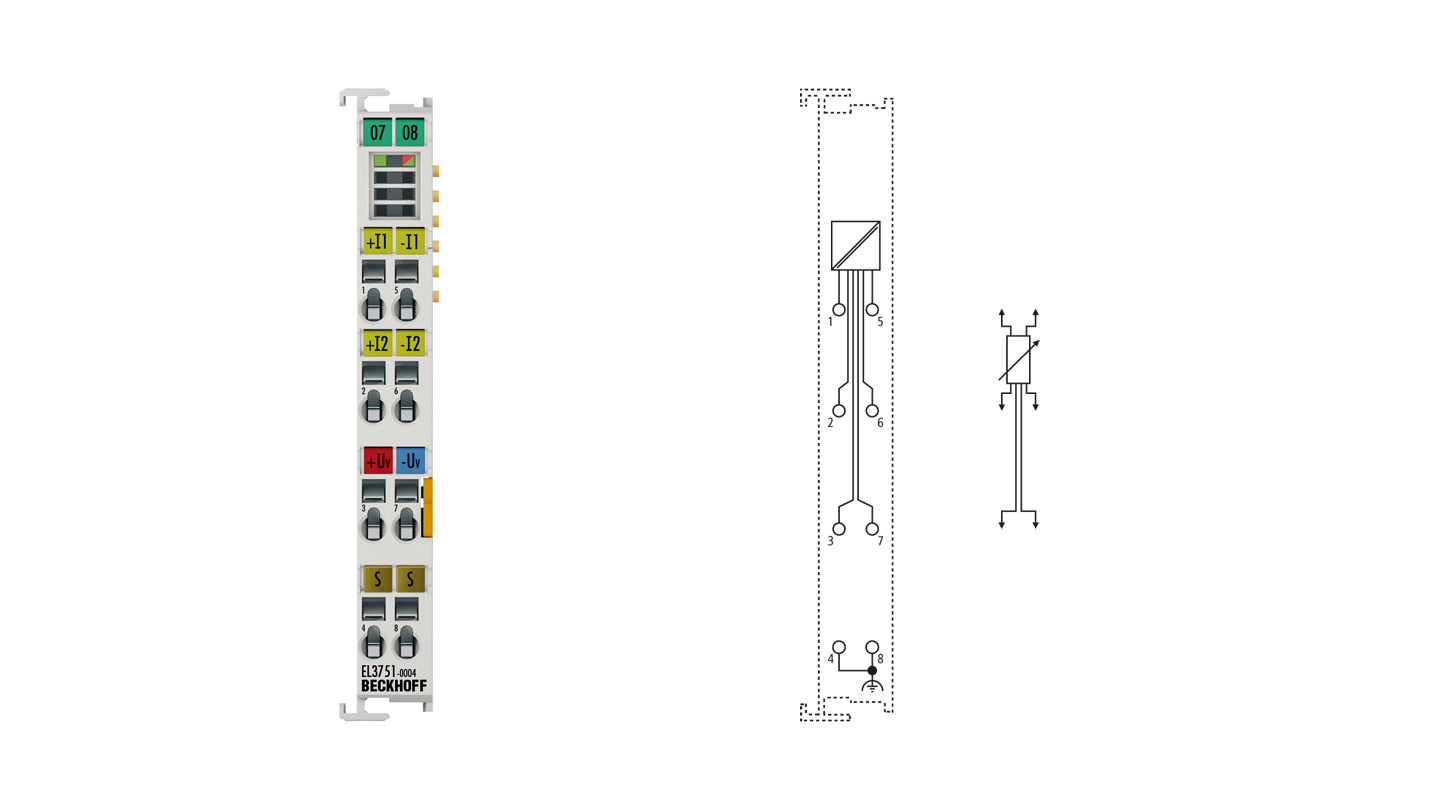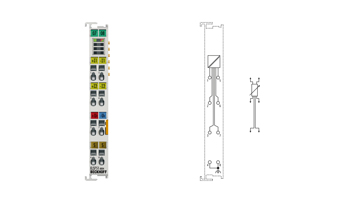 EL3751-0004 | EtherCAT Terminal, 1-channel analog input, temperature, RTD (Pt100), 24 bit, 10 ksps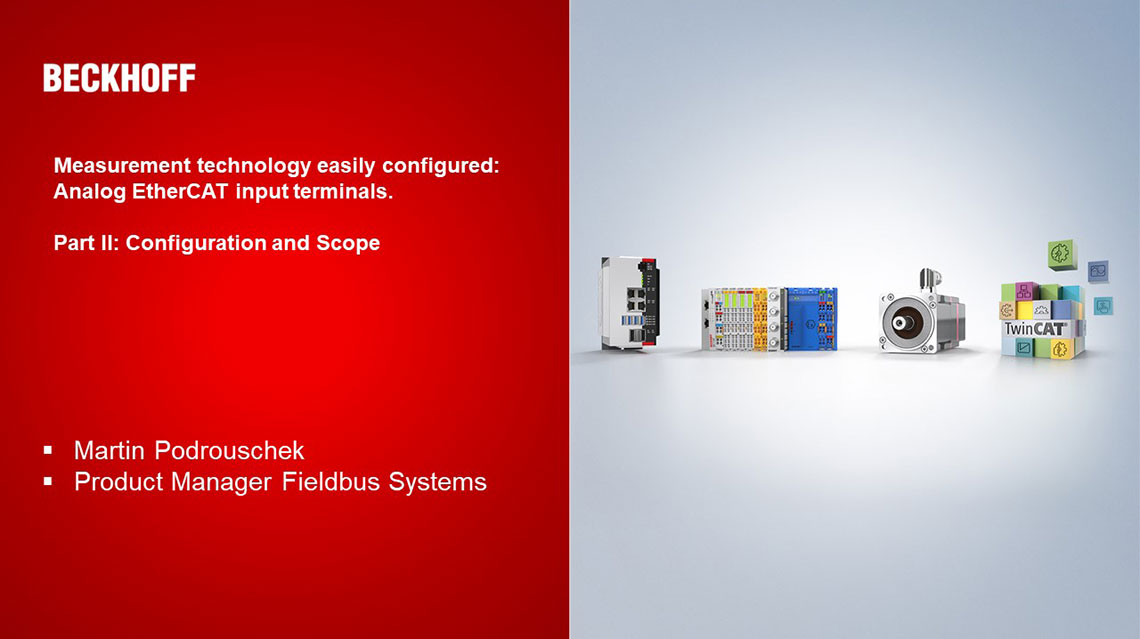 Measurement technology easily configured: Analog EtherCAT input terminals.
Measurement technology simply integrated: With the analog EtherCAT Terminals.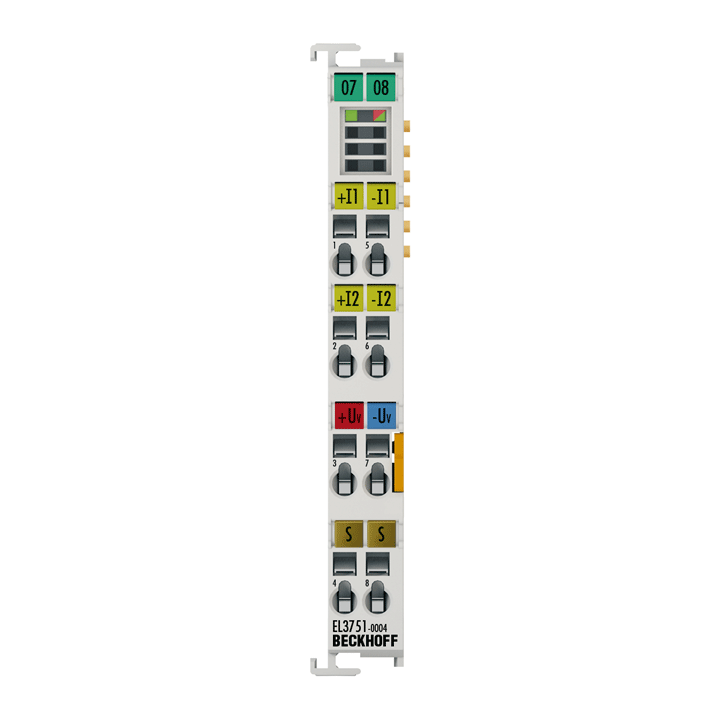 The EL3751-0004 analog input terminal is a variant of the EL3751 multi-functional terminal that has been reduced to resistance or temperature measurement (RTD). The EL3751-0004 measures to 5 kΩ full scale value in 2-/3-/4-wire connection. RTD temperature sensors (Pt100/1000, NI, KTY etc.) can also be connected.
The EL3751-0004 is particularly suitable for fast and highly accurate temperature measurements with a 10 ksps sampling rate. Even demanding temperature measurements are possible with the two freely adjustable numerical filters up to max. 39th order FIR/6th order IIR and the freely adjustable scaler with support point table.
Product information
| Technical data | EL3751-0004 |
| --- | --- |
| Number of inputs | 1 |
| Power supply | via the E-bus |
| Technology | |
| Signal type | differential |
| Oversampling factor | n = 1…64 |
| Distributed clocks | yes |
| Distributed clock precision | << 1 µs |
| Internal resistance | > 4 MΩ |
| Input filter limit frequency | 3 kHz |
| Dielectric strength | max. 36 V |
| Connection method | 2-, 3-, 4-wire |
| Conversion time | 100 µs/10 ksps |
| Measuring range, nominal | 0…5 kΩ, RTD, Pt100/Pt1000, Ni, KTY |
| Measuring range, technical | generally 107 % of the nominal measuring range, see documentation |
| Resolution | 24 bit (incl. sign) |
| Measurement error/ uncertainty | typ. ±0.01 % relative to the respective full scale value @ 23 °C in some measuring ranges, see documentation |
| Temperature coefficient | typ. < 10 ppm/K, see documentation |
| Electrical isolation | 500 V (E-bus/signal voltage) |
| Current consumption power contacts | – |
| Current consumption E-bus | typ. 260 mA |
| Configuration | no address or configuration setting |
| Special features | parameterizable, ExtendedRange 107 %, free numeric filter, TrueRMS, integrator/differentiator, non-linear scaling, PeakHold |
| Weight | approx. 65 g |
| Operating/storage temperature | 0…+55 °C/-25…+85 °C |
| Relative humidity | 95 %, no condensation |
| Vibration/shock resistance | conforms to EN 60068-2-6/EN 60068-2-27 |
| EMC immunity/emission | conforms to EN 61000-6-2/EN 61000-6-4 |
| Protect. rating/installation pos. | IP20/variable |
| Approvals/markings | CE, UL, ATEX, IECEx |
Housing data
EL-12-8pin
Design form
compact terminal housing with signal LEDs
Material
polycarbonate
Dimensions (W x H x D)
12 mm x 100 mm x 68 mm
Installation
on 35 mm DIN rail, conforming to EN 60715 with lock
Side by side mounting by means of
double slot and key connection
Marking
labeling of the BZxxx series
Wiring
solid conductor (s), flexible conductor (st) and ferrule (f): spring actuation by screwdriver
Connection cross-section
s*: 0.08…2.5 mm²,
st*: 0.08…2.5 mm²,
f*: 0.14…1.5 mm²
Connection cross-section AWG
s*: AWG 28…14,
st*: AWG 28…14,
f*: AWG 26…16
Stripping length
8…9 mm
Current load power contacts
Imax: 10 A
*s: solid wire; st: stranded wire; f: with ferrule