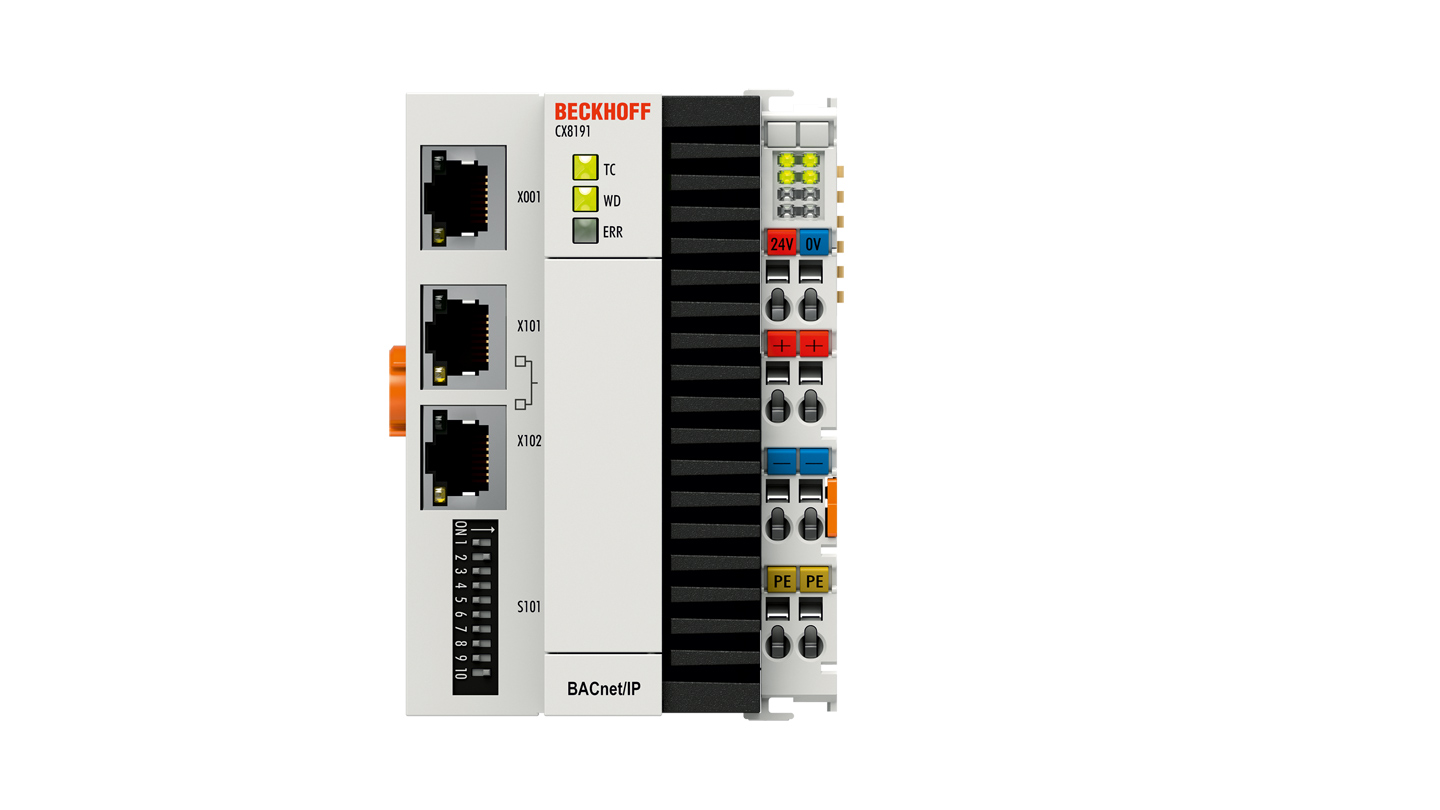 Power LEDs




E-bus or K-bus

Coupler
supply

Input for
power contacts



Power contacts


Front flap


Ethernet port


Link/Act


Ethernet RJ45 (switched)


Link/Act


Ethernet RJ45 (switched)


Address selector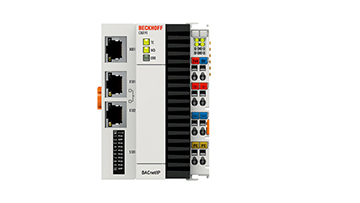 CX8191 | Embedded PC with BACnet/IP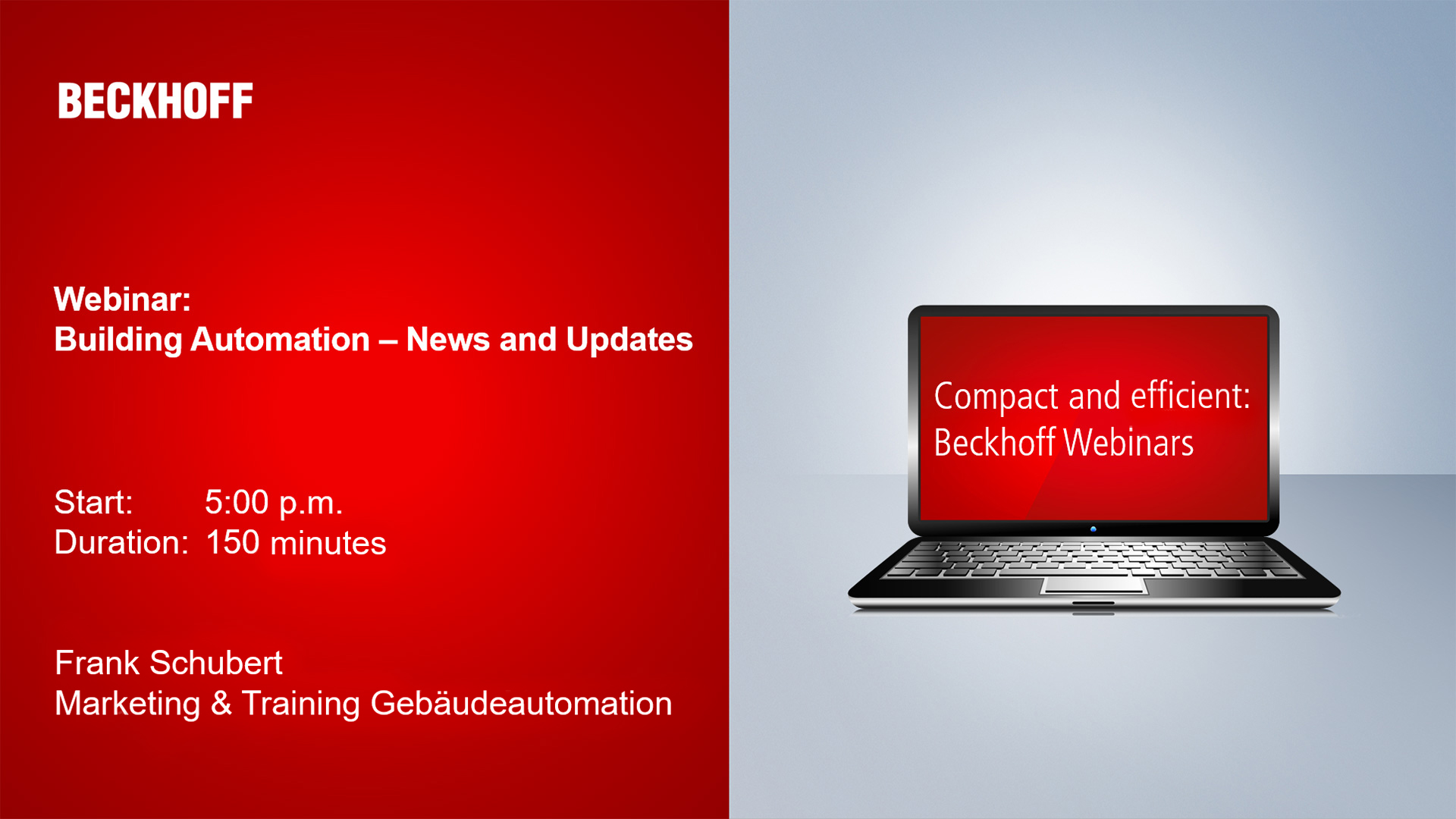 Building Automation – News and Updates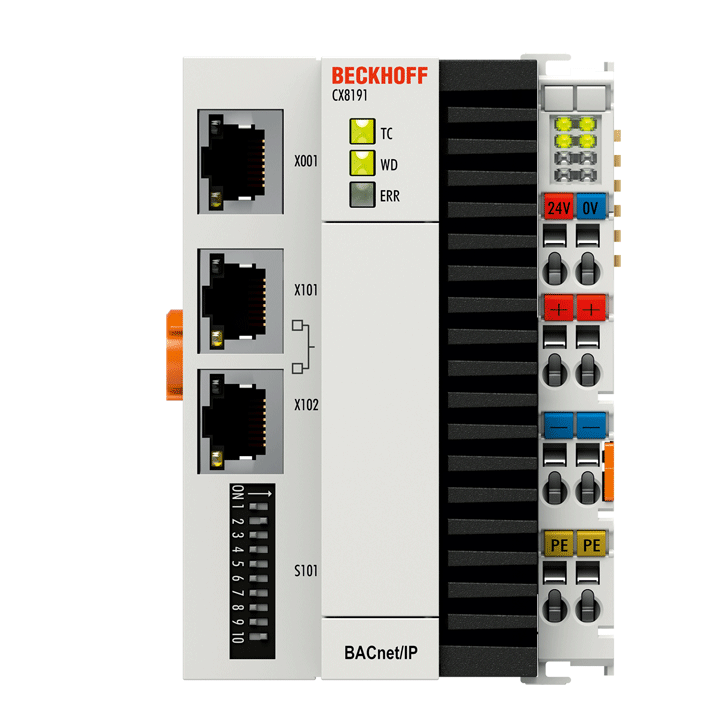 The CX8191 is a control system with a switched Ethernet port. It supports the BACnet protocol. E-bus or K-bus terminals can be attached as required; the CX8191 automatically recognizes the type of I/O system connected during the start-up phase.
The control system is programmed with TwinCAT 3 via the fieldbus interface or the additional Ethernet interface. TwinCAT 3 licenses must be ordered via the TwinCAT 3 price list. The BACnet license is already installed on the device and does not need to be ordered separately.
BACnet (Building Automation Control Network) is a standardized, manufacturer-independent communication protocol for building automation. Areas of application include HVAC, lighting control, safety and fire alarm technology.
In conjunction with the EL6861 BACnet-MS/TP terminals, the CX8191 can act as a router to MS/TP networks including support for several MS/TP networks.
Further TwinCAT 3 functions and protocols are available for the CX8191, for example OPC UA, MQTT, Modbus TCP or Modbus RTU. All functions and protocols can be found in the TwinCAT product finder if you set the filter under TwinCAT 3 platform level to P20.
The CX8191 is a virtually universal device that can be used very flexibly, from control tasks through to gateway functions.
Product information
| Technical data | CX8191 |
| --- | --- |
| Processor | ARM Cortex™-A9, 800 MHz (TC3: 20) |
| Number of cores | 1 |
| Flash memory | slot for microSD card, 512 MB included (expandable) |
| Main memory | 512 MB DDR3 RAM (not expandable) |
| Persistent memory | 1-second UPS (for 1 MB persistent data) |
| Interfaces | 1 x RJ45 10/100 Mbit/s, 1 x bus interface |
| Bus interface | 2 x RJ45 (switched) |
| Data transfer rates | 100 Mbit/s |
| Diagnostics LED | 1 x TC status, 1 x WD, 1 x error |
| Clock | internal battery-backed clock for time and date (battery behind the front flap, exchangeable) |
| Operating system | Windows Embedded Compact 7 |
| Control software | TwinCAT 3 runtime (XAR) |
| I/O connection | E-bus or K-bus, automatic recognition |
| Power supply | 24 V DC (-15 %/+20 %) |
| Current supply E-bus/K-bus | 2 A |
| Max. power consumption | 4 W |
| Max. power consumption (with loading UPS) | 9 W |
| Dimensions (W x H x D) | 71 mm x 100 mm x 73 mm |
| Weight | approx. 230 g |
| Operating/storage temperature | -25…+60 °C/-40…+85 °C |
| Relative humidity | 95 %, no condensation |
| Vibration/shock resistance | conforms to EN 60068-2-6/EN 60068-2-27 |
| EMC immunity/emission | conforms to EN 61000-6-2/EN 61000-6-4 |
| Protection rating | IP20 |
| Approvals/markings | CE, UL |
| TwinCAT 3 platform level | Economy (20); please see here for an overview of all the TwinCAT 3 platform level |
| Options | |
| --- | --- |
| CX1900-0123 | 1 GB microSD card, instead of 512 MB microSD card |
| CX1900-0125 | 2 GB microSD card, instead of 512 MB microSD card |
| CX1900-0127 | 4 GB microSD card, instead of 512 MB microSD card |
| CX1900-0129 | 8 GB microSD card, instead of 512 MB microSD card |
| CX1900-0131 | 16 GB microSD card, instead of 512 MB microSD card |
Accessories
CX1900-0102
Spare battery suitable for CX10x0, CX81x0, CX5xxx, CX90x0, CX20xx
– lithium button cell type CR2032, 3V/225 mAh
– follow polarity when installing
CX1900-0122
512 MB microSD card
CX1900-0124
1 GB microSD card
CX1900-0126
2 GB microSD card
CX1900-0128
4 GB microSD card
CX1900-0130
8 GB microSD card
CX1900-0132
16 GB microSD card