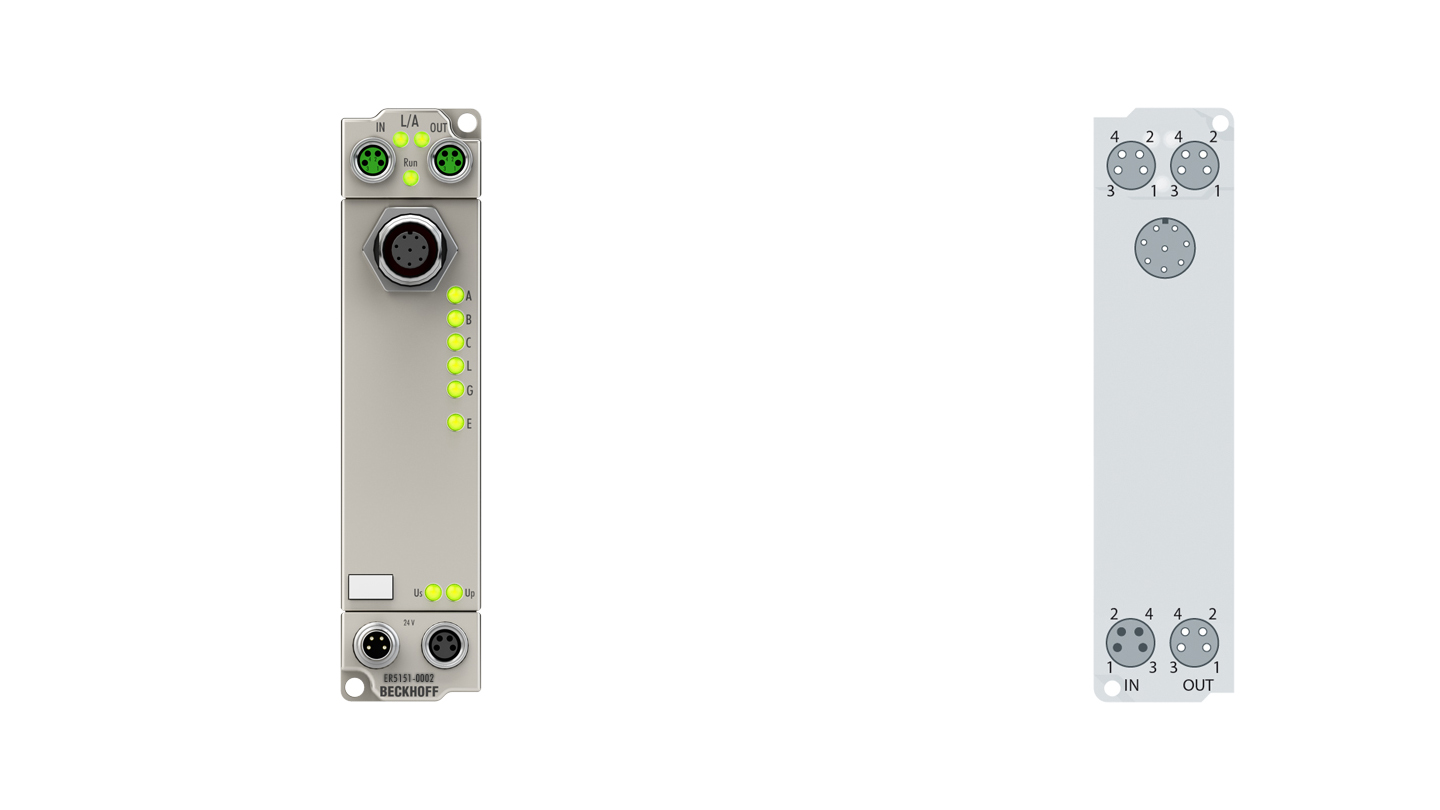 EtherCAT signal input


EtherCAT signal output


M12 I/O connection sockets


Signal status display
Power supply status display:






Power supply feed


Power supply downstream
connection
1 | Tx+
2 | Rx+
3 | Rx-
4 | Tx-
1 | GND
2 | Enc_Supply
3 | A
4 | /Error
5 | B
6 | Latch
7 | C
8 | Gate
1 | +24 V DC U
S
2 | +24 V DC U
P
3 | GND
4 | GND
Top view
Connector assignment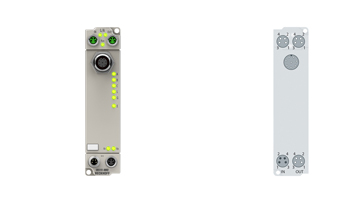 ER5151-0002 | EtherCAT Box, 1-channel encoder interface, incremental, 24 V DC HTL, 1 MHz, M12, zinc die-cast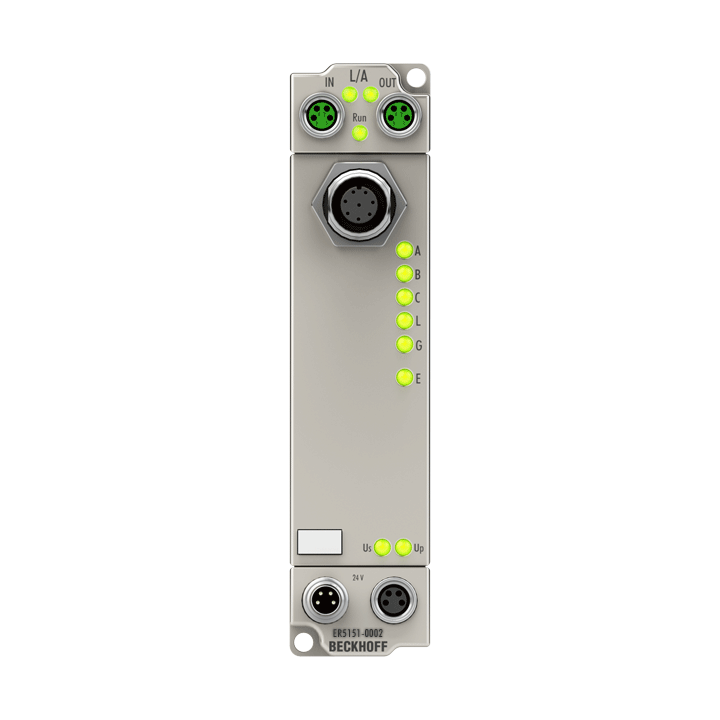 The ER5151-0002 EtherCAT Box is an interface for the direct connection of incremental encoders with 24 V DC inputs. A 32/16 bit counter with a quadrature decoder and a 32/16 bit latch for the zero pulse can be read, set or enabled. Interval measurement with a resolution of up to 100 ns is possible.
Due to the optional interpolating microincrement function, the ER5151-0002 can supply even more precise axis positions for dynamic axes. In addition, it supports the synchronous reading of the encoder value together with other input data in the EtherCAT system via high-precision EtherCAT distributed clocks (DC). The encoder is connected via an 8-pin M12 socket.
The EtherCAT Box modules with zinc die-cast housing are ready for use in harsh industrial and process environments. With the fully sealed design and metal surfaces the ER series is ideal for applications requiring enhanced load capacity and protection against weld spatter, for example.
Product information
Technical data
ER5151-0002
Protocol
EtherCAT
Bus interface
2 x M8 socket, shielded, screw type
Technology
incremental encoder interface, differential (RS422), single-ended (TTL), counter, pulse generator
Connection technology
M12 x 1, 5-pin, a-coded
Number of channels
1
Connection encoder/sensor
M12, screw type, 8-pin
Encoder operating voltage
24 V DC, single-ended
Nominal voltage
24 V DC (-15 %/+20 %)
Encoder output current
0.5 A
Sensor supply
24 V DC/0.5 A, short-circuit proof
Counter
1 x 16/32 bit switchable
Limit frequency
4 million increments/s (with 4-fold evaluation)
Quadrature decoder
4-fold evaluation
Zero-pulse latch
1 x 16/32 bit switchable
Commands
read, set, enable
Distributed clocks
yes
Power supply connection
feed: 1 x M8 male socket, 4-pin; downstream connection: 1 x M8 female socket, 4-pin
Current consumption from U

S

typ. 130 mA + load
Electrical isolation
500 V
Weight
approx. 265 g
Operating/storage temperature
0…+55 °C/-25…+85 °C
Vibration/shock resistance
conforms to EN 60068-2-6/EN 60068-2-27
EMC immunity/emission
conforms to EN 61000-6-2/EN 61000-6-4
Approvals/markings
CE, UL
Protect. rating/installation pos.
IP65/66/67 (conforms to EN 60529)/variable
| Housing data | 8 x M8, 4 x M12 |
| --- | --- |
| Dimensions (W x H x D) | 30 mm x 126 mm x 26.5 mm |
| Material | zinc die-cast |
| Installation | 2 fixing holes 3.5 mm diameter for M3 |