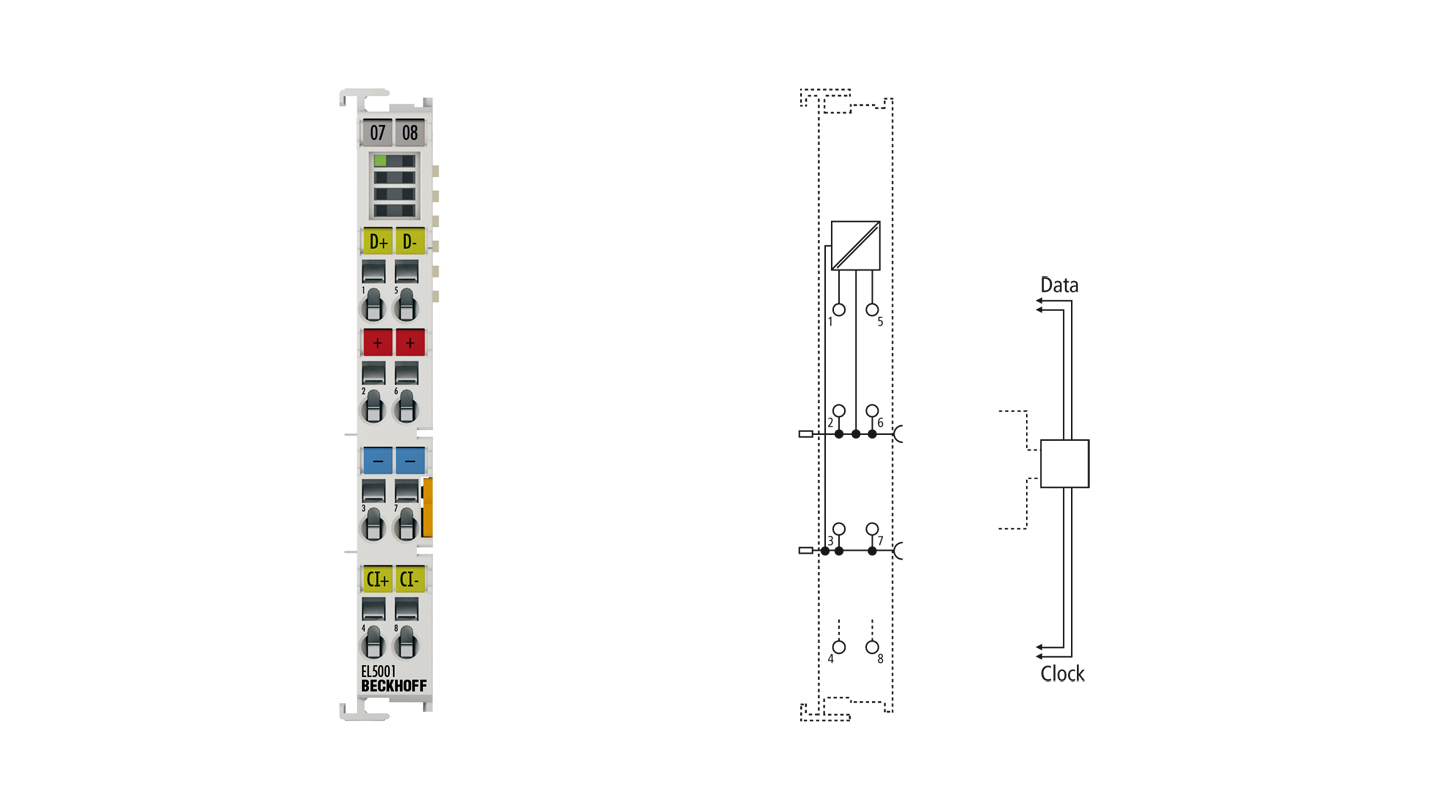 Run LED 1

Power contact
+24 V

Power contact 0 V

D+

CI+

D-

+24 V

0 V

CI-
Top view
Contact assembly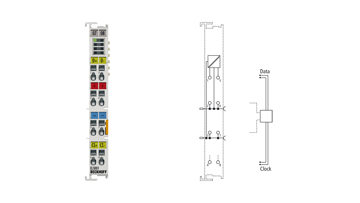 EL5001 | EtherCAT Terminal, 1-channel encoder interface, SSI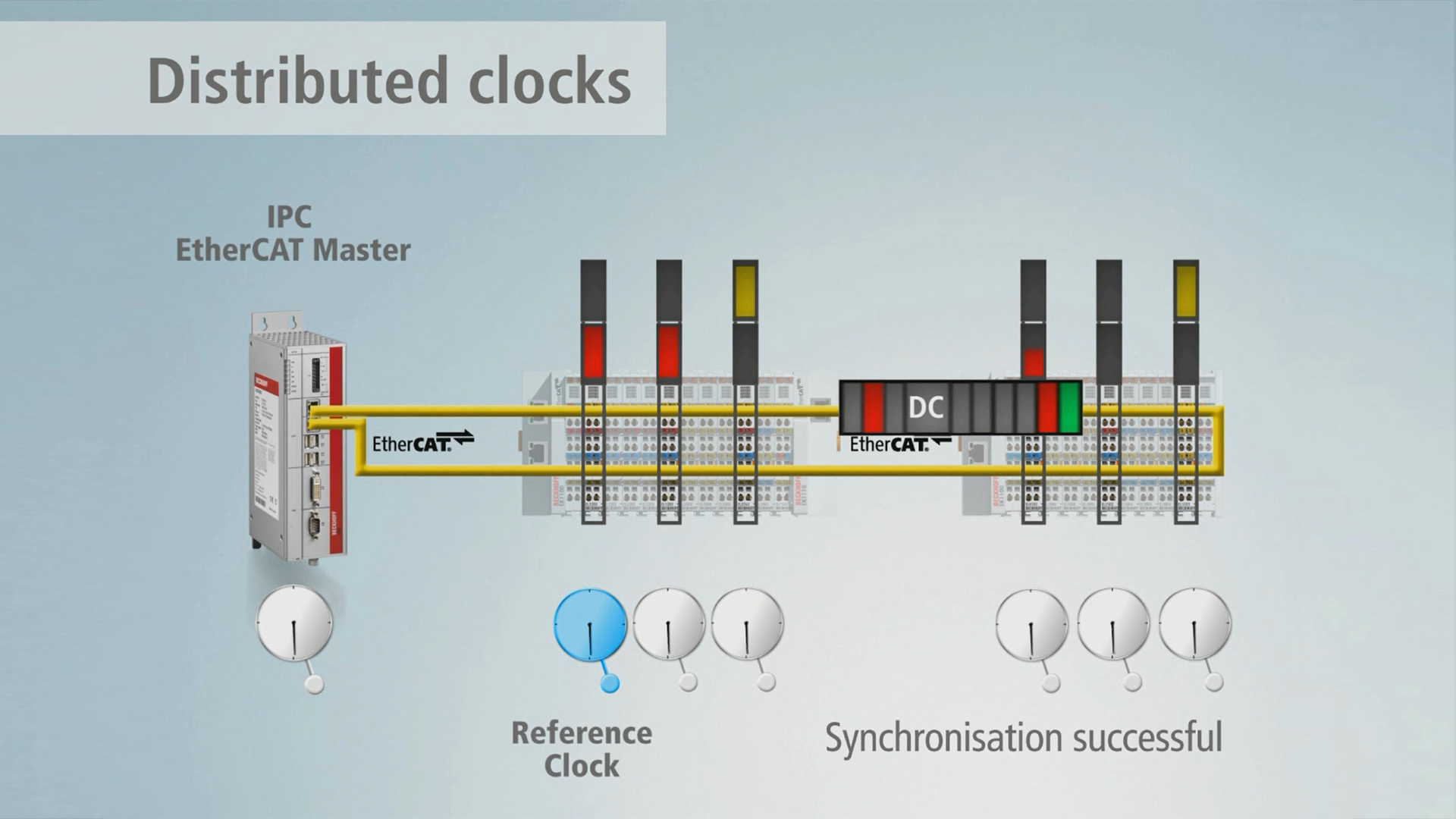 Distributed Clocks: the integrated time management system in EtherCAT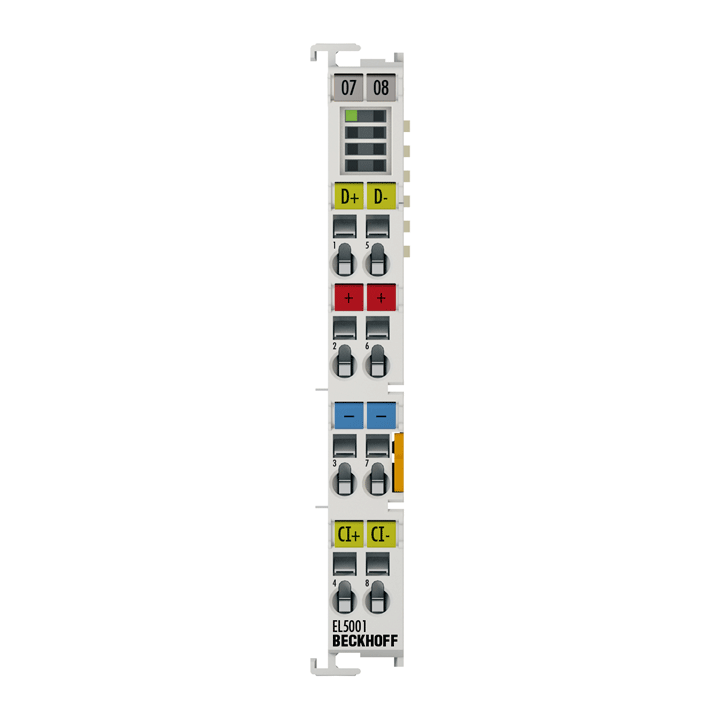 The EL5001 EtherCAT Terminal is an SSI master and enables the direct connection of an absolute encoder with SSI (synchronous serial interface). Both singleturn and multiturn encoders are supported. The 24 V supply of the encoder can be provided directly via the terminal connection points. The EL9505 power supply unit terminal can be used for an optional 5 V encoder operating voltage.
Extensive parameterization allow optimum adaptation to different encoder types.
Special features:
baud rate up to max. 1 MHz
coding: gray and binary
data length up to 32 bit, flexibly adjustable
separate evaluation of a status error bit (power fail bit) in the process data
Via the distributed clocks function, the position value is read out exactly synchronously with other processes. If the distributed clocks function is deactivated, the EL5001 clocks synchronize with the EtherCAT cycle. The encoder profile enables simple and fast linking of the process data for motion control applications.
Product information
Technical data
EL5001
Technology
SSI encoder interface
Number of channels
1
Encoder connection
D+, D-, Cl+, Cl-
Encoder operating voltage
24 V DC (generated from the power contacts)
Distributed clocks
yes
Signal output (pulse)
difference signal (RS422)
Signal input (data)
difference signal (RS422)
Power supply
24 V via power contacts
Current consumption power contacts
typ. 20 mA + load
Data transfer rates
variable up to 1 MHz, 250 kHz default
Serial input
variable up to 32 bit, 24 bit default
Data direction
read
Electrical isolation
500 V (E-bus/field potential)
Current consumption E-bus
typ. 120 mA
Special features
adjustable baud rate, coding and data length, power fail bit activatable
Weight
approx. 55 g
Operating/storage temperature
-25…+60 °C/-40…+85 °C
Relative humidity
95 %, no condensation
Vibration/shock resistance
conforms to EN 60068-2-6/EN 60068-2-27
EMC immunity/emission
conforms to EN 61000-6-2/EN 61000-6-4
Protect. rating/installation pos.
IP20/variable
Pluggable wiring
for all ESxxxx terminals
Approvals/markings
CE, UL, ATEX, IECEx
Ex marking
ATEX:
II 3 G Ex ec IIC T4 Gc
IECEx:
Ex ec IIC T4 Gc
Housing data
EL-12-8pin
ES-12-8pin
Design form
compact terminal housing with signal LEDs
terminal housing with pluggable wiring level
Material
polycarbonate
Dimensions (W x H x D)
12 mm x 100 mm x 68 mm
Installation
on 35 mm DIN rail, conforming to EN 60715 with lock
Side by side mounting by means of
double slot and key connection
Marking
labeling of the BZxxx series
Wiring
solid conductor (s), flexible conductor (st) and ferrule (f): spring actuation by screwdriver
Connection cross-section
s*: 0.08…2.5 mm²,
st*: 0.08…2.5 mm²,
f*: 0.14…1.5 mm²
s*: 0.08…1.5 mm²,
st*: 0.08…1.5 mm²,
f*: 0.14…1.5 mm²
Connection cross-section AWG
s*: AWG 28…14,
st*: AWG 28…14,
f*: AWG 26…16
s*: AWG 28…16,
st*: AWG 28…16,
f*: AWG 26…16
Stripping length
8…9 mm
9…10 mm
Current load power contacts
Imax: 10 A
*s: solid wire; st: stranded wire; f: with ferrule
| Special terminals | |
| --- | --- |
| EL5001 | EtherCAT Terminal, 1-channel encoder interface, SSI |
| ES5001 | EtherCAT Terminal, 1-channel encoder interface, SSI, pluggable wiring |