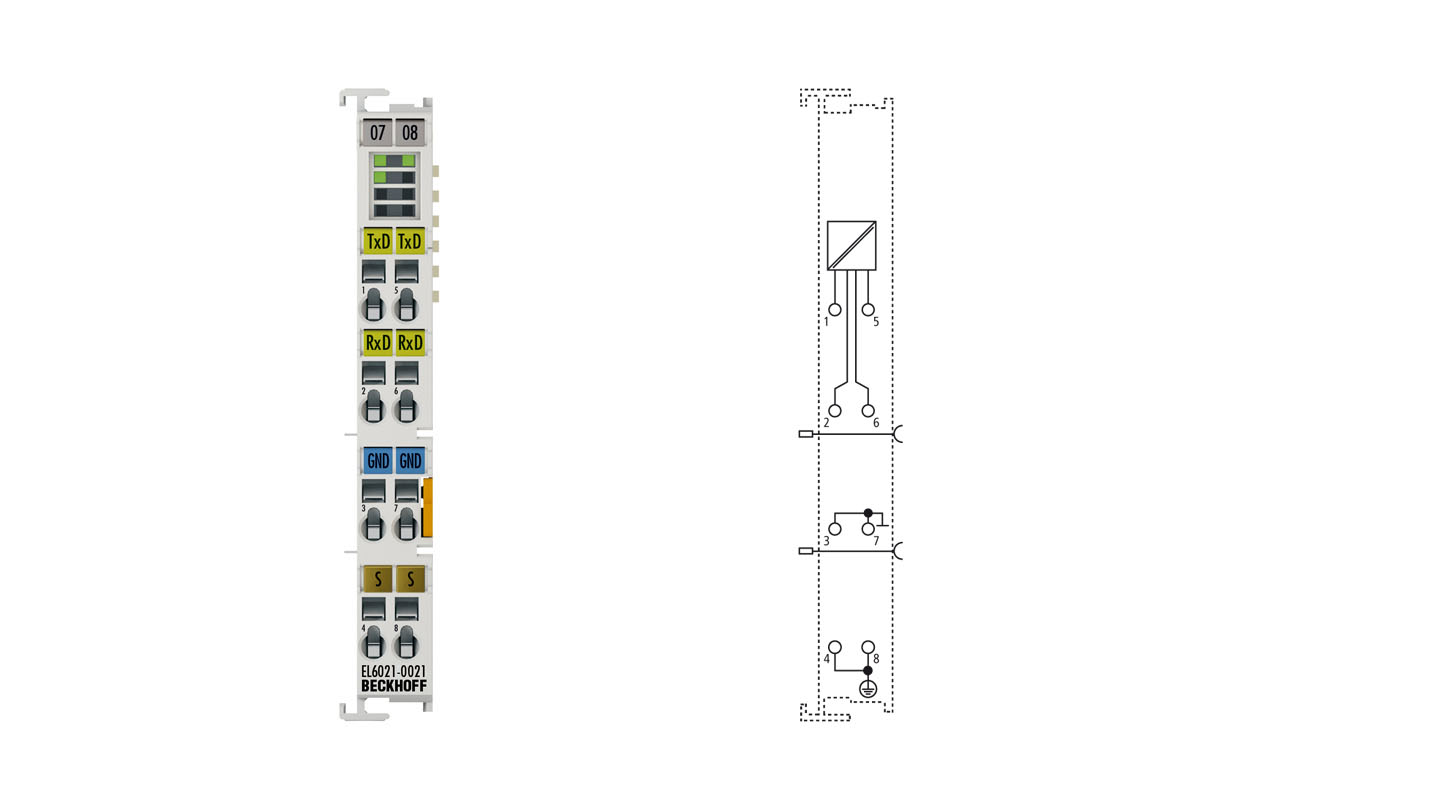 Run LED

TxD LED

RxD LED

Power contact
+24 V

Power contact 0 V

TxD+

RxD+

GND

Shield

TxD-

RxD-

GND

Shield
Top view
Contact assembly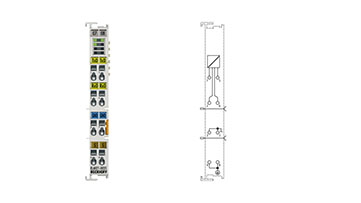 EL6021-0021 | EtherCAT Terminal, 1-channel communication interface, serial, RS422/RS485, line device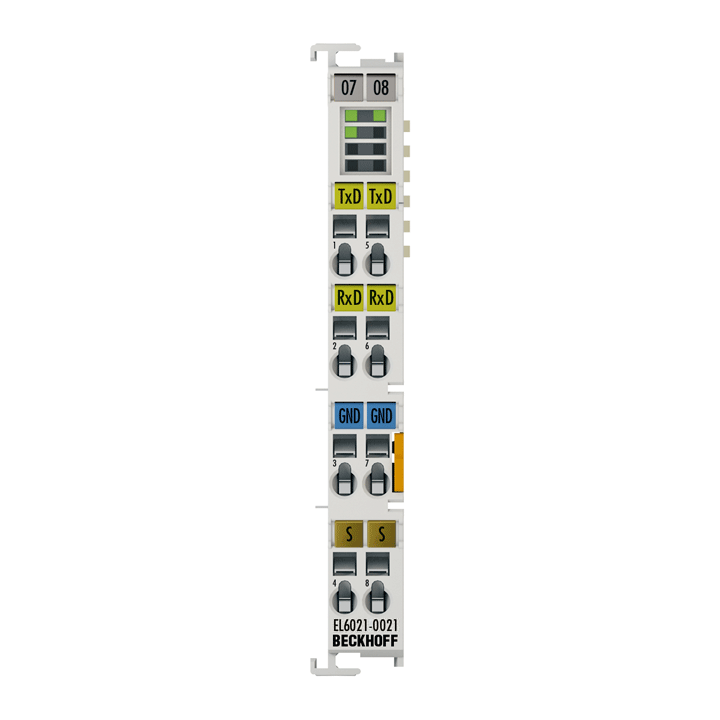 The EL6021-0021 serial interface enables the connection of devices with RS422 or RS485 interface. These devices communicate with the automation device via the coupler. The active communication channel operates independently of the higher-level bus system in full or half duplex mode at up to 115.2 kbaud. The transmission of differential signals according to RS422 guarantees high immunity to interference through electrically isolated signals.
If several EL602x are interconnected in a bus, the EL6021-0021 with its enlarged bias resistors can be used for intermediate devices.
In conjunction with the TwinCAT Virtual Serial COM Driver (see TwinCAT Supplements – Communication) the EL6021-0021 can be used as a normal Windows COM interface.
Product information
| Technical data | EL6021-0021 |
| --- | --- |
| Technology | terminal contact |
| Data transfer channels | TxD and RxD, full/half duplex |
| Data transfer rates | 2400…115,200 baud; default: 9600 baud, 8 data bits, no parity and one stop bit |
| Interfaces | 1 x RS422/RS485 |
| Bit transfer | with differential signal |
| Line impedance | 120 Ω |
| Cable length | approx. 1000 m twisted pair |
| Providing external supply | – |
| Power supply | via the E-bus |
| Electrical isolation | 500 V (E-bus/signal voltage) |
| Data buffer | 864 bytes receive buffer, 128 bytes transmit buffer |
| Bit width in the process image | 22 x 8 bit input, 22 x 8 bit output, 16 bit control, 16 bit status |
| Configuration | no address setting, configuration via PLC |
| Current consumption E-bus | typ. 170 mA |
| Special features | – |
| Weight | approx. 55 g |
| Operating/storage temperature | -25…+60 °C/-40…+85 °C |
| Relative humidity | 95 %, no condensation |
| Vibration/shock resistance | conforms to EN 60068-2-6/EN 60068-2-27 |
| EMC immunity/emission | conforms to EN 61000-6-2/EN 61000-6-4 |
| Protect. rating/installation pos. | IP20/variable |
| Ex marking | II 3 G Ex nA IIC T4 Gc |
| Approvals/markings | CE, UL, ATEX, IECEx |
Housing data
EL-12-8pin
Design form
compact terminal housing with signal LEDs
Material
polycarbonate
Dimensions (W x H x D)
12 mm x 100 mm x 68 mm
Installation
on 35 mm DIN rail, conforming to EN 60715 with lock
Side by side mounting by means of
double slot and key connection
Marking
labeling of the BZxxx series
Wiring
solid conductor (s), flexible conductor (st) and ferrule (f): spring actuation by screwdriver
Connection cross-section
s*: 0.08…2.5 mm²,
st*: 0.08…2.5 mm²,
f*: 0.14…1.5 mm²
Connection cross-section AWG
s*: AWG 28…14,
st*: AWG 28…14,
f*: AWG 26…16
Stripping length
8…9 mm
Current load power contacts
Imax: 10 A
*s: solid wire; st: stranded wire; f: with ferrule