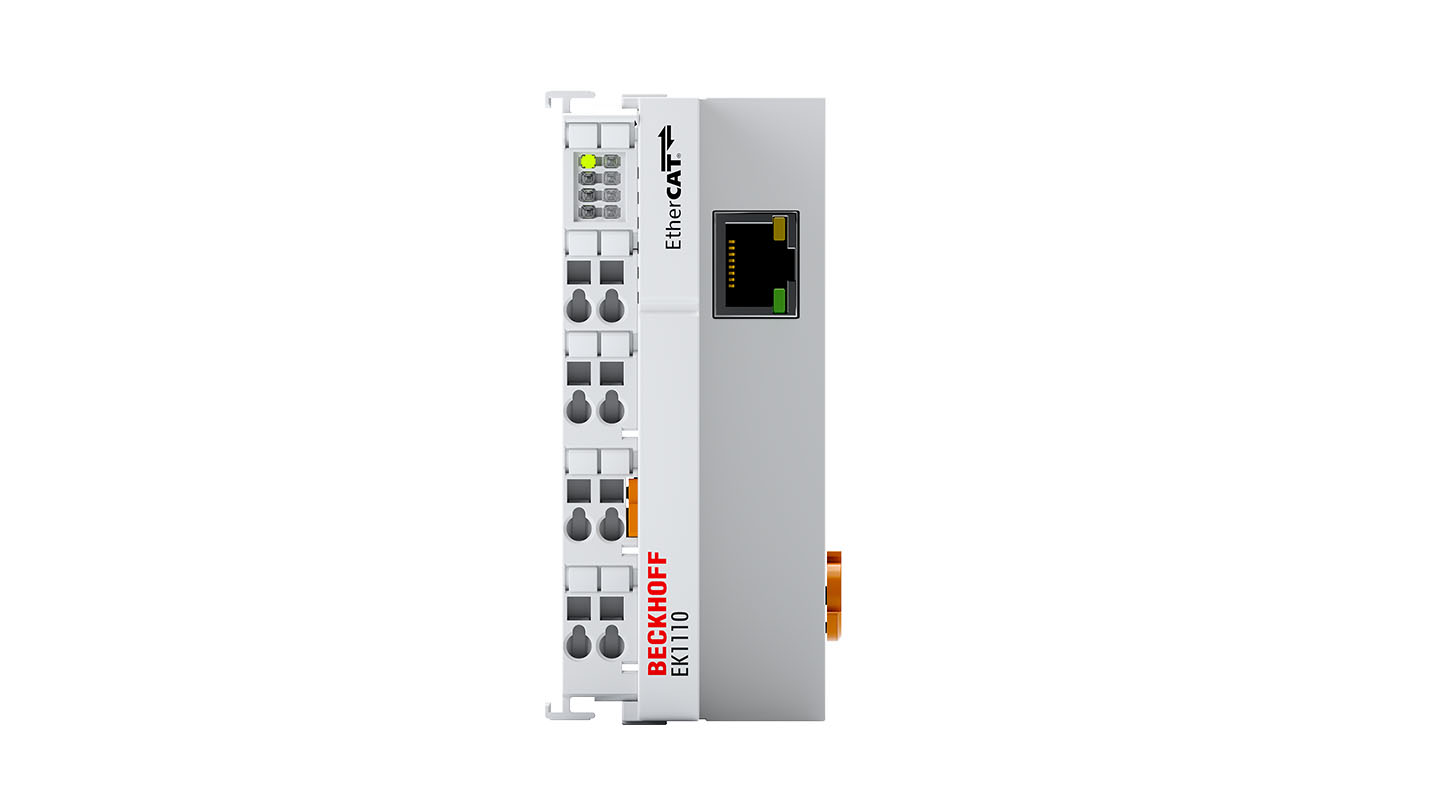 Signal output EtherCAT

Link/Act

Run LED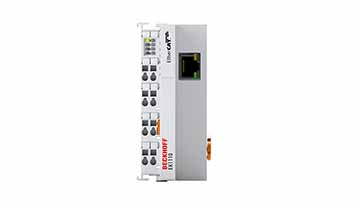 EK1110 | EtherCAT extension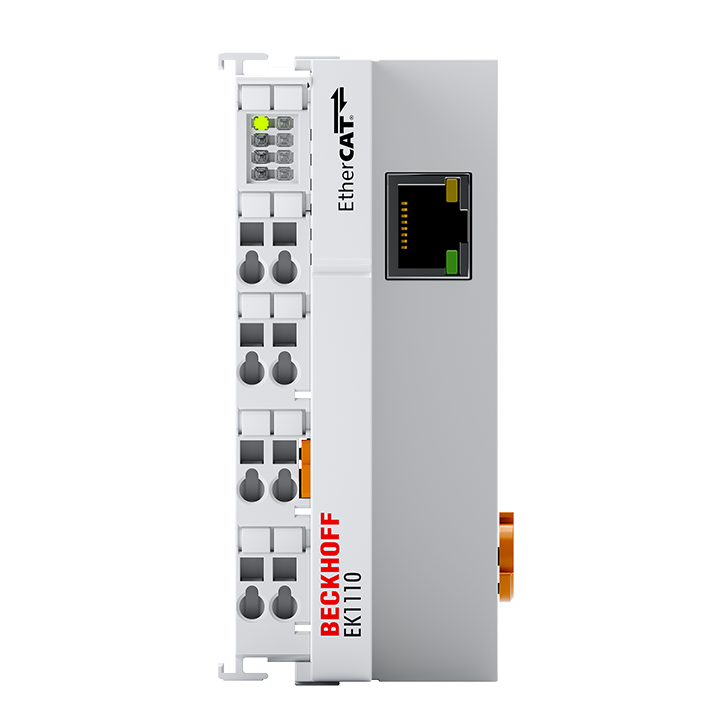 The EK1110 EtherCAT extension is placed at the end of an EtherCAT Terminal segment or an Embedded PC from the CX series and offers the option of extending the EtherCAT network in the form of a line topology.
Special features:
Connection technology: 1 x RJ45 socket
Connection lengths: up to 100 m
Extension of an EtherCAT network in line topology
The EK1110 has an RJ45 socket that enables connection of an Ethernet cable with RJ45 connector and establishes a connection to a further EtherCAT segment or to individual EtherCAT devices. The E-bus signals are converted to 100BASE-TX Ethernet signal representation in a continuous process. Power supply to the EK1110 electronics is via the E-bus. No parameterization or configuration is required.
Product information
Technical data
EK1110
Task within EtherCAT system
conversion of the E-bus signals to 100BASE-TX Ethernet for extension of the EtherCAT network
Data transfer medium
Ethernet/EtherCAT cable (min. Cat.5), shielded
Distance between stations
100 m (100BASE-TX)
Protocol
any EtherCAT protocol
Delay
approx. 1 µs
Data transfer rates
100 Mbit/s
Configuration
not required
Bus interface
1 x RJ45
Power supply
from E-bus
Current consumption E-bus
typ. 130 mA
Electrical isolation
500 V (supply voltage/Ethernet)
Weight
approx. 50 g
Operating/storage temperature
-25…+60 °C/-40…+85 °C
EMC immunity/emission
conforms to EN 61000-6-2/EN 61000-6-4
Relative humidity
95 %, no condensation
Vibration/shock resistance
conforms to EN 60068-2-6/EN 60068-2-27
Protect. rating/installation pos.
IP20/variable
Approvals/markings
CE, UL, ATEX, IECEx
Ex marking
ATEX: II 3 G Ex ec IIC T4 Gc
IECEx: Ex ec IIC T4 Gc
Housing data
EK-44-8pin
Design form
compact terminal housing with signal LEDs
Material
polycarbonate
Dimensions (W x H x D)
44 mm x 100 mm x 68 mm
Installation
on 35 mm DIN rail, conforming to EN 60715 with lock
Side by side mounting by means of
double slot and key connection
Marking
labeling of the BZxxx series
Wiring
solid conductor (s), flexible conductor (st) and ferrule (f): spring actuation by screwdriver
Connection cross-section
s*: 0.08…2.5 mm²,
st*: 0.08…2.5 mm²,
f*: 0.14…1.5 mm²
Connection cross-section AWG
s*: AWG 28…14,
st*: AWG 28…14,
f*: AWG 26…16
Stripping length
8…9 mm
Current load power contacts
Imax: 10 A
*s: solid wire; st: stranded wire; f: with ferrule