PC-based control for additive manufacturing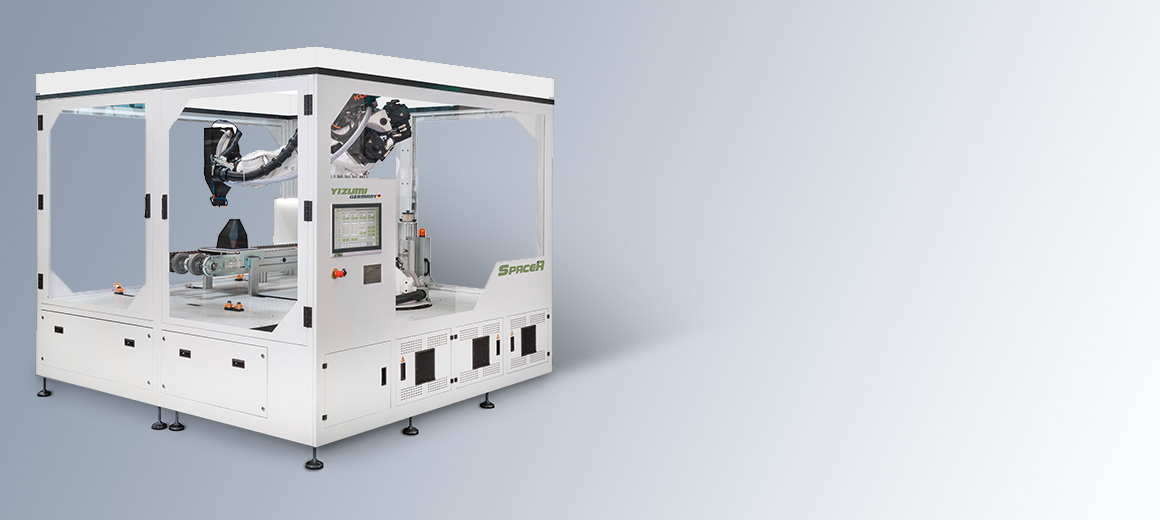 Production cell for additive manufacturing of plastic parts
Yizumi GmbH, Germany
Beckhoff has been a development partner for the "first choice" companies in plastics technology for many years. From individual components to the complete solution, the user benefits from Beckhoff's broad process and application know-how in the processing of plastics. In recent years, additive manufacturing has opened up new business areas in plastics processing.
The essential element of additive manufacturing machines is the mechatronic execution of the discharge units, such as the extruders, which determine the part geometry. Flexible solutions for component carriers are also required. Beckhoff covers the drive technology required for precise movement with a wide range of gear units, motors and servo drives with an EtherCAT connection. Of particular interest for the movement of small masses are the compact drive technology and the motors with integrated servo drive from the Beckhoff AMP8000 series. They are suitable for a modular, space-saving machine design with reduced wiring work. The EtherCAT Box modules in an IP67 version support modular machine concepts, simplify the wiring and save space in the control cabinet. The linear drive systems from Beckhoff, such as XPlanar and XTS, enable innovative machine designs, such as for component carriers.
The uniform TwinCAT engineering tool has powerful motion control functions that can be used to program a variety of kinematics for application units, such as 6-axis robots. Complex interfaces are no longer necessary; additional hardware is not required. The EtherCAT XFC terminals with a time accuracy of 1 µs are a perfect solution for applications with extremely precise piezo nozzle control for controlling the material discharge. In the thermocouple terminals in various accuracy steps, a plug-and-play solution for plasticizing tasks is available in conjunction with the TwinCAT temperature controller. In addition to the control technology for axes and temperatures as well as for programming the sequences and safety functions, TwinCAT, as a universal engineering tool, includes additional functions for programming a complete production cell for additive manufacturing. TwinCAT Vision, the integrated image data processing, enables not only the acquisition of part geometries, but also the measurement of the part temperature with the help of thermal imaging cameras. An ergonomic operator guidance including a 3D representation of the end products is possible with the TwinCAT HMI visualization tool. With PC-based control, special third-party CAM tools, such as for calculating trajectories, can also run on one platform.
Additive manufacturing processes enable highly flexible production processes with small numbers of items. The control and monitoring of the manufacturing process requires a vertical connection to master computer systems. TwinCAT offers the appropriate solution for this with the integration of the Euromap interfaces on an OPC UA basis as well as the corresponding IoT tools for the use of the cloud protocols.
Beckhoff technologies and components optimize additive manufacturing in plastics processing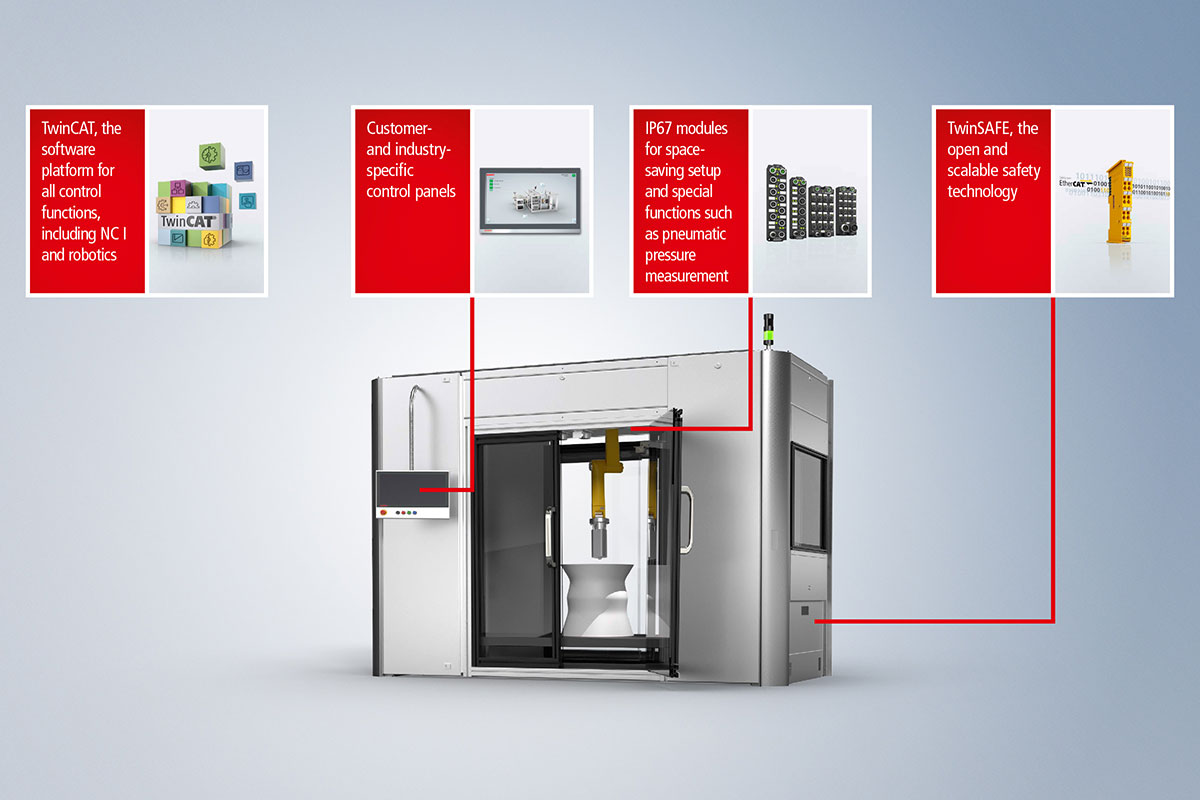 Complete solution for flexible production with maximum precision
In order to meet the high market requirements for product quality, functionality and efficiency, machine manufacturers have extensive software and hardware components from the Beckhoff product and technology portfolio at their disposal:
scalable industrial PCs and operating devices with computing requirements tailored to the application
extensive drive technology portfolio for different machine designs
IP67 EtherCAT Box modules and motor-integrated drives save wiring work and control cabinet space.
EtherCAT as the Beckhoff standard for plastics machines
precise, fast nozzle control with XFC technology
TwinCAT as a universal engineering tool for all motion control tasks
TwinCAT Vision for quality control and thermal imaging camera
integration of the Euromap-based communication standards for the plastics industry
tried-and-tested Beckhoff temperature controller for plasticizing applications