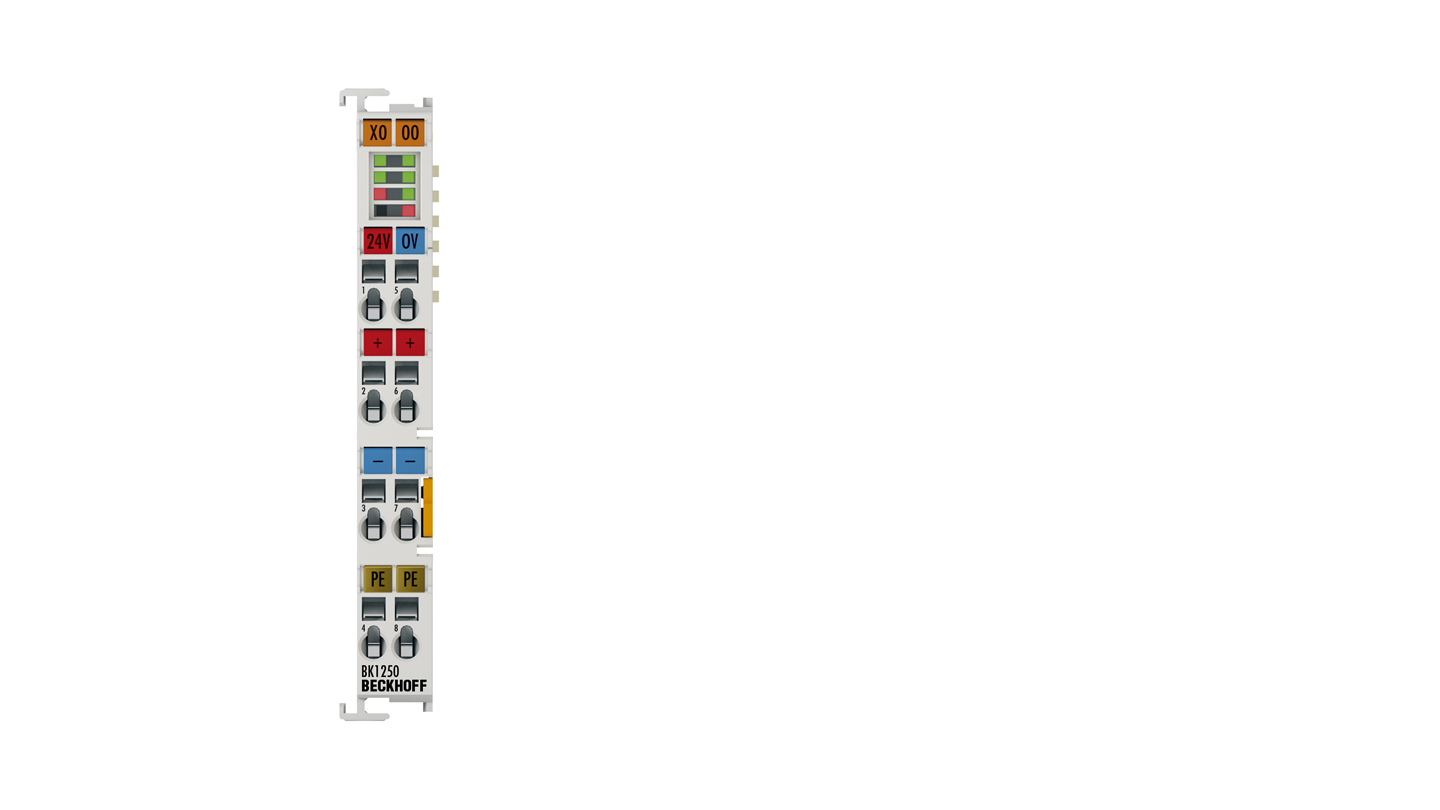 Run LED

E-bus Link/Act LED

Error LED

Bus Coupler power supply

Power contact

I/O run K-bus

I/O error K-bus

Power contact

Power contact

+24 V

0 V

+24 V

0 V

PE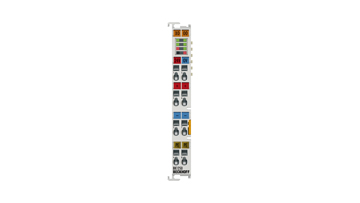 BK1250 | Compact coupler between EtherCAT Terminals and Bus Terminals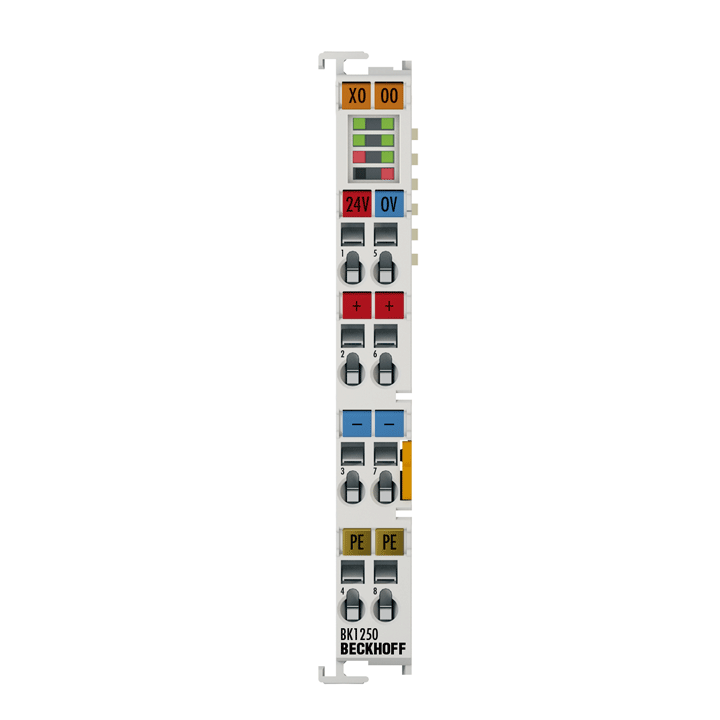 The BK1250 is a Bus Coupler in a terminal housing for mixed use of EtherCAT Terminals and standard Bus Terminals in a bus station. Up to 64 Bus Terminals and one bus end terminal can be connected to a BK1250. The process image of the EtherCAT system is assigned automatically. Up to 255 Bus Terminals can be connected via the K-Bus extension.
Special features:
Compact design
mixed use of EtherCAT Terminals and Bus Terminals
The system and field supply, each 24 V DC, is provided directly at the BK1250. The attached Bus Terminals are supplied with the current required for communication from the supplied system voltage. The field supply is forwarded to the individual I/O components via the power contacts with up to 10 A. The Bus Terminals are parameterized via ADS through the KS2000 software. Alternatively, the controller (PLC, IPC) can configure the Bus Terminals via PLC function blocks.
Product information
Technical data
BK1250
Number of Bus Terminals
64 (255 with K-bus extension)
Max. number of bytes fieldbus
1024 byte input and 1024 byte output
Digital peripheral signals
8,192 inputs/outputs
Analog peripheral signals
256 inputs/outputs
Configuration possibility
via KS2000 or EtherCAT (ADS)
Protocol
EtherCAT
Data transfer rates
100 Mbit/s
Bus interface
via E-bus contacts
Power supply
24 V DC (-15 %/+20 %)
Input current
70 mA + (total K-bus current)/4, 200 mA max.
Starting current
approx. 2.5 x continuous current
Recommended fuse
≤ 10 A
Current supply K-bus
500 mA
Power contacts
max. 24 V DC/max. 10 A
Electrical isolation
500 V (power contact/supply voltage/Ethernet)
Weight
approx. 55 g
Operating/storage temperature
-25…+60 °C/-40…+85 °C
Relative humidity
95 %, no condensation
Vibration/shock resistance
conforms to EN 60068-2-6/EN 60068-2-27
EMC immunity/emission
conforms to EN 61000-6-2/EN 61000-6-4
Protect. rating/installation pos.
IP20/variable
Approvals/markings
CE, UL, ATEX, IECEx
Ex marking
ATEX: II 3 G Ex ec IIC T4 Gc
IECEx: Ex ec IIC T4 Gc
Housing data
KL-12-8pin
Design form
compact terminal housing with signal LEDs
Material
polycarbonate
Dimensions (W x H x D)
12 mm x 100 mm x 68 mm
Installation
on 35 mm DIN rail, conforming to EN 60715 with lock
Side by side mounting by means of
double slot and key connection
Marking
labeling of the BZxxx series
Wiring
solid conductor (s), flexible conductor (st) and ferrule (f): spring actuation by screwdriver
Connection cross-section
s*: 0.08…2.5 mm²,
st*: 0.08…2.5 mm²,
f*: 0.14…1.5 mm²
Connection cross-section AWG
s*: AWG 28…14,
st*: AWG 28…14,
f*: AWG 26…16
Stripping length
8…9 mm
Current load power contacts
Imax: 10 A
*s: solid wire; st: stranded wire; f: with ferrule