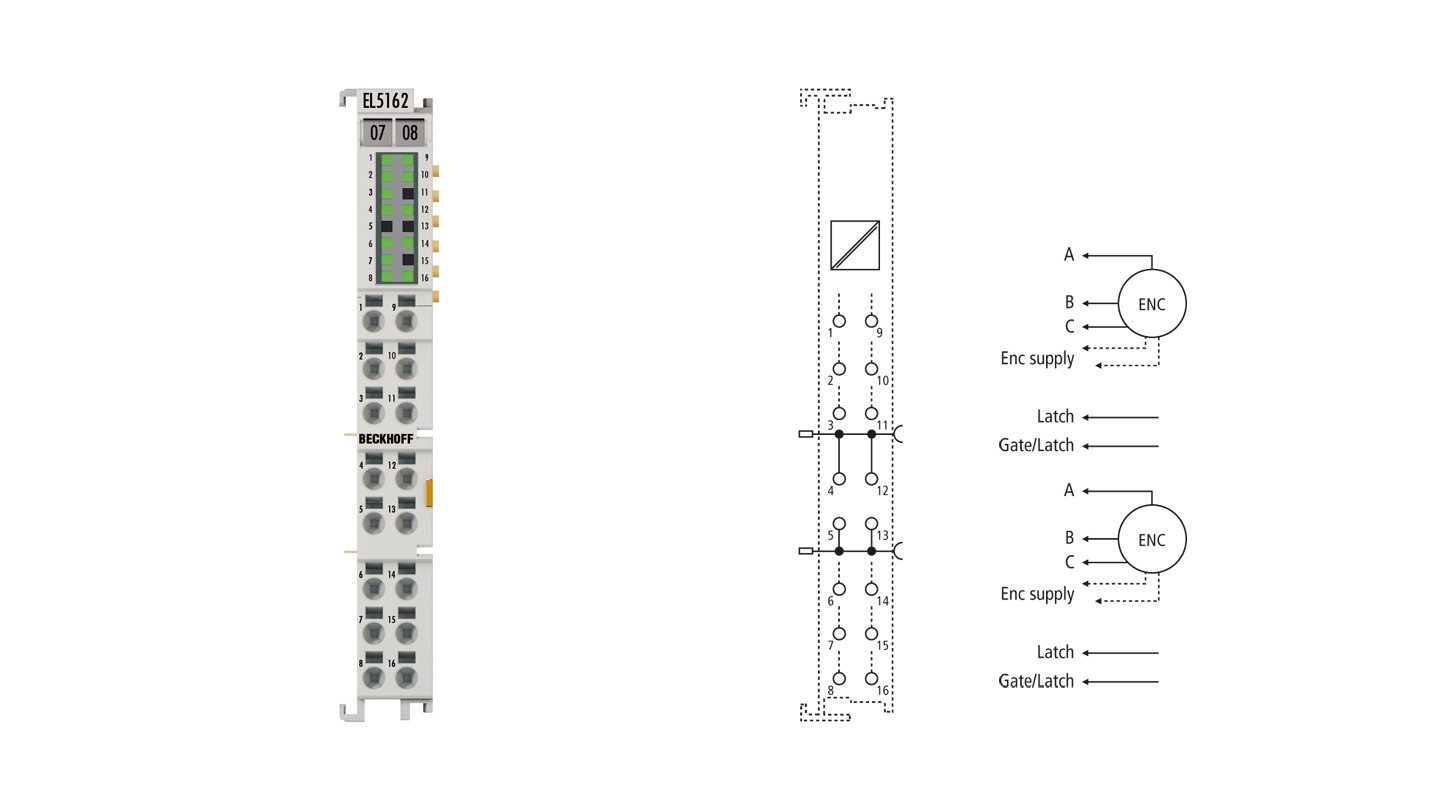 Run
A1
C1
Latch 1
A2
C2
Latch 2




Ready
B1
Gate/Latch 1
B2
Gate/Latch 2

Input A1

Input C1

Latch 1



Input A2

Input C2

Latch 2

Input B1

Gate/Latch 1



Input B2

Gate/Latch 2
Top view
Contact assembly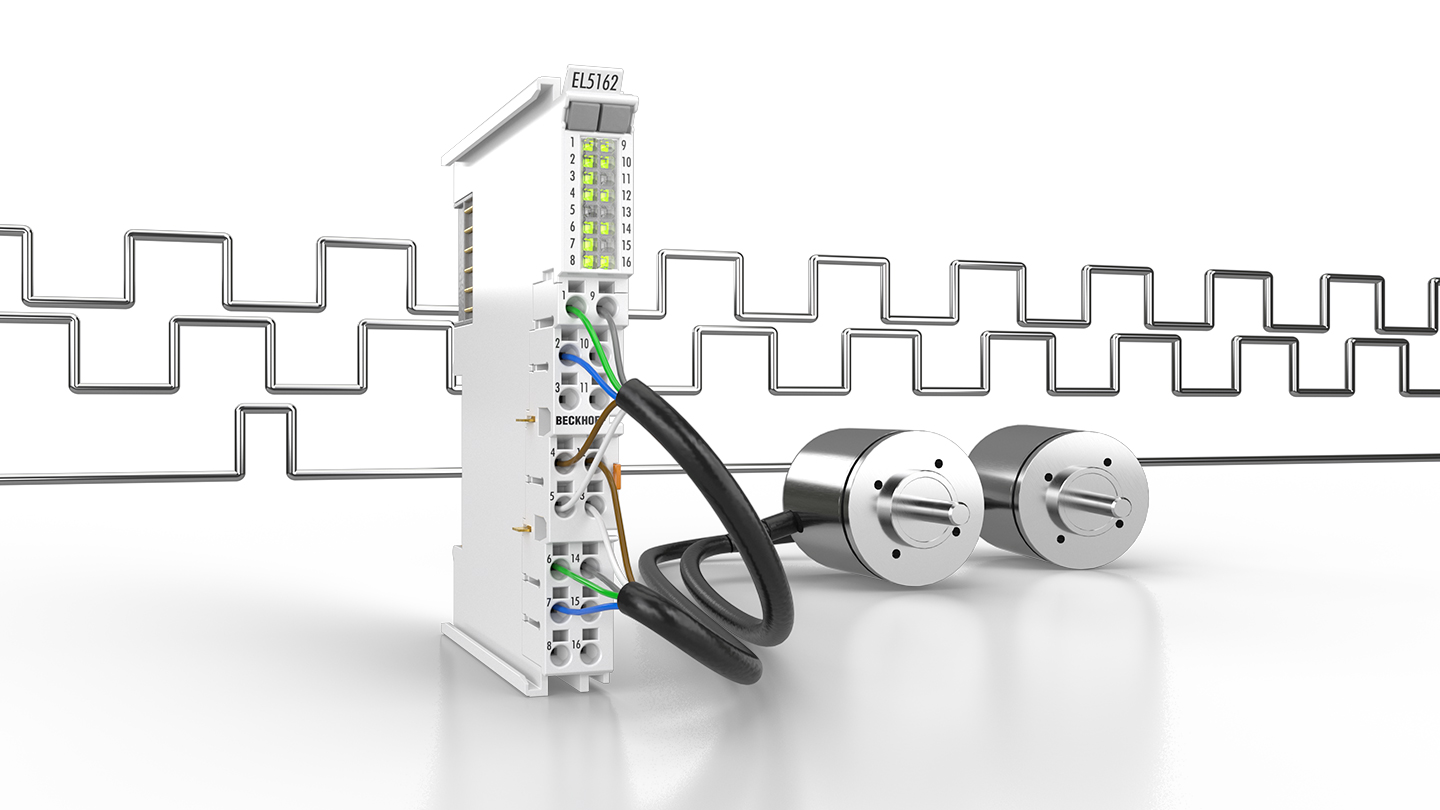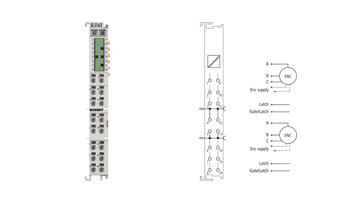 EL5162 | EtherCAT Terminal, 2-channel encoder interface, incremental, 24 V DC HTL, 100 kHz, 2 x ABC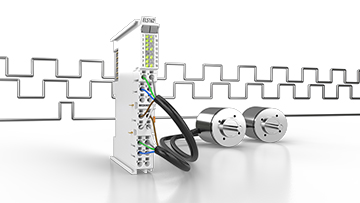 Connection of two 24 V HTL incremental encoders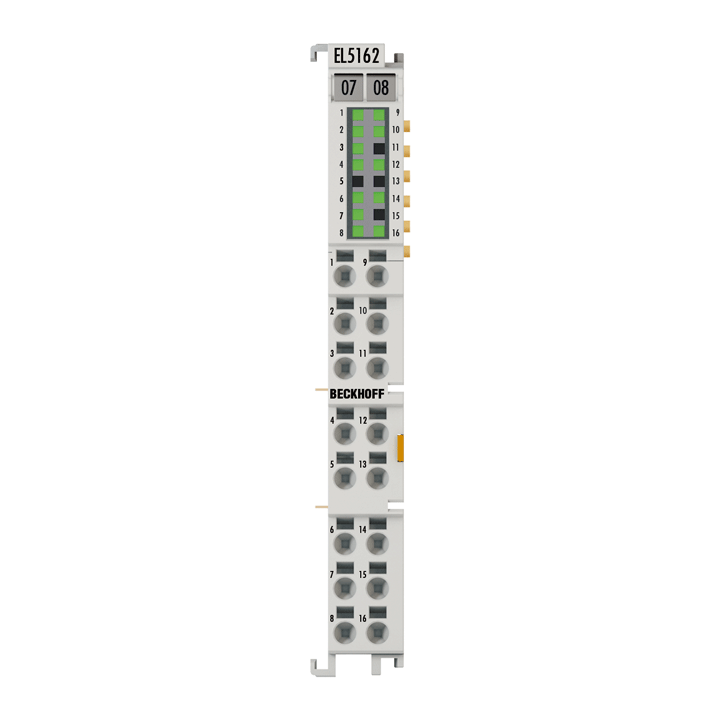 The EL5162 EtherCAT Terminal is an interface for the connection of two 24 V incremental encoders (24 V HTL) with A, B and C track. Input frequencies up to 100 kHz can be evaluated. Two additional 24 V digital inputs per channel are available for saving, locking and setting the counter value. Furthermore, there is an option to set the counter value to a specified value or to lock the counter directly via the process data. Alternatively, the EL5162 can be used as an up/down counter. The encoder can be supplied with 24 V directly via the connection points of the terminal.
Special features:
save, lock and set counter
integrated frequency and period measurement
optional 24 V up/down counter
microincrements
synchronous reading of the position value via distributed clocks
timestamp on the last registered incremental edge and the latch value via the 24 V digital inputs
In addition, the EL5162 enables the measurement of a period, frequency or velocity with a resolution of 10 ns. A duty cycle measurement of the incoming signal is implemented.
Due to the optional interpolating microincremental functionality, the EL5162 can supply even more precise axis positions for dynamic axes. In addition to that it supports the synchronous reading of the encoder value together with other input data in the EtherCAT system via high-precision EtherCAT distributed clocks (DC). In addition, a timestamp is available for the last registered incremental edge. The use of encoder profiles allows the simple and fast linking of the process data to the motion control application.
product announcement | estimated market release 4th quarter 2023
Product information
Technical data
EL5162
Technology
incremental encoder interface, HTL 24 V DC
Number of channels
2
Encoder connection
2 x A, B, C
24 V HTL, single-ended connection: A, B, C
counter, pulse generator: A, B
EN 61131-2, type 3, "0": < 5 V DC, "1": > 11 V DC, typ. 3 mA
Additional inputs
latch, gate/latch, 24 V DC
Encoder operating voltage
24 V DC (-15 %/+20 %), (generated from the 24 V DC power contacts)
Counter
32 bit (default), 16/32 bit switchable
Limit frequency
400,000 increments/s (with 4-fold evaluation), corresponding to 100 kHz
Quadrature decoder
4-fold evaluation (default), 2-fold, 1-fold evaluation switchable
Distributed clocks
yes
Nominal voltage
24 V DC (-15 %/+20 %)
Resolution
1/256 bit microincrements
Current consumption power contacts
typ. 1 mA + load
Current consumption E-bus
typ. 150 mA
Special features
period duration, frequency, speed and duty cycle measurement, microincrements, timestamp on last incremental edge, zero pulse C, latch input, gate/latch input
Weight
approx. 50 g
Operating/storage temperature
0…+55 °C/-25…+85 °C
Relative humidity
95 %, no condensation
Vibration/shock resistance
conforms to EN 60068-2-6/EN 60068-2-27
EMC immunity/emission
conforms to EN 61000-6-2/EN 61000-6-4
Protect. rating/installation pos.
IP20/see documentation
Approvals/markings
CE
Housing data
EL-12-16pin
Design form
HD (High Density) housing with signal LEDs
Material
polycarbonate
Dimensions (W x H x D)
12 mm x 100 mm x 68 mm
Installation
on 35 mm DIN rail, conforming to EN 60715 with lock
Side by side mounting by means of
double slot and key connection
Marking
labeling of the BZxxx series
Wiring
solid conductors (s): direct plug-in technique; fine-stranded conductors (st) and ferrule (f): spring actuation by screwdriver
Connection cross-section
s*: 0.08…1.5 mm²,
st*: 0.25…1.5 mm²,
f*: 0.14…0.75 mm²
Connection cross-section AWG
s*: AWG 28…16,
st*: AWG 22…16,
f*: AWG 26…19
Stripping length
8…9 mm
Current load power contacts
Imax: 10 A
*s: solid wire; st: stranded wire; f: with ferrule