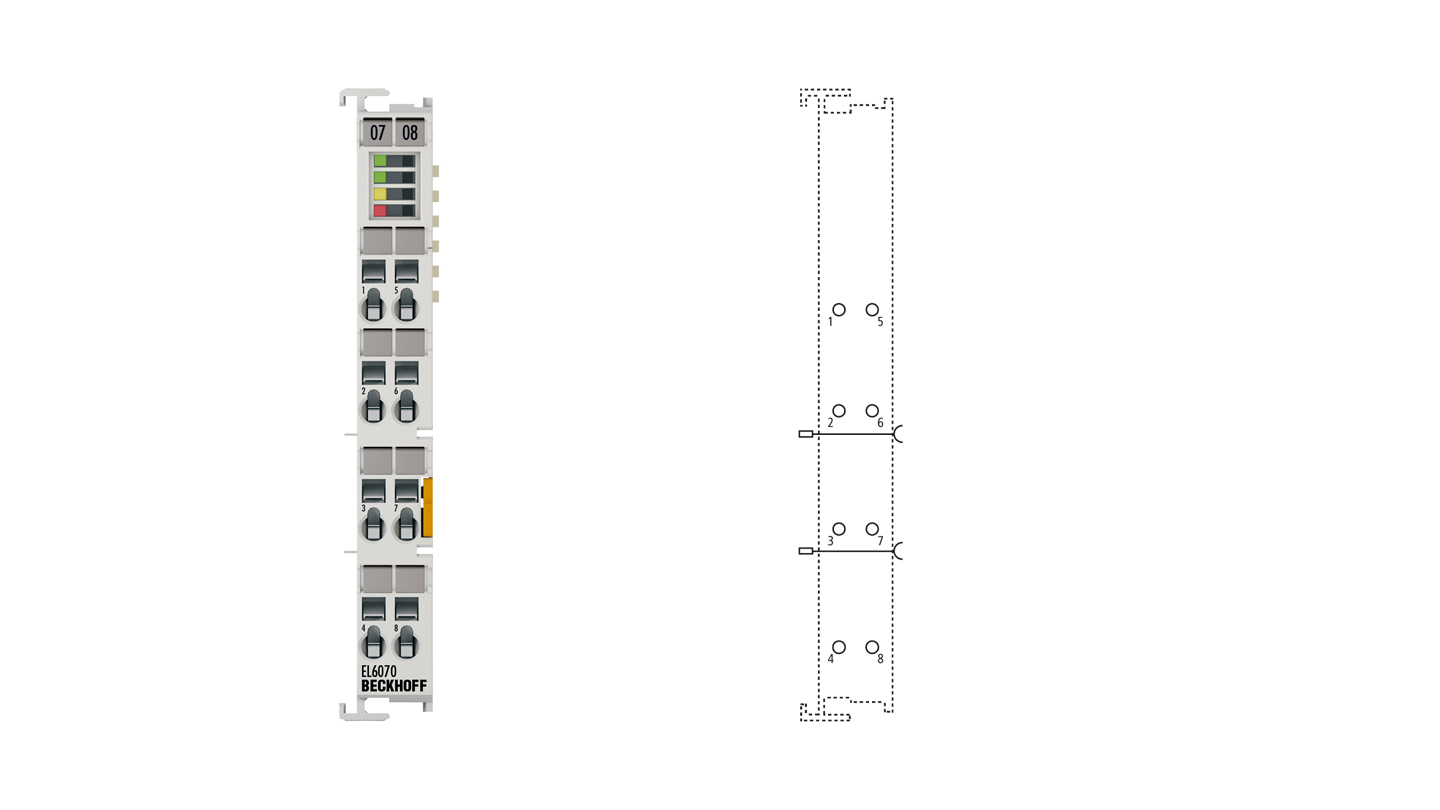 Run LED

Processing LED

Initialization LED

Error LED

Power contact
+24 V

Power contact 0 V
Top view
Contact assembly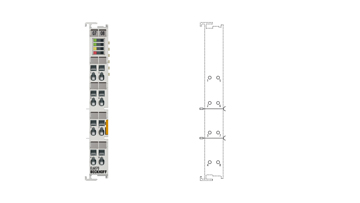 EL6070 | EtherCAT Terminal, license key for TwinCAT 3.1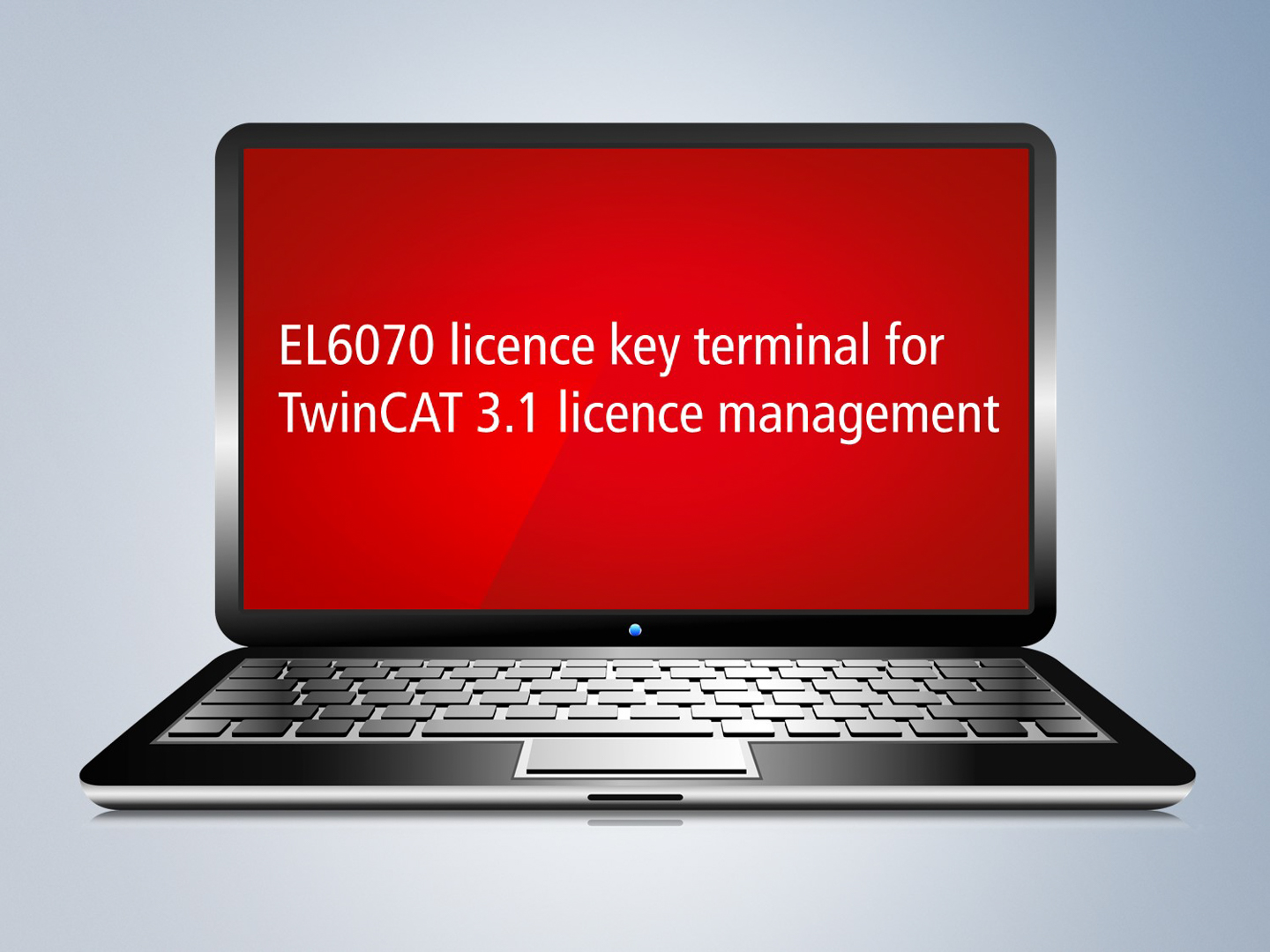 TwinCAT licensing via the I/O system: The EL6070 Terminal as your hardware licence key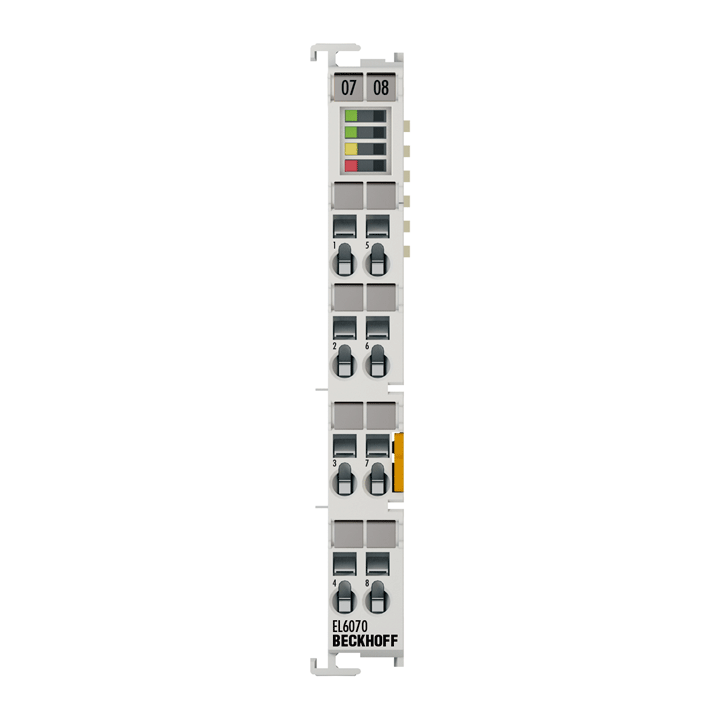 TwinCAT 3.1 offers an option to manage TwinCAT software licenses via the EtherCAT Terminal EL6070. The EL6070 embodies the hardware license key in the modular EtherCAT I/O system. Data transfer takes place via EtherCAT.
The EL6070 license key terminal is equipped with a local data memory for saving TwinCAT 3.1 license files. It is accessed via TwinCAT 3.1. The functionally equivalent C9900-L100 license key USB stick also features this data memory.
Both the EtherCAT terminal and the USB stick are available with factory pre-installed licenses: EL6070-0033, C9900-L100-0033.
Note that the EL6070 and EL6070-0033 are two different devices in terms of EtherCAT and are therefore not interchangeable in the EtherCAT I/O configuration.
Product information
Technical data
EL6070
Technology
EtherCAT license key terminal
Distributed clocks
–
Current consumption power contacts
–
Current consumption E-bus
typ. 120 mA
Special features
transmission of license information via EtherCAT
Weight
approx. 50 g
Operating/storage temperature
-25…+60 °C/-40…+85 °C
Relative humidity
95 %, no condensation
Vibration/shock resistance
conforms to EN 60068-2-6/EN 60068-2-27
EMC immunity/emission
conforms to EN 61000-6-2/EN 61000-6-4
Protect. rating/installation pos.
IP20/variable
Ex marking
ATEX:
II 3 G Ex nA IIC T4 Gc
IECEx:
Ex ec IIC T4 Gc
cFMus:
Class I, Division 2, Groups A, B, C, D
Class I, Zone 2, AEx ec IIC T4 Gc
Approvals/markings
CE, UL, ATEX, IECEx, cFMus
Housing data
EL-12-8pin
Design form
compact terminal housing with signal LEDs
Material
polycarbonate
Dimensions (W x H x D)
12 mm x 100 mm x 68 mm
Installation
on 35 mm DIN rail, conforming to EN 60715 with lock
Side by side mounting by means of
double slot and key connection
Marking
labeling of the BZxxx series
Wiring
solid conductor (s), flexible conductor (st) and ferrule (f): spring actuation by screwdriver
Connection cross-section
s*: 0.08…2.5 mm²,
st*: 0.08…2.5 mm²,
f*: 0.14…1.5 mm²
Connection cross-section AWG
s*: AWG 28…14,
st*: AWG 28…14,
f*: AWG 26…16
Stripping length
8…9 mm
Current load power contacts
Imax: 10 A
*s: solid wire; st: stranded wire; f: with ferrule
| Ordering information | |
| --- | --- |
| EL6070 | EtherCAT Terminal, license key for TwinCAT 3.1 |
| EL6070-0033 | EtherCAT Terminal, license key for TwinCAT 3.1, factory-installed licenses |