System-integrated overcurrent protection in the EL9227 EtherCAT Terminal
The EL9227 electronic overcurrent protection terminal is a 24 V DC EtherCAT Terminal with an electronic protection function. It is ideally suited for plant monitoring, since numerous process data are available and status data can be both displayed and stored.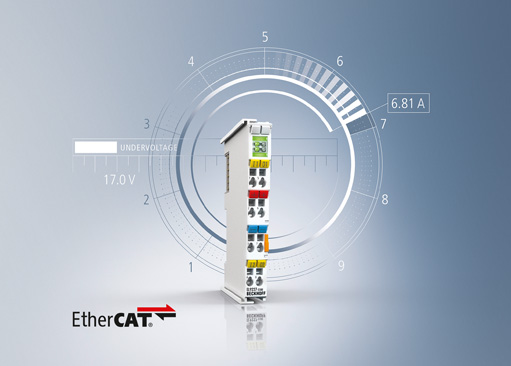 2017.11.28
Integrerat överlastskydd i EtherCAT I/O-system
Med EtherCAT-modulserien EL922x integrerar Beckhoff ett elektroniskt överlastskydd för säkring av 24 V DC komponenter direkt i det högst kompakta EtherCAT I/O-systemet. Detta sänker kostnader och platsbehov i apparatskåpet i jämförelse med aktuella skyddsapparater, utan att behöva använda konventionella elektroniska lösningar i form av fristående system. Tack vare de många inställningsmöjligheterna och processdata uppfyller EtherCAT-modulen typ EL9227 många olika krav och möjliggör en transparent övervakning.