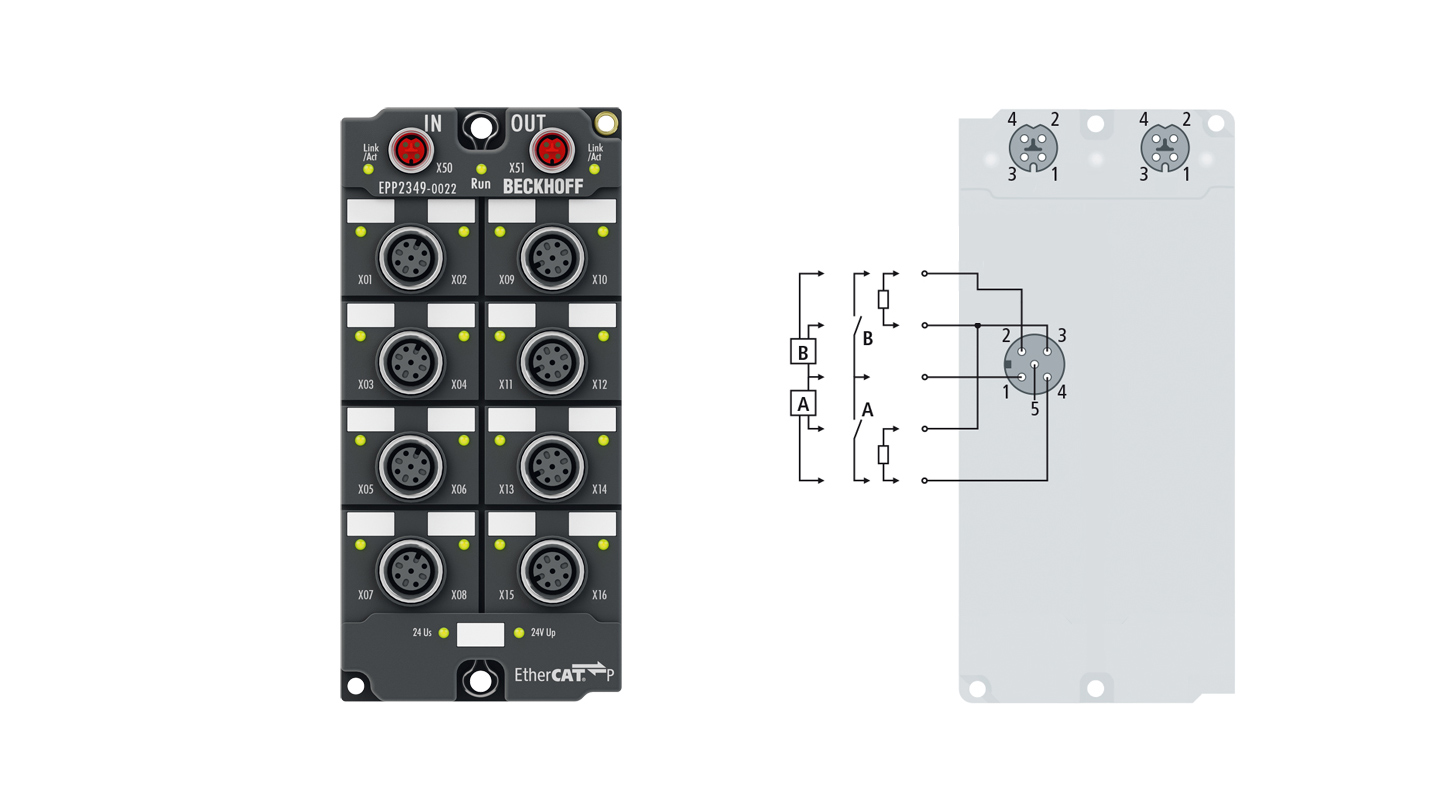 EtherCAT P signal input


EtherCAT P signal output


M12 I/O connection sockets


Signal status display


Labeling areas
Power supply status display:




1 | Tx+/GND
S
2 | Rx+/GND
P
3 | Rx-/U
P
4 | Tx-/U
S
1 | +24 V DC U
P
2 | In-/Output B
3 | GND
4 | In-/Output A
5 | n.c.
2-wire
3-wire
Top view
I/O connection
Connector assignment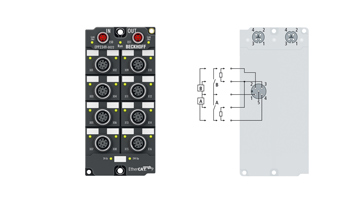 EPP2349-0022 | EtherCAT P Box, 16-channel digital combi, 24 V DC, 10 µs, 0.5 A, M12
EtherCAT P: The one cable solution – One step closer to automation without control cabinets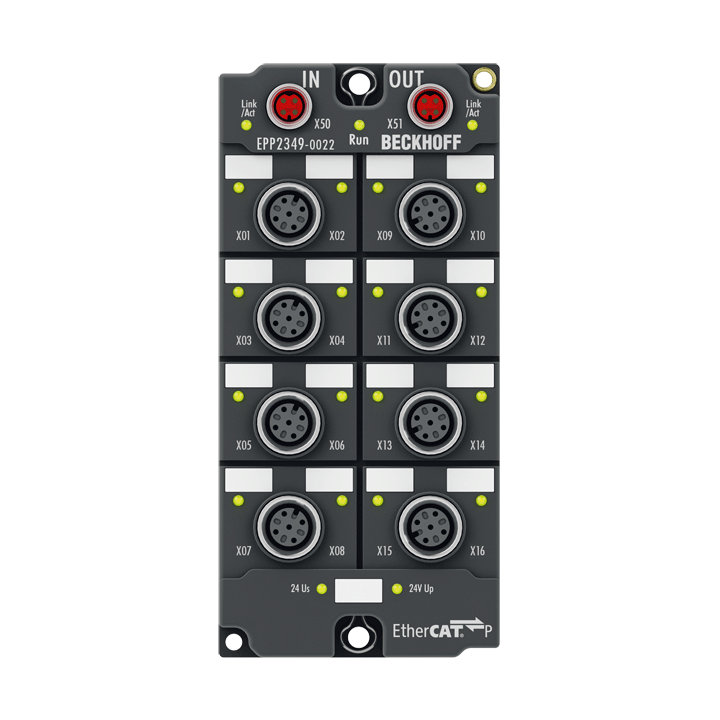 The EPP2349-0022 EtherCAT P Box has 16 digital channels, which can each be operated as an input or output. It is not necessary to configure whether a channel (pin 2&4 of the M12) is to be used as input or output. The input circuit is permanently connected to the output driver internally so that a set output is also automatically displayed in the input process image.
The inputs have a 10 µs filter. The outputs process load currents up to 0.5 A, are short-circuit proof and protected against inverse polarity. The sum current of all outputs is limited to 3 A. The connected sensors are supplied via an internal, short-circuit proof driver block with a total of 0.5 A for all sensors. The inputs and outputs are supplied via UP. The signal state is displayed by LEDs; the signals are connected via screwable M12 connectors.
Product information
Technical data
EPP2349-0022
Protocol
EtherCAT
Bus interface
2 x M8 socket, shielded, screw type, P-coded
Specification
EN 61131-2, type 1/3
Number of channels
16 digital inputs or outputs
Input/output connections
M12 x 1, 5-pin, a-coded
Input filter
10 µs
"0" signal voltage
-3…+5 V
"1" signal voltage
11…30 V, 6 mA input current (EN 61131-2, type 3)
Sensor supply
from load supply voltage, max. 0.5 A, short-circuit proof in total
Load type
ohmic, inductive, lamp load
Rated load voltage
24 V DC (-15 %/+20 %)
Max. output current
0.5 A per channel, individually short-circuit proof, ∑ 3 A
Switching times
typ. T

ON

: 60 µs, typ. T

OFF

: 300 µs
Short-circuit current
typ. 1.5 A
Auxiliary power current
typ. 20 mA
Current consumption from U

S

typ. 100 mA
Electrical isolation
500 V
Weight
approx. 250 g
Operating/storage temperature
-25…+60 °C/-40…+85 °C
Vibration/shock resistance
conforms to EN 60068-2-6/EN 60068-2-27
EMC immunity/emission
conforms to EN 61000-6-2/EN 61000-6-4
Protect. rating/installation pos.
IP65/66/67 (conforms to EN 60529)/variable
Approvals/markings
CE, UL
| Housing data | 16 x M8, 8 x M12 |
| --- | --- |
| Dimensions (W x H x D) | 60 mm x 126 mm x 26.5 mm |
| Material | PA6 (polyamide) |
| Installation | 2 fixing holes 3.5 mm diameter for M3; 2 fixing holes 4.5 mm diameter for M4 |