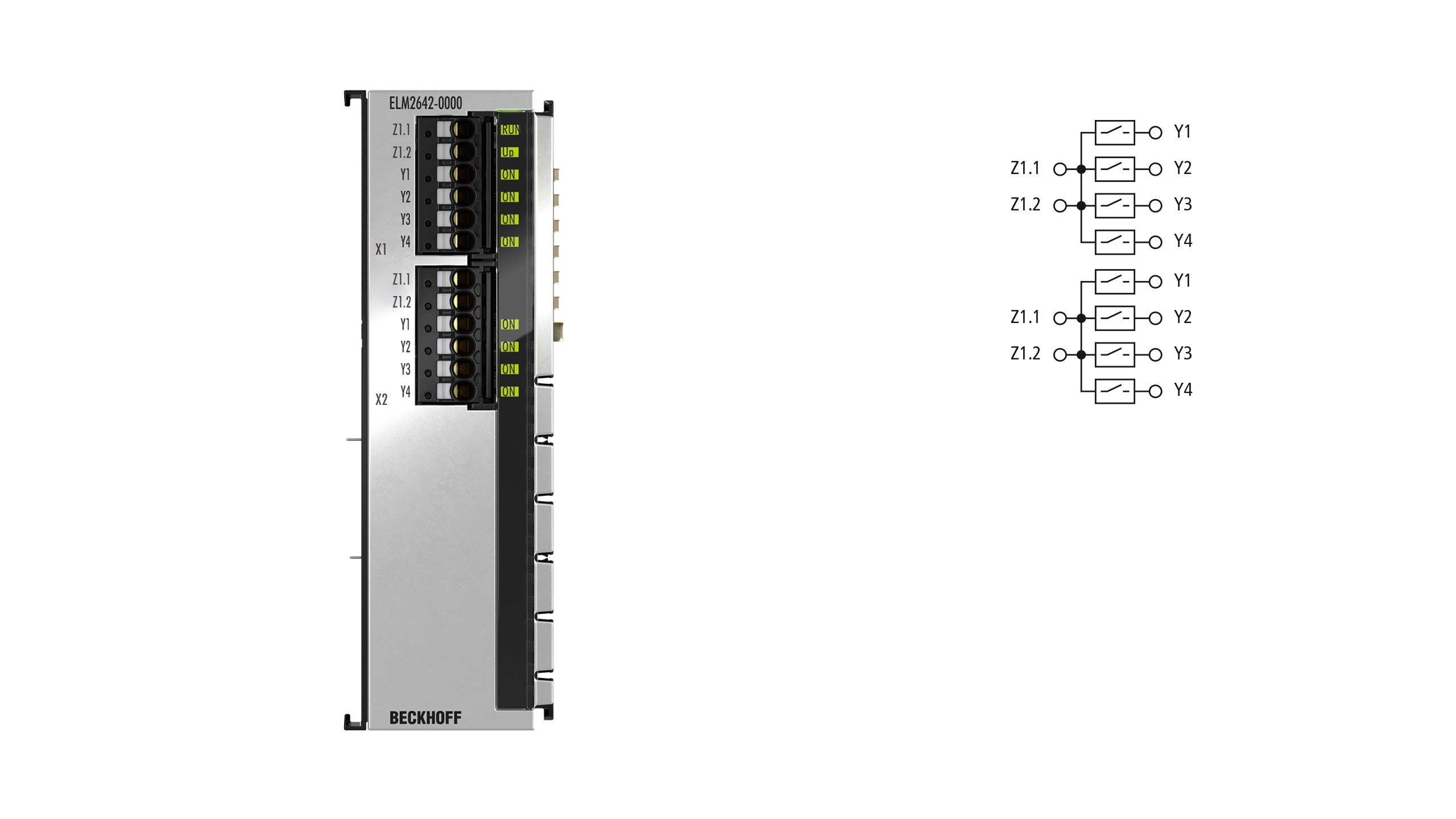 Run LED


Channel 1


Channel 2
Top view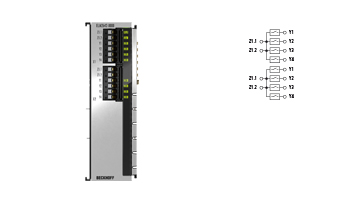 ELM2642-0000 | EtherCAT Terminal, 2-channel reed output, multiplexer, 48 V AC/DC, 0.5 A, potential-free, 1 x 4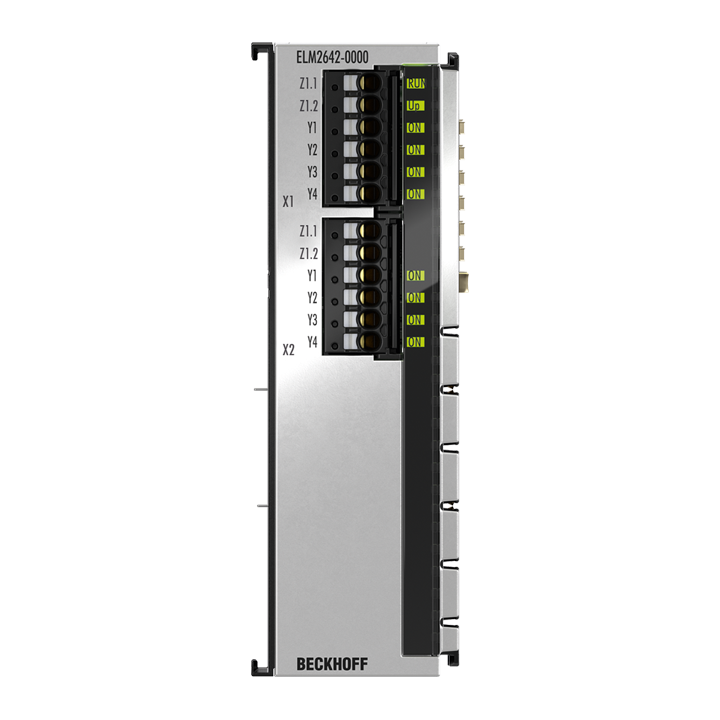 With the EL/ELM264x (Reed) and ELM274x (Solid-State) Beckhoff is considerably extending the usage possibilities of the integrated measurement technology of the ELM3xxx series as well as the normal EL3xxx/EL4xxx analog inputs and outputs, because several sensors or sources can now be connected at the same time to one analog input channel.
To this end, the ELM2642 and ELM2644 are equipped with Reed relays as switching elements, allowing fast switching cycles and a long lifetime. The electrical isolation and the constant contact resistance of the reed switch allows the measurement of even sensitive signals up to fast scanning operation.
Due to the double input connectors X the channels can easily be connected to 1 x 8 multiplexers and more.
The multi-channel recording of analog signals as well as the flexible switching of various test states in production-integrated test stations is easily possible through the integration of the often necessary switches into the EtherCAT system.
Product information
| Technical data | ELM2642-0000 |
| --- | --- |
| Technology | multiplexer |
| Connection technology | 2-wire reed output |
| Connection type | push-in, service plug 6-pin |
| Number of channels | 2 |
| Number of outputs | 2 x multiplexer 1 on 4 |
| Nominal voltage | 48 V AC/DC |
| Load type | ohmic |
| Distributed clocks | – |
| Ohmic switching current | 0.5 A AC/DC per channel |
| Inductive switching current | no data |
| Switching capacity | max. 10 W |
| Continuous power | max. 10 W |
| Current consumption E-bus | typ. 60 mA |
| Electrical isolation | 500 V (E-bus/field potential) |
| Current consumption power contacts | typ. 20 mA |
| Configuration | no address or configuration setting |
| On-resistance | typ. 0.2 Ω |
| Switching on speed | typ. 1 ms, max. 5 ms |
| Switching off speed | typ. 1 ms, max. 5 ms |
| Breakdown voltage | 170 V |
| Short-circuit current | not short-circuit proof, see peak current |
| Peak current | 1 A (100 ms) |
| Thermal dissipation | typ. 1 W |
| Special features | fast reed relay |
| Weight | approx. 350 g |
| Operating/storage temperature | 0…+55 °C/-25…+85 °C |
| Approvals/markings | CE |
Housing data
ELM-30-xpin
Design form
metal housing with signal LEDs
Material
zinc die-cast
Dimensions (W x H x D)
30 mm x 100 mm x 95 mm
Installation
on 35 mm DIN rail, conforming to EN 60715 with lock
Side by side mounting by means of
double slot and key connection
Marking
–
Wiring
solid conductors (s): direct plug-in technique; fine-stranded conductors (st) and ferrule (f): spring actuation by screwdriver
Connection cross-section
s*: 0.2…1.5 mm²,
st*: 0.2…1.5 mm²,
f*: 0.25…0.75 mm²
Connection cross-section AWG
s*: AWG 24…14,
st*: AWG 24…14,
f*: AWG 24…14
Stripping length
8…9 mm
*s: solid wire; st: stranded wire; f: with ferrule