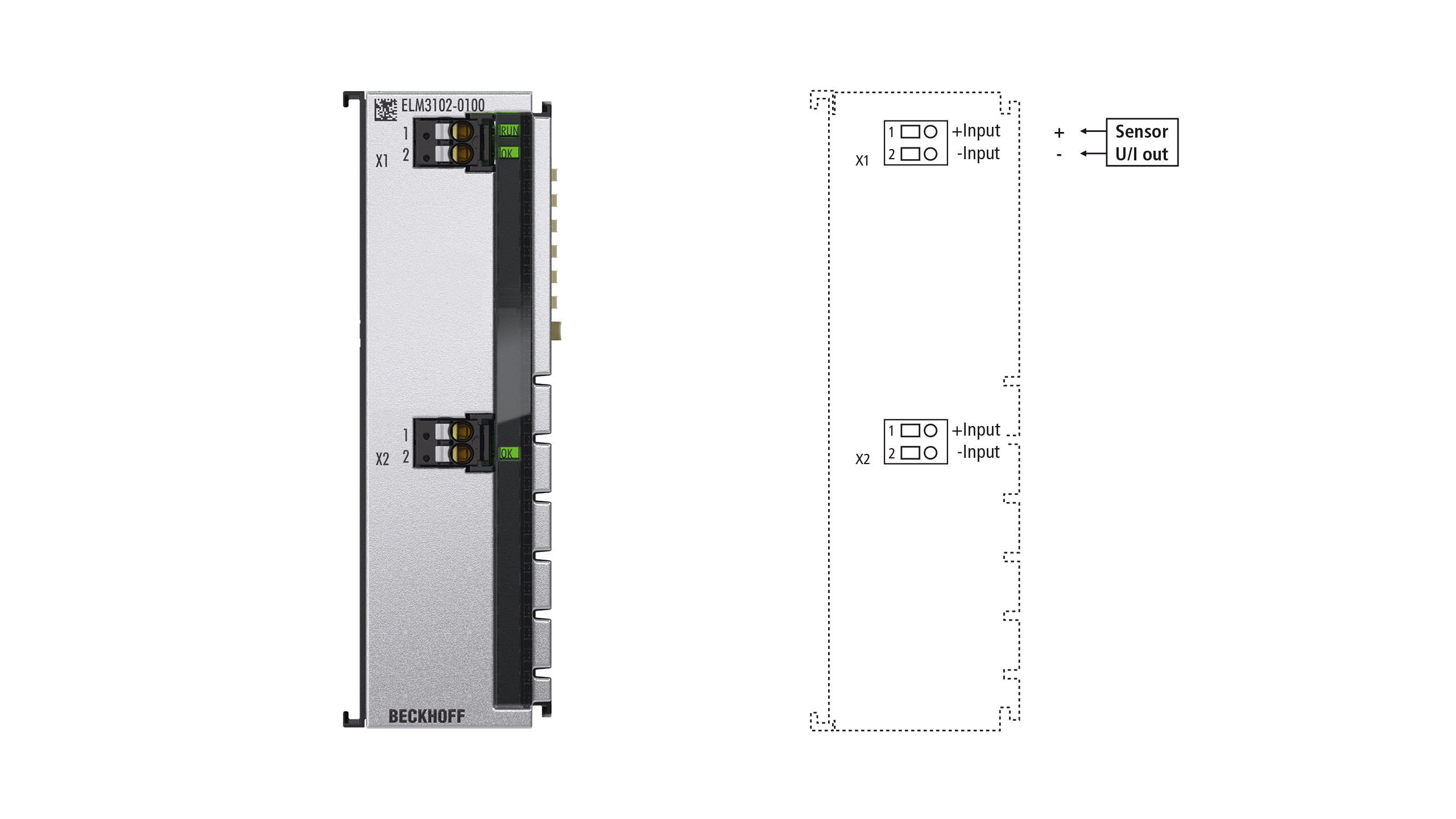 Run LED

OK-LED Channel 1

OK-LED Channel 2


Channel 1


Channel 2
Top view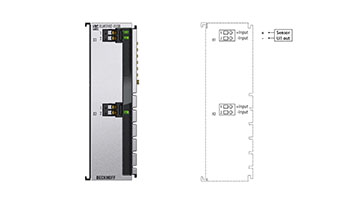 ELM3102-0100 | EtherCAT Terminal, 2-channel analog input, multi-function, ±60 V, ±20 mA, 24 bit, 20 ksps, electrically isolated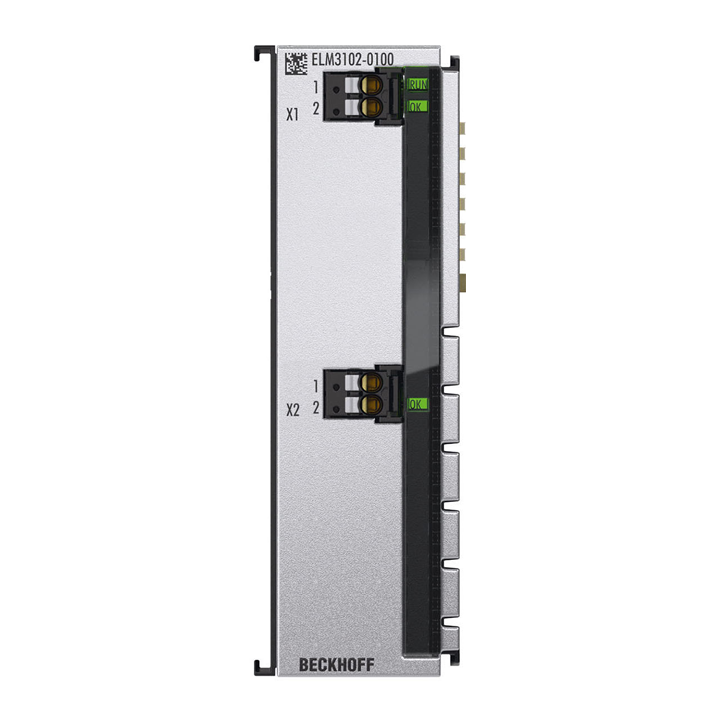 The ELM3102-0100 EtherCAT Terminal of the basic series is a version of the ELM3702-0101 that is reduced to voltage and current measurement. It offers the measuring ranges +60 V…-20 mV and ±20 mA at a fast sampling rate of 20 ksps per channel. Due to the galvanic isolation between the channels, it can detect signals that are at different or fluctuating potentials with high accuracy in complex environments.
Available on request as variant with factory calibration certificate or ISO 17025-/DAkkS-compliant certificate including Beckhoff recalibration service.
Extensive documentation is available from Beckhoff sales, support or measurement@beckhoff.com.
Product information
| System data | ELM310x |
| --- | --- |
| Voltage measurement | ±60/10/5/2.5/1.25 V, ±640/320/160/80/40/20 mV, 0…5/10 V (2-wire connection) |
| Current measurement | ±20 mA, 0/4…20 mA, NAMUR NE43 (2-wire connection) |
| Technical data | ELM3102-0100 |
| --- | --- |
| Number of channels | 2 |
| Technology | voltage or current measurement, configurable for each channel |
| Signal type | differential |
| Connection technology | 2-wire |
| Connection type | push-in, service plug 2-pin |
| Max. sampling rate | max. 50 µs/20 ksps (per channel, simultaneously) |
| Oversampling factor | n = 1…100 selectable |
| Internal resistance | > 4 MΩ (voltage), 150 Ω (current) typ. |
| Measurement error/ uncertainty | typ. < ±100 ppm/±0.01 % in some measuring ranges, relative to the respective full scale value, see documentation |
| Temperature coefficient | up to typ. < 1 ppm/K in some measuring ranges, see documentation |
| Functional diagnostics | yes |
| Connection diagnostics | broken wire/short circuit |
| Distributed clocks | yes, accuracy << 1 µs |
| Resolution | 24 bit (incl. sign) |
| Electrical isolation channel/channel | 707 V DC (type test) |
| Electrical isolation channel/bus | 707 V DC (type test) |
| Electrical isolation channel/SGND | 707 V DC (type test) |
| Current consumption E-bus | typ. 390 mA |
| Weight | approx. 350 g |
| Operating/storage temperature | 0…+55 °C/-25…+85 °C |
| Thermal dissipation | typ. 3 W |
| Special features | ExtendedRange 107 %, free numeric filter, TrueRMS, integrator/differentiator, non-linear scaling, PeakHold |
| Approvals/markings | CE, UL |
Housing data
ELM-30-xpin
Design form
metal housing with signal LEDs
Material
zinc die-cast
Dimensions (W x H x D)
30 mm x 100 mm x 95 mm
Installation
on 35 mm DIN rail, conforming to EN 60715 with lock
Side by side mounting by means of
double slot and key connection
Marking
–
Wiring
solid conductors (s): direct plug-in technique; fine-stranded conductors (st) and ferrule (f): spring actuation by screwdriver
Connection cross-section
s*: 0.2…1.5 mm²,
st*: 0.2…1.5 mm²,
f*: 0.25…0.75 mm²
Connection cross-section AWG
s*: AWG 24…14,
st*: AWG 24…14,
f*: AWG 24…14
Stripping length
8…9 mm
*s: solid wire; st: stranded wire; f: with ferrule