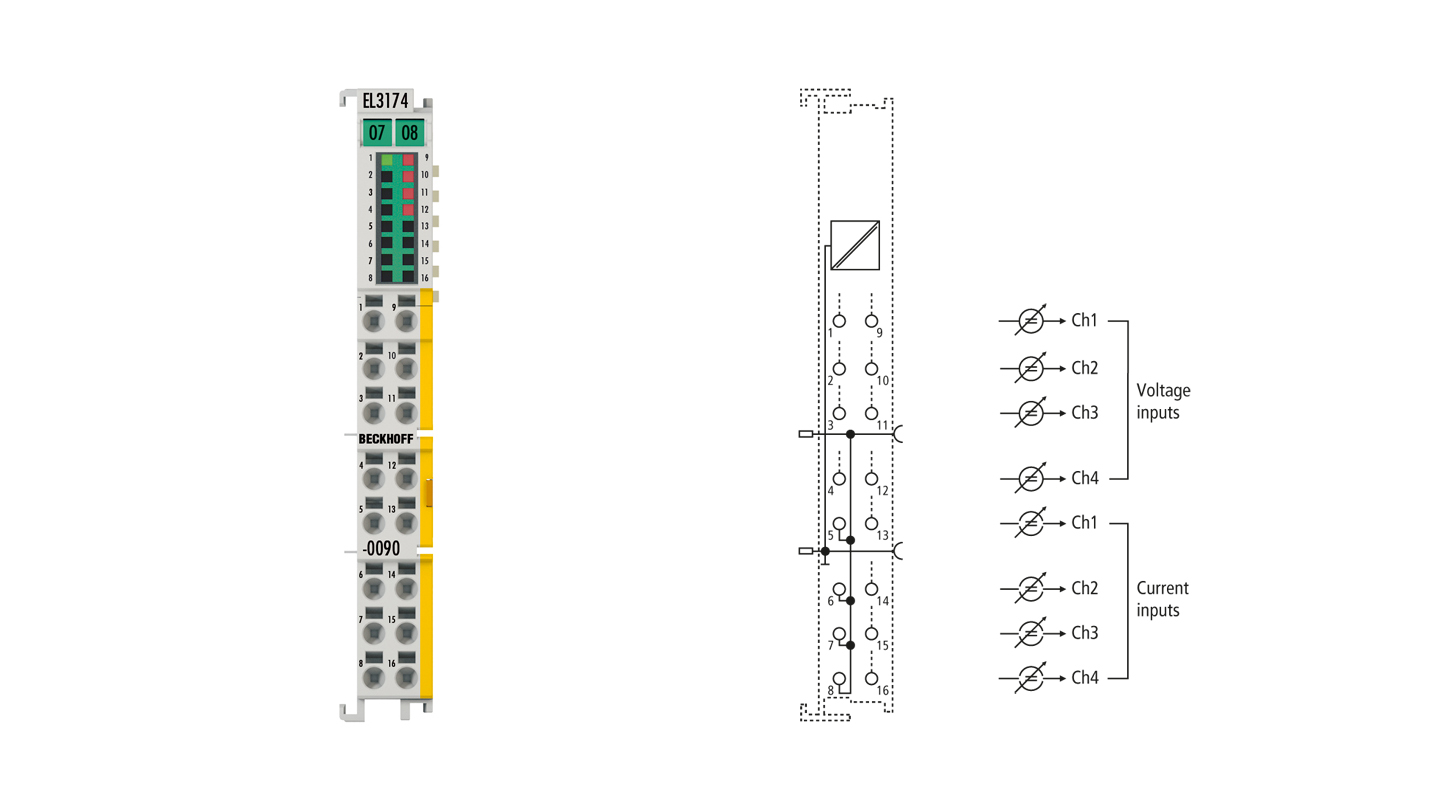 Run LED




Err LED
CH1...4

Power contact
+24 V

Power contact 0 V

Ch1 U+

Ch2 U+

Ch3 U+

Ch4 U+

+24 V

+24 V

+24 V

+24 V

Ch1 U-

Ch2 U-

Ch3 U-

Ch4 U-

Input Ch1

Input Ch2

Input Ch3

Input Ch4
Top view
Contact assembly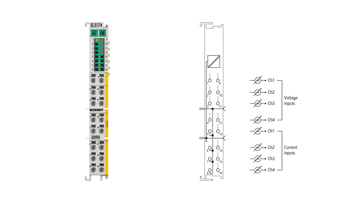 EL3174-0090 | EtherCAT Terminal, 4-channel analog input, multi-function, ±10 V, ±20 mA, 16 bit, TwinSAFE SC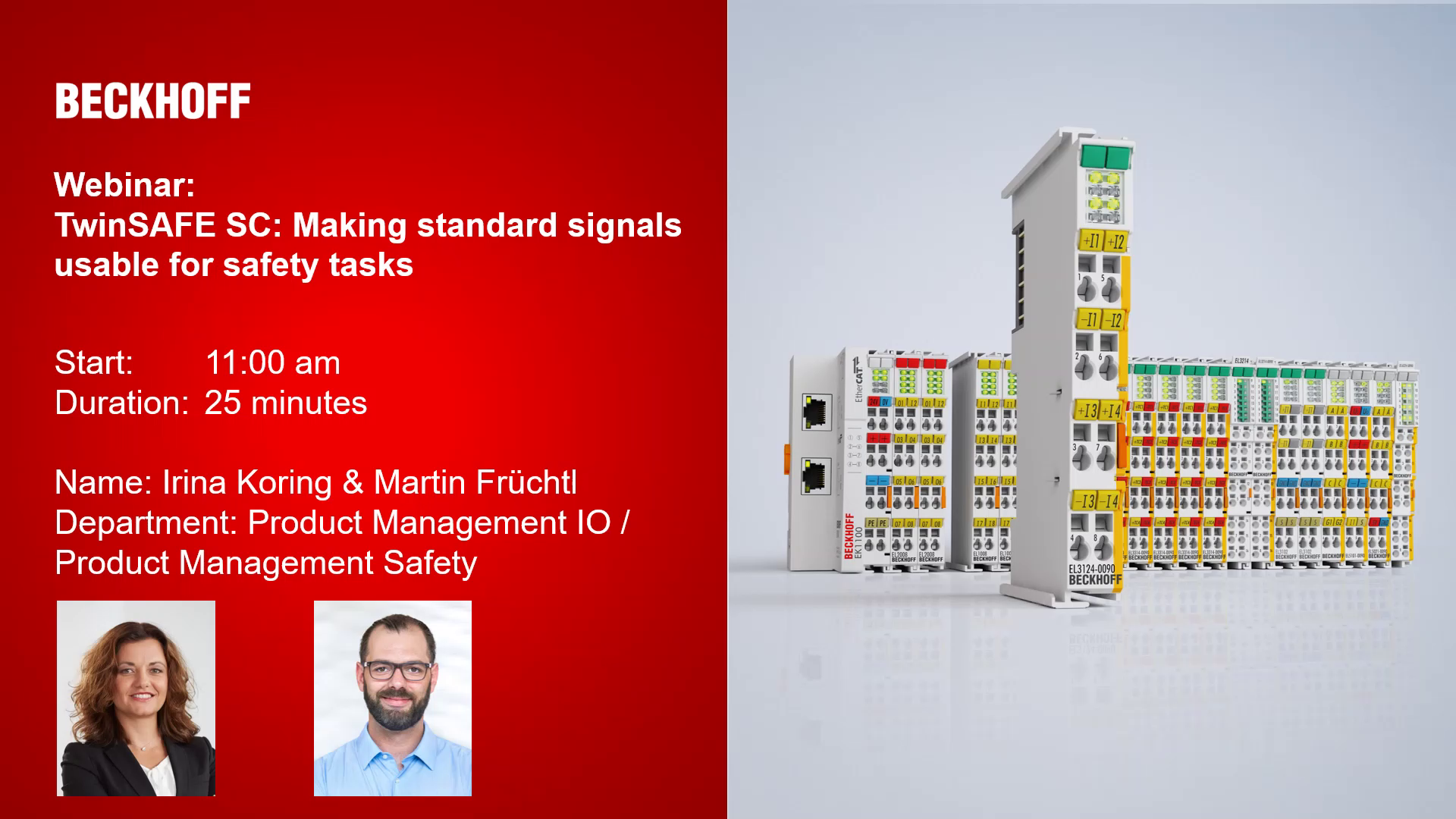 TwinSAFE SC: Making standard signals usable for safety tasks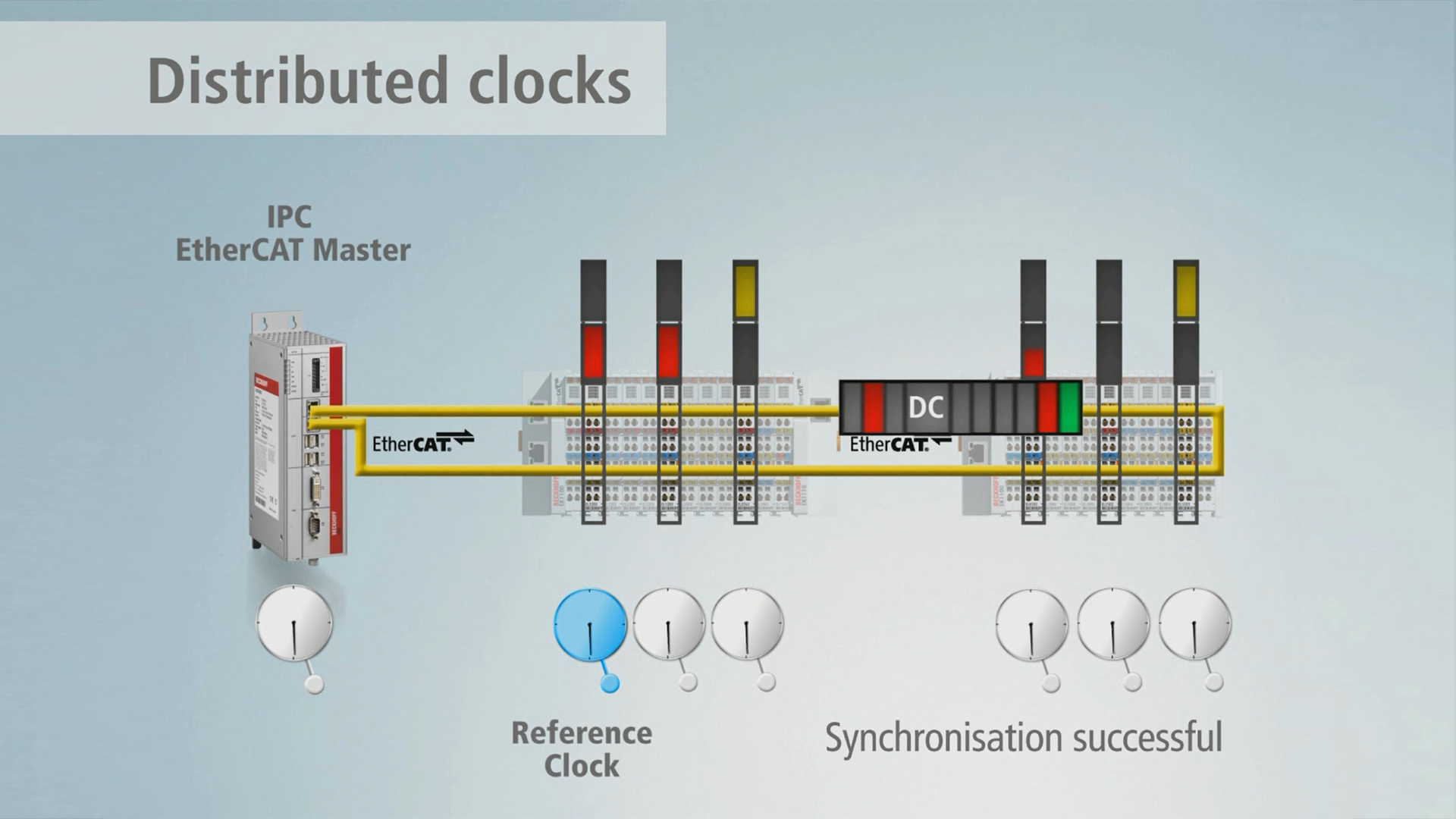 Distributed Clocks: the integrated time management system in EtherCAT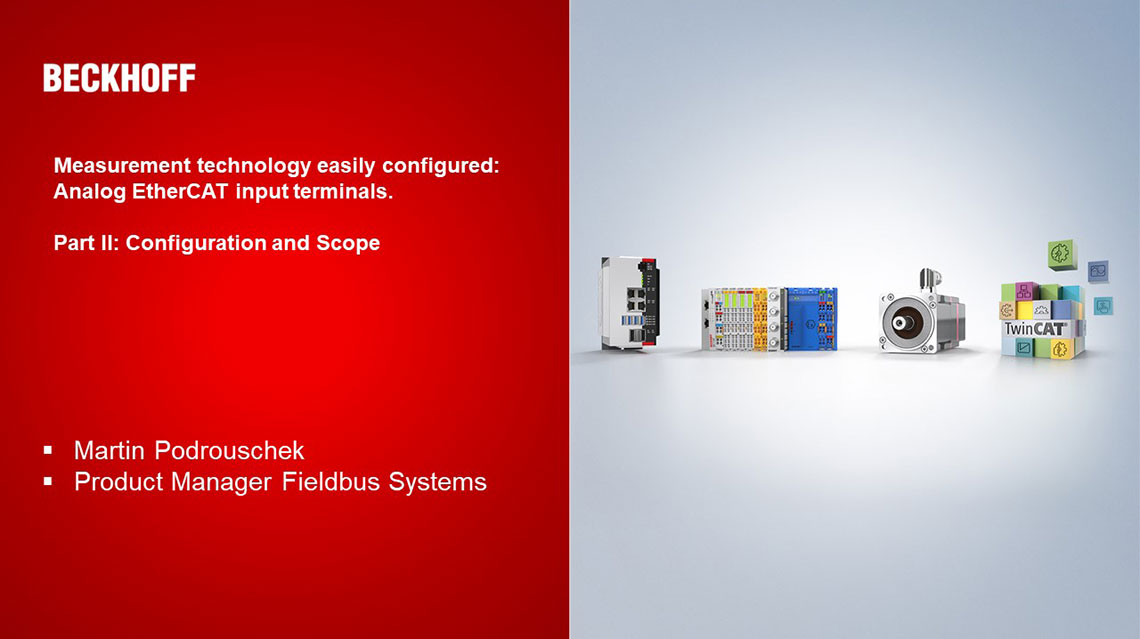 Measurement technology easily configured: Analog EtherCAT input terminals.
Measurement technology simply integrated: With the analog EtherCAT Terminals.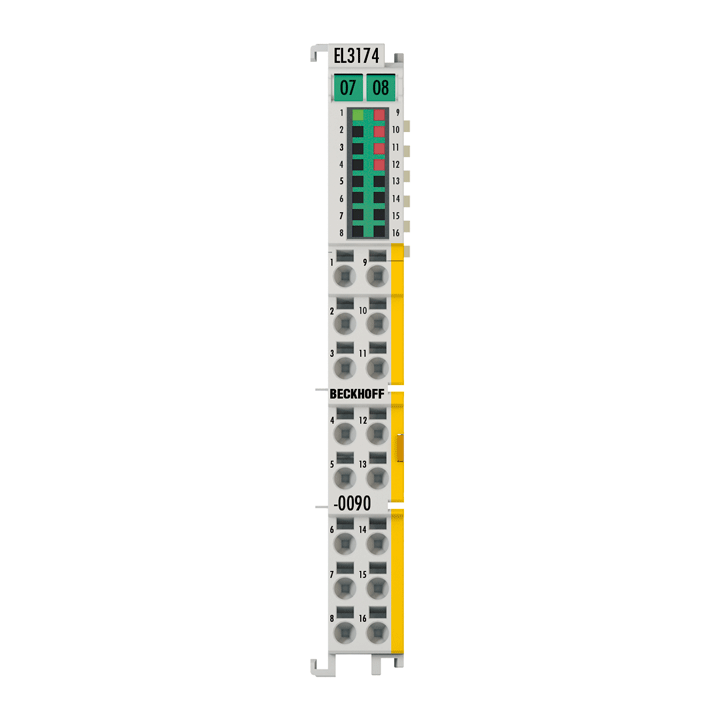 The EL3174 analog input terminal has four individually parameterizable inputs. Signals in the range from -10/0 to +10 V or -20/0/+4 to +20 mA can be processed via each channel. Physically, the voltage and current signals should be connected to different terminal points. Each channel should then be set by the controller/TwinCAT to U or I mode via CoE. The voltage inputs operate differentially; the current inputs are single-ended. All inputs are digitized with a resolution of 16 bits and transmitted, electrically isolated, to the higher-level automation device. With a technical measuring range of ±107 % of the nominal range, the terminal also supports commissioning with sensor values in the limit range and diagnostics according to NAMUR NE43.
With the aid of the TwinSAFE SC technology (TwinSAFE Single Channel) it is possible to make use of standard signals for safety tasks in any network or fieldbus. To do this, EtherCAT I/Os from the areas of analog input, position measurement or communication (4…20 mA, incremental encoder, IO-Link, etc.) are extended by the TwinSAFE SC function. The properties typical for the signals and the standard functions of the I/O components are retained. TwinSAFE SC I/Os differ optically from standard I/Os by a yellow stripe on the front of the housing.
The TwinSAFE SC technology enables communication via a TwinSAFE protocol. These connections can be distinguished from the usual secure communication via Safety over EtherCAT.
The data from the TwinSAFE SC components is fed via a TwinSAFE protocol to the TwinSAFE Logic, where it can be used in the context of safety-relevant applications. Detailed examples confirmed/calculated by the TÜV SÜD for the correct application of the TwinSAFE SC components and the respective normative classifications can be found in the TwinSAFE application manual.
Product information
Technical data
EL3174-0090
Number of inputs
4
Power supply
via the E-bus
Technology
U differential, I single-ended
Signal type
differential
Oversampling factor
–
Distributed clocks
yes
Distributed clock precision
<< 1 µs
Internal resistance
> 200 kΩ | typ. 85 Ω
Input filter limit frequency
5 kHz
Common-mode voltage U

CM

max. 35 V (voltage measurement)
Dielectric strength
max. 30 V (current measurement)
Conversion time
minimum 150 µs
Measuring range, nominal
-10/0…+10 V | -20/0/+4…+20 mA
Measuring range, technical
-10.73…+10.73 V | -21.47…+21.47 mA
Resolution
16 bit (incl. sign)
Measurement error/ uncertainty
< ±0.3 % (relative to full scale value)
Electrical isolation
500 V (E-bus/signal voltage)
Current consumption power contacts
–
Current consumption E-bus
typ. 200 mA
Configuration
no address or configuration setting
Special features
TwinSAFE SC, U/I parameterizable, ExtendedRange,standard and compact process image, activatable FIR/IIR filters
Weight
approx. 65 g
Operating/storage temperature
-25…+60 °C/-40…+85 °C
Relative humidity
95 %, no condensation
Vibration/shock resistance
conforms to EN 60068-2-6/EN 60068-2-27
EMC immunity/emission
conforms to EN 61000-6-2/EN 61000-6-4
Protect. rating/installation pos.
IP20/variable
Approvals/markings
CE, UL, ATEX, IECEx
Ex marking
ATEX:
  II 3G Ex ec IIC T4 Gc
IECEx:
  Ex ec IIC T4 Gc
cFMus:
  Class I, Division 2, Groups A, B, C, D
  Class I, Zone 2, AEx ec IIC T4 Gc
Housing data
EL-12-16pin
Design form
HD (High Density) housing with signal LEDs
Material
polycarbonate
Dimensions (W x H x D)
12 mm x 100 mm x 68 mm
Installation
on 35 mm DIN rail, conforming to EN 60715 with lock
Side by side mounting by means of
double slot and key connection
Marking
labeling of the BZxxx series
Wiring
solid conductors (s): direct plug-in technique; fine-stranded conductors (st) and ferrule (f): spring actuation by screwdriver
Connection cross-section
s*: 0.08…1.5 mm²,
st*: 0.25…1.5 mm²,
f*: 0.14…0.75 mm²
Connection cross-section AWG
s*: AWG 28…16,
st*: AWG 22…16,
f*: AWG 26…19
Stripping length
8…9 mm
Current load power contacts
Imax: 10 A
*s: solid wire; st: stranded wire; f: with ferrule