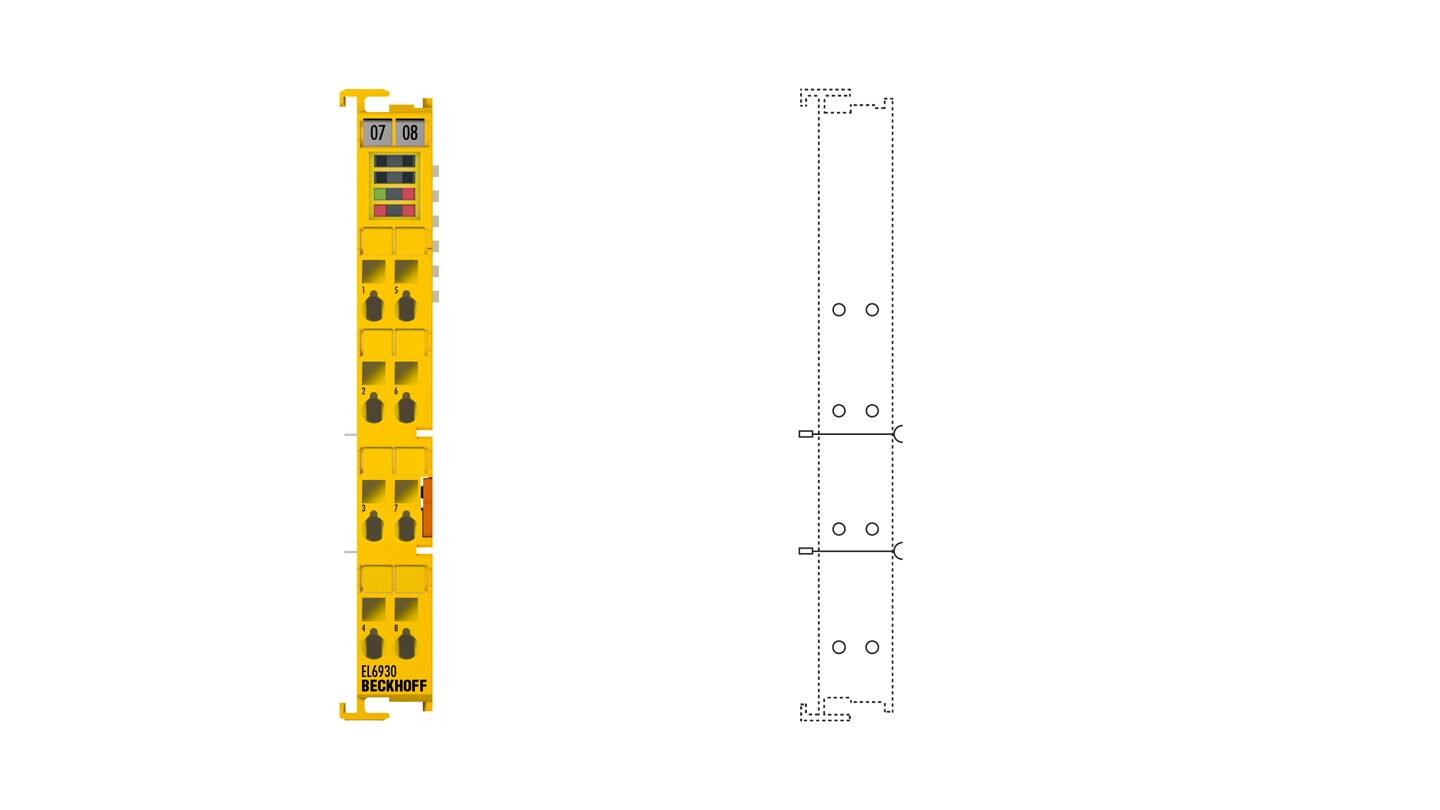 Diagnostic 1

Diagnostic 3

Diagnostic 2

Diagnostic 4

Power contact
+24 V

Power contact 0 V
Top view
Contact assembly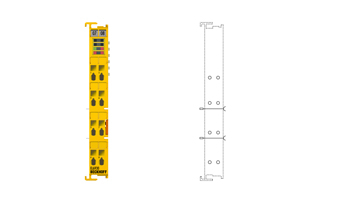 EL6930 | EtherCAT Terminal communication interface, TwinSAFE Logic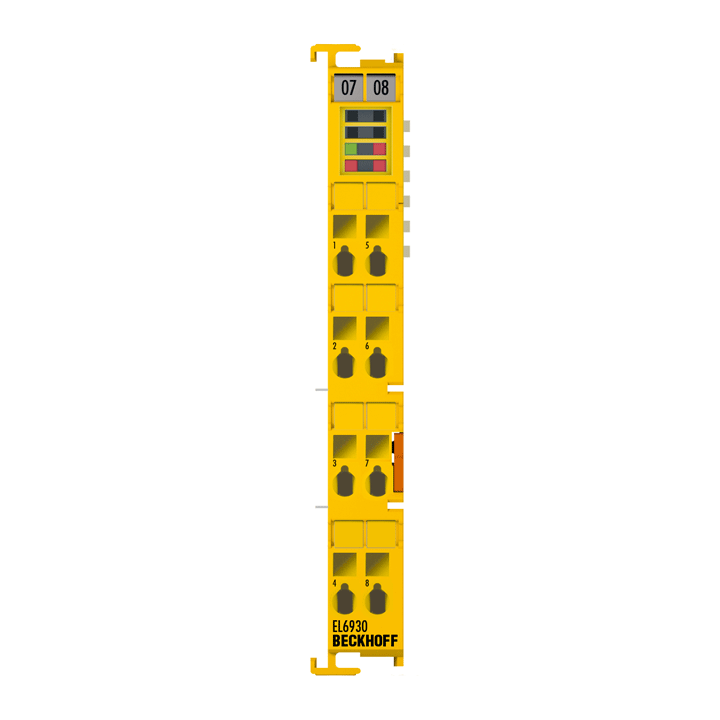 The EL6930 TwinSAFE component is a dedicated safety controller. It is used for the realization of safety-oriented applications on the basis of Boolean values. For this purpose, certified function blocks are available that enable the processing of safe input signals and the generation of safe output signals. The functionality of the function blocks ranges from simple Boolean functions such as AND and OR to complex function blocks for muting the safety function.
With the backup and restore function, the EL6930 additionally offers a simple way to exchange a safety controller in case of service.
The EL6930 can safely exchange data via FSoE with up to 128 safe communication devices. One of these connections can be used to establish a connection to a PROFIsafe master via PROFIsafe.
The EL6930 is programmed with the TwinCAT 3 Safety Editor or with TwinCAT 2.
Special features:
safety applications on the basis of Boolean values
up to 128 safe connections
up to 255 function blocks
up to 32 TwinSAFE groups
up to 8 users
backup and restore support
PROFIsafe slave support
Product information
| Technical data | EL6930 |
| --- | --- |
| Specification | link unit between safe input and output signals |
| Protocol | TwinSAFE/Safety over EtherCAT, PROFIsafe |
| Cycle time | approx. 500 µs/according to project size |
| Fault response time | ≤ watchdog time (parameterizable) |
| Current consumption power contacts | – |
| Current consumption E-bus | typ. 188 mA |
| Installation position | horizontal |
| Safety standard | DIN EN ISO 13849-1:2008 (Cat. 4, PL e) and EN 61508:2010 (SIL 3) |
| Weight | approx. 50 g |
| IP protection rating | IP20 |
Housing data
EL-12-8pin
Design form
compact terminal housing with signal LEDs
Material
polycarbonate
Dimensions (W x H x D)
12 mm x 100 mm x 68 mm
Installation
on 35 mm DIN rail, conforming to EN 60715 with lock
Side by side mounting by means of
double slot and key connection
Marking
labeling of the BZxxx series
Wiring
solid conductor (s), flexible conductor (st) and ferrule (f): spring actuation by screwdriver
Connection cross-section
s*: 0.08…2.5 mm²,
st*: 0.08…2.5 mm²,
f*: 0.14…1.5 mm²
Connection cross-section AWG
s*: AWG 28…14,
st*: AWG 28…14,
f*: AWG 26…16
Stripping length
8…9 mm
Current load power contacts
Imax: 10 A
*s: solid wire; st: stranded wire; f: with ferrule