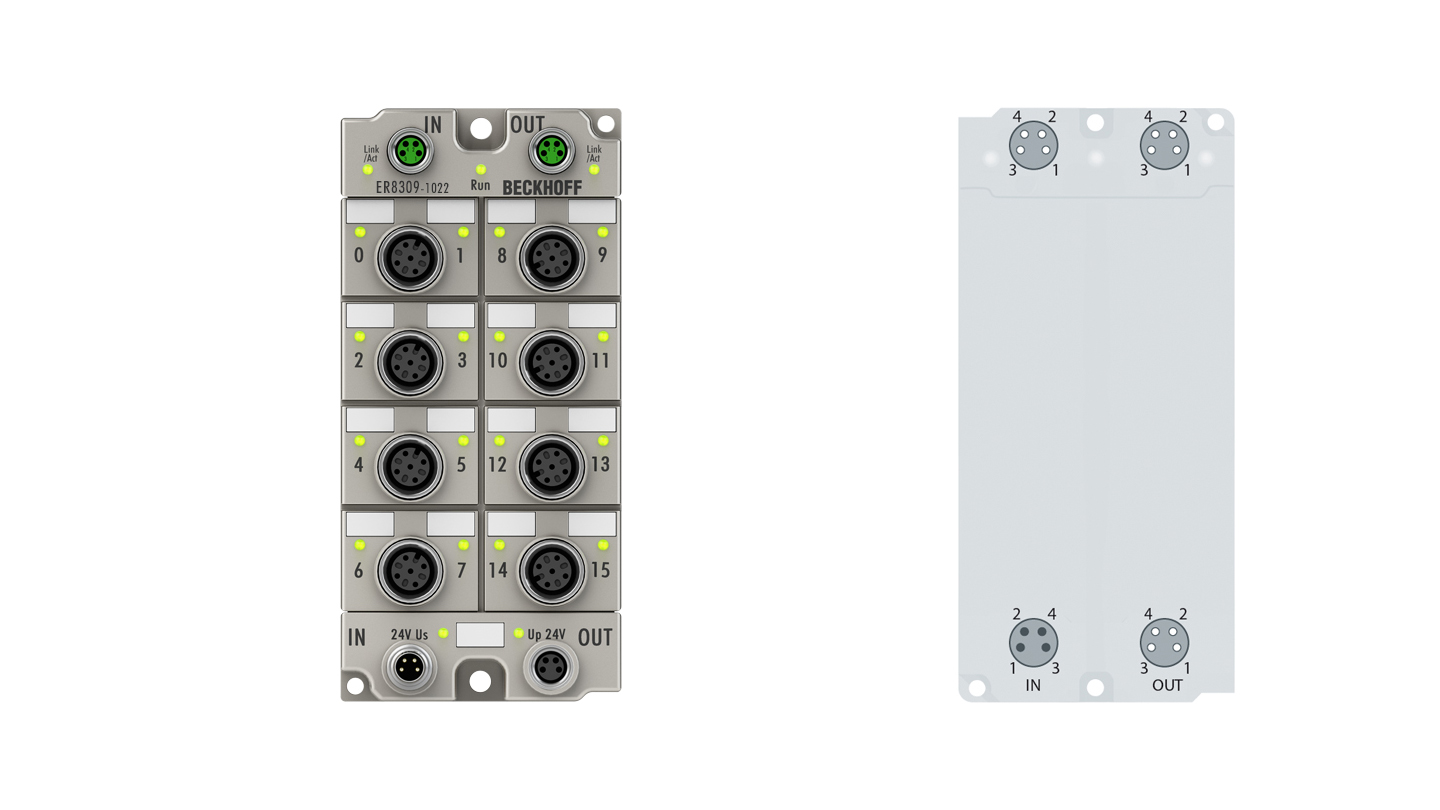 EtherCAT signal input


EtherCAT signal output


M12 I/O connection sockets


Signal status display


Labeling areas
Power supply status display:






Power supply feed


Power supply downstream
connection
1 | Tx+
2 | Rx+
3 | Rx-
4 | Tx-
Connector
assignment
see documentation
1 | +24 V DC U
S
2 | +24 V DC U
P
3 | GND
S
4 | GND
P
Top view
I/O connection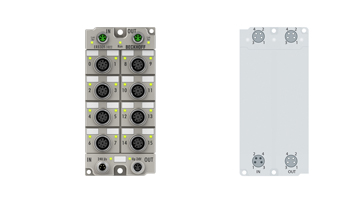 ER8309-1022 | EtherCAT Box, multi-functional box, digital, analog, PWM, current-controlled, M12, zinc die-cast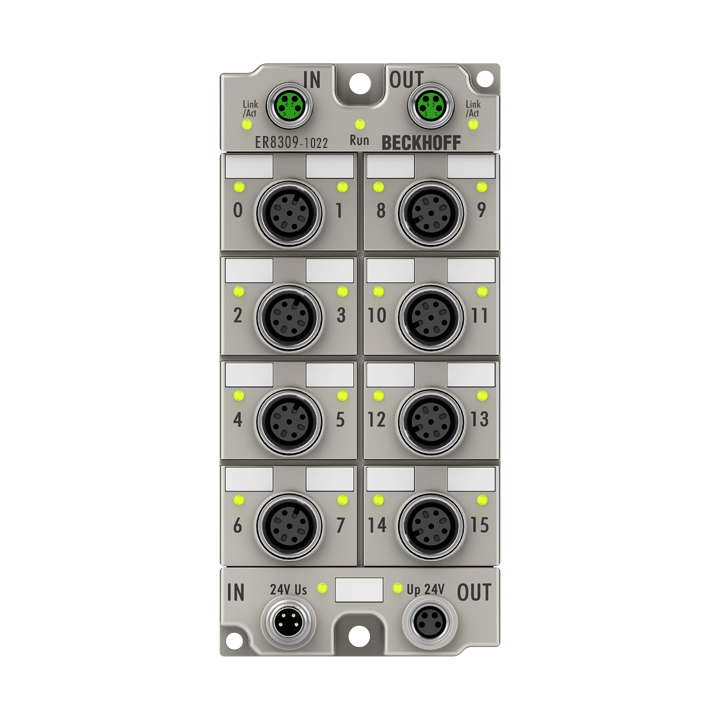 The ER8309-1022 EtherCAT Box has various digital and analog inputs and outputs: eight digital inputs/outputs, two digital tacho inputs, two analog inputs, one analog output and a 1.2 A PWMi output. The current signals have 12-bit resolution. The tacho outputs supply a speed-dependent velocity or frequency value via digital 24 V sensors. Proportional valves, for example, can be actuated directly using the PWMi output, while intelligent valves are switched by the analog output. With its combination of inputs and outputs, the ER8309-1022 offers a compact solution for the most diverse units that can be controlled over EtherCAT.
The EtherCAT Box modules with zinc die-cast housing are ready for use in harsh industrial and process environments. With the fully sealed design and metal surfaces the ER series is ideal for applications requiring enhanced load capacity and protection against weld spatter, for example.
Product information
Technical data
ER8309-1022
Protocol
EtherCAT
Bus interface
2 x M8 socket, shielded, screw type
Number of channels
8 digital inputs or outputs (6…13)
Input filter
3 ms
Limit frequency
2.5 kHz
Signal connection
M12, screw type
Number of analog inputs
2, single-ended, 12 bit, 0/4…20 mA (0/2)
Number of analog outputs
1, single-ended, 12 bit, 0/4…20 mA (15)
Number of PWMi outputs
1 x 1.2 A, max. 30 kHz (14)
Nominal voltage
24 V DC (-15 %/+20 %)
Measurement error/ uncertainty
input: < 0.3 %, output: < 0.1 % (each relative to full scale value)
Sensor supply
from control voltage U

S

Actuator supply
from the auxiliary voltage U

P

Electrical isolation
500 V
Special features
multi-functional I/O box for universal use
Weight
approx. 450 g
Operating/storage temperature
-25…+60 °C/-40…+85 °C
Vibration/shock resistance
conforms to EN 60068-2-6/EN 60068-2-27
EMC immunity/emission
conforms to EN 61000-6-2/EN 61000-6-4
Protect. rating/installation pos.
IP65/66/67 (conforms to EN 60529)/variable
Approvals/markings
CE, UL
| Housing data | 16 x M8, 8 x M12 |
| --- | --- |
| Dimensions (W x H x D) | 60 mm x 126 mm x 26.5 mm |
| Material | zinc die-cast |
| Installation | 2 fixing holes 3.5 mm diameter for M3; 2 fixing holes 4.5 mm diameter for M4 |