Run LED




Error LED

L1 OK, L1 Error

L2 OK, L2 Error

L3 OK, L3 Error




L1

L2

L3

N
Top view
Contact assembly
EL3783-0100 | EtherCAT Terminal, 3-channel analog input, multi-function, 130 V AC, 1/5 A, 16 bit, 20 ksps, electrically isolated, oversampling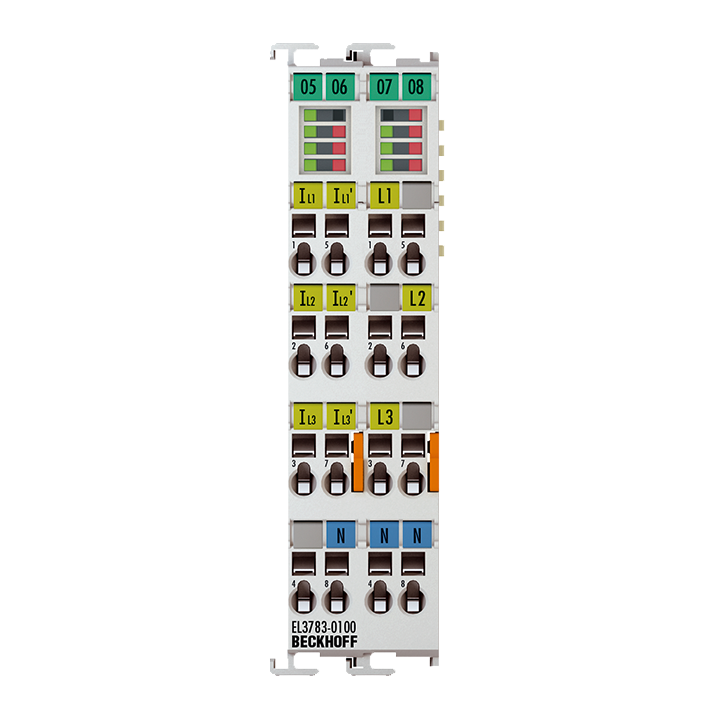 The EL3783-0100 EtherCAT Terminal is a power monitoring I/O terminal used for state monitoring of a 3-phase AC voltage system. For each phase, voltage up to 400/690 Vrms and current up to 1 Arms/5 Arms are sampled as instantaneous values with a resolution of 16 bits. The six channels are measured simultaneously based on the EtherCAT oversampling principle with a temporal resolution of up to 50 µs and then passed on to the control system. With the processing power available there and in combination with the TwinCAT Function TF3650, true RMS or power calculations as well as complex user-specific algorithms can be calculated via the voltage and current characteristics. Through the oversampling principle, the terminal is able to measure at significantly shorter intervals than the cycle time of the control system. AC and DC parameters must be connected and measured with a common reference potential.
Through the feature "ExtendedRange", the user has the full technical measuring range available at up to 130 % of the specified nominal measuring range. The EL3783-0100 supports distributed clocks and can therefore measure synchronously with other EtherCAT devices. In combination with EL6688 it can be synchronized via IEEE 1588 to external clocks. The terminal can also be operated without distributed clocks.
The adapted voltage measuring range to 130 V is optimally suited for connecting medium voltage transformers, for example.
Product information
| Technical data | EL3783-0100 |
| --- | --- |
| Number of inputs | 3 x current, 3 x voltage |
| Technology | 3-phase power monitoring for alternating voltages |
| Signal type | single-ended |
| Oversampling factor | n = 1…100 selectable |
| Distributed clocks | yes |
| Conversion time | 50 µs, all channels simultaneously |
| Measured values | current (I1, I2, I3), voltage as instantaneous values (oversampling) |
| Measuring voltage | max. 130 V AC for voltage transformer |
| Measuring current | max. 1 A (AC)/5 A (AC), via measuring transformers x A AC/1 A AC or 5 A AC |
| Measuring range, technical | generally 130 % of the nominal measuring range, see documentation |
| Resolution | 16 bit (incl. sign) |
| Measurement error/ uncertainty | 0.2 % relative to full scale value |
| Electrical isolation | 4500 V |
| Current consumption power contacts | – |
| Current consumption E-bus | typ. 260 mA |
| Special features | oversampling, AC measurement, optional single-phase operation, adjustable automatic switch of current measuring range, electrically isolated current inputs |
| Weight | approx. 100 g |
| Operating/storage temperature | 0…+55 °C/-25…+85 °C (-25…+60 °C/-40…+85 °C in preparation) |
| Relative humidity | 95 %, no condensation |
| Vibration/shock resistance | conforms to EN 60068-2-6/EN 60068-2-27 |
| EMC immunity/emission | conforms to EN 61000-6-2/EN 61000-6-4 |
| Protect. rating/installation pos. | IP20/see documentation |
| Approvals/markings | CE, UL |
Housing data
EL-24-2x8pin
Design form
compact terminal housing with signal LEDs
Material
polycarbonate
Dimensions (W x H x D)
24 mm x 100 mm x 68 mm
Installation
on 35 mm DIN rail, conforming to EN 60715 with lock
Side by side mounting by means of
double slot and key connection
Marking
labeling of the BZxxx series
Wiring
solid conductor (s), flexible conductor (st) and ferrule (f): spring actuation by screwdriver
Connection cross-section
s*: 0.08…2.5 mm²,
st*: 0.08…2.5 mm²,
f*: 0.14…1.5 mm²
Connection cross-section AWG
s*: AWG 28…14,
st*: AWG 28…14,
f*: AWG 26…16
Stripping length
8…9 mm
Current load power contacts
Imax: 10 A
*s: solid wire; st: stranded wire; f: with ferrule