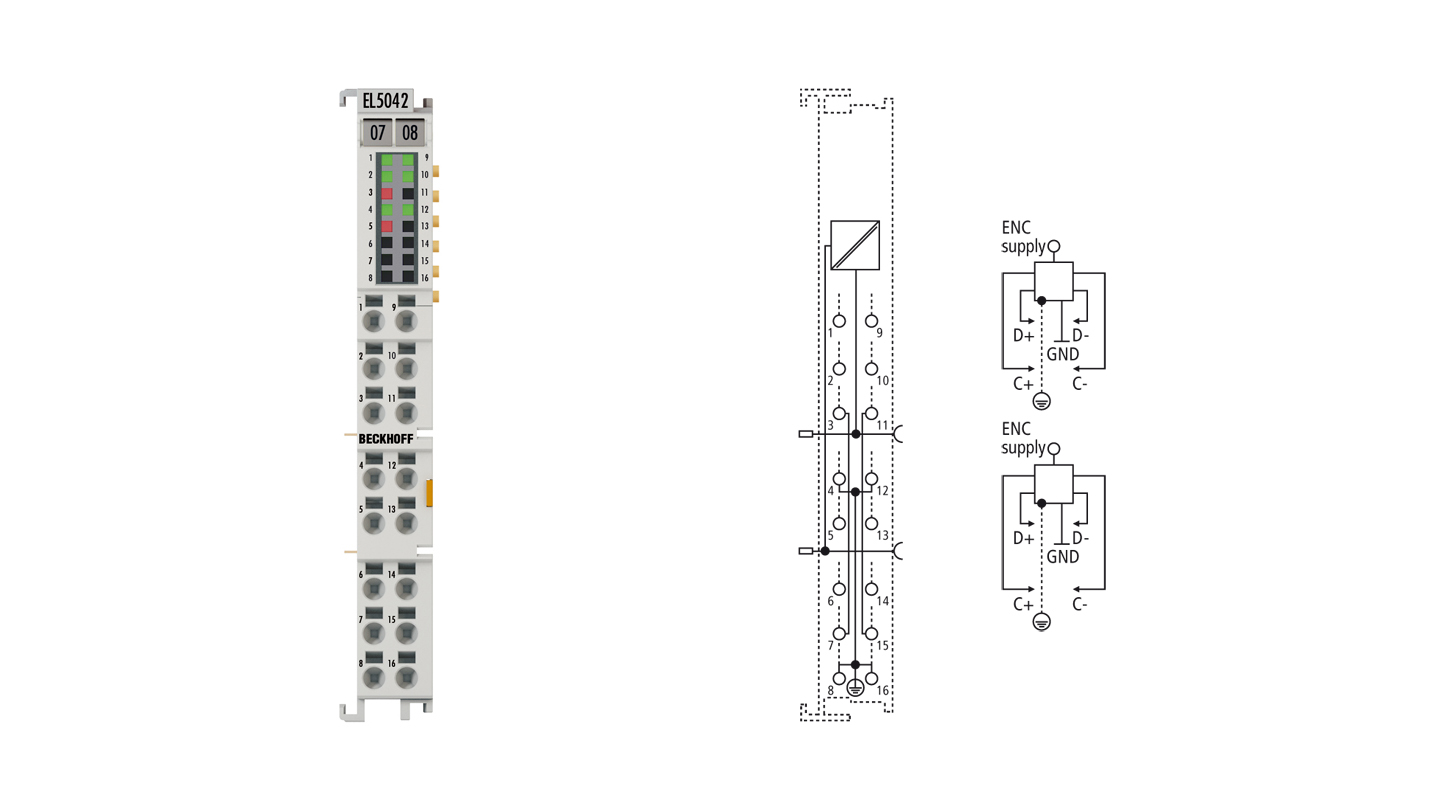 Run LED
Enabled LED1
Error LED1
Enabled LED2
Error LED2




ENC Supply
RX LED1
RX LED2

Power contact
+24 V

Power contact 0 V

Data 1+

Clock 1+

ENC supply

Shield

Data 2+

Clock 2+

ENC supply

Shield

Data 1–

Clock 1–

GND

Shield

Data 2–

Clock 2–

GND

Shield
Top view
Contact assembly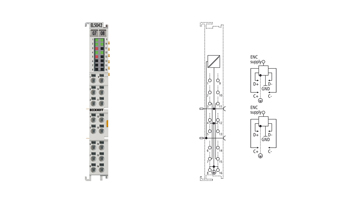 EL5042 | EtherCAT Terminal, 2-channel encoder interface, BiSS C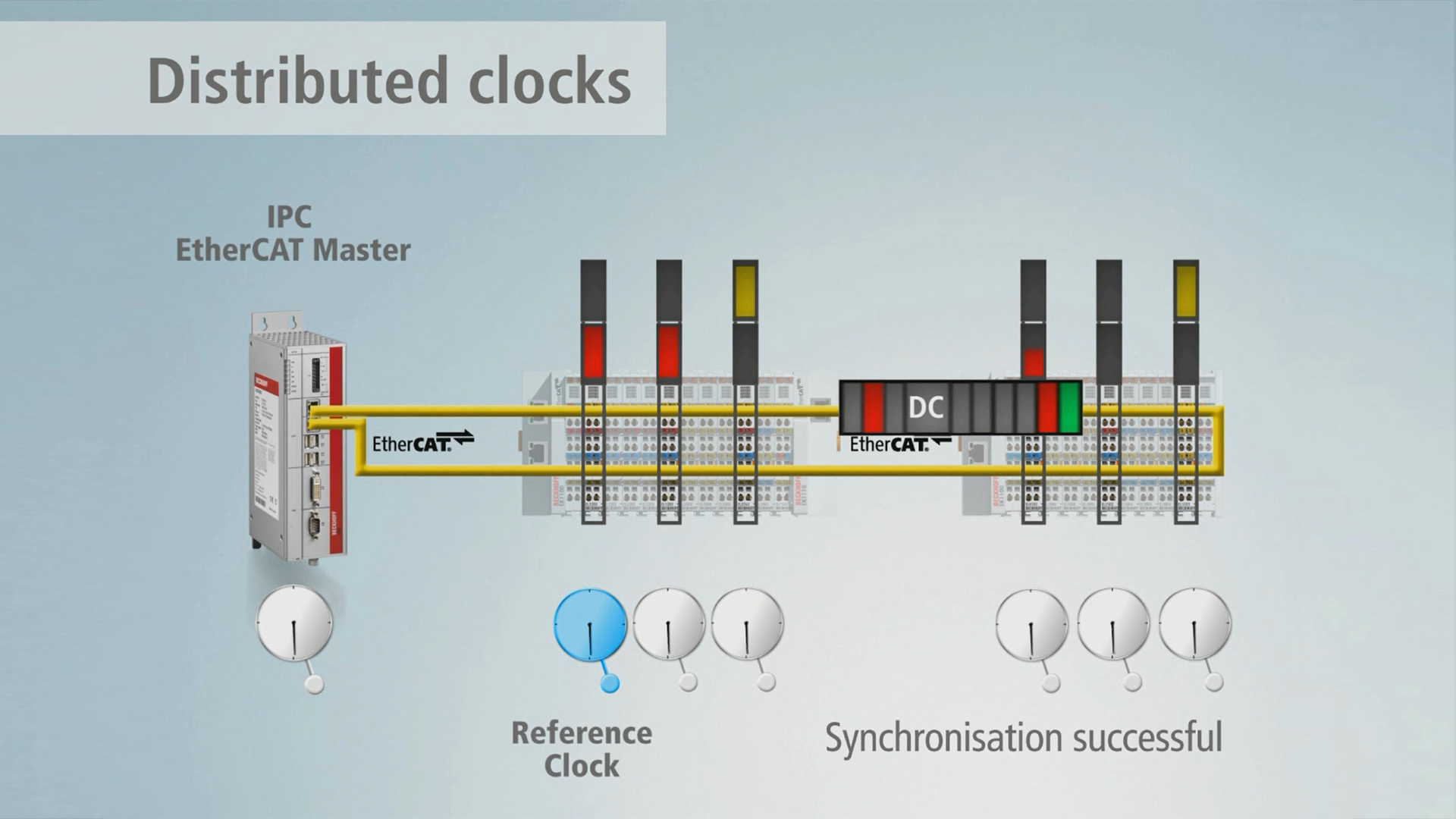 Distributed Clocks: the integrated time management system in EtherCAT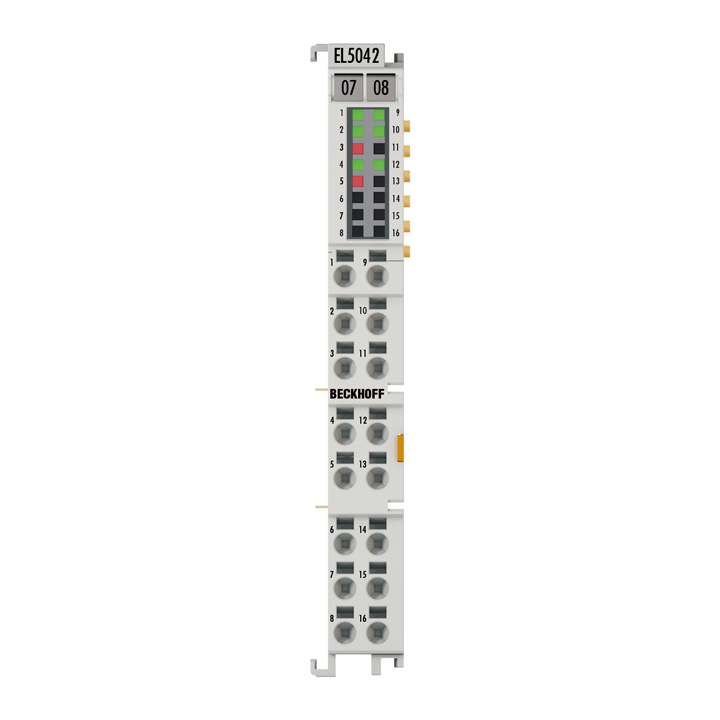 The EL5042 EtherCAT Terminals is a BiSS-C master and enables the direct connection of an absolute encoder with BiSS-C or SSI interface. Both singleturn and multiturn encoders are supported. The EL5042 also provides an encoder supply of 5 V or optionally 9 V.
The extensive parameterization allows optimum adaptation to different encoder types.
Special features:
unidirectional BiSS-C communication
parameterization per channel possible
baud rate up to max. 10 MHz
separate evaluation of the error and warning bit in the process data
position value output with up to 64 bits (depending on the encoder resolution)
also usable as SSI master
Via the distributed clocks function, the position value is read out exactly synchronously with other processes. If the distributed clocks function is deactivated, the EL5042 clocks synchronize with the EtherCAT cycle
The use of encoder profiles enables simple and fast linking of process data for motion control applications.
Product information
| Technical data | EL5042 |
| --- | --- |
| Technology | BiSS C interface, unidirectional |
| Number of channels | 2 |
| Encoder connection | D+, D-, C+, C- |
| Encoder operating voltage | optionally 5 V DC or 9 V DC, 0.5 A total current (generated from the 24 V DC power contacts) |
| Supply voltage electronics | 24 V DC (via power contacts) |
| Commands | – |
| Resolution | max. 64 bit position, 2 bit status, 8 bit CRC |
| Data transfer rates | up to 10 MHz, variable |
| Current consumption power contacts | typ. 150 mA + load |
| Current consumption E-bus | typ. 120 mA |
| Distributed clocks | yes |
| Special features | adjustable baud rate, data length, two status bits (error and warning) can be evaluated separately |
| Electrical isolation | 500 V (E-bus/field potential) |
| Weight | approx. 50 g |
| Operating/storage temperature | 0…+50 °C/-25…+85 °C |
| Relative humidity | 95 %, no condensation |
| Vibration/shock resistance | conforms to EN 60068-2-6/EN 60068-2-27 |
| EMC immunity/emission | conforms to EN 61000-6-2/EN 61000-6-4 |
| Protect. rating/installation pos. | IP20/variable |
| Approvals/markings | CE, UL |
Housing data
EL-12-16pin
Design form
HD (High Density) housing with signal LEDs
Material
polycarbonate
Dimensions (W x H x D)
12 mm x 100 mm x 68 mm
Installation
on 35 mm DIN rail, conforming to EN 60715 with lock
Side by side mounting by means of
double slot and key connection
Marking
labeling of the BZxxx series
Wiring
solid conductors (s): direct plug-in technique; fine-stranded conductors (st) and ferrule (f): spring actuation by screwdriver
Connection cross-section
s*: 0.08…1.5 mm²,
st*: 0.25…1.5 mm²,
f*: 0.14…0.75 mm²
Connection cross-section AWG
s*: AWG 28…16,
st*: AWG 22…16,
f*: AWG 26…19
Stripping length
8…9 mm
Current load power contacts
Imax: 10 A
*s: solid wire; st: stranded wire; f: with ferrule