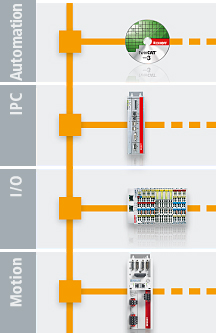 Interbus is a sensor/actuator bus with low configuration expenditure. The summation frame protocol of this master/slave system offers high efficiency in cyclic communication. The typical topology is a line structure with branches, physically based on the RS485 standard. Distances of up to 400 m are possible at a data transmission rate of 500 KB; an expansion of up to 13 km can be achieved using repeaters. The maximum number of devices is limited to 256.
The link was copied to the clipboard.
You have successfully logged into myBeckhoff.