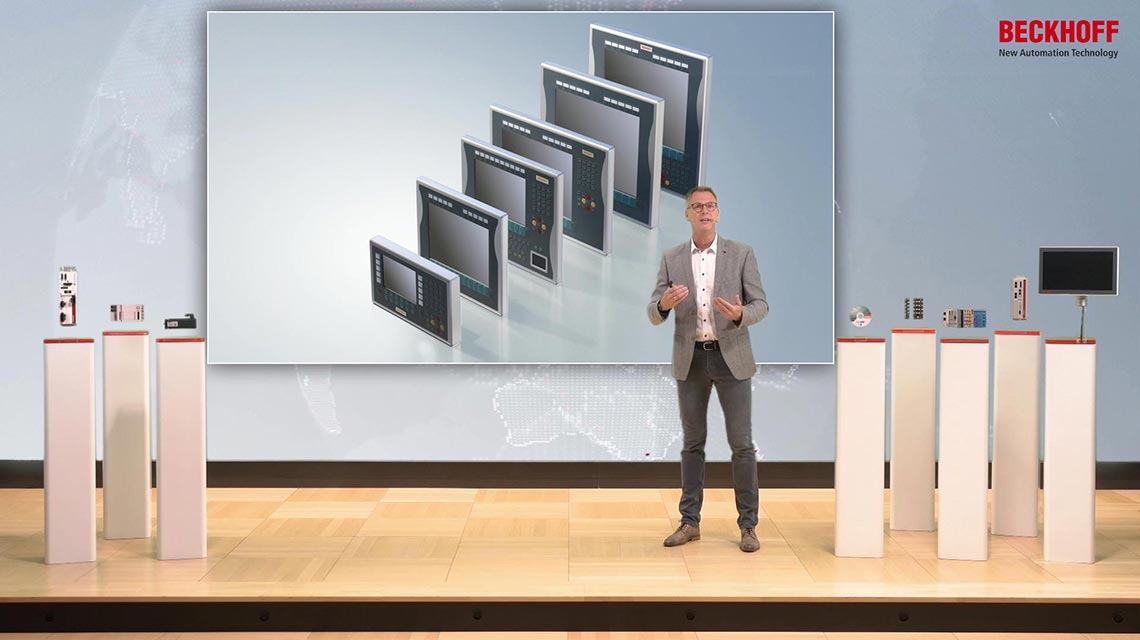 Versatile stainless steel panels with IP65 protection
The Control Panels series CP39xx-14xx and CP79xx-1400 in a stainless steel finish are control and operating devices that meet strict hygiene requirements – above all important in the pharmaceutical, food and packaging industries. The Control Panels with IP65 protection are characterized by an optimized housing design with minimized gaps. The housing geometry ensures that fluids run off automatically, thus helping to prevent the accumulation of contaminants.
Variety of input options
The Control Panels in a stainless steel finish are available with both resistive and capacitive touch screens. It is thus possible to use modern multi-touch applications even in areas with high hygiene requirements. The multi-touch screen is equipped with a laminated polyester film and thus offers increased splintering protection, which can help to avoid contamination of the products in the event of damage to the appliance.
In addition, the Beckhoff product portfolio includes Control Panels with resistive touch screens. These can be used for existing applications or in places where the use of a capacitive touch screen is not possible.
Display variety
In addition to classic screens with a 4:3 or 5:4 aspect ratio, modern widescreen formats can also be used. The screen sizes range from 12 to 19 inches:
12-inch, resolution 800 x 600 (4:3)
12.1-inch, resolution 1280 x 800 (16:9)
15-inch, resolution 1024 x 768 (4:3)
15.6-inch, resolution 1366 x 768 (16:9)
18.5-inch, resolution 1366 x 768 (16:9)
19-inch, resolution 1280 x 1024 (5:4)
Flexible configuration
Thanks to the Beckhoff DVI/USB-Extended and CP-Link 4 connection technologies, it is possible to use the stainless steel Control Panels at a distance of up to 100 meters from the Industrial PC. The function of the Control Panel can also be supplemented by the use of a push-button extension. This allows push-buttons, emergency stop and RFID to be integrated with the Control Panel in a single housing.
Mounting is done via a mounting arm adapter on a 48 mm round tube. The connections are protected by the mounting arm adapter against dirt and the influence of chemicals.
Beckhoff is a pioneer in PC-based automation technology and has been developing and producing its own PC hardware since 1986. The technology know-how that has grown over the past decades is incorporated today into all Beckhoff Industrial PCs. Their principle feature is the use of state-of-the-art components and processors of the highest performance class. Combined with a high in-house production depth, including proprietary motherboard production, long-term component availability, extremely flexible configuration and customer-specific adaptations, Beckhoff presents itself today as one of the world's leading Industrial PC manufacturers.