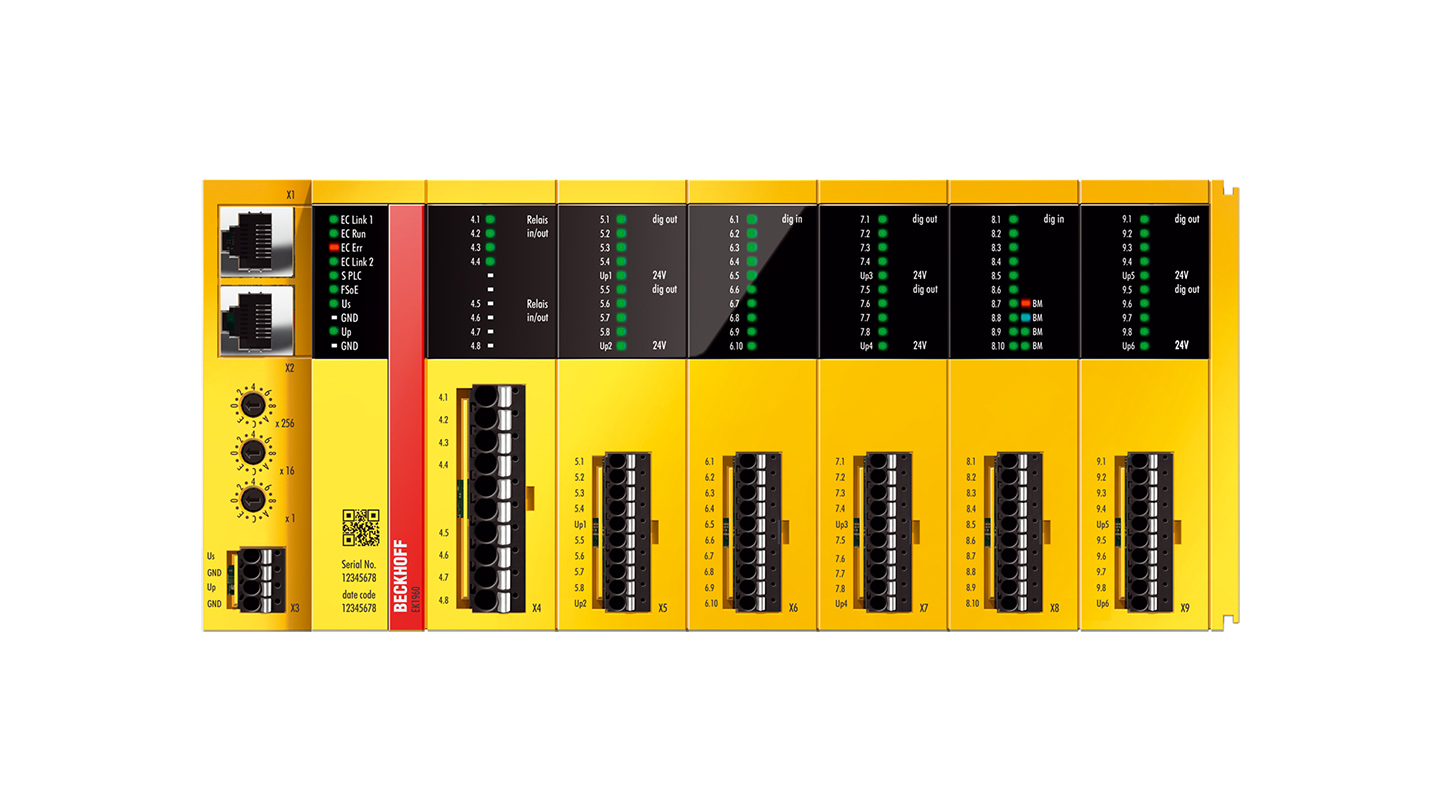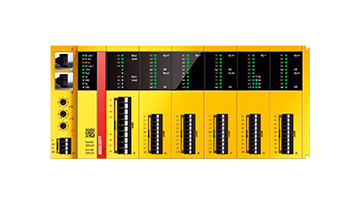 EK1960 | TwinSAFE Compact Controller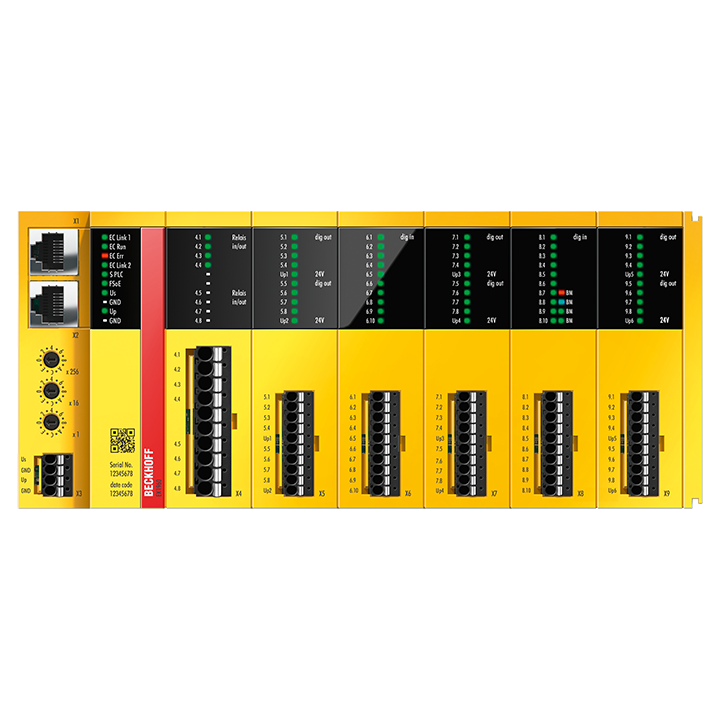 The EK1960 TwinSAFE Compact Controller extends the range of applications of the TwinSAFE integrated safety solution. The core of the safety controller corresponds to the functionality of the EL6910 dedicated safety controller. Thanks to the compact design of the EK1960 with 20 safe digital inputs and 24 safe digital outputs (up to 2 A), it covers in particular the safety requirements of compact machines. The EK1960 can be operated "stand-alone" or networked with other controllers via the EtherCAT connectors. If the coupler is operated in an EtherCAT network, it can be extended by all EL/ES terminals like any EtherCAT coupler. As a stand-alone device, it cannot be extended by terminals.
The TwinSAFE Compact Controller is programmed via the TwinCAT Safety Editor in the same way as other TwinSAFE components. A TwinSAFE project is created and loaded over EtherCAT into the EK1960. The EK1960 supports the establishment of 128 TwinSAFE connections. For flexible adaptation to different safety tasks, the TwinSAFE Compact Controller can be combined with the TwinSAFE I/O components in IP20 and IP67 and the TwinSAFE Drive Option cards.
In addition to the Safety over EtherCAT protocol, the EK1960 also supports the TwinSAFE SC technology. This makes the safe transfer of data from TwinSAFE SC terminals to the EK1960 TwinSAFE Compact Controller possible.
The EK1960 also supports the processing of analog signals (16/32 bit, signed and unsigned). These signals can be transferred to the logic as standard, TwinSAFE SC or Safety over EtherCAT signals. Analog signals can thus be checked for plausibility within the logic.
Certified function blocks such as ADD, SUB, MUL, DIV, and also more complex ones such as Counter, Limit or Compare are available for the processing of analog signals.
Special features:
analog value processing
incremental download
diagnostic history directly on the component
up to 128 safe connections
up to 128 TwinSAFE groups
up to 40 users
TwinSAFE SC support
Stand-alone operation (without EtherCAT connection)
20 safe inputs
24 safe outputs
4 optional relay outputs
Standard outputs can be activated with integrated AND connection with a safe output signal
Product information
Technical data
EK1960
Connection technology
1-wire
Specification
link unit between safe input and output signals
Number of inputs
20
Number of outputs
24 (4 optional relay outputs)
Max. output current
2 A (simultaneity factor 50 % at 2 A)
Protocol
TwinSAFE/Safety over EtherCAT
Cycle time
approx. 1 ms/according to project size
Fault response time
≤ watchdog time (parameterizable)
Current consumption from U

S

/U

P

typ. 80 mA/typ. 2 mA
Installation position
horizontal
Safety standard
EN ISO 13849-1:2015 (Cat. 4, PL e) and EN 61508:2010 (SIL 3)
IP protection rating
IP20
Ordering information
EK1960-0000
TwinSAFE Compact Controller for EtherCAT Terminals (ELxxxx) with integrated I/Os:
– 20 safe digital inputs 24 V DC
– 24 safe digital outputs 24 V DC, 2 A, 1-wire system
safety protocol: TwinSAFE/Safety over EtherCAT
connection: RJ45
EK1960-0008
TwinSAFE Compact Controller for EtherCAT Terminals (ELxxxx) with integrated I/Os:
– 20 safe digital inputs 24 V DC
– 24 safe digital outputs 24 V DC, 2 A, 1-wire system
safety protocol: TwinSAFE/Safety over EtherCAT
connection: M8
EK1960-2600
TwinSAFE Compact Controller for EtherCAT Terminals (ELxxxx) with integrated I/Os:
– 20 safe digital inputs 24 V DC
– 24 safe digital outputs 24 V DC, 2 A, 1-wire system
– 4 safe digital outputs, potential-free make contacts
safety protocol: TwinSAFE/Safety over EtherCAT
connection: RJ45
EK1960-2608
TwinSAFE Compact Controller for EtherCAT Terminals (ELxxxx) with integrated I/Os:
– 20 safe digital inputs 24 V DC
– 24 safe digital outputs 24 V DC, 2 A, 1-wire system
– 4 safe digital outputs, potential-free make contacts
safety protocol: TwinSAFE/Safety over EtherCAT
connection: M8