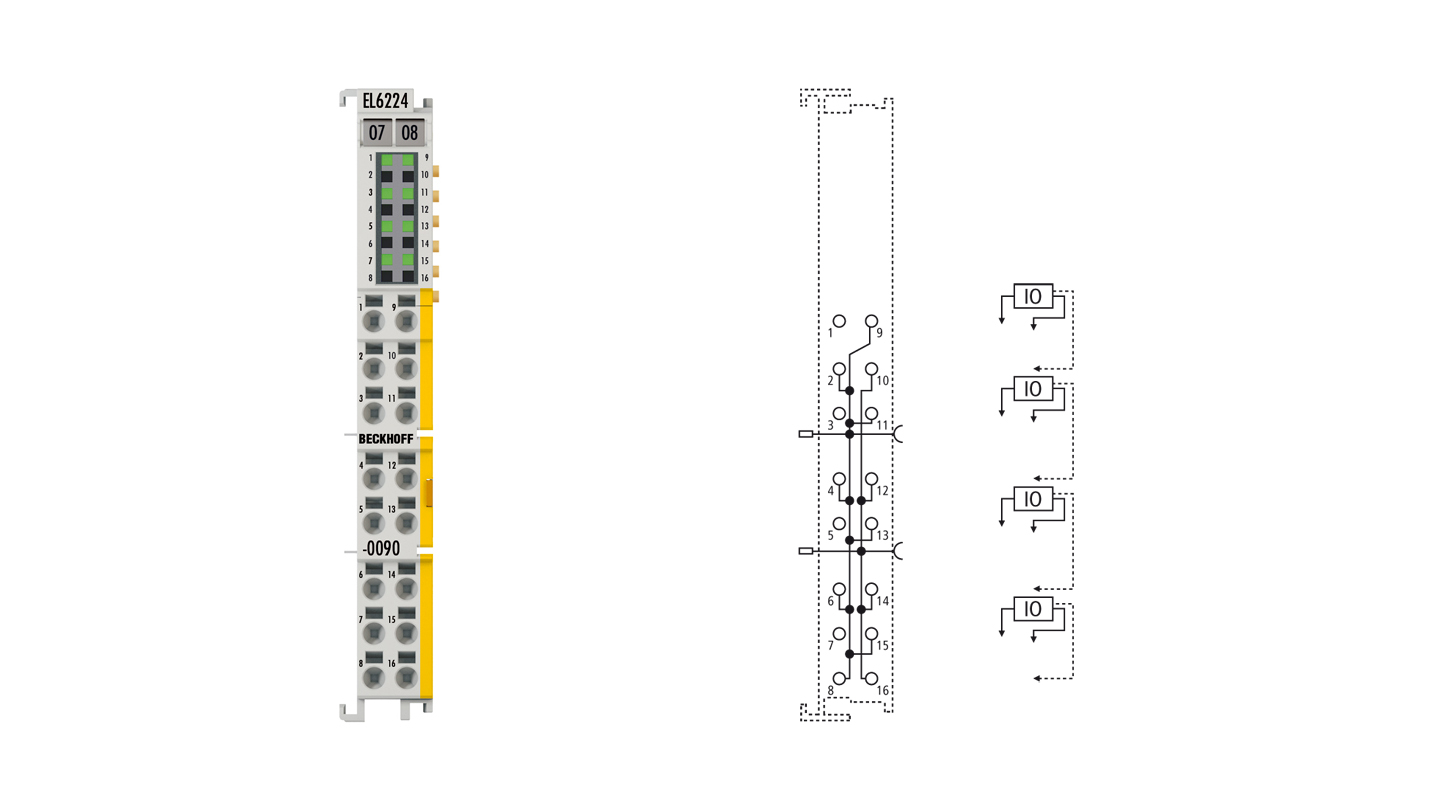 Run LEDs
1, 3, 5, 7




Status LEDs
9, 11, 13, 15

Power contact
+24 V

Power contact 0 V

Input 1

+24 V

Input 2

+24 V

Input 3

+24 V

Input 4

+24 V

+24 V

0 V

+24 V

0 V

+24 V

0 V

+24 V

0 V
Top view
Contact assembly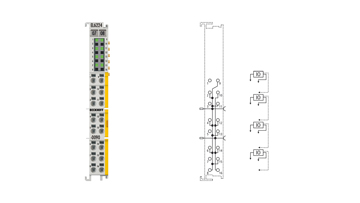 EL6224-0090 | EtherCAT Terminal, 4-channel communication interface, IO-Link, master, TwinSAFE SC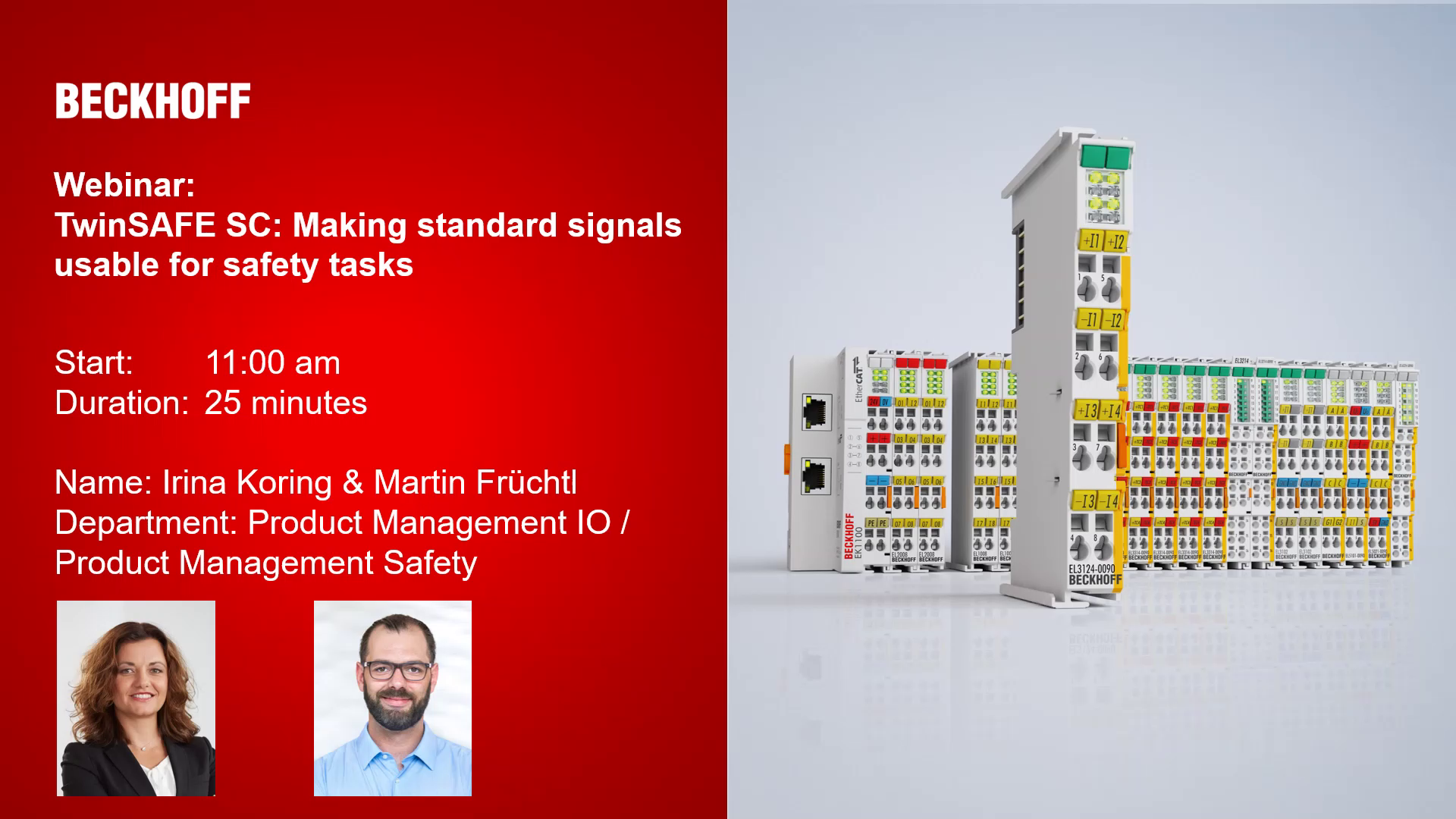 TwinSAFE SC: Making standard signals usable for safety tasks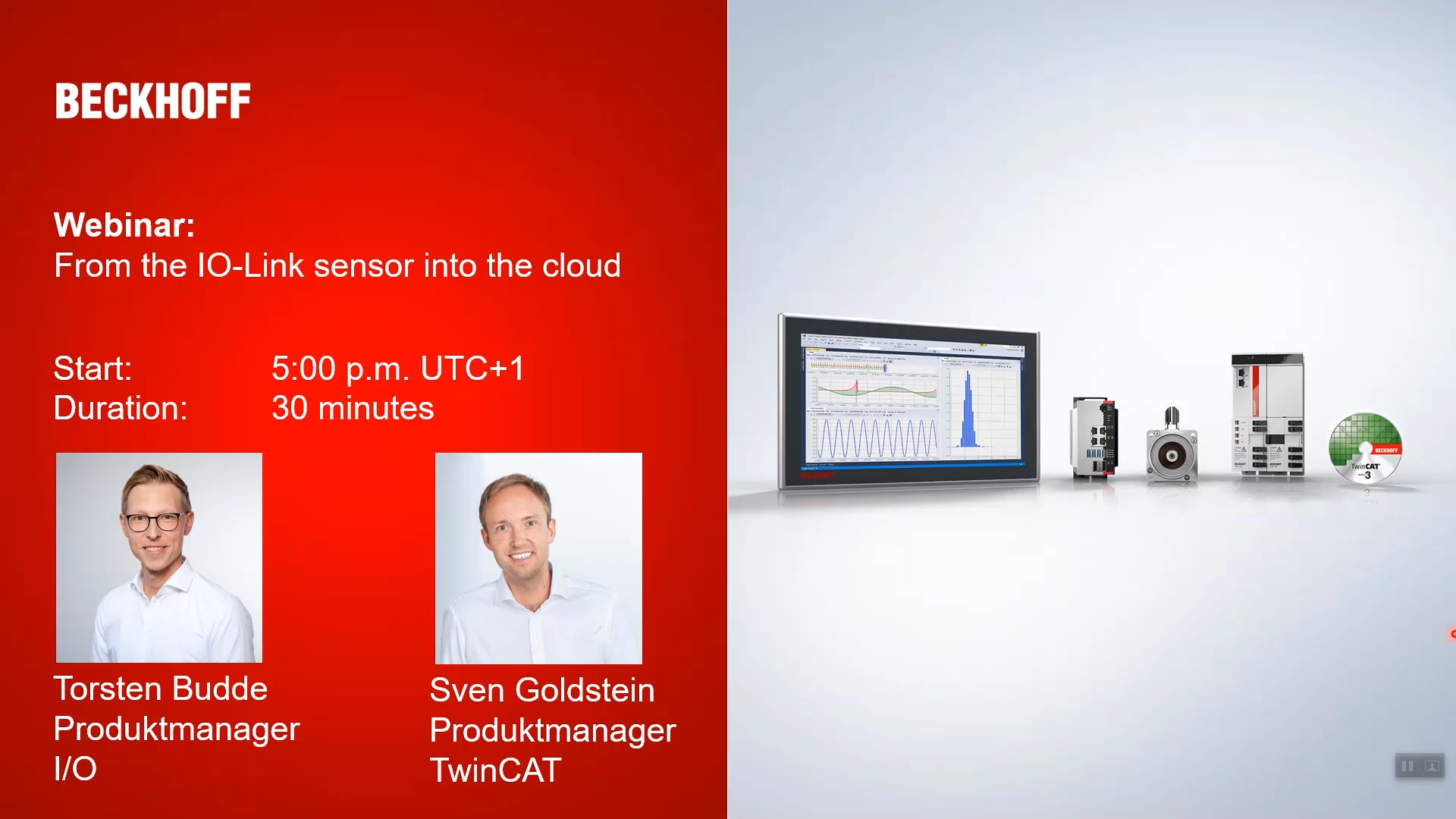 From the IO-Link sensor into the cloud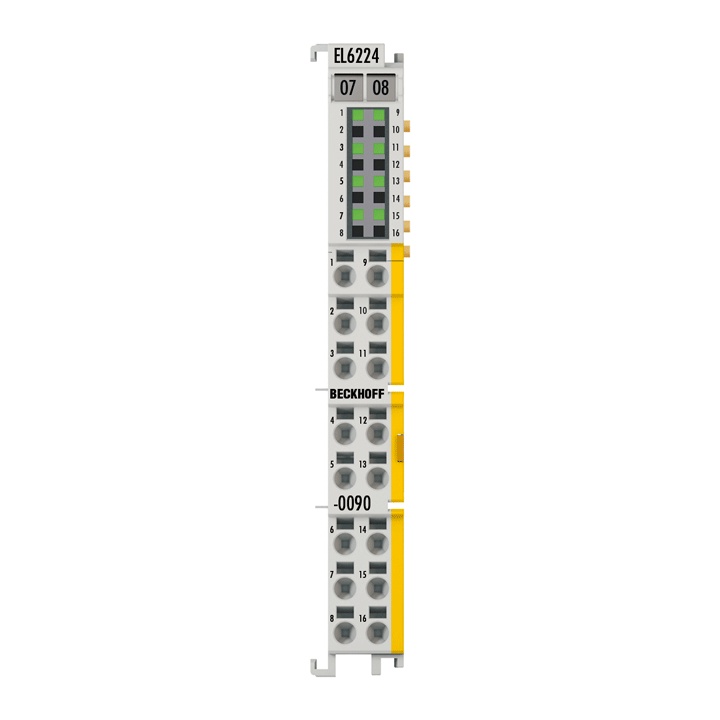 The EL6224 IO-Link terminal enables the connection of up to four IO-Link devices. These can be actuators, sensors or a combination of both. A point-to-point connection is used between the terminal and the device. The terminal is parameterized via the EtherCAT master.
The EL6224-0090 also supports TwinSAFE SC (TwinSAFE Single Channel). This enables the use of standard signals for safety tasks in any networks of fieldbuses.
IO-Link is designed as an intelligent link between the fieldbus level and the sensor, wherein parameterization information can be exchanged bidirectionally via the IO-Link connection. Parameterization of the IO-Link devices with service data can be carried out from TwinCAT via ADS or very conveniently via the integrated IO-Link commissioning tool.
In the standard setting, the EL6224-0090 functions as a 4-channel input terminal, 24 V DC, which communicates if necessary with connected IO-Link devices, parameterizes them and, if necessary, changes their operation mode. Thanks to the integration in the HD housing with 16 connection points, each IO-Link device can be operated in 3-wire mode.
Additional 24 V and 0 V connection points can be realized via the EL918x potential distribution terminal.
Product information
| Technical data | EL6224-0090 |
| --- | --- |
| Technology | IO-Link input/output |
| Specification version | IO-Link V1.1 |
| IO-Link interfaces | 4 |
| Field voltage | 24 V DC via power contacts |
| Connection | 3-wire |
| Data transfer rates | 4.8 kbaud, 38.4 kbaud and 230.4 kbaud |
| Cable length | max. 20 m |
| Power supply | via E-bus and power contacts |
| Electrical isolation | 500 V (E-bus/signal voltage) |
| Power contacts | yes |
| Supply current for devices | 500 mA per device |
| Current consumption E-bus | typ. 120 mA |
| Special features | TwinSAFE SC, each channel parameterizable in TwinCAT |
| Weight | approx. 60 g |
| Operating/storage temperature | -25…+60 °C/-40…+85 °C |
| Relative humidity | 95 %, no condensation |
| Vibration/shock resistance | conforms to EN 60068-2-6/EN 60068-2-27 |
| EMC immunity/emission | conforms to EN 61000-6-2/EN 61000-6-4 |
| Protect. rating/installation pos. | IP20/variable |
| Approvals/markings | CE, UL, ATEX, IECEx |
| Ex marking | II 3 G Ex nA IIC T4 Gc |
Housing data
EL-12-16pin
Design form
HD (High Density) housing with signal LEDs
Material
polycarbonate
Dimensions (W x H x D)
12 mm x 100 mm x 68 mm
Installation
on 35 mm DIN rail, conforming to EN 60715 with lock
Side by side mounting by means of
double slot and key connection
Marking
labeling of the BZxxx series
Wiring
solid conductors (s): direct plug-in technique; fine-stranded conductors (st) and ferrule (f): spring actuation by screwdriver
Connection cross-section
s*: 0.08…1.5 mm²,
st*: 0.25…1.5 mm²,
f*: 0.14…0.75 mm²
Connection cross-section AWG
s*: AWG 28…16,
st*: AWG 22…16,
f*: AWG 26…19
Stripping length
8…9 mm
Current load power contacts
Imax: 10 A
*s: solid wire; st: stranded wire; f: with ferrule