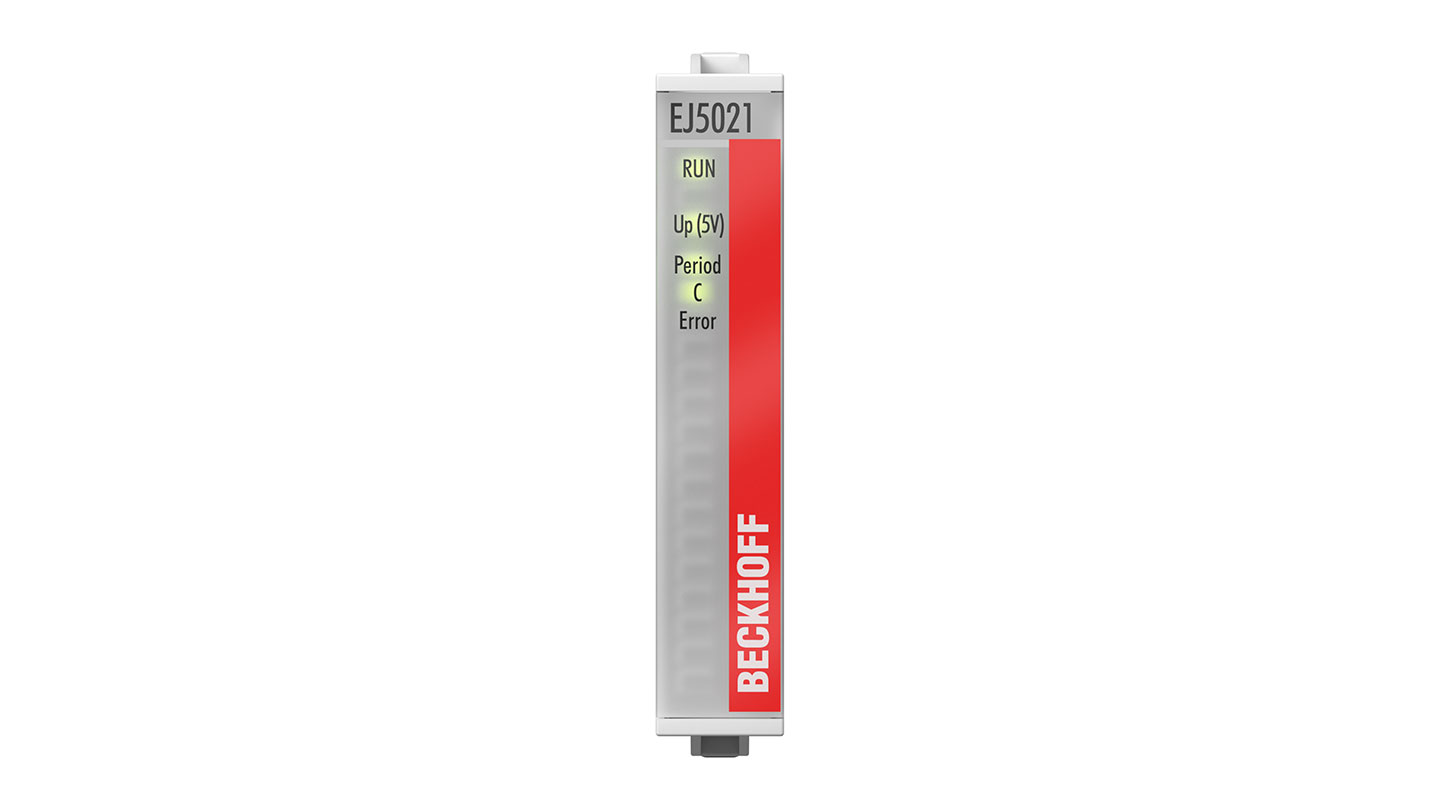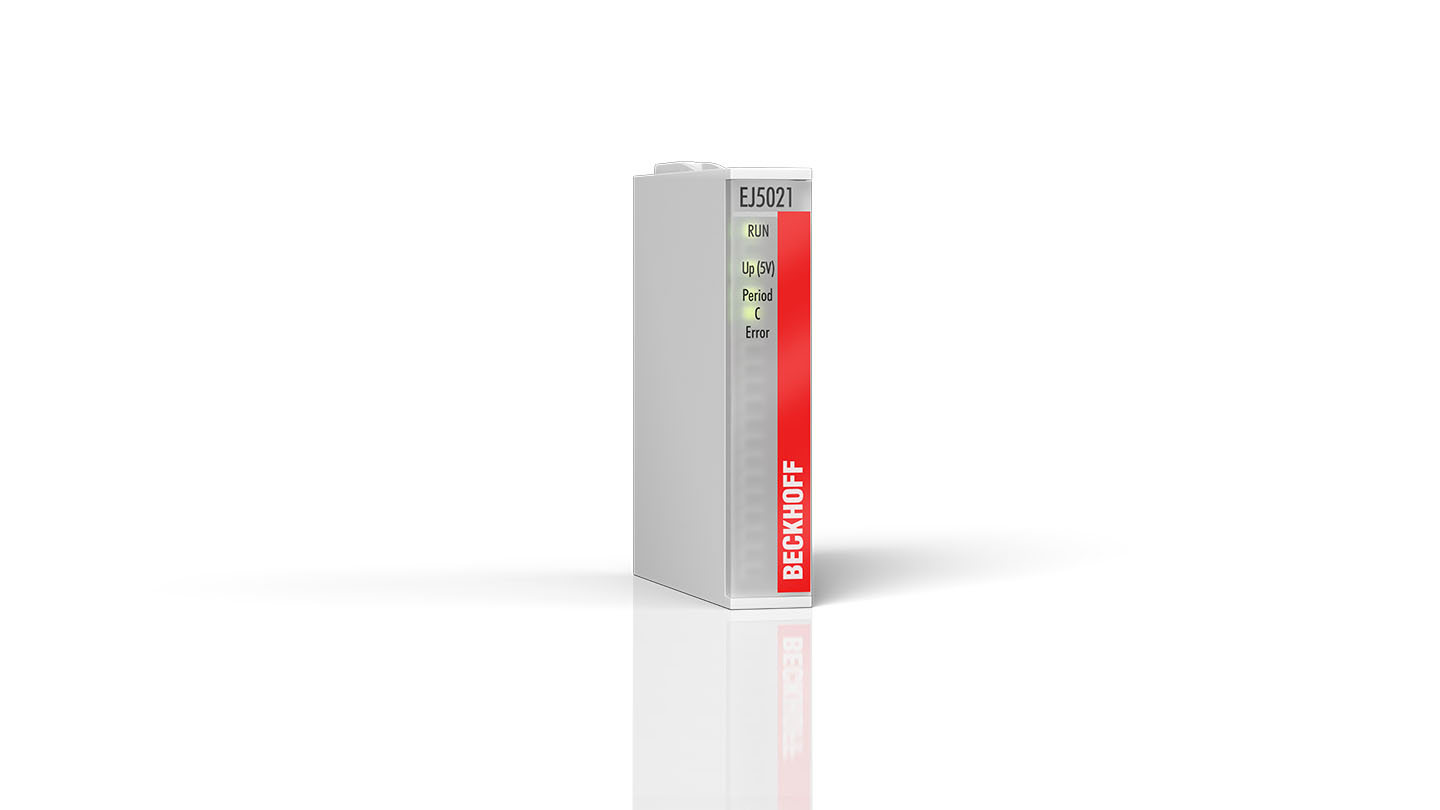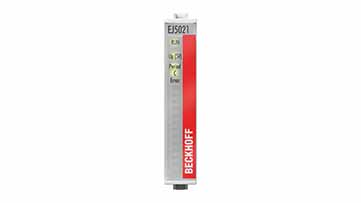 EJ5021 | EtherCAT plug-in module, 1-channel encoder interface, SinCos, 1 VPP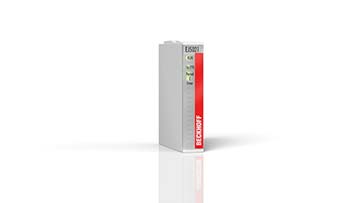 EJ5021 | EtherCAT plug-in module, 1-channel encoder interface, SinCos, 1 VPP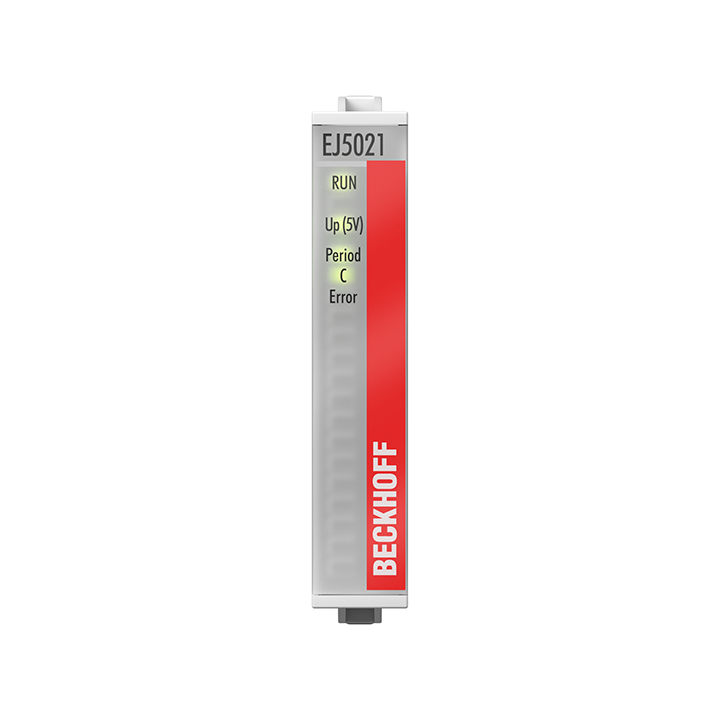 The EJ5021 EtherCAT plug-in module is used for the direct connection of a measuring probe or encoder with sinusoidal, differential voltage output 1 VPP. Input frequencies of max. 250 kHz can be evaluated. The current counter reading can be zeroed (reset) or stored separately via the C track of the encoder, which is also called reference mark. The 5 V supply to the encoder is provided directly via the signal distribution board (UP). The EJ5021 features amplitude and frequency error detection of the input signals.
Special features:
store, lock, set counter
diagnosis: frequency error and amplitude error of input signals
integrated frequency measurement
integrated 5 V DC encoder operating voltage
The analog input signal is processed, interpolated and made available as a 32-bit count value. The count value is a combination of the number of whole periods, max. 24 bits, and the value within one sine period, with max. 13 bit resolution. The EJ5021 also provides an internal frequency measurement. It also supports synchronous reading of the encoder value together with other input data in the EtherCAT system via the high-precision EtherCAT distributed clocks (DC). The use of encoder profiles enables simple and fast linking of process data to motion control applications.
Product information
Technical data
EJ5021
Number of channels
1
Connection technology
SinCos encoder interface for differential 1 VPP signals
Encoder connection
1 x A, B, C: differential inputs 1 Vpp: A, A̅ (inv), B, B̅ (inv), C,C̅ (inv)
Encoder operating voltage
5 V DC/max. 0.5 A (generated from UP 24 V DC)
Counter
max. 24 bit (adjustable)
Input frequency
250 kHz @ 10 bit (sampling rate 70 MHz)
Supply voltage electronics
24 V DC (via distribution board)
Current consumption E-bus
typ. 140 mA
Current consumption from U

P

typ. 10 mA + load
Resolution
max. 13 bit, 8192 steps per period
Distributed clocks
yes
Electrical isolation
500 V (E-bus/field potential)
Special features
latch, reset, change counting direction, amplitude and frequency error recognition, frequency-dependent period resolution, frequency counter max. 24 bit
Weight
approx. 30 g
Operating/storage temperature
0…+55 °C/-25…+85 °C
Relative humidity
95 %, no condensation
Vibration/shock resistance
conforms to EN 60068-2-6/EN 60068-2-27
EMC immunity/emission
conforms to EN 61000-6-2/EN 61000-6-4
Protect. rating/installation pos.
IP20/see documentation
Approvals/markings
CE
Housing data
EJ-12-16pin
Design form
EtherCAT I/O plug-in module
Material
polycarbonate
Installation
on signal distribution board
Mechanical coding
EJ plug-in module: signal-specific coding pins on the housing,
signal distribution board: holes in the printed circuit board
Locking
latching lug in circuit board cut-out
Connection method
field wiring: application-specific wiring level on the signal distribution board,
EJ plug-in module: 2 x 20-pin socket strip
Dimensions (W x H x D)
12 mm x 66 mm x 55 mm