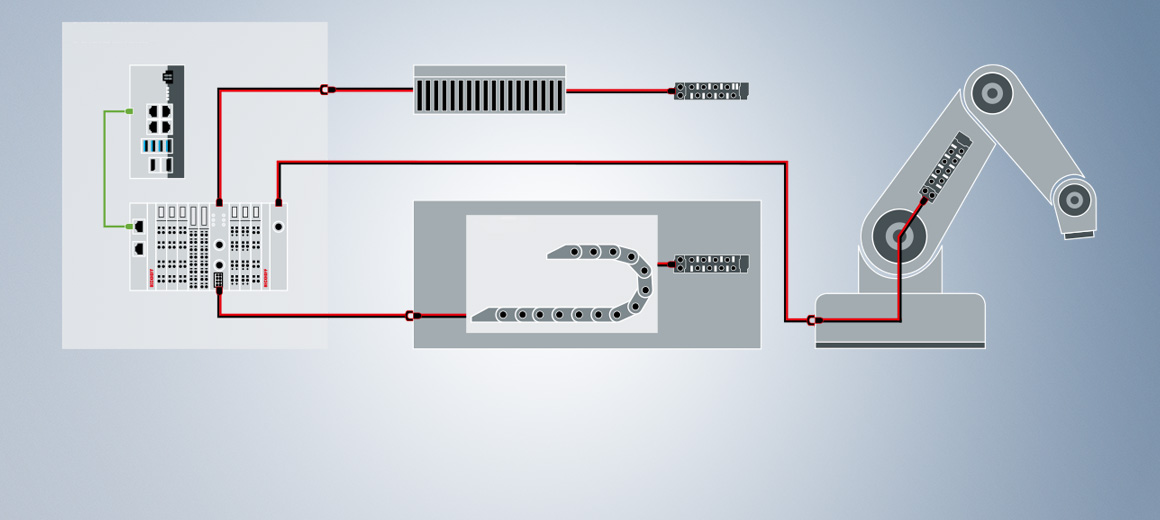 Cabling options for every application
Fixed installation, use in drag chains or in robots
The application-oriented cable overviews help to find the desired cable for wiring devices in the field and in the control cabinet.
The product overviews shown provide a selection of cabling options with control cabinet entry systems for different applications such as fixed installation, use in drag chains or in robots. Furthermore, the overviews show alternative cabling options so that the system cabling can be designed as efficiently as possible. The products shown represent a cross-section of the broad Beckhoff cable portfolio. Other cables and connectors can be found easily via the filter options. We offer advice on alternative items and options on request.
As the inventor of the EtherCAT high-speed bus system, Beckhoff provides a wide range of cables for every application, which are shown in various overviews. Not only that, but Beckhoff EtherCAT and fieldbus cables also enable secure data transmission that is optimized for industrial applications and harsh environmental conditions. Fully tested, the cables feature a high-quality 360° shield connection for optimum electromagnetic compatibility.