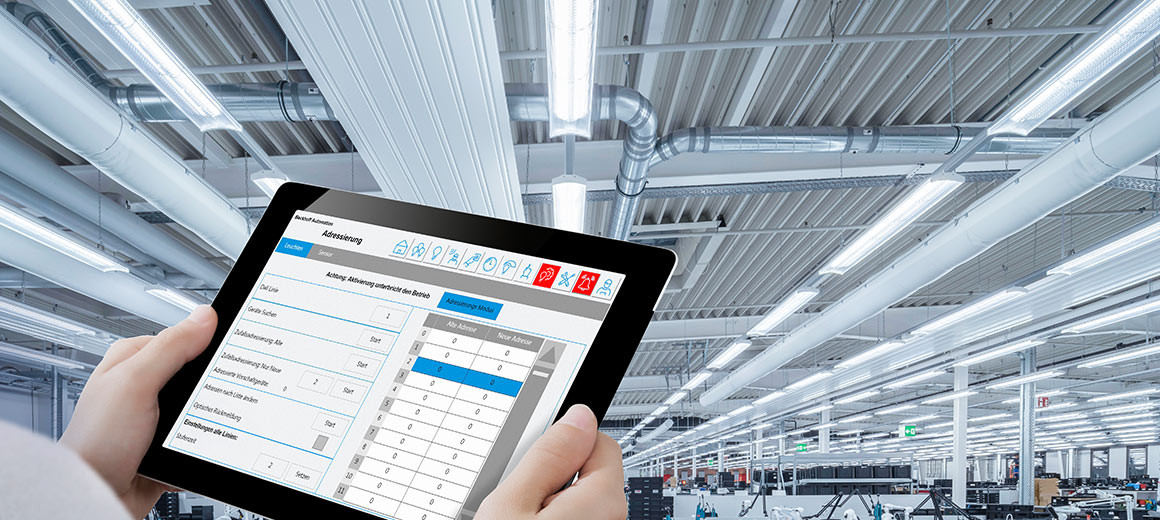 Easy to configure: the TwinCAT 3 Lighting Solution for DALI-2
TwinCAT 3 Lighting Solution: The lighting solution for DALI-2
With the TwinCAT 3 Lighting Solution, Beckhoff has introduced an Excel-configurable lighting solution that focuses on simplifying all work steps from engineering to maintenance. All conventional lighting controllers are integrated and the number of DALI lines is unlimited. The TF8050 TwinCAT 3 Lighting Solution is fully web/HTML5-capable, decentrally scalable, and can be operated directly via a panel. Quick function changes, addressing, and extensions can be performed immediately during operation, as can DALI line-independent groupings of DALI devices. Even daylight-dependent human-centric lighting concepts can be implemented with the TF8050.
Advantages of the
TwinCAT 3

Lighting Solution at a glance:
supports DALI-2 devices and option to integrate Beckhoff I/O terminals (relay terminal, 0…10 V analog output terminal, etc.)
high level of planning flexibility: unlimited number of DALI lines, groups spanning DALI lines, supports 200 lighting groups and 30 scenes, decentralized I/O stations
straightforward configuration via HMI – no programming required
includes all common lighting functions such as human-centric lighting, constant light regulation, daylight control, and staircase function
DALI device monitoring and operating hours count of control gears for maintenance purposes
HTML 5 based visualization interface on panels, tablets, and mobile devices
Excel tables for configuration of and saving settings
option to extend the program with own PLC and HMI code
option to connect to BMS systems and the cloud – for example, via BACnet/IP,

OPC UA

, Modbus/TCP, or MQTT
Rapid configuration with comprehensive functions: Lighting management with the TwinCAT 3 Lighting Solution
The TF8050 TwinCAT 3 Lighting Solution is a purely configurable software solution for lighting management from Beckhoff. The required hardware is linked to the TF8050. After activating the controller, all necessary settings for lighting control and DALI addressing are executed via the integrated and intuitive visualization interface.
Simple installation
The TF8050 TwinCAT 3 Lighting Solution can be installed on all Beckhoff Embedded, Panel, or Industrial PCs. The software solution uses the DALI-2 certified KL6821 DALI master terminal as the core hardware component, although other terminals can also be used to connect lights and sensors. The number of DALI-2 lines per controller is essentially unlimited. To facilitate the wiring process, decentralized I/O stations can be set up using the BK1150 EtherCAT Bus Coupler or the BK9050 Ethernet Bus Coupler, for example. The TF8050 is also able to meet the relevant requirements for all project specifications.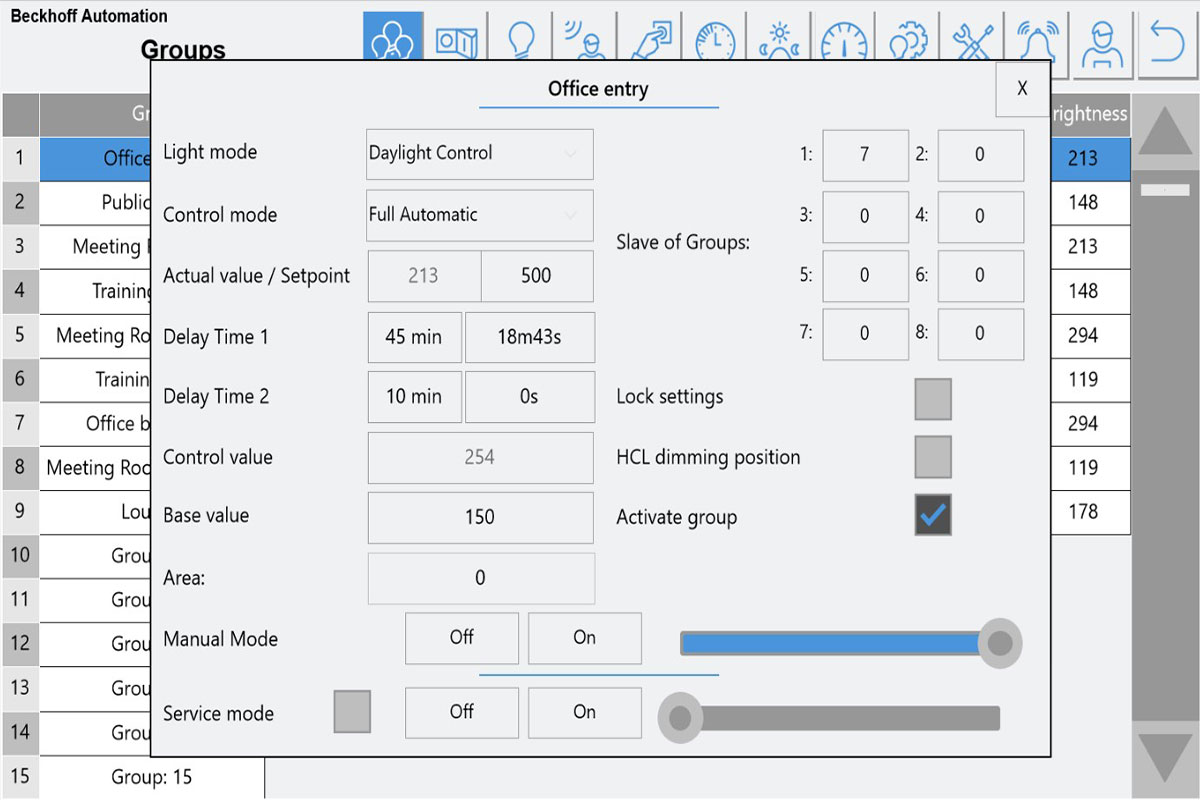 Easy configuration
The TF8050 is a TwinCAT 3 software library that can be operated on all Beckhoff controls. In terms of commissioning, only the project-specific I/Os have to be connected to the TF8050 project, and all necessary light settings and DALI device addressing processes are subsequently performed via the integrated visualization interface. As device addressing is integrated into the TF8050, no additional DALI tools or expertise in how to handle these tools is required. What's more, it is also easy to readdress and extend DALI lines at any time during runtime.
When it comes to configuring the lighting settings, the integrated visualization interface provides an excellent tool for rapid commissioning. All main lighting control functions can be selected individually for each lighting group. The TF8050 supports functions such as human-centric lighting (HCL), daylight control, and constant light regulation, as well as schedulers and timers for implementing individual controls. Another major advantage of the TF8050 is that it allows devices from one lighting group to be assigned to different DALI-2 lines, meaning that groupings can span DALI-2 lines and controls can be flexibly implemented.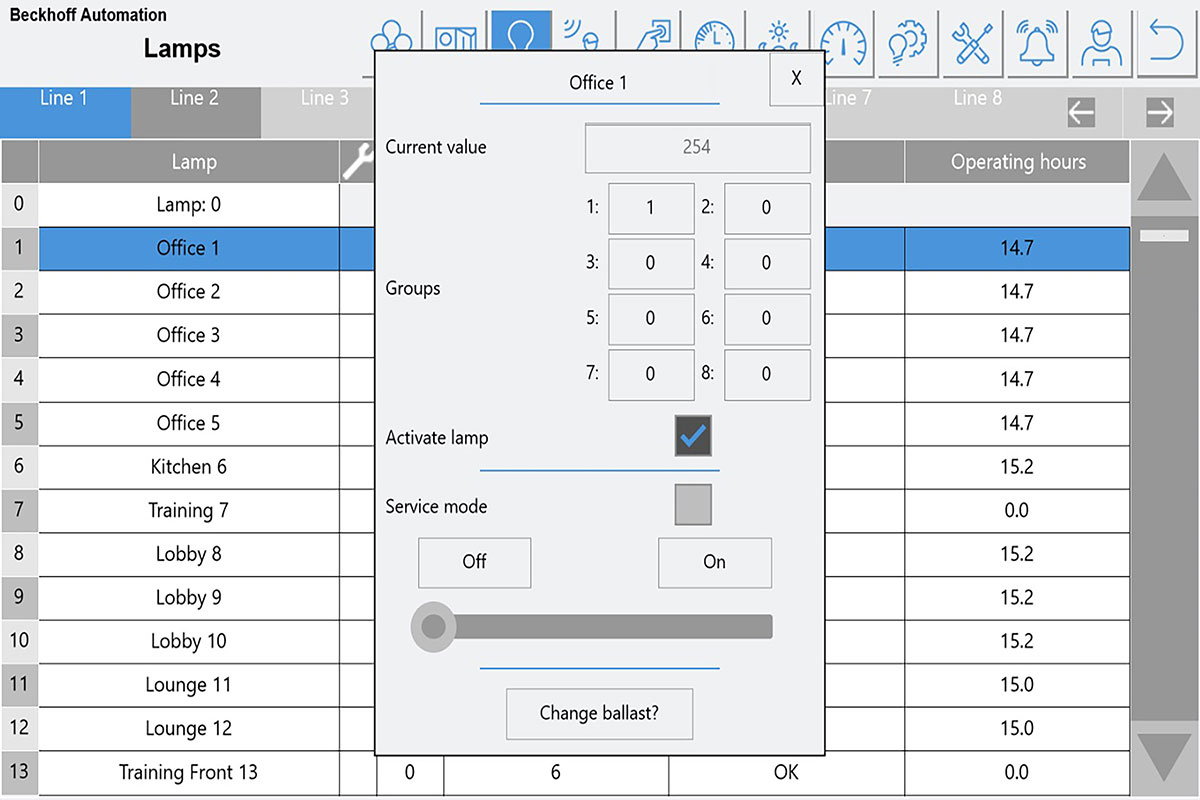 Easy to adapt
All lighting control settings can be changed and adjusted during runtime via the integrated visualization interface. What's more, DALI-2 input devices can be freely configured to control any of the 200 available groups. The DALI-2 control gears can also be assigned to several of these groups, making the TF8050 one of the most flexible lighting solutions on the market. The intuitive visualization interface allows lighting controls and groups to be adjusted with ease.
As if this integrated solution didn't simplify commissioning enough, it also offers further options to make commissioning faster and more convenient than ever, since the TF8050 also supports Excel sheets for configuration. The preconfigured light settings can be saved in Excel files and then used on site – for example, by transferring them to the controller via FTP or USB. This means that as soon as the DALI devices are addressed, further configuration can be activated by loading the configuration Excel sheets. If subsequent changes are made, the new settings can be saved on the controller and copied to a USB stick as a backup.
Simple operation
When it comes to controlling and monitoring the lighting, the visualization interface integrated into the TF8050 offers a clear and fully comprehensive solution. Buttons for easy access are available on the home page for the main lighting groups, and there are also visualization pages for calling up and configuring scenes for different lighting environments. This allows users to modify and change scene settings with ease. All 50 timetables and calendar functions used to control lighting can be configured as required.
The functionality of DALI devices is constantly monitored, so if there are problems in the DALI line or in the DALI devices, an alarm is displayed with a clear description of the cause of the problem. External alarms can also be configured and visualized with individual texts. The TwinCAT 3 Lighting Solution also supports energy data monitoring with the Beckhoff KL3403 power measurement terminal. All relevant data can be recorded – including current and power for all three phases as well as the sum of these measurements. Energy data is recorded every 15 minutes and stored in a separate CSV file on the controller. The CSV file can be opened in Excel, for example, for further analysis of the electrical data.
The TwinCAT 3 Lighting Solution in action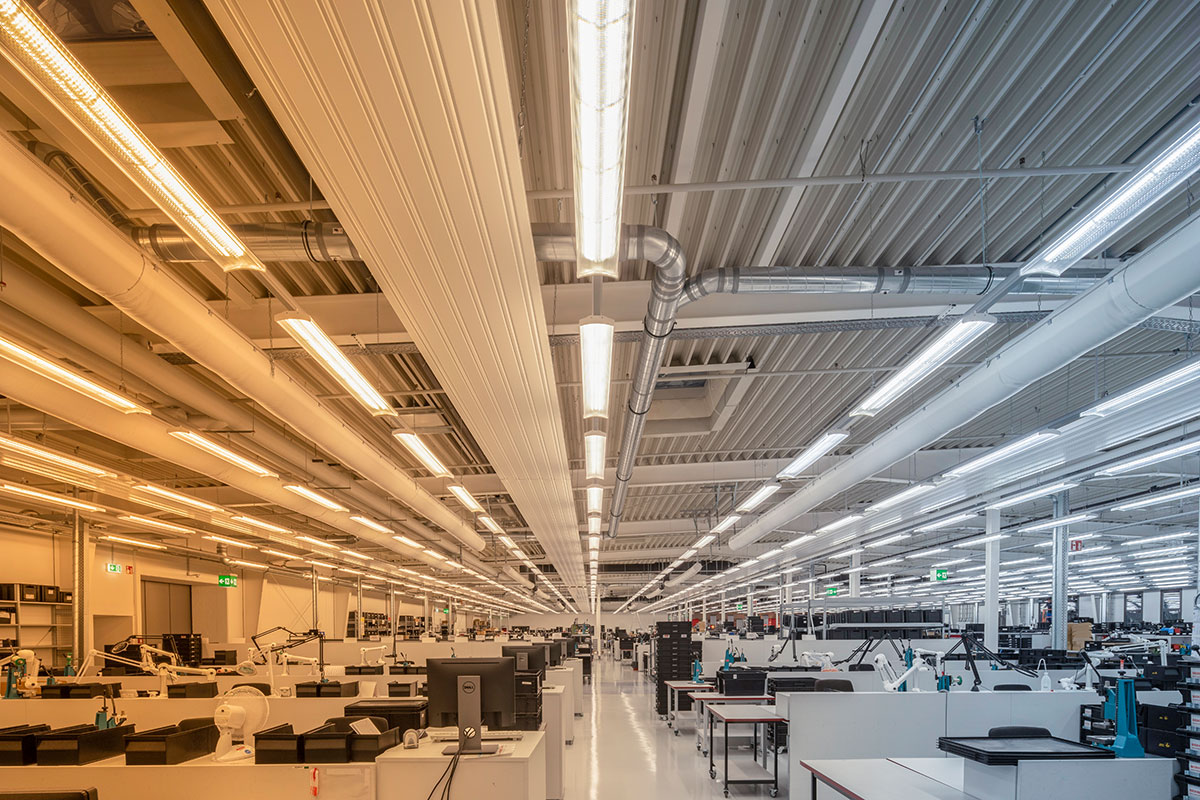 Beckhoff production hall for I/O components
In our production hall for I/O components, all lighting control is performed by the TF8050 Lighting Solution. The TF8050 runs on a CX5020 and controls 874 lights and 88 DALI motion sensors, which are connected via corresponding DALI-2 bus terminals. Installation and commissioning can be implemented quickly and easily thanks to the high compatibility of software and hardware.
The TF8050 provides optimal lighting conditions in the production hall, and different lighting environments can be set at the touch of a button. The TF8050 Lighting Solution also adjusts the color temperature (HCL) in production. The integrated daylight control system enables high energy savings during operation, with the lighting being automatically adjusted for optimum efficiency depending on the position of the sun and the natural incidence of light. In addition to lighting control, a whole host of further functions are also integrated into the control via TwinCAT, such as the control of ventilation, air-conditioning equipment, roof domes, and radiator valves. This enables maximum exploitation of all energy-saving opportunities.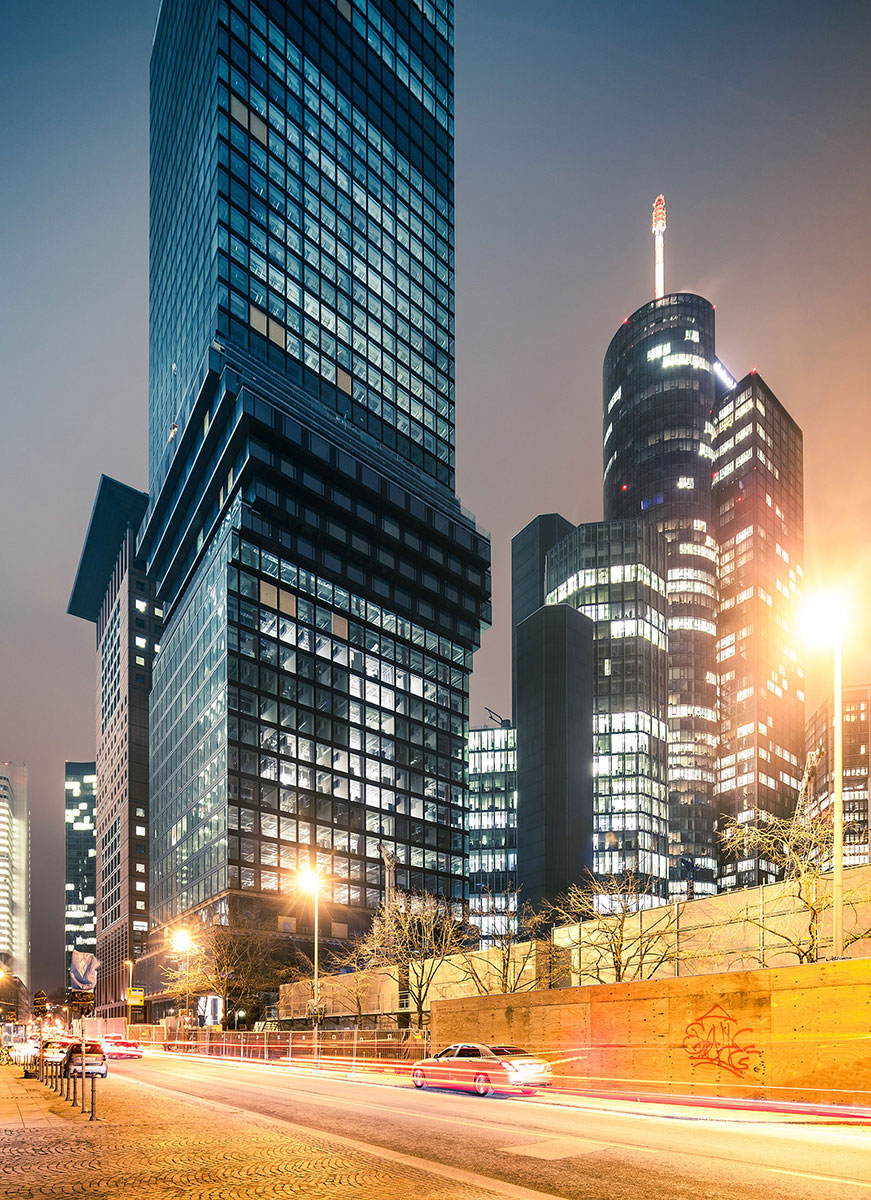 The Omniturm in Frankfurt am Main
The Omniturm in Frankfurt is a literally outstanding project in which the TF8050 TwinCAT 3 Lighting Solution from Beckhoff forms the lighting control system.
Across more than 40 floors, the lighting solution controls some 10,000 LEDs with HCL and collects data from 2,500 sensors with maximum flexibility, since the lighting behavior on each floor can be individually adjusted via the building management system.
However, the automation possibilities go far beyond simply switching the lights on and off: further options include dimming, presence-dependent switching on and off, daylight-dependent control, and the additional activation of human-centric lighting (HCL). While presence-dependent switching and daylight-dependent control, for example, have great energy-saving potential, human-centric lighting focuses on people. As such, the effect of light – and therefore the lighting settings – are geared to people's emotional, visual, and biological requirements with the aim of improving the quality of their work and lives.
The sheer size of the building and the various setting options for each floor meant the implementation of this technically demanding lighting control was no mean feat, but the TF8050 TwinCAT 3 Lighting Solution was able to bring this project to fruition reliably and comprehensively with outstanding results.