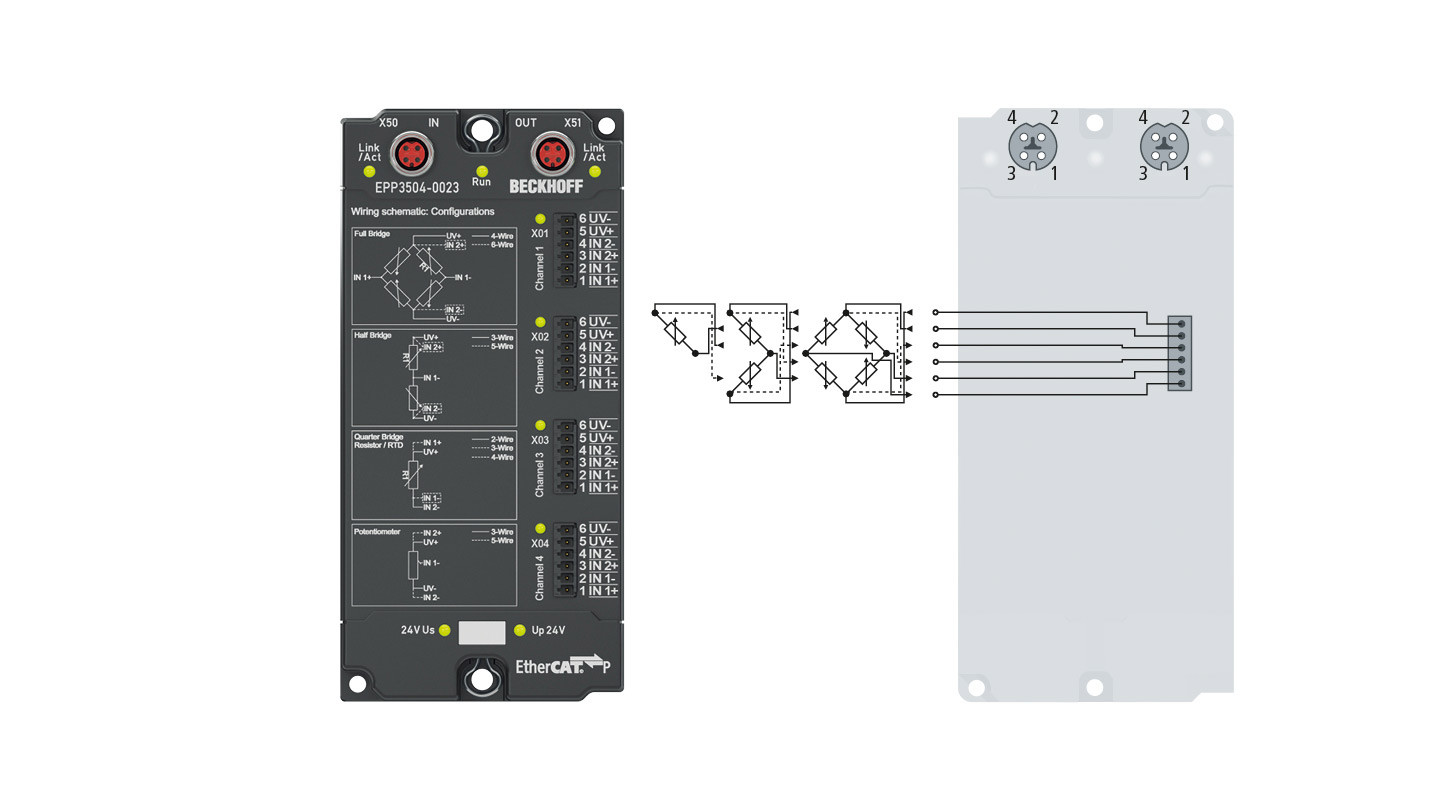 EtherCAT P signal input


EtherCAT P signal output

I/O connection sockets
push-in, service plug 6-pin
Power supply status display:




1 | Tx+/GND
S

2 | Rx+/GND
P

3 | Rx-/U
P

4 | Tx-/U
S

X01, X02, X03, X04
6 | UV-
5 | UV+
4 | IN2-
3 | IN2+
2 | IN1-
1 | IN1+
Top view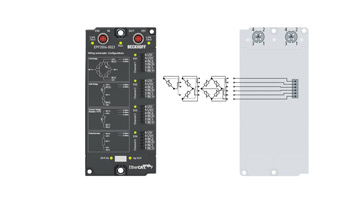 EPP3504-0023 | EtherCAT P Box, 4-channel analog input, measuring bridge, full/half/quarter bridge, 24 bit, 10 ksps, IP20 connector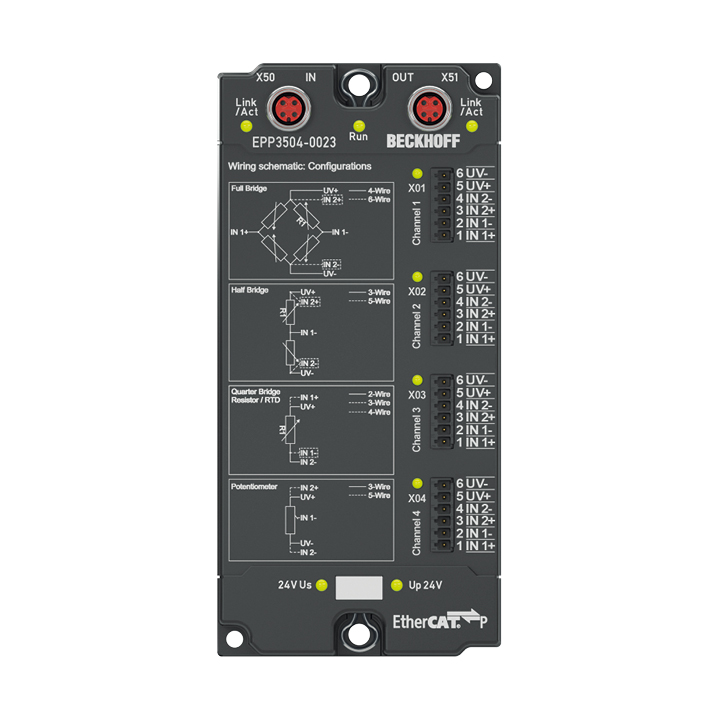 The EPP3504-0023 EtherCAT P Box is designed for the evaluation of measuring bridges in full-bridge, half-bridge and quarter-bridge configuration. It also supports the potentiometer, Pt1000 (RTD) and ±10 V measuring ranges. It is derived from the ELM3504 EtherCAT Terminal and features a sampling rate of 10,000 sps, internal switchable supplementary resistors, and an integrated, parametrizable bridge supply. It also features the same technological properties as the ELM3x0x terminals – i.e., all parameters can be set via EtherCAT using the CoE directory. The EPP3504-0023 is designed for use in close proximity to the measurement site in a protected environment and is therefore equipped with IP20 bridge connections.
Product information
| System data | |
| --- | --- |
| Strain gauge | quarter bridge (1000/350/120 Ω), half bridge (±16/8/4/2 mV/V), full bridge (±32/8/4/2 mV/V), internal bridge completion and supply adjustable 0…5 V (2-/3-/4-/5-/6-wire connection), shunt calibration |
| Voltage measurement | ±10 V, ±80 mV, 0…10 V |
| Potentiometer measurement | potentiometer ≥ 1 kΩ, supply integrated and adjustable 0…5 V |
| Temperature measurement (RTD) | Pt1000 |
Technical data
EPP3504-0023
Protocol
EtherCAT
Bus interface
2 x M8 socket, shielded, screw type, P-coded
Number of channels
4
Input connections
connector with spring-loaded system
Technology
resistor bridge, strain gauge
Signal type
differential
Connection technology
2-/3-/4-/5-/6-wire
Connection type
push-in, service plug 6-pin
Max. sampling rate
max. 100 µs/10 ksps (per channel, simultaneously)
Oversampling factor
n = 1…100 selectable (max. 10 ksamples/s)
Internal resistance
> 4 MΩ
Measurement error/ uncertainty
typ. < ±1000 ppm/±0.1 % in some measuring ranges, relative to the respective full scale value, see documentation
Temperature coefficient
up to typ. < 1 ppm/K in some measuring ranges, see documentation
Functional diagnostics
yes
Connection diagnostics
broken wire/short circuit
Distributed clocks
yes, accuracy << 1 µs
Resolution
24 bit (incl. sign)
Electrical isolation channel/channel
no
Electrical isolation channel/bus
707 V DC (type test)
Electrical isolation channel/SGND
707 V DC (type test)
Nominal voltage
24 V DC (-15 %/+20 %)
Current consumption from U

S

typ. 150 mA
Current consumption from U

P

none (only diagnostics LED, sensors are supplied from Us)
Weight
approx. 250 g
Operating/storage temperature
0…+55 °C/-25…+85 °C
Thermal dissipation
typ. 3 W
Special features
ExtendedRange 107 %, free numeric filter, TrueRMS, integrator/differentiator, non-linear scaling, PeakHold
Protect. rating/installation pos.
IP20/variable conforms to EN 60529 (see documentation)
Approvals/markings
CE, (UL in preparation)
| Housing data | 16 x M8, 8 x M12 |
| --- | --- |
| Dimensions (W x H x D) | 60 mm x 126 mm x 26.5 mm |
| Material | PA6 (polyamide) |
| Installation | 2 fixing holes 3.5 mm diameter for M3; 2 fixing holes 4.5 mm diameter for M4 |