EtherCAT signal input


EtherCAT signal output


M12 I/O connection sockets


Signal status display


Labeling areas
Power supply status display:






Power supply feed


Power supply downstream
connection
1 | Tx+
2 | Rx+
3 | Rx-
4 | Tx-
1 | +U
REF
2 | +U
D
3 | -U
REF
4 | -U
D
5 | Shield
1 | +24 V DC U
S
2 | +24 V DC U
P
3 | GND
S
4 | GND
P
Top view
I/O connection
Connector assignment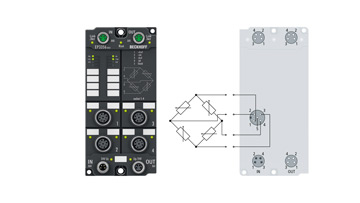 EP3356-0022 | EtherCAT Box, 1-channel analog input, measuring bridge, full bridge, 24 bit, M12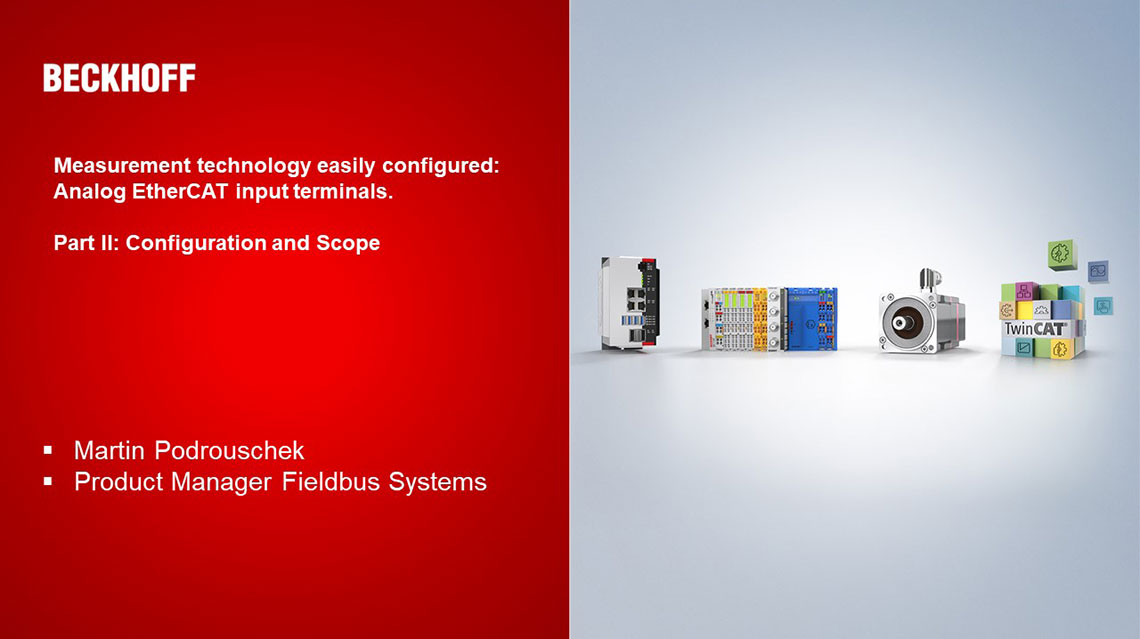 Measurement technology easily configured: Analog EtherCAT input terminals.
Measurement technology simply integrated: With the analog EtherCAT Terminals.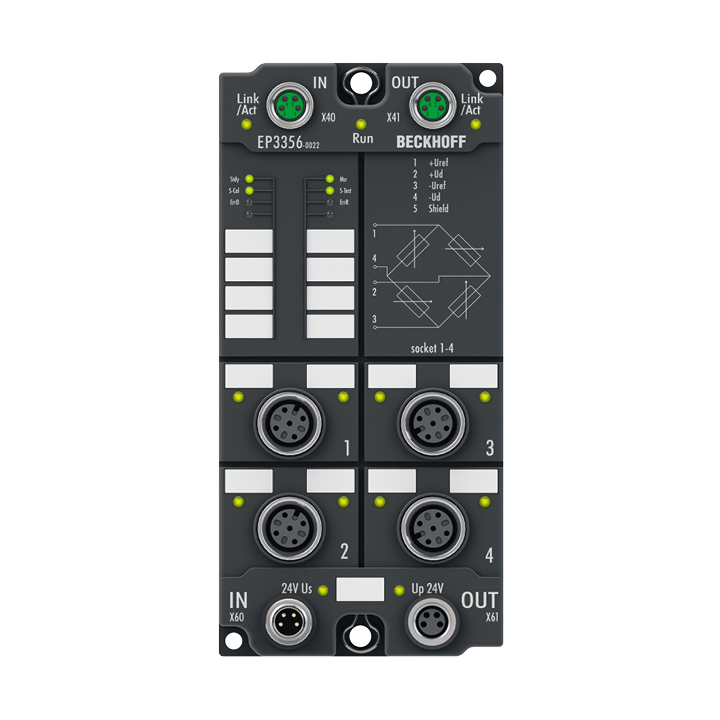 The EP3356-0022 EtherCAT Box enables direct connection of a resistor bridge or load cell in a 4-wire connection technology. The ratio between the bridge voltage UD and the supply voltage UREF is determined simultaneously in the input circuit and the final load value is calculated as a process value on the basis of the settings in the EP3356-0022. With automatic self-calibration (can be deactivated), dynamic filters and distributed clock support, the EP3356-0022 with measuring cycles of 100 µs can be used for fast and precise monitoring of torque or vibration sensors.
All four M12 sockets are connected, so that parallel operation of several strain gauges is possible.
Product information
Technical data
EP3356-0022
Protocol
EtherCAT
Bus interface
2 x M8 socket, shielded, screw type
Number of inputs
2, for 1 resistor bridge in full bridge technology
Input connections
M12 x 1, 5-pin, a-coded
Signal type
resistor bridge, strain gauge
Internal resistance
> 200 kΩ (U

REF

), > 1 MΩ (U

D

)
Resolution
24 bit, 32 bit presentation
Measurement error/ uncertainty
< ±0.01 % for the calculated load value in relation to the final load value with a 10 V feed and 20 mV bridge voltage (hence nominal strain gauge characteristic value of 2 mV/V), self-calibration active, 50 Hz filter active
Conversion time
0.1…250 ms, configurable, max. 10,000 samples/s
Input filter limit frequency
10 kHz low pass (-3 dB)
Conversion rate
10,000…4 samples/s (0.1…250 ms conversion time)
Nominal voltage
24 V (-15 %/+20 %)
Distributed clocks
yes
Sensor supply
10 V (supplied from U

P

)
Current consumption from U

S

120 mA
Power supply connection
feed: 1 x M8 male socket, 4-pin; downstream connection: 1 x M8 female socket, 4-pin
Supported nominal sensitivity
all, parameter resolution: 0.01 µV/V; recommended: 0.5…2.5 mV/V
Special features
self-calibration, quadruple averager, dynamic filters, fast data sampling, parallel connection
Operating/storage temperature
-25…+60 °C/-40…+85 °C
Vibration/shock resistance
conforms to EN 60068-2-6/EN 60068-2-27
EMC immunity/emission
conforms to EN 61000-6-2/EN 61000-6-4
Protect. rating/installation pos.
IP65/66/67 (conforms to EN 60529)/variable
Approvals/markings
CE, UL
| Housing data | 16 x M8, 8 x M12 |
| --- | --- |
| Dimensions (W x H x D) | 60 mm x 126 mm x 26.5 mm |
| Material | PA6 (polyamide) |
| Installation | 2 fixing holes 3.5 mm diameter for M3; 2 fixing holes 4.5 mm diameter for M4 |