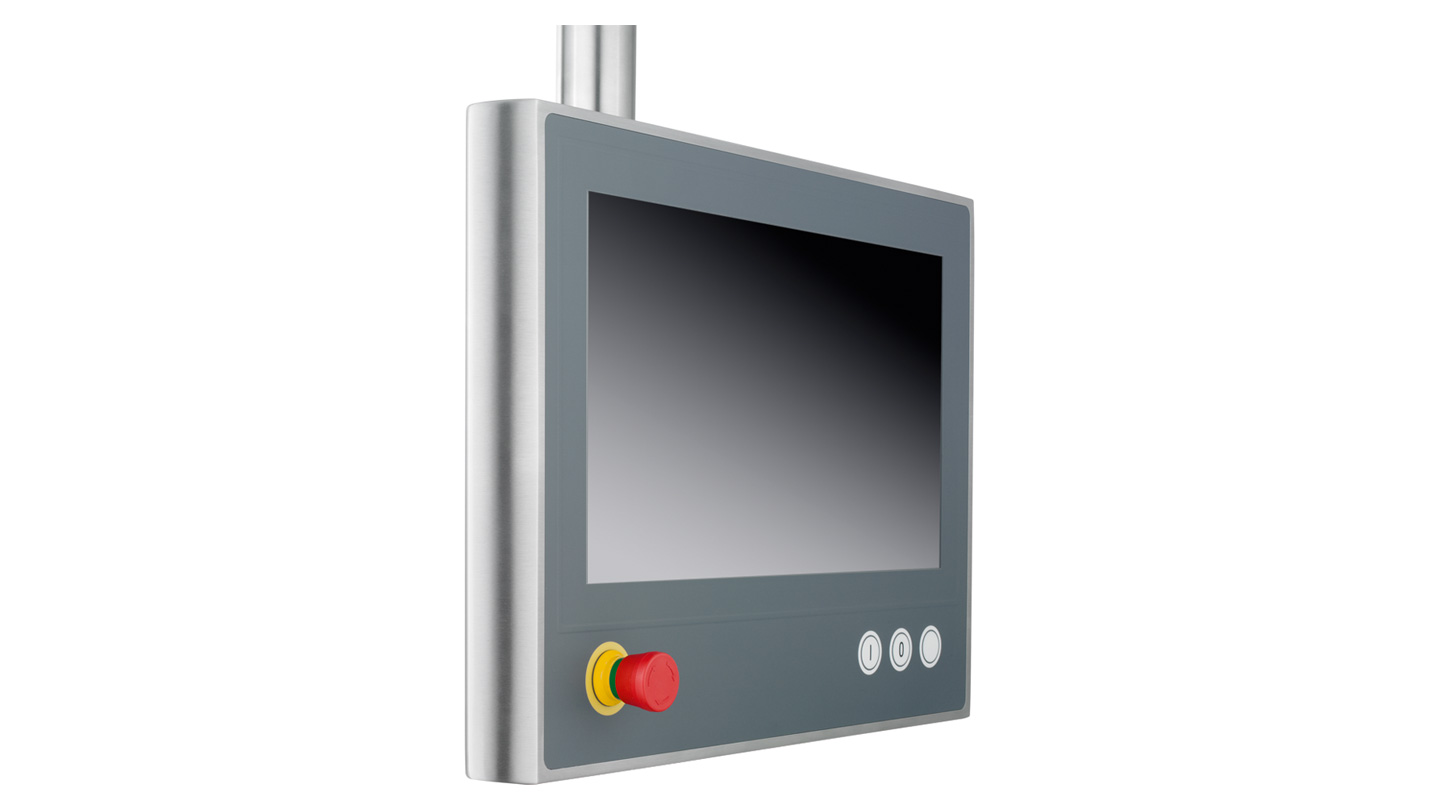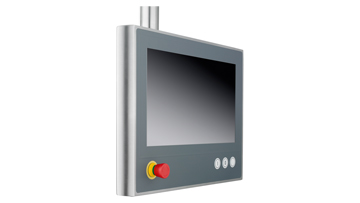 CP39xx-1414-0010 | Stainless steel multi-touch Control Panel with CP-Link 4 – The One Cable Display Link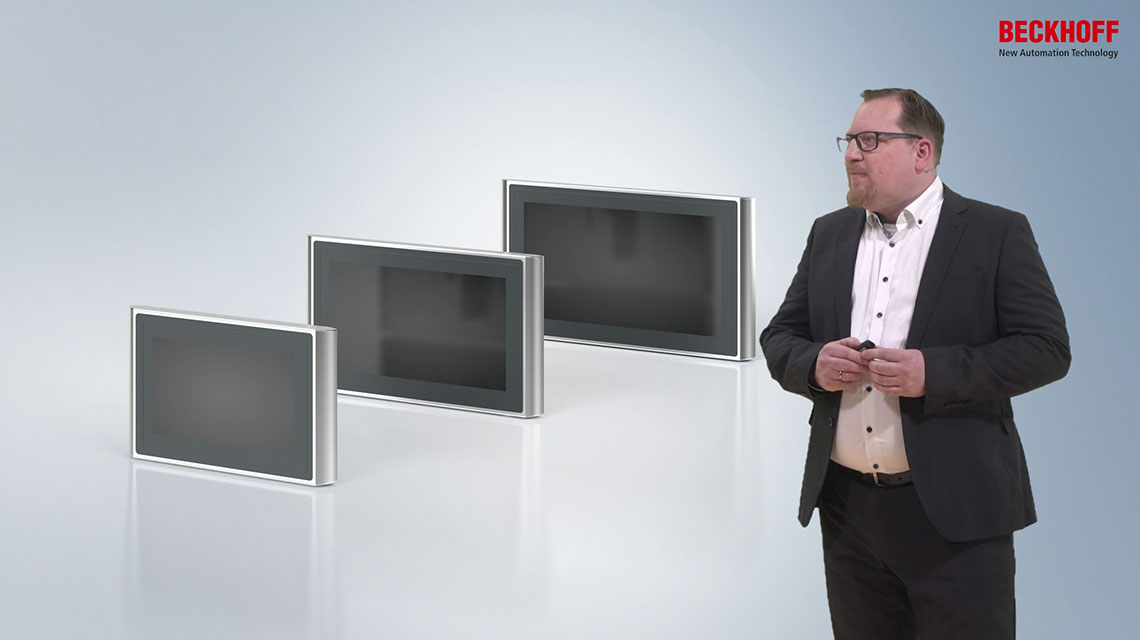 High-quality stainless steel control panels with an IP65 protection rating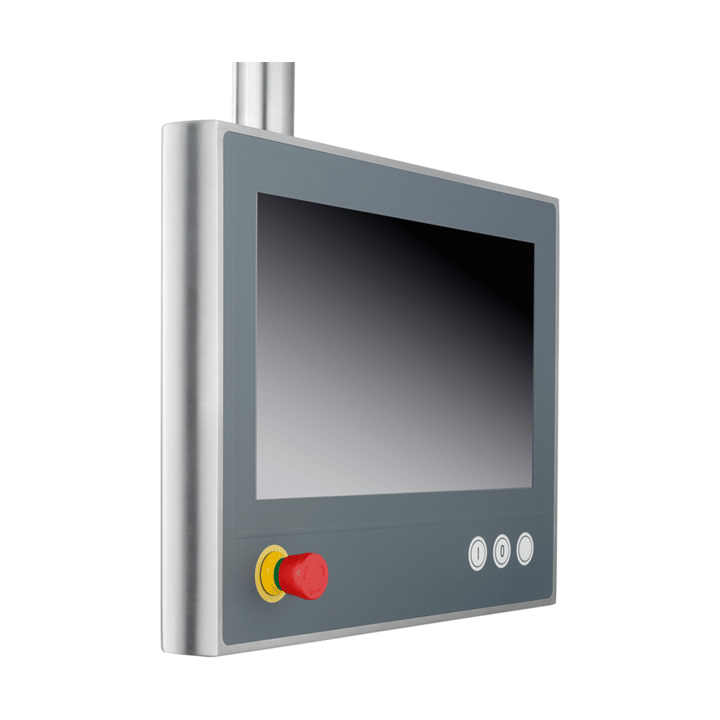 The Control Panels from the CP39xx-14xx series in a stainless steel finish are control and operating devices that meet strict hygiene requirements – above all important in the pharmaceutical, food and packaging industries. The Control Panels with IP65 protection are characterized by an optimized housing design with minimized gaps.
Versatile stainless steel panels with IP65 protection
The housing geometry ensures that fluids run off automatically, thus helping to prevent the accumulation of contaminants.
Three display versions are offered with diagonal sizes of 12.1-, 15.6- and 18.5-inch.
The multi-touch screen is equipped with a laminated polyester film and thus offers increased splintering protection to avoid contamination of the produced goods when a device is damaged.
Further features, such as the resistance of the polished stainless steel surface, the polyester film and sealing agents that offer protection against a large number of chemical cleaning agents, cover a host of requirements for the use of the Control Panels in hygienic areas.
Flexible configuration
In addition to the capacitive multi-finger touch screen there are also versions available with additional emergency stop and three short-stroke keys with LED ring lighting for comfortable operation. Thus, central control tasks such as start and stop are integrated directly in the Control Panel.
The stainless steel Control Panels are designed for installation on a 48 mm mounting arm tube system. The mounting arm adapter (C9900-M759) for connection can be ordered separately. This simultaneously protects all connections and cables against contamination and chemical influences.
The range is rounded off by further accessories such as an RFID reader, an external USB interface or an adapter for tilting the Control Panel.
Beckhoff is a pioneer in PC-based automation technology and has been developing and producing its own PC hardware since 1986. The technology know-how that has grown over the past decades is incorporated today into all Beckhoff Industrial PCs. Their principle feature is the use of state-of-the-art components and processors of the highest performance class. Combined with a high in-house production depth, including proprietary motherboard production, long-term component availability, extremely flexible configuration and customer-specific adaptations, Beckhoff presents itself today as one of the world's leading Industrial PC manufacturers.
Product information
Technical data
CP39xx-1414-0010
Options
Device type
Multi-touch Control Panel with CP-Link 4 interface
Housing
stainless steel housing 1.4301 with glass front
Display size/resolution
12.1" 1280 x 800, 15.6" 1366 x 768 or 18.5" 1366 x 768
Touch screen
multi-finger touch screen, flush laminated, splinter protection
Push button extension
3 x illuminated short-stroke buttons, round, 19 mm with RGBW LED ring lighting connected via USB, 2 of these buttons labeled "I" and "0", slide-in labels exchangeable, 1 x emergency stop key, type RAFI RAFIX 22FS+ wired with two normally-closed contacts to a 4-pin round connector.
Protection rating
IP65
Connection technology
CP-Link 4 enables to connect the Control Panel at a distance of up to 100 m to the PC via a Cat.6A cable with either an integrated or separate 24 V DC power supply depending on the transmitter module. CP-Link 4 transmits USB 2.0 with 100 Mbit/s and DVI.

Interfaces
2 x round connectors M12 IP65 for CP-Link 4 and optional 24 V power supply, 1 x USB A socket with IP65 screw-on cap
Operating temperature
0…45 °C
Installation
6 M5 threaded holes for mounting arm adapter
mounting arm adapter
| CP39xx-1414-0010 | Stainless steel multi-touch Control Panel with CP-Link 4 |
| --- | --- |
| CP3913-1414-0010 | 12.1-inch display 1280 x 800, Display only, multi-finger touch screen with CP-Link 4 |
| CP3916-1414-0010 | 15.6-inch display 1366 x 768, Display only, multi-finger touch screen with CP-Link 4 |
| CP3918-1414-0010 | 18.5-inch display 1366 x 768, Display only, multi-finger touch screen with CP-Link 4 |
| Options | Stainless steel multi-touch Control Panel with CP-Link 4 |
| --- | --- |
| C9900-E295 | RFID reader for ISO 14443 A/B, ISO 15693, Mifare Classic, Mifare Plus, Mifare DESFire, Legic RF standards, Sony FeliCa, reading and writing, 13.56 MHz, connection via USB, mounted behind the front laminate |
| C9900-E299 | 1-port USB A interface with stainless steel screw-on cap IP65 led out in the side wall of the mounting arm adapter C9900-M759, second side USB A plug IP65, occupies the USB port in the connection section, single part, not mounted |
| C9900-M759 | Rotatable mounting arm adapter, stainless steel, 1.4404, matt ground with grain size 240, mounting arm installation from top or bottom. Single part, not mounted. A separate tube holder is required for mounting: C9900-M735 holder with welded-on tube or C9900-M736 tube holder, single part, not mounted. |
| C9900-M764 | Adapter plate for C9900-M759 mounting arm adapter, stainless steel, 1.4404, matt ground with grain size 240, for tilting the Control Panel by +10° or -10°, single part, not mounted |
| C9900-M735 | Holder welded on a tube (length: 1.50 m, diameter: 48.3 mm) for C9900-M759 mounting arm adapter, stainless steel, 1.4404, matt ground with grain size 240, single part, not mounted |
| C9900-M736 | Holder for C9900-M759 mounting arm adapter, stainless steel, 1.4404, matt ground with grain size 240, must be welded, single part, not mounted |