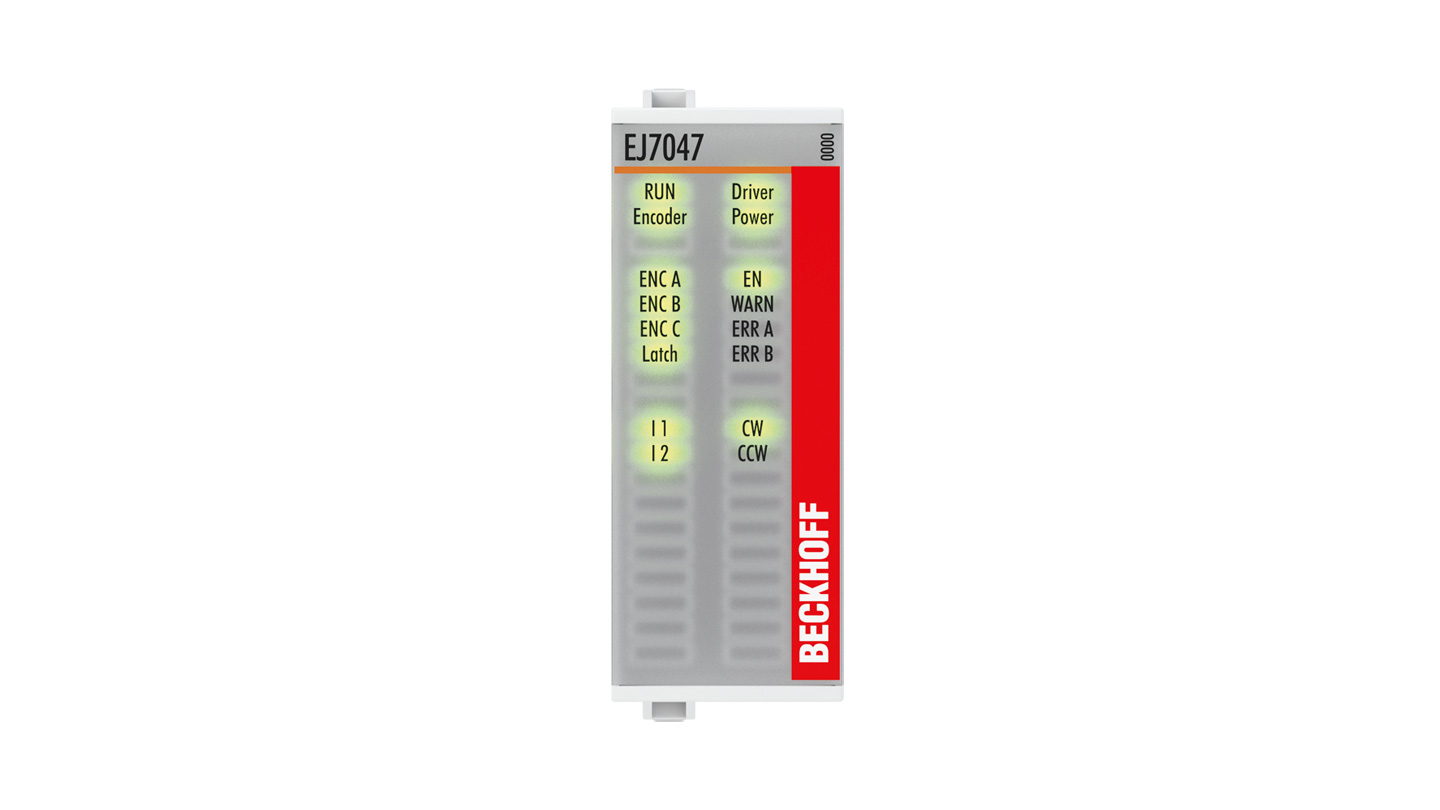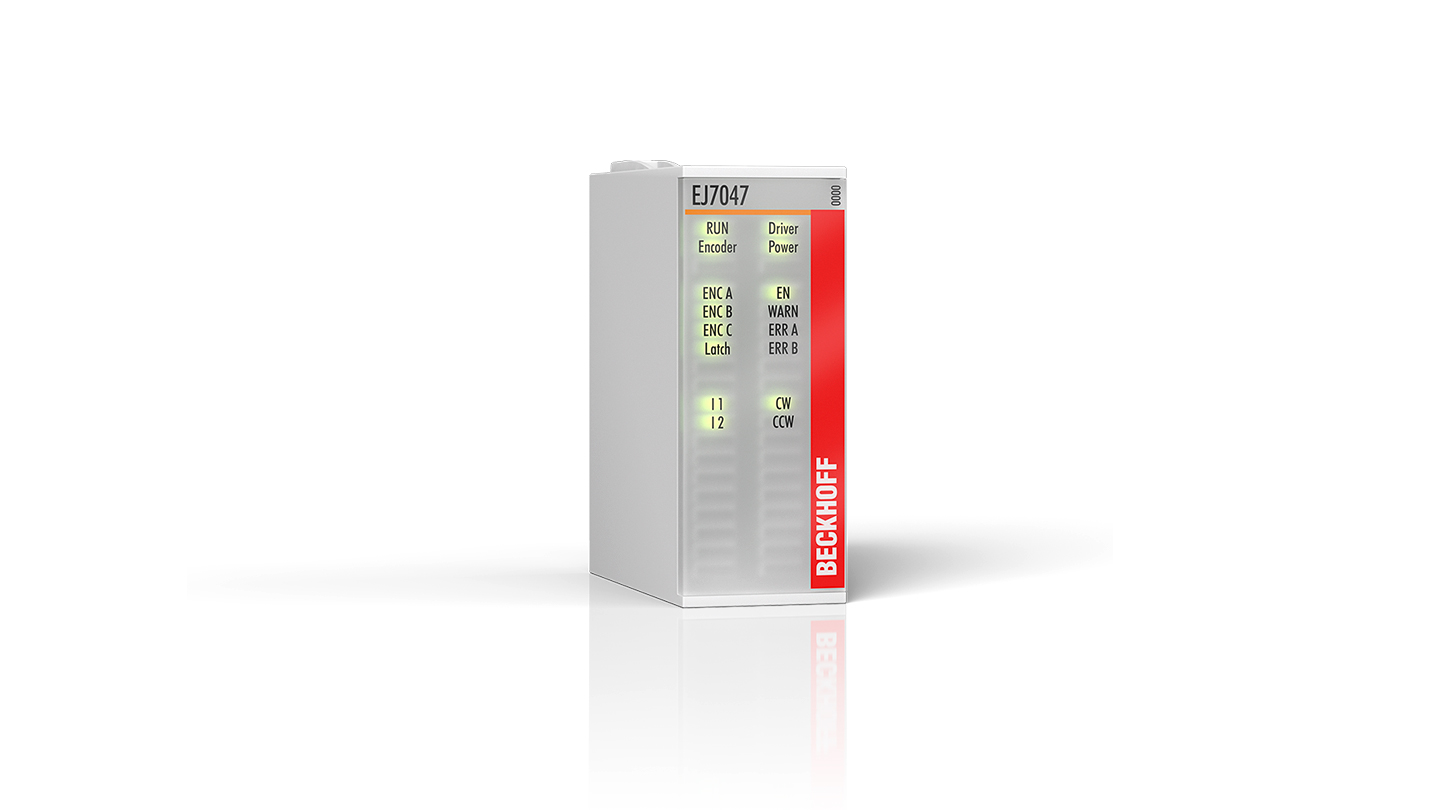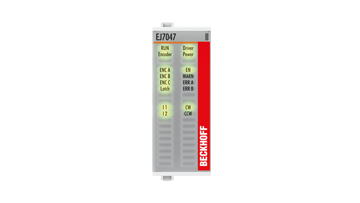 EJ7047 | EtherCAT plug-in module, 1-channel motion interface, stepper motor, 48 V DC, 5 A, vector control, with incremental encoder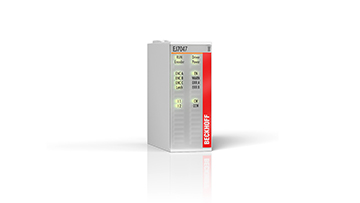 EJ7047 | EtherCAT plug-in module, 1-channel motion interface, stepper motor, 48 V DC, 5 A, vector control, with incremental encoder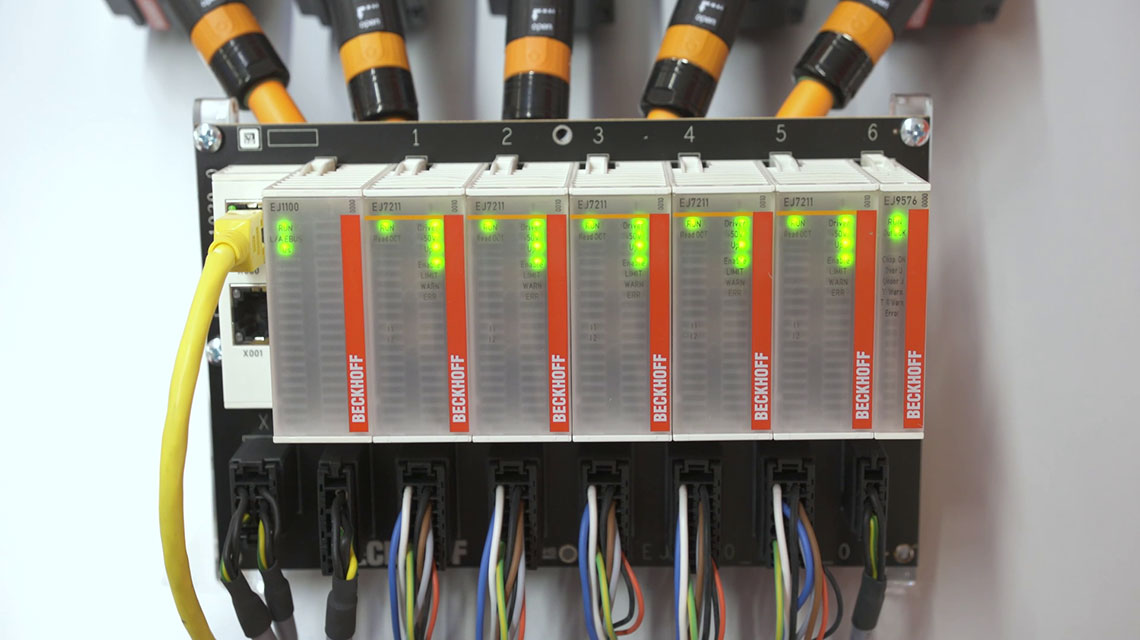 EtherCAT plug-in modules of the EJ series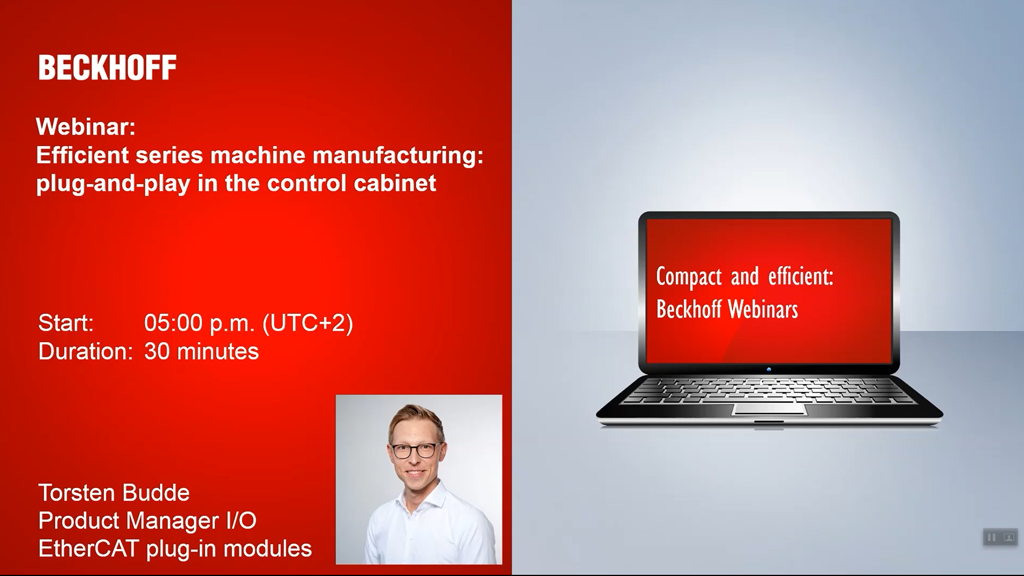 Efficient series machine manufacturing: plug-and-play in the control cabinet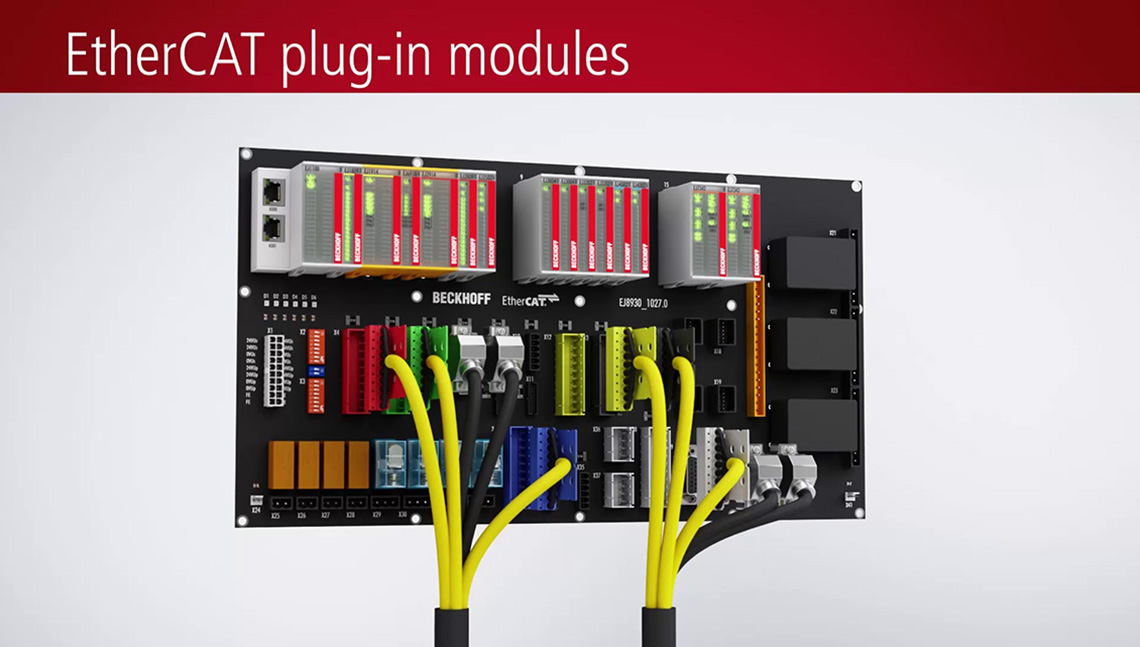 EtherCAT plug-in modules: Bus Terminals for circuit boards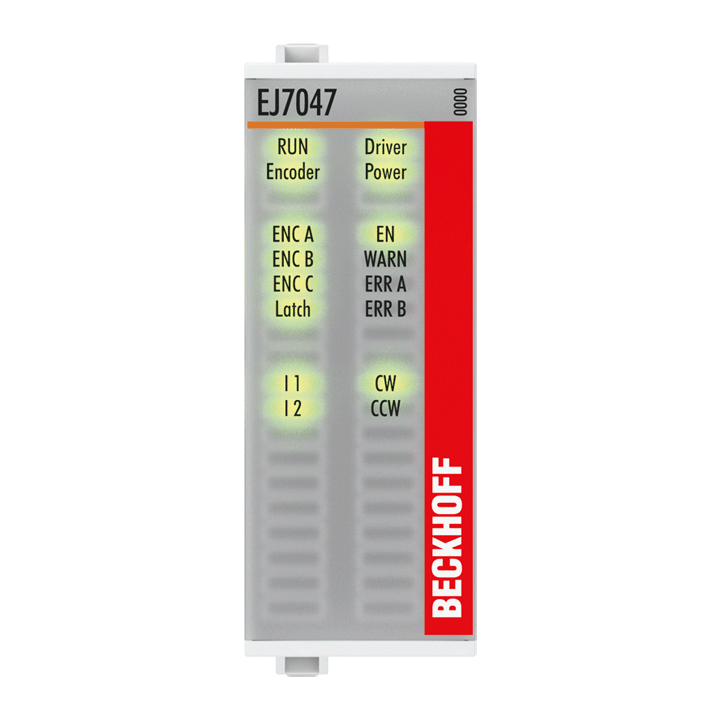 The EJ7047 EtherCAT plug-in module is designed for the direct connection of stepper motors in the medium power range up to 5 A and for a voltage range of 8…48 V. The compact stepper motor output stage is accommodated in the module together with two digital inputs for limit switches and an encoder interface. The second input can also be configured as an output in order to enable the use of a holding brake.
The EJ7047 can be adapted to the motor to be operated and the application requirements through parameterization. A particularly smooth and precise motor run is ensured by 64-fold microstepping.
In combination with a corresponding stepper motor, the EJ7047 represents a cost-effective and compact drive solution. With its torsion-proof, integrated encoder (1,024 inc/rev), the AS2000 stepper motor is ideal for the closed-loop control of the EJ7047.
Product information
| Technical data | EJ7047 |
| --- | --- |
| Technology | compact drive technology |
| Connection method | direct motor connection + feedback |
| Number of inputs | 2 x end position, 1 x encoder |
| Load type | 2-phase stepper motor (uni-/bipolar) |
| Number of channels | 1 |
| Number of outputs | 1 x stepper motor (2 phases), 1 x motor brake (configurable, 0.5 A) |
| Supply voltage electronics | 24 V DC (via distribution board) |
| Supply voltage power | 8…48 V DC (via distribution board) |
| Output current | max. 5.0 A (overload- and short-circuit proof) |
| Step frequency | 1000, 2000, 4000, 8000 or 16,000 full steps (configurable) |
| Step pattern | 64-fold micro stepping |
| Current controller frequency | approx. 64 kHz |
| Resolution | approx. 5000 positions in typ. applications (per revolution) |
| Encoder input signal | 5…24 V DC, typ. 5 mA, single-ended |
| Input frequency | max. 400,000 increments/s (with 4-fold evaluation) |
| Auxiliary power current | typ. 70 mA (via distribution board) |
| Current consumption E-bus | typ. 140 mA |
| Distributed clocks | yes |
| Special features | travel distance control, encoder input, vector control |
| Electrical isolation | 500 V (E-bus/field potential) |
| Relative humidity | 95 %, no condensation |
| Weight | approx. 50 g |
| Operating/storage temperature | 0…+55 °C/-25…+85 °C |
| EMC immunity/emission | conforms to EN 61000-6-2/EN 61000-6-4 |
| Vibration/shock resistance | conforms to EN 60068-2-6/EN 60068-2-27 |
| Protect. rating/installation pos. | IP20/see documentation |
| Approvals/markings | CE, UL |
Housing data
EJ-24-2x16pin
Design form
EtherCAT I/O plug-in module
Material
polycarbonate
Installation
on signal distribution board
Mechanical coding
EJ plug-in module: signal-specific coding pins on the housing,
signal distribution board: holes in the printed circuit board
Locking
latching lug in circuit board cut-out
Connection method
field wiring: application-specific wiring level on the signal distribution board,
EJ plug-in module: 2 x 20-pin socket strip
Dimensions (W x H x D)
24 mm x 66 mm x 55 mm