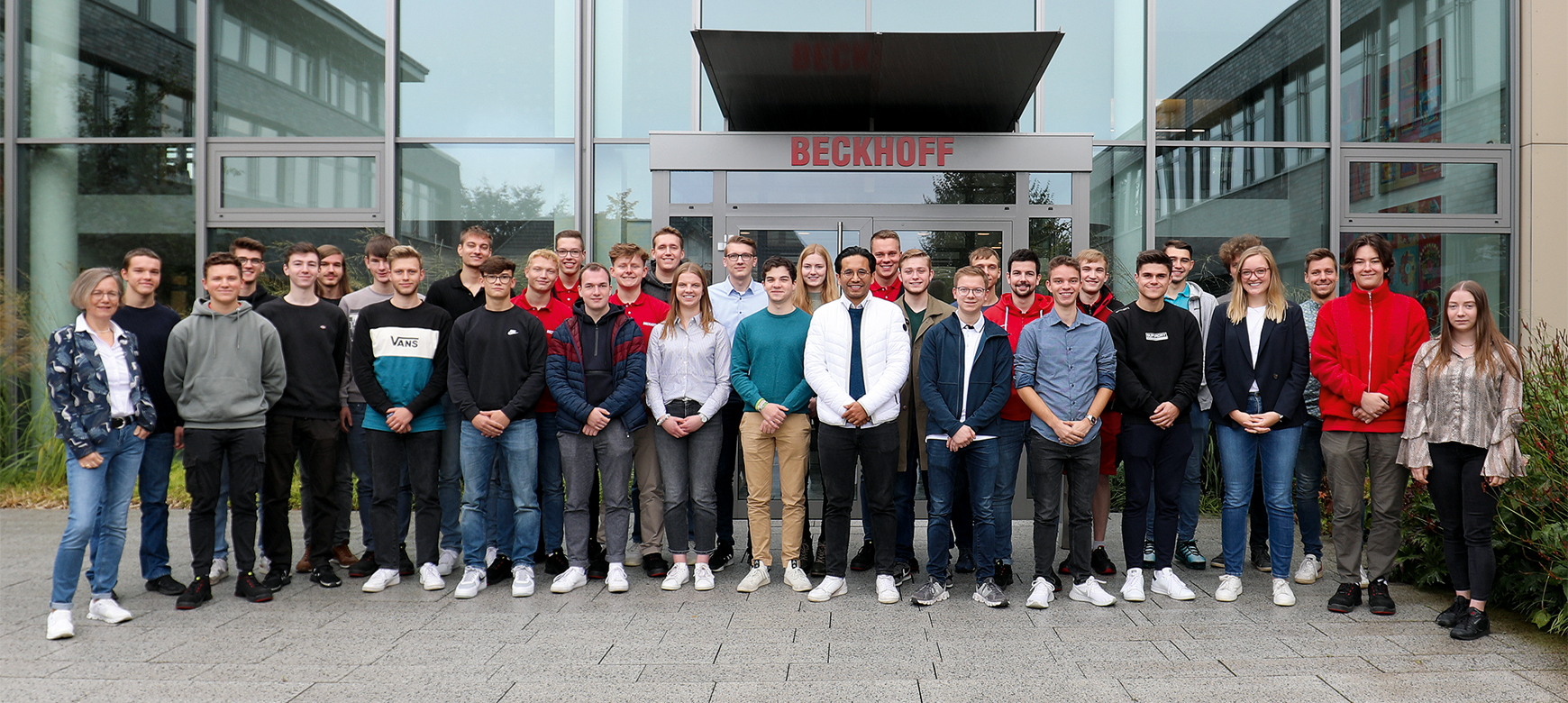 Work-integrated study secures demand for qualified junior staff
On August 1, 2022, 31 students started their work-integrated bachelor's degree programs in mechatronics/automation, industrial engineering, digital technologies, and digital logistics at Beckhoff in Verl. The new intake once again demonstrates the great success of the training model at the Gütersloh Campus of Bielefeld University of Applied Sciences as well as the promising focus on technological developments and the needs of the labor market.
On September 28, 2022, Frederike Beckhoff officially welcomed the first-year students to the headquarters in Verl (Image). Including the new intake, Beckhoff currently employs a total of 101 students at the company.
The aim of this commitment is to secure skilled workers from within the company's own ranks as well as to ensure ongoing further training. Dr. Ursula Frank, who works in project management in the Research and Development department at Beckhoff, describes the success of this study model: "We have been committed to the Gütersloh campus since 2010. To date, together with Beckhoff, 194 young people have successfully completed the work-integrated study program and have been able to attain important positions within the company shortly after completing their degree. This is made possible by practical training in the company combined with a high-quality degree program at the Gütersloh campus. At the company, the young people get involved in the work of the engineering working groups almost from the very beginning, work on their own projects there, and can set professional priorities according to their interests. In team meetings, they present their project results to the experts and contribute creatively to professional discussions. It's a win-win situation for both the students and the company."
A future-oriented career choice
For many young people, the question of meaning is a relevant criterion when choosing a career. Digitalization and Industrie 4.0, for example, are playing a major role in the sweeping changes taking place in our society, and are areas to which automation can make a significant contribution. The automation tasks that Beckhoff's employees are undertaking as part of this instill a great sense of personal responsibility and at the same time offer many individual development opportunities, international prospects, and job security. At Beckhoff, it is not uncommon for employees to remain loyal to the company, often for their entire careers. "This is crucial and very important to us because they possess a great deal of knowledge – and this expertise as well as their great enthusiasm are what make us a technology leader in PC-based control technology," explains Frederike Beckhoff.
Consistent promotion of young talent
The fact that many former apprentices in the company also take advantage of the opportunity to study for a bachelor's degree in engineering as a further training option alongside their work is further confirmation of the successful model. The combination of initial dual vocational training followed by work-integrated study provides young people with many advantages for later in their careers.
Further qualification through master's degree programs
Graduates have a variety of continuing education options and master's programs available to them once they have completed their degrees. Three established part-time master's degree programs at the Gütersloh campus are proving very popular: Applied Automation, Digital Technologies, and Industrial Engineering.
Don't miss out on your future – apply now
Places are still available at Beckhoff for study programs starting in 2023.