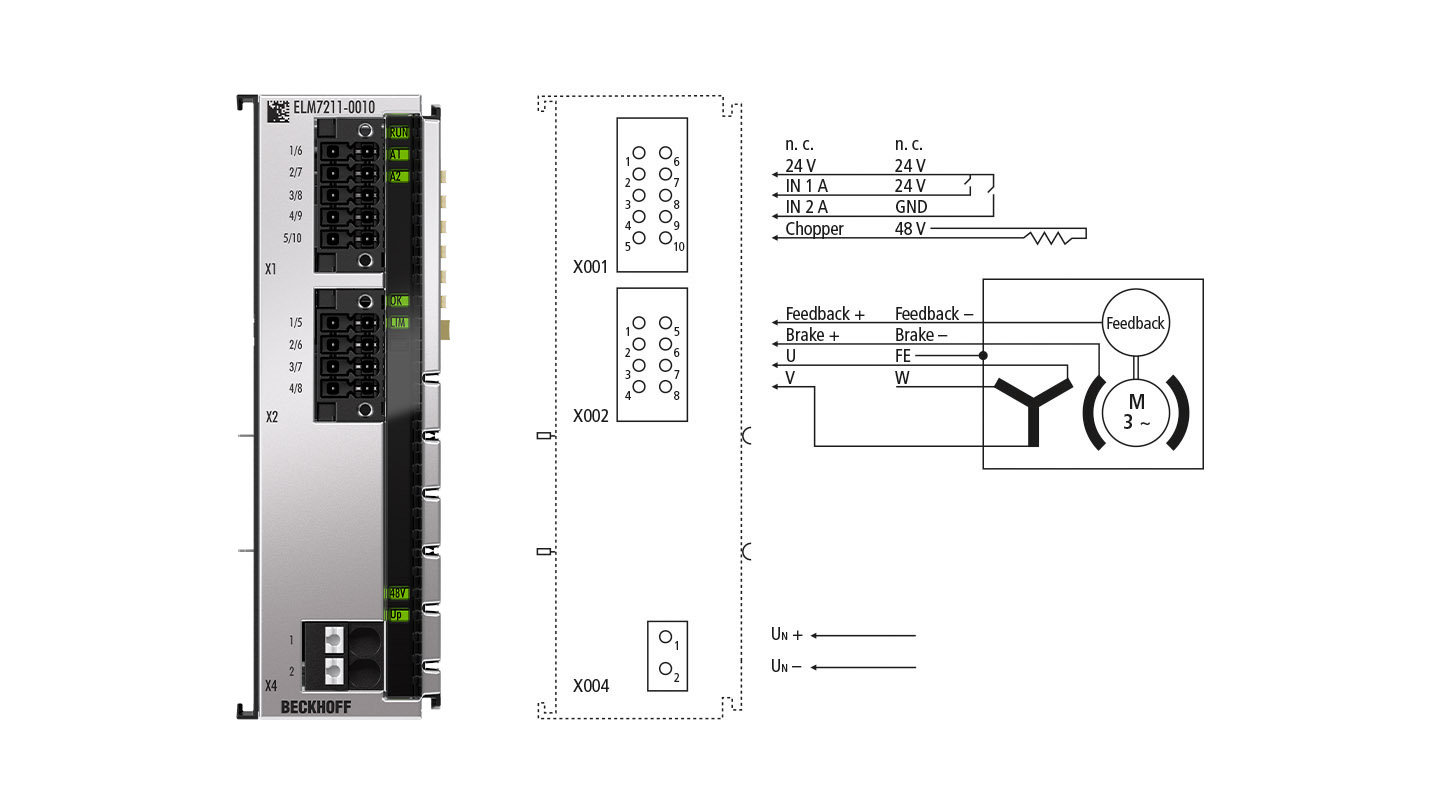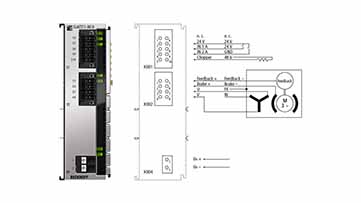 ELM7211-0010 | EtherCAT Terminal, 1-channel motion interface, servomotor, 48 V DC, 4.5 A, OCT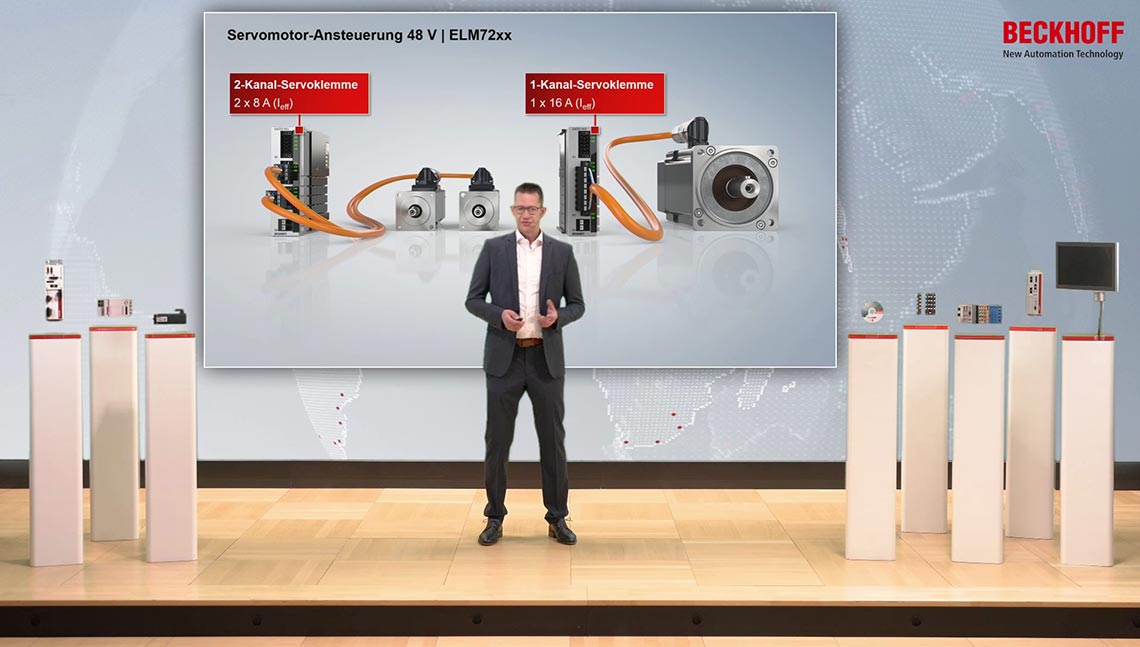 EtherCAT Terminals, compact drive technology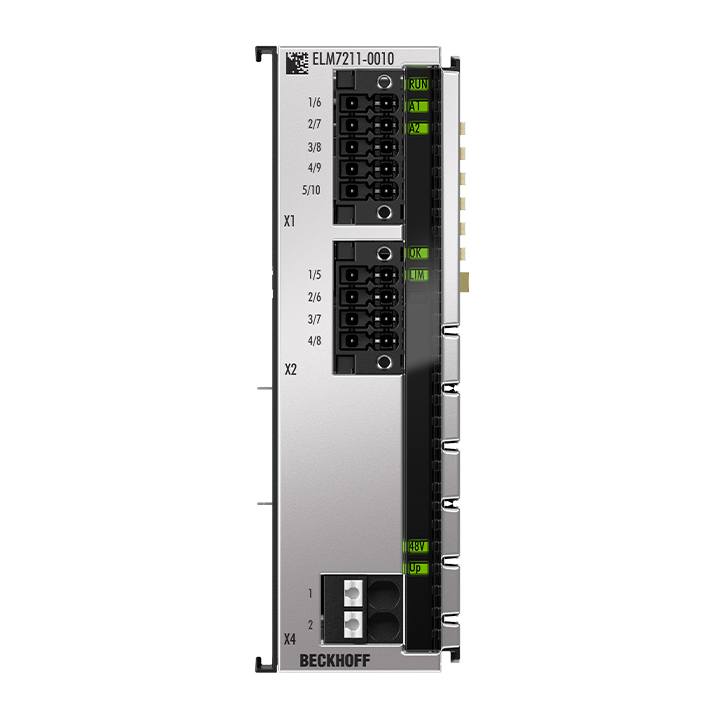 The ELM72xx-0010 servomotor EtherCAT Terminal with integrated absolute value interface offers high servo performance in a very compact design. The fast control technology, based on field-oriented current and PI speed control, supports fast and highly dynamic positioning tasks. The monitoring of numerous parameters, such as overvoltage and undervoltage, overcurrent, terminal temperature or motor load via the calculation of a I²T model, offers maximum operational reliability.
With the One Cable Technology (OCT) the encoder cable is omitted by transmitting the signals digitally via the existing motor cable. The option to read the electronic identification plates of suitable motors from the AM81xx series enables a plug-and-play solution for maximum convenience during commissioning.
The product is complemented by additional I/Os such as two digital inputs, which can be used to detect the end positions or to latch the position, and an additional output for the direct connection of a brake resistor for dissipating fed-back energy.
Special features:
automatic reading of the electronic identification plate
pluggable connection technology
integrated path control
Product information
| Technical data | ELM7211-0010 |
| --- | --- |
| Technology | compact drive technology |
| Load type | permanent magnet-excited three-phase synchronous motor |
| Number of channels | 1 |
| Number of outputs | 1 x servomotor, 1 x motor brake, 1 x braking resistor |
| Number of inputs | 2 x digital input, 1 x feedback |
| Connection technology | direct motor connection with OCT |
| Supply voltage electronics | 24 V DC (via power contacts) |
| Supply voltage power | 8…48 V DC (external) |
| Output current (rms) | 4.5 A |
| Peak current (rms) | max. 9.0 A for 1 s |
| PWM clock frequency | 16 kHz |
| Current controller frequency | 32 kHz |
| Rated speed controller frequency | 16 kHz |
| Rotating field frequency | 0…599 Hz |
| Output voltage motor brake | 24 V DC |
| Output current | max. 0.5 A |
| Current consumption power contacts | typ. 100 mA + holding current motor brake |
| Current consumption E-bus | 120 mA |
| Distributed clocks | yes |
| Special features | compact (30 mm wide), absolute feedback, One Cable Technology (OCT) |
| Electrical isolation | 500 V (E-bus/field potential) |
| Weight | approx. 390 g |
| Operating/storage temperature | 0…+55 °C/-25…+85 °C |
| Relative humidity | 95 %, no condensation |
| Approvals/markings | CE, UL |
| Housing data | ELM-30-Motion |
| --- | --- |
| Design form | metal housing with signal LEDs |
| Material | zinc die-cast |
| Dimensions (W x H x D) | 30 mm x 100 mm x 95 mm |
| Installation | on 35 mm DIN rail, conforming to EN 60715 with lock |
| Wiring | specific push-in connection |