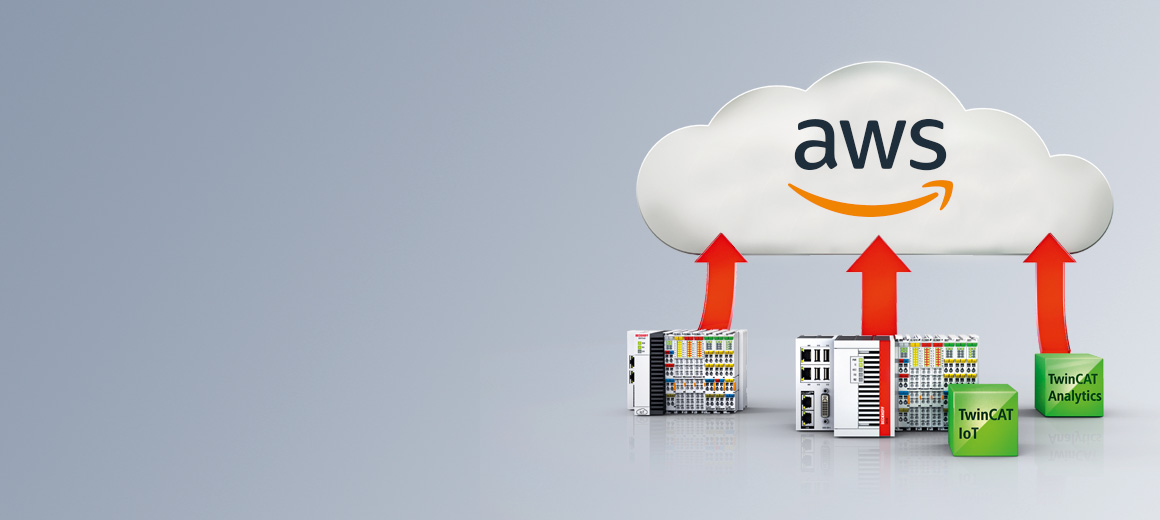 Plug-and-play access to Amazon Web Services
IoT Connectivity with AWS
Beckhoff IoT technologies enable plug-and play access to AWS
As information technology and automation technology continue to converge, cloud-based communication and data services are increasingly used in industrial automation projects. Beyond the scope of conventional control tasks, applications such as big data, data mining and condition or power monitoring enable the implementation of superior, forward-looking automation solutions. New hardware and software products from Beckhoff for Industrie 4.0 and IoT ensure the simplest possible implementation of such advanced solutions.
Industrie 4.0 and Internet of Things (IoT) strategies place strict requirements on the networking and communication capabilities of devices and services. In the traditional communication pyramid point of view (figure 1), large quantities of data must be exchanged between field-level sensors and higher-level layers in these implementations. However, horizontal communication between PLC control systems also plays a critical role in modern production facilities. PC-based control technologies provide universal capabilities for horizontal communication and have become an essential part of present-day automation projects exactly for this reason. With the new TwinCAT IoT solution, the widely used TwinCAT 3 engineering and control software provides the ideal foundational technology for Industrie 4.0 concepts and IoT communication. Moreover, new IoT-compatible I/O components, like the EK9160 IoT Coupler from Beckhoff, enable easy-to-configure and seamless integration into the Amazon Web Services (AWS) ecosystem.
AWS IoT offers the ideal communication platform to enable a secure and performant transmission of machine data to AWS. TwinCAT IoT as well as the EK9160 support AWS IoT and can consume its functionalities with minimized configuration effort. With the help of TwinCAT HMI, which can be hosted in an Amazon EC2 instance, machine data can be connected via an MQTT Server Extension and visualized via HTML5 technologies and therefore displayed on any device.
Current awards for Beckhoff IoT technologies: