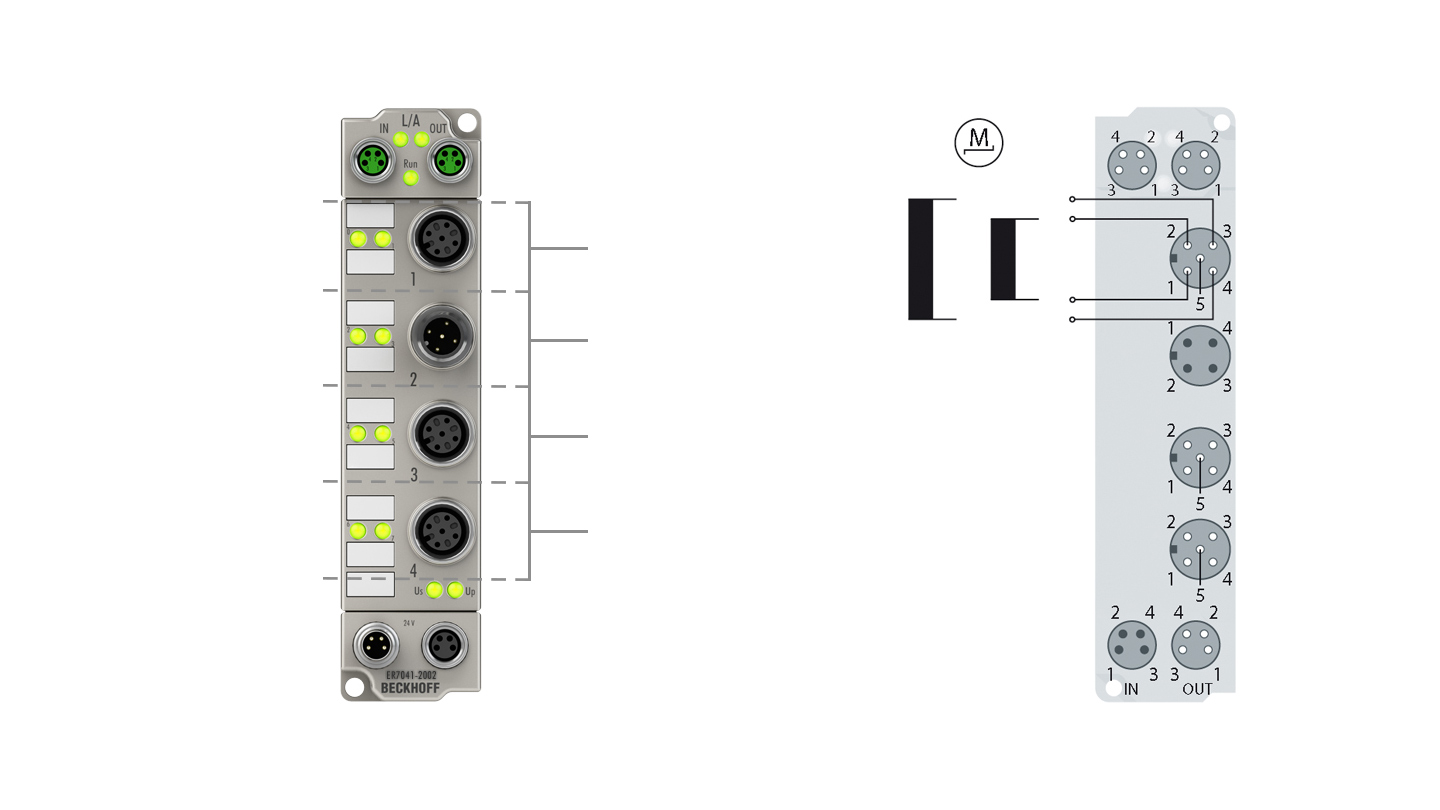 EtherCAT signal input


EtherCAT signal output


M12 I/O connection sockets


Signal status display


Labeling areas
Power supply status display:






Power supply feed


Power supply downstream
connection
1 | Tx+
2 | Rx+
3 | Rx-
4 | Tx-
1 | A1
2 | A2
3 | B1
4 | B2
5 | n.c.
1, 2 | V Motor
3, 4 | GND Motor
1 | +24 V DC U
S
2 | Input B
3 | GND
4 | Input A
5 | Output
1 | GND
2 | V Enc
3 | A Enc
4 | B Enc
5 | C Enc
1 | +24 V DC U
S
2 | +24 V DC U
P
3 | GND
4 | GND
Top view
I/O connection
Connector assignment
Stepper Motor
Motor supply
Digital inputs
Encoder
ER7041-2002 | EtherCAT Box, 1-channel motion interface, stepper motor, 48 V DC, 5 A, M12, with incremental encoder, zinc die-cast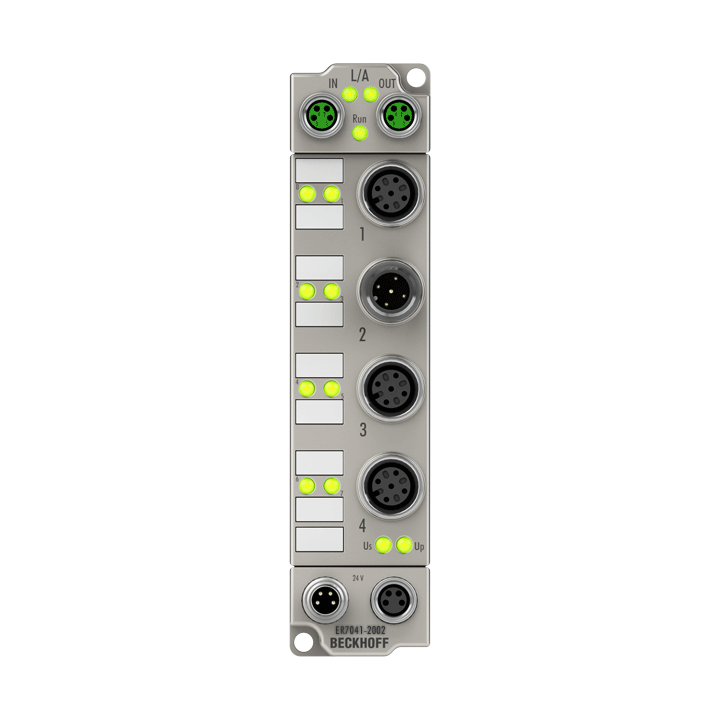 The ER7041-2002 EtherCAT Box is intended for the direct connection of different stepper motors. The PWM output stages for two motor coils with compact design are located in the module together with two inputs for limit switches and cover a wide voltage and current range. The ER7041-2002 can be adjusted to the motor and the application by changing just a few parameters. 64-fold micro-stepping ensures particularly quiet and precise motor operation. Connection of an incremental encoder enables a simple servo axis to be realized. Two digital inputs and a digital 0.5 A output enable connection of end switches and a motor brake. The external motor is fed via an integrated plug.
The EtherCAT Box modules with zinc die-cast housing are ready for use in harsh industrial and process environments. With the fully sealed design and metal surfaces the ER series is ideal for applications requiring enhanced load capacity and protection against weld spatter, for example.
Product information
Technical data
ER7041-2002
Protocol
EtherCAT
Bus interface
2 x M8 socket, shielded, screw type
Number of outputs
1 stepper motor, 1 digital 24 V DC output
Number of inputs
2 digital inputs, encoder system (24 V DC encoder)
Connection method
M12 x 1, 5-pin, a-coded
Load type
2-phase stepper motor (uni-/bipolar)
Nominal voltage
8…48 V DC
Output current
2 x 3.5 A, 2 x 5 A peak current (overload- and short-circuit proof)
Distributed clocks
yes
Step frequency
configurable up to 8000 full steps/s
Step pattern
64-fold micro stepping
Current controller frequency
approx. 30 kHz
Diagnostics LED
error phase A and B, loss of step/stagnation, power, enable
Resolution
approx. 5000 positions (per revolution, depending on motor and encoder type)
Electrical isolation
500 V
Current consumption from U

S

120 mA
Special features
travel distance control, encoder input, motor supply via plug
Operating/storage temperature
-25…+60 °C/-40…+85 °C
Weight
approx. 265 g
Vibration/shock resistance
conforms to EN 60068-2-6/EN 60068-2-27
EMC immunity/emission
conforms to EN 61000-6-2/EN 61000-6-4
Protect. rating/installation pos.
IP65/66/67 (conforms to EN 60529)/variable
Approvals/markings
CE
| Housing data | 8 x M8, 4 x M12 |
| --- | --- |
| Dimensions (W x H x D) | 30 mm x 126 mm x 26.5 mm |
| Material | zinc die-cast |
| Installation | 2 fixing holes 3.5 mm diameter for M3 |