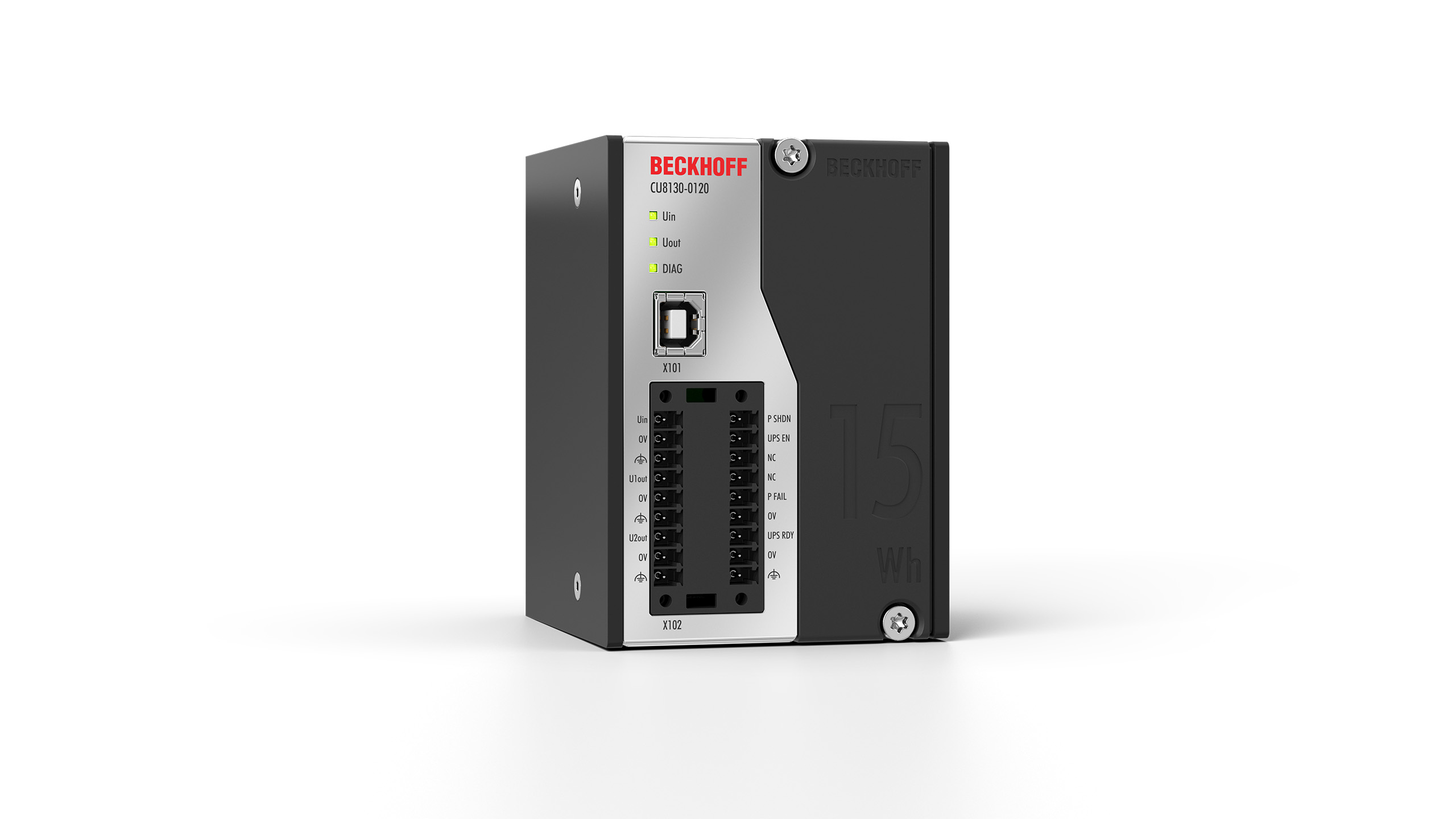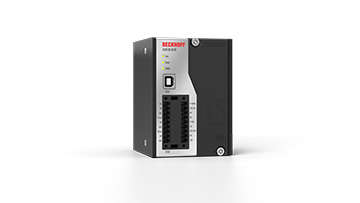 CU8130-0120 | UPS component, battery-backed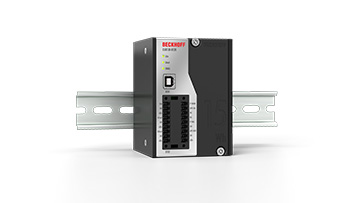 CU8130-0120 | UPS component, battery-backed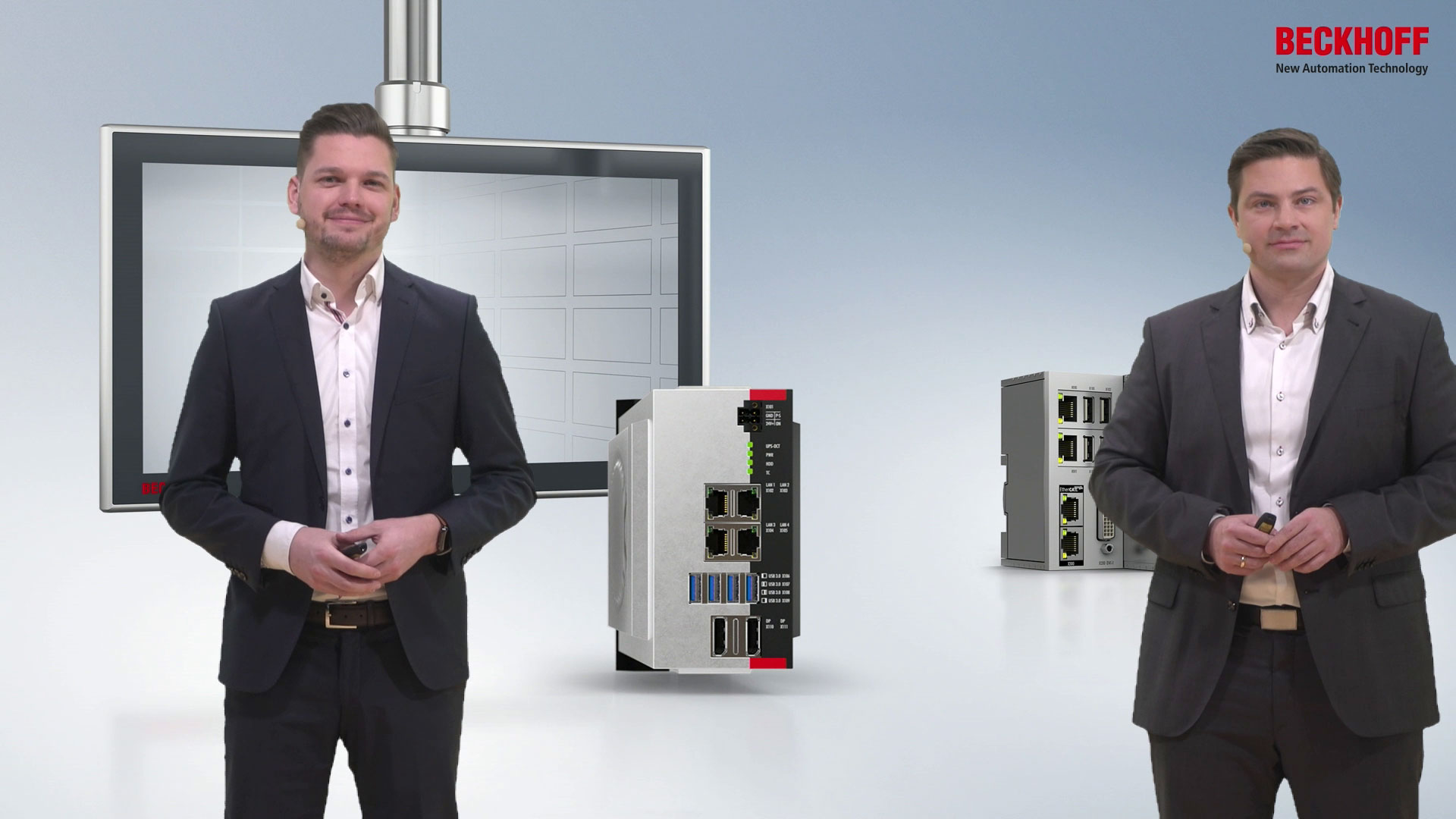 UPS series with One Cable Technology for industrial PCs
CU8130-0120 is a battery-backed, uninterruptible power supply (UPS) providing up to 15 Wh with a maximum output power of 110 W.
If the external 24 V DC input voltage is lost, the UPS takes over the supply of the devices connected to it thanks to its regulated and buffered 24 V DC output voltage.
The CU81xx UPS series is suitable for all Beckhoff components, particularly Industrial PCs, Embedded PCs, Panels, and Panel PCs.
The main features of this UPS are:
battery module based on NiMH cells
battery module as spare part easily exchangeable during service, UPS electronics remain mounted and are reused
UPS can be mounted on a DIN rail or at the rear panel of the control cabinet
connection option for a main device (e.g. Industrial PC) and a secondary device (e.g. Control Panel)
short-circuit protected outputs
automatic switch-off based on time or residual energy control to protect the energy module
automatic restart when power is restored (autonomous start)
protocol-based communication with Industrial PC, optionally via OCT (One Cable Technology) or USB
digital signals for communication with non-protocol-capable end devices
parameterization and diagnostics via Beckhoff UPS software on various operating systems
TwinCAT PLC function blocks for querying the UPS operation
The three diagnostic LEDs show the status of the input voltage, the output voltage, and the state of charge and indicate possible error states.
A special feature of the Beckhoff CU81xx devices is OCT (One Cable Technology) as communication technology between UPS and Industrial PC. This means that the two connecting lines (+24 V, 0 V) between the Industrial PC and the UPS are used not only to supply the Industrial PC, but also for bidirectional, modulated data transmission. If both sides are OCT-capable, no further connection, e.g., via USB, is required. This simplifies cabling and also allows longer connection distances compared to USB.
All UPS devices of the CU81xx series have permanent wiring via two 9-pin plugs, so that the wiring does not have to be disconnected during service.
Note: Please refer to the product documentation for the retention times that can be achieved with the UPS and important information on installation and safe operation of the devices.
Product information
Technical data
CU8130-0120
Type
battery-backed uninterruptible power supply (UPS), 110 W
Housing
metal housing for mounting on norm rail TS35x15 2.3
Storage technology
NiMh (battery)
Capacity
15 Wh
Operating system
requires Windows Embedded Standard 7, Windows 7 Professional, Windows 7 Ultimate or Windows 10 IoT Enterprise
Interfaces
USB, USB cable not included in the scope of supply
Information: The UPS with UPS OCT via 24 V DC power supply module is expected to be available from Q1 2024.
Diagnostics LED
1 x UIN, 1 x UOUT, 1 x DIAG
Connection
2 x 9-pin plug, push-in
Power supply
24 V DC (-15 %/+20 %)
Output voltage
min. 24 V DC
Power consumption
max. 120 W
Power output
max. 110 W
Power consumption during charging (without load)
max. 0.37 A
Output current
max. 4.5 A
Fuse (internal, input)
electronic, 10 A
Fuse (internal, output)
electronic, 5 A
Power loss during charging
max. 0.73 W
Power loss mains operation, UPS charged
max. 4.4 W
Power loss UPS operation, UPS discharges
max. 11 W
Dimensions (W x H x D)
60 mm x 100 mm x 90 mm
Weight
approx. 740 g
Operating temperature
-10…+50 °C
Relative humidity
95 %, no condensation
Vibration/shock resistance
conforms to EN 60068-2-6/EN 60068-2-27
EMC immunity/emission
conforms to EN 61000-6-2/EN 61000-6-4
Protection rating
IP20
Approvals/markings
CE
| Accessories | |
| --- | --- |
| C9900-M675 | mounting plate made of black anodized aluminum for mounting the UPS on the control cabinet wall, suitable for CU8110-0120, CU8130-0120 and CU8130-0240 |
| C9900-U015 | spare battery module, 15 Wh, suitable for CU8130-0120 |
| C9900-P950 | Spare connector for the power supply of the CU81xx UPS series. Two 9-pin connectors with push-in connection for cables with a cross-section of 0.14 mm² to 1.5 mm² or AWG26 to AWG16. |
| C9900-K552 | connecting cable USB 2.0 A-B, 3 m |
| C9900-K553 | connecting cable USB 2.0 A-B, 5 m |
| C9900-K554 | connecting cable USB 2.0 A-B, 1 m |
| C9900-K900 | Power cable, shielded, PVC, 1 x 2 x AWG18, fixed installation, black, open end, with ferrules, shield as pigtail – open end, with ferrules, shield as pigtail, 0.50 m |
| C9900-K901 | Power cable, shielded, PVC, 1 x 2 x AWG18, fixed installation, black, open end, with ferrules, shield as pigtail – open end, with ferrules, shield as pigtail, 1.00 m |
| C9900-K902 | Power cable, shielded, PVC, 1 x 2 x AWG18, fixed installation, black, open end, with ferrules, shield as pigtail – open end, with ferrules, shield as pigtail, 2.00 m |
| C9900-K903 | Power cable, shielded, PVC, 1 x 2 x AWG18, fixed installation, black, open end, with ferrules, shield as pigtail – open end, with ferrules, shield as pigtail, 5.00 m |
| C9900-K904 | Power cable, shielded, PVC, 1 x 2 x AWG18, fixed installation, black, open end, with ferrules, shield as pigtail – open end, with ferrules, shield as pigtail, 10.00 m |