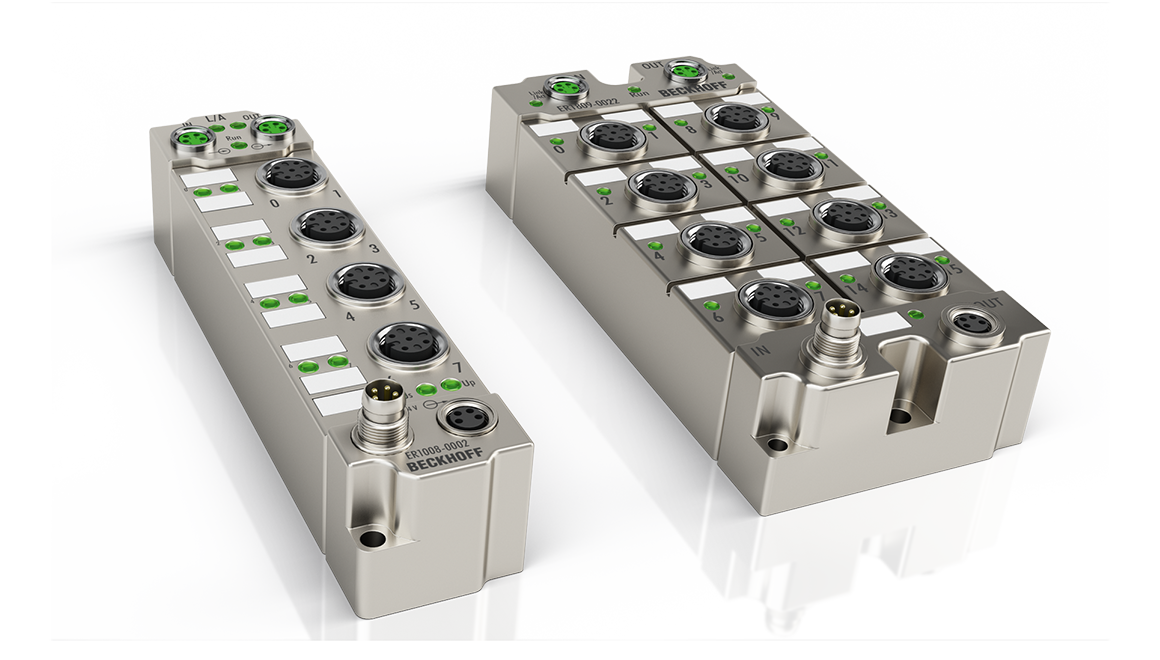 Sturdy I/O Box modules in a die-cast zinc housing
The EtherCAT Box system is supplemented by the ERxxxx modules with a die-cast zinc housing. The housing shape of the ER series modules is identical to the plastic housings of the EP series. The housing material is die-cast zinc. This makes the IP67 modules particularly robust, so that they can be used in harsh industrial and process environments. The fully sealed design and the metal surface of the ER series make it ideal for applications requiring enhanced load capacity and protection against welding spatter, for example. The ER series is the ideal supplement to the executions with plastic and stainless steel housings; all modules can be combined with one another.
The EtherCAT Box modules in the die-cast zinc housing cover the typical I/O signals: digital inputs with various filters, digital outputs with 0.5 A output current, and combination modules with user-selectable digital inputs or outputs. In addition, analog input modules for current/voltage measurement are available. Temperature measurement modules, serial interfaces, encoder inputs and motion modules complement the product range. Narrow 30 mm and wider 60 mm modules are available in different channel variants and cover a wide I/O spectrum. Signals are connected via M8 or M12 connectors.
The modules of the ER series have an EtherCAT interface. The power supply and transfer take place via M8 connectors or sockets. For high-current outputs modules with 7/8" power supply and M12 EtherCAT sockets are available. The EtherCAT Box modules in zinc die-cast finish are qualified with the extended temperature range of -25…+60 °C (storage temperature -40…+85 °C).