Integrated power measurement in the EtherCAT I/O system
EtherCAT Terminals for grid monitoring, process control, and power monitoring
Transparent energy monitoring
Transparent energy monitoring reduces both machine standstills and the necessity to oversize the corresponding components for reasons of plant availability. Added to that are the preventive maintenance and ultimately a considerably increased production efficiency. With its portfolio of integrated power measurement, Beckhoff simplifies energy management while at the same time optimizing the availability of machines and plants. Due to the continuous, system-integrated power measurement, deviations from the standard state can be detected quickly, thus enabling quick intervention. For example, the continuously increasing current consumption of a machine may indicate bearing wear. On the other hand, a decreasing current consumption may indicate quality problems, which need to be corrected at an early stage. By monitoring the power supply, erroneous behavior can be attributed to a possible phase failure in the power grid. The speed of reaction is reduced and possible downtimes are avoided.
Scalability for all areas of application
Scalability is a principle at Beckhoff: This also applies to the EtherCAT power measurement terminals, which cover applications from simple grid monitoring to power monitoring in all areas of application. They are scaled by different levels of performance in terms of measuring accuracy, measuring speed, and measured and internally calculated values. Beckhoff EtherCAT I/Os provide a comprehensive range of EtherCAT terminals for this that is highly scalable in terms of both price and performance.
Comprehensive system portfolio
In addition to the EtherCAT terminals, the power measurement portfolio also includes current transformers as reliable power sensors with optimum compatibility with the I/Os. A software library for power monitoring for our TwinCAT automation software also rounds off the power measurement. Suitable accessories are available for additional safety in the control cabinet. This results in a complete power measurement portfolio, so that all components can be procured from a single source.
There is a wide variety of requirements in energy management in the machine environment and in the energy economy, ranging from pure grid monitoring and process control through to high-end power monitoring. The EL34xx and EL37x3 energy and power measurement terminals set different focal points and are therefore designed for a wide range of applications.
Starting with simple threshold checking for voltage, frequency and phase with output of warning and status bits with IoT and energy management projects with the EL3423. The EL3443 and EL3453 are also the right terminals for high-feature applications for 3-phase grids, which pre-process the measured current and voltage values internally and thus provide the controller with up to 600 values for extensive grid analysis, as well as for energy management. The EL3773 and EL3783 can be used for power monitoring with oversampling function. This allows current and voltage to be measured simultaneously at speeds of up to 10 kSps on all channels for temporally precise state detection.
Distributed power measurement can be realized with the EL3446 in combination with the EL3443, so that effective power values can be calculated with spatially separated voltage and current measurement. The EL3446 pure current measuring terminal can be positioned as often as desired in a grid. To calculate the real power data, the required voltage values are transmitted from the EL3443 three-phase power measurement terminal, which is installed once only in each grid. This concept of distributed power measurement – with just one EL3443 and any number of EL3446s – reduces the hardware and installation expenditure to a minimum.
Beckhoff's energy and power measurement portfolio also features products for the medium voltage level. Voltages in the medium voltage level can simply be connected to our terminals with a measuring range of up to 130 V AC via standard voltage transformers with a 100 V or 110 V output.
Calibration of the terminals is necessary in some applications if, for example, knowledge of the measuring behavior and uncertainty is to be gained for quality reasons. We can also meet these requirements with our calibrated power measurement terminals.
With the SCT current transformers, Beckhoff, as a system provider, offers the possibility to implement reliable power sensors as an integral part of the PC-based controller directly in the field and completes the measuring chain from the recording of the physical measurement value to the data transmission to the cloud.
Users can choose between different concepts, each of which are highly scalable via different designs and performance classes and are therefore suitable for any application. For current intensities from 1 to 5,000 A, as well as from ring-type and split-core current transformers up to 3-phase transformers. The SCT series is extremely diversified and offers low-cost transformer sets for building services, standard industrial transformers for mechanical engineering and solutions for test benches with particularly high requirements for accuracy.
Decisive for the selection of the suitable variant is the respective type of use. Whereas the data acquisition can be implemented cost-efficiently and with high measurement accuracy, in particular in new systems, using the ring-type current transformers, the split-core current transformers are ideal for use as an uncomplicated retrofit solution due to the simplicity of their attachment.
The TwinCAT Power Monitoring Function is a PLC library for the evaluation of raw current and voltage data, which are usually provided by the EL3773 and EL3783 grid monitoring oversampling terminals. Function blocks are available for calculating RMS values for current, voltage and power. These can be output as instantaneous or average values. Maximum and minimum values are also available on the function block. Frequency and frequency spectra can be determined, such as e.g., harmonics in the network and their load in the form of the Total Harmonic Distortion (THD).
All blocks are available for single-phase and 3-phase systems. The TwinCAT products TE1300 TC3 Scope View Professional and TF6420 TC3 Database Server are suitable for displaying or permanently storing the data.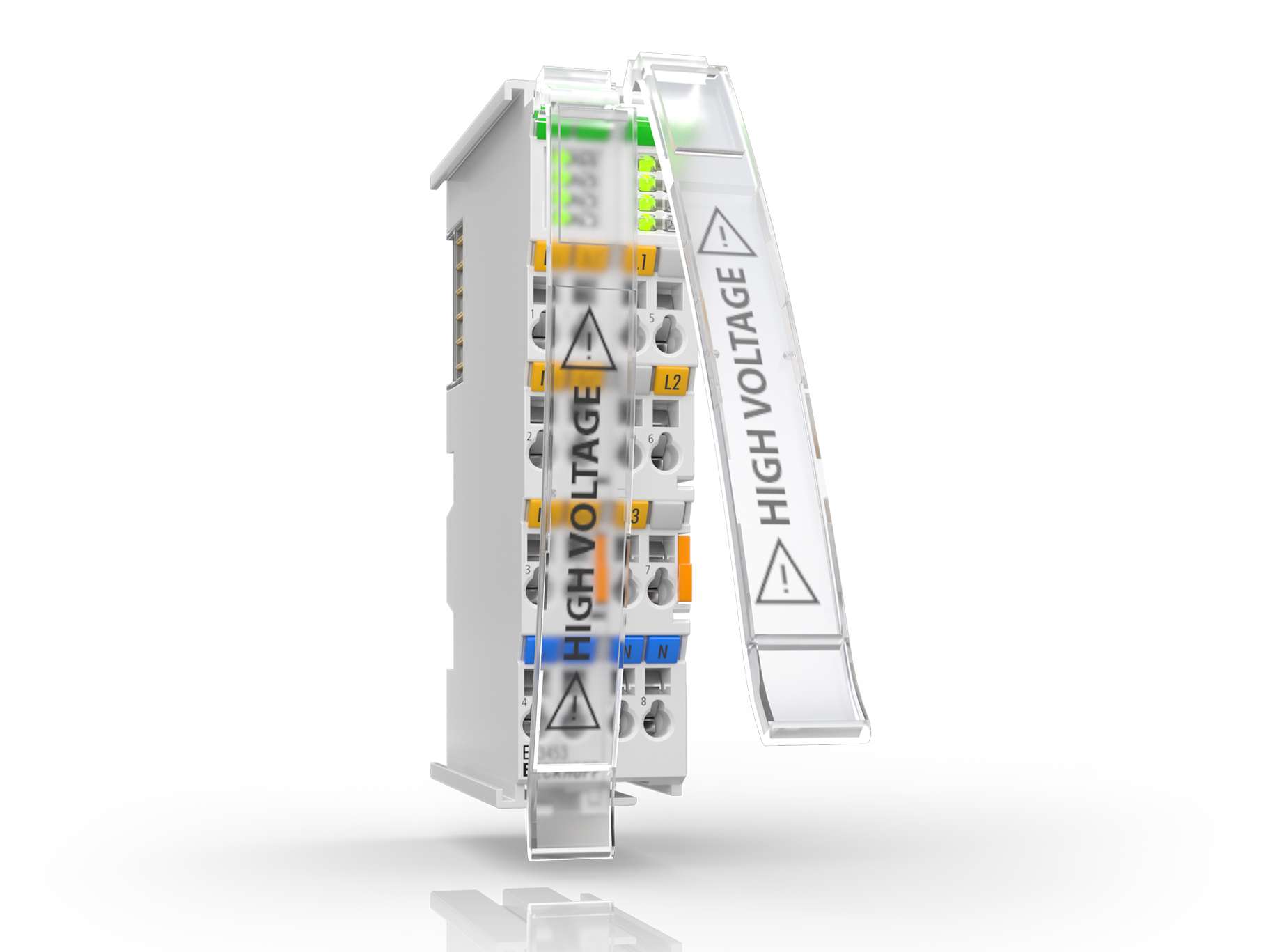 Standard signal voltages in the I/O system are usually ≤ 48 V. When measuring power, the signal voltage is in most cases much higher, often ≥ 230 V, so additional safety must be ensured in order to avoid endangerment of the fitter or operator. For this purpose, Beckhoff offers various options for marking the power measurement terminals.
The terminals can be spatially separated via an additional I/O station by means of an additional EtherCAT Coupler. Thus, voltages < 48 V are not simply placed next to < 690 V in the I/O line, but separated.
A further possible separation can be realized via the EL9080 separation terminal. This passive terminal has an orange front panel and additionally provides for optical separation.
The third option can be implemented by the BZ3201 plug-in label cover. The transparent cover is marked with "High Voltage!" The wires on the power measurement terminals can only be loosened after flipping up this cover, thus accidental loosening can be ruled out.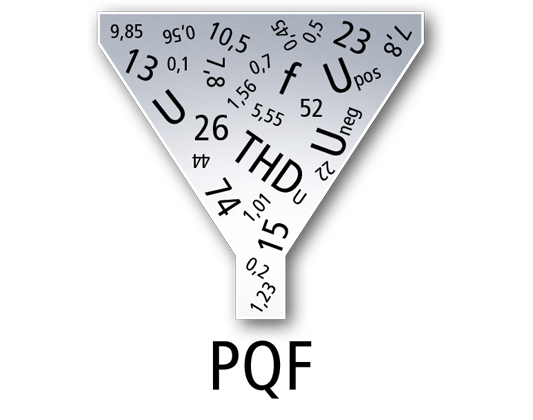 In order to simplify the assessment of current performance values for the user as much as possible, Beckhoff has developed the so-called Power Quality Factor (PQF). This guide value makes it possible to assess the voltage quality in the environment of a machine or plant on the basis of a single numerical value without having to analyze frequency, voltage, THD/harmonics and symmetry separately. For example, if an error occurs on a machine and the PQF drops to zero at the same time, it can be concluded that it is probably not the machine itself, but a change in the power supply that caused the error. In this way, not only the signs and effects of a fault can be rectified more quickly, but above all the causes. At the same time, a falling PQF can be used as an early warning system.