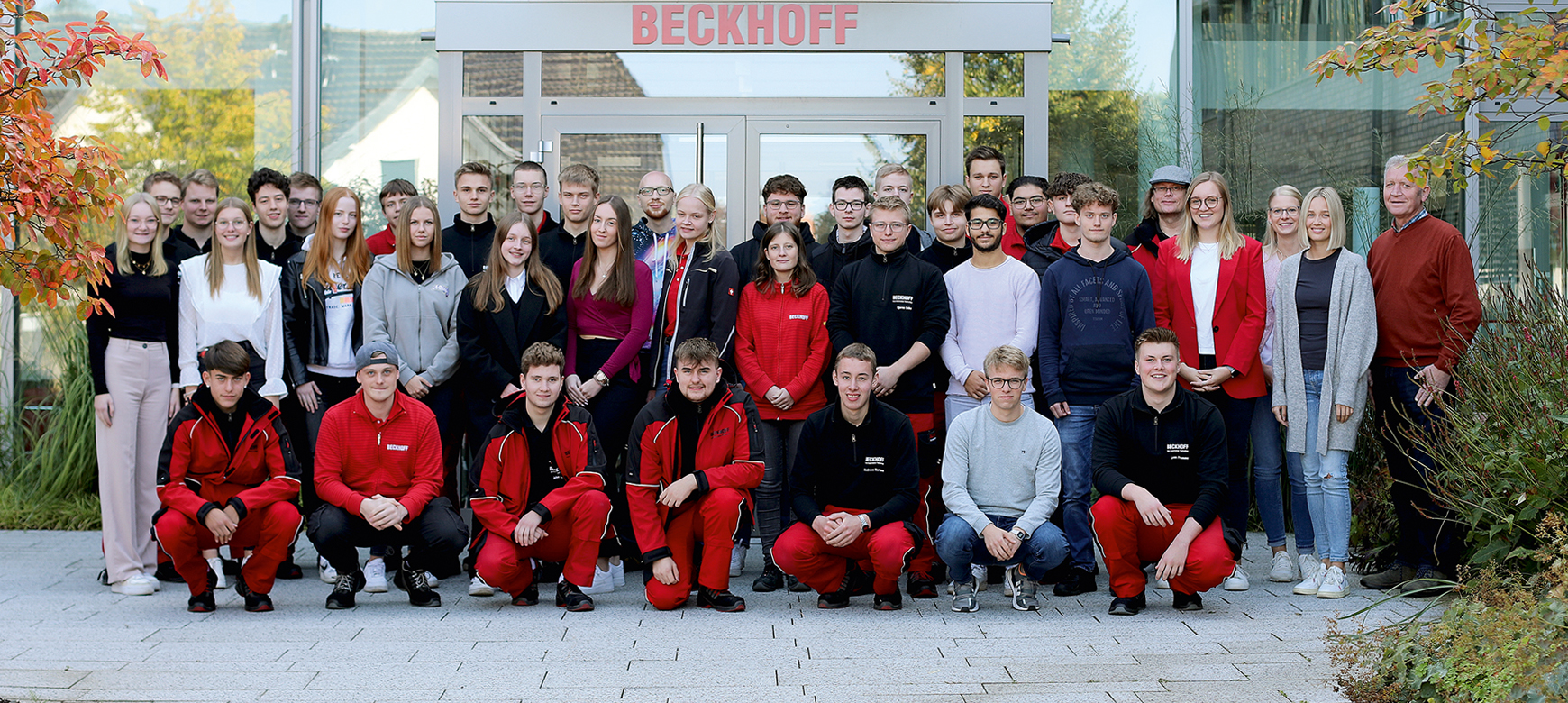 33 new apprentices start an exciting career at Beckhoff
The Verl-based automation technology specialist Beckhoff is pleased to welcome the next generation of skilled workers to its ranks: On August 2, 2022, 33 new apprentices started their professional futures at Beckhoff. Including the new intake, the company currently employs a total of 100 apprentices. For more than three decades, the globally successful automation technology company has been offering young people with a passion for technology excellent development opportunities in various professional fields and providing them with the perfect start to their careers.
"Dual training is an integral part of our efforts to secure and promote young talent. Consistent on-the-job training has proven to be a very successful training model for more than thirty years. Through practical work on real projects, the apprentices are integrated into a team right from the start and get to understand the purpose of their work," says Hans Beckhoff and continues: "It is important to us that our employees continue to develop their skills, so we also mentor and support them in their further training to become top-level specialists or technicians, as well as in a subsequent degree program." The official welcome event for the 33 new apprentices, hosted by Frederike Beckhoff, took place on September 29, 2022 at the company's headquarters in Verl.
Training at Beckhoff – an important foundation stone for an exciting professional future
Programming automation software, producing high-tech components, automating state-of-the-art production facilities, organizing projects, coordinating business processes – the professional fields on offer in an automation technology company are diverse and future-oriented.
Hans Beckhoff, the Managing Owner of Beckhoff Automation, predicts a bright future for the automation industry if technology and innovations continue to be the focus. In order to meet this demand in his fast-growing technology company continuously as well as into the future, training young people has a long tradition at Beckhoff. The high number of new apprentices, which has remained constant compared with previous years, demonstrates the importance of training the urgently needed next generation of skilled workers.
The company offers six dual vocational training programs in various technical and commercial fields. In the technical field, there are four apprenticeships to choose from: electronics technician for automation technology, electronics technician for operating technology, electronics technician for devices and systems, and IT specialist focusing on application development. Beckhoff offers two apprenticeships for the commercial sector: industrial clerk and warehouse logistics specialist.
Don't miss out on your future – apply now
Places are still available at Beckhoff in the various professional fields for apprenticeships starting in 2023.