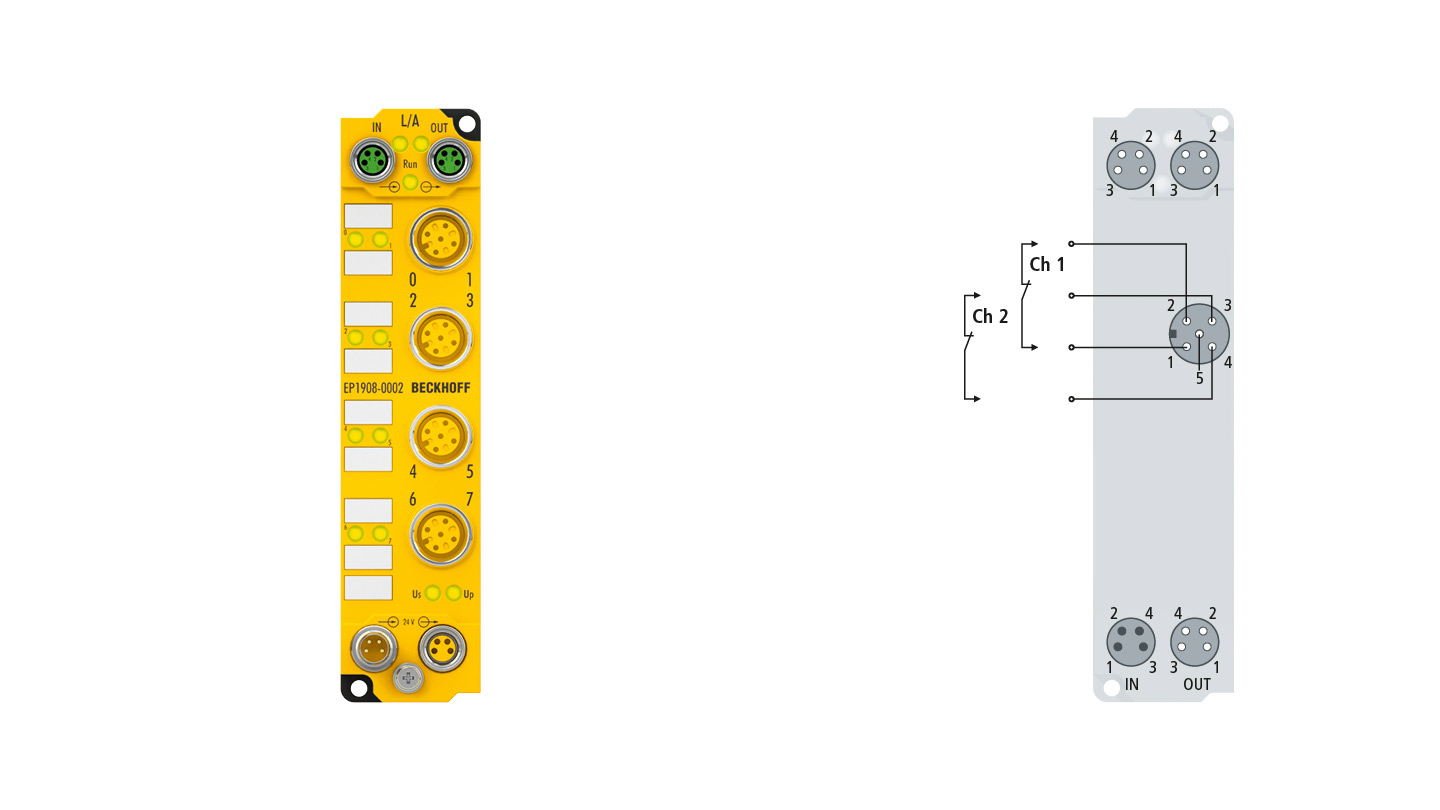 EtherCAT signal input


EtherCAT signal output


M12 I/O connection sockets


Signal status display


Labeling areas
Power supply status display:






Power supply feed


Power supply downstream
connection
1 | Tx+
2 | Rx+
3 | Rx-
4 | Tx-
1 | Pulse output 1
2 | Input 1
3 | Pulse output 2
4 | Input 2
5 | n.c.
1 | +24 V DC U
S
2 | +24 V DC U
P
3 | GND
4 | GND
Top view
I/O connection
Connector assignment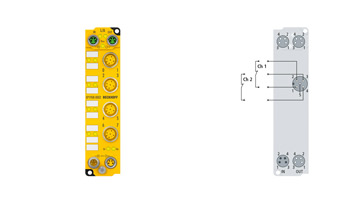 EP1908-0002 | EtherCAT Box, 8-channel digital input, 24 V DC, M12, TwinSAFE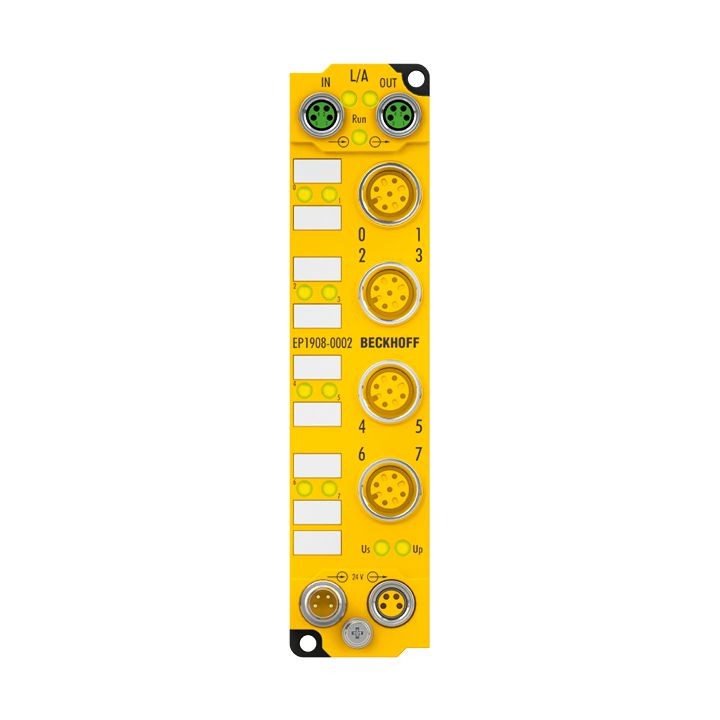 The EP1908-0002 TwinSAFE component is a digital EtherCAT Box for sensors with potential-free contacts for 24 V DC. It has eight fail-safe inputs. The signals are transmitted via FSoE to a TwinSAFE Logic-capable component and can be used there to evaluate them in terms of safety.
The EP1908-0002 has safety parameters to adapt the functionality specifically to the respective safety-oriented requirements (e.g., 1-channel evaluation vs. 2-channel evaluation, testing of the individual channels). In addition, standstill monitoring can be executed.
The safety parameters are not stored directly on the component, but are transmitted to the input component via a TwinSAFE Logic-capable component when the safety application is started. This simplifies service procedures, because the component can simply be replaced. The safety-relevant parameters are transferred to the new component when the safety application is restarted.
Special features:
8 safe inputs
cross-circuit detection
1-channel vs. 2-channel evaluation directly on the component
testing of the channels can be activated individually
standstill monitoring
Product information
| Technical data | EP1908-0002 |
| --- | --- |
| Protocol | TwinSAFE/Safety over EtherCAT |
| Bus interface | 2 x M8 socket, shielded, screw type |
| Connection technology | M12 x 1, 5-pin, a-coded |
| Number of inputs | 8 |
| Response time | typ. 5.5 ms (read input/write to bus) |
| Fault response time | ≤ watchdog time (parameterizable) |
| Installation position | variable |
| Weight | approx. 170 g |
| Protection rating | IP65/66/67 (according to EN 60529) |
| Safety standard | EN ISO 13849-1:2015 (Cat. 4, PL e) and EN 61508:2010 (SIL 3) |
| Housing data | 8 x M8, 4 x M12 |
| --- | --- |
| Dimensions (W x H x D) | 30 mm x 126 mm x 26.5 mm |
| Material | PA6 (polyamide) |
| Installation | 2 fixing holes 3.5 mm diameter for M3 |