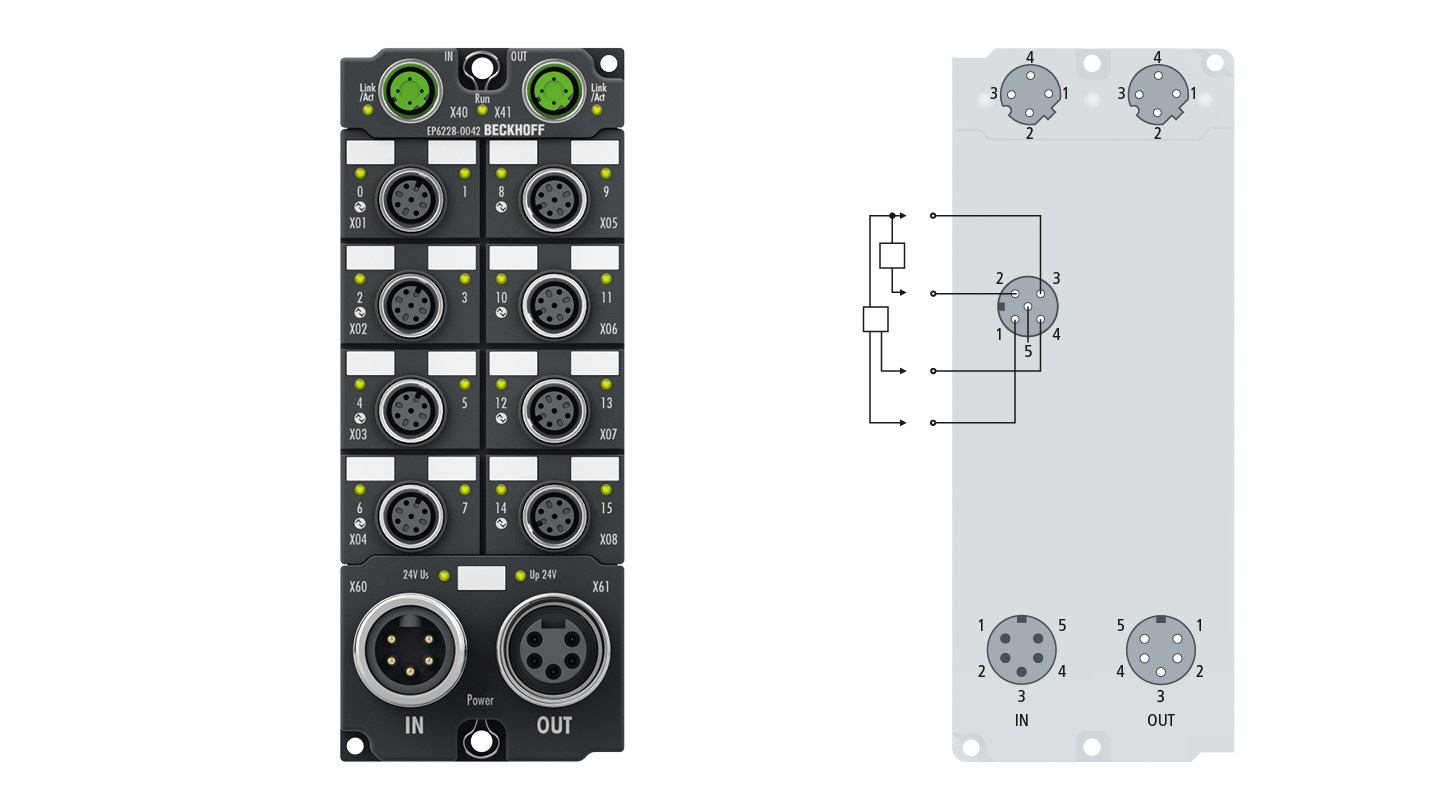 EtherCAT signal input


EtherCAT signal output


M12 I/O connection sockets


Signal status display


Labeling areas
Power supply status display:






Power IN


Power OUT
1 | Tx+
2 | Rx+
3 | Tx-
4 | Rx-
1 | L+
2 | Input
3 | L-
4 | C/Q
5 | n. c.
1 | GND
P
2 | GND
S
3 | FE
4 | +24 V DC U
S
5 | +24 V DC U
P
Top view
I/O connection
Connector assignment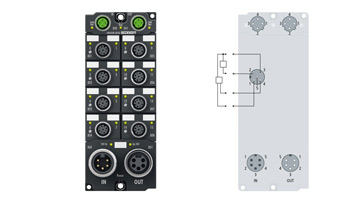 EP6228-0042 | EtherCAT Box, 8-channel communication interface + 8-channel digital input, IO-Link, master, Class A, M12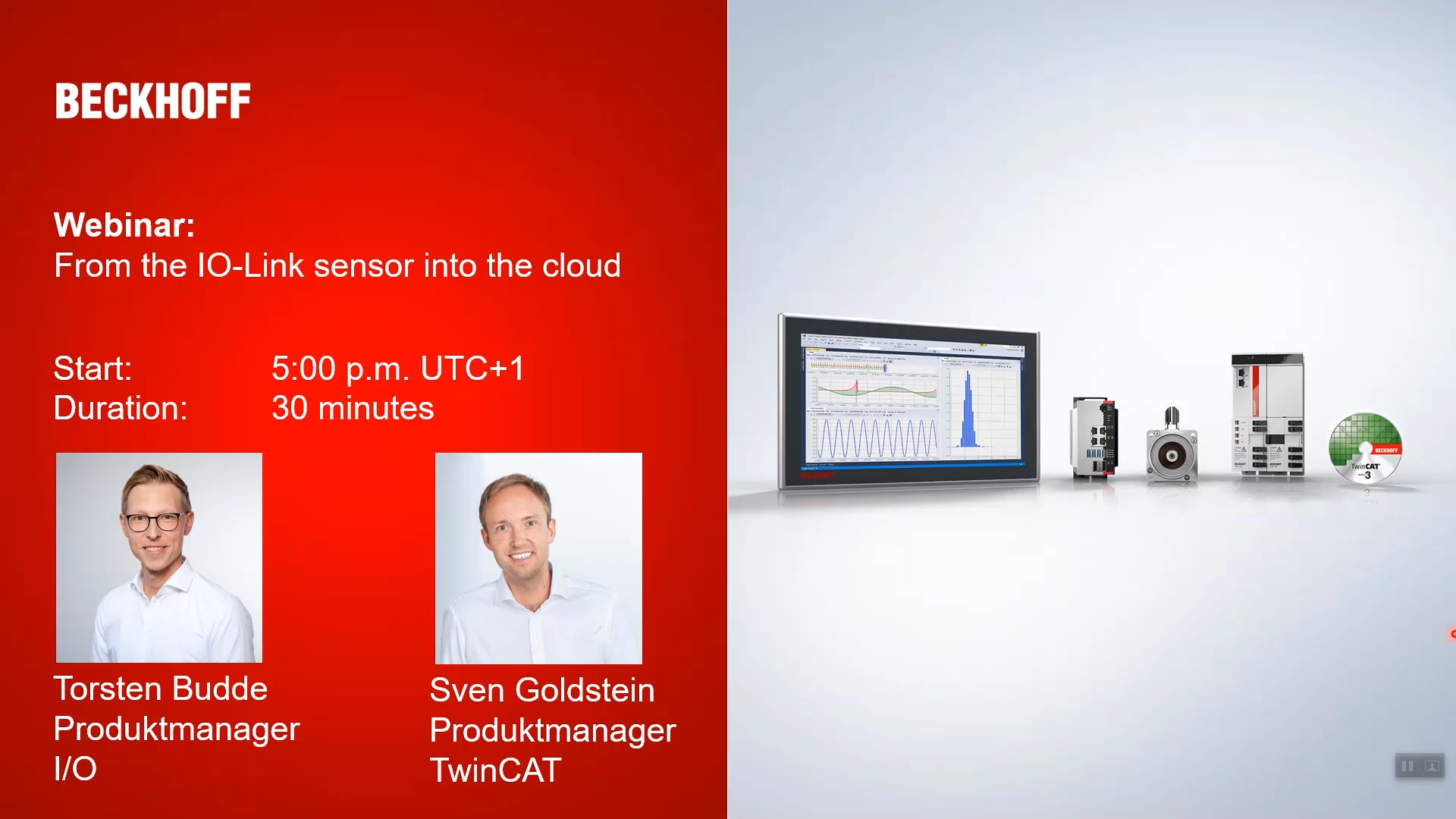 From the IO-Link sensor into the cloud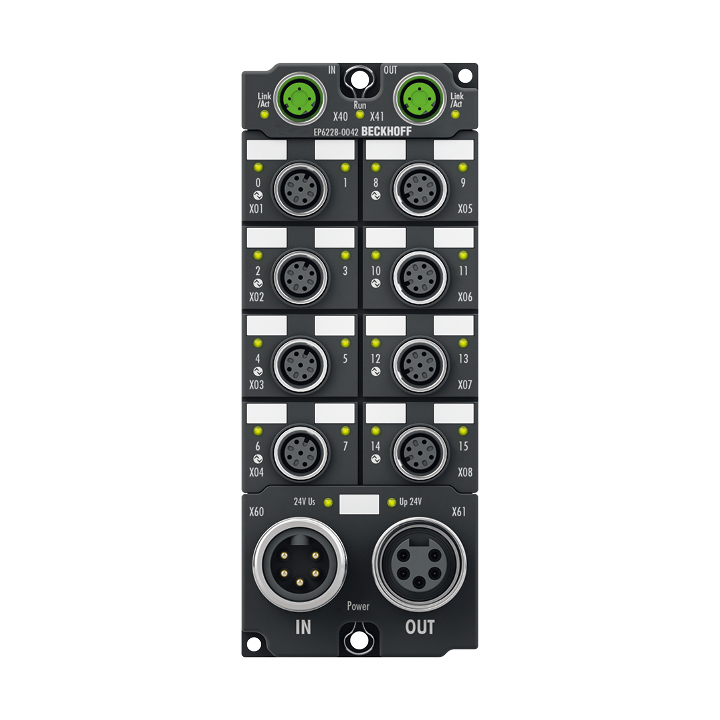 The EP6228-0042 IO-Link module enables connection of up to eight IO-Link devices, e.g. IO-Link box modules, actuators, sensors or combinations thereof. In addition, the EP6228-0042 offers additional digital inputs on the four Class A master ports. A point-to-point connection is used between the module and the device. The terminal is parameterized via the EtherCAT master. IO-Link is designed as an intelligent link between the fieldbus level and the sensor, wherein parameterization information can be exchanged bidirectionally via the IO-Link connection. The parameterization of the IO-Link devices with service data can be done from TwinCAT via ADS or very conveniently via the integrated IO-Link configuration tool.
In the standard setting, the eight IO-Link channels of the EP6228-0042 operate as an 8-channel input module, 24 V DC, which communicates with connected IO-Link devices as required, parameterizes them and, if necessary, changes their operating mode. Each IO-Link port can optionally be used as a pure input or output.
The 7/8" power supply connectors offer an increased total current of the EtherCAT Box so that all IO-Link ports can be operated with maximum current.
Product information
Technical data
EP6228-0042
Protocol
EtherCAT
Bus interface
2 x M12 socket, 4-pin (D-coded)
Data transfer rates
4.8 kbaud, 38.4 kbaud and 230.4 kbaud
Specification version
IO-Link V1.1, Class A
IO-Link interfaces
8
Connection method
M12 x 1, 5-pin, a-coded
Number of inputs
8 additional digital inputs
Nominal input voltage
24 V DC (-15 %/+20 %)
Input filter
10 µs
"0" signal voltage
-3…+5 V
"1" signal voltage
11…30 V, 6 mA input current (EN 61131-2, type 3)
Input current
typ. 3 mA (EN 61131-2, type 3)
Nominal voltage
24 V DC (-15 %/+20 %)
IO-Link sensor supply L+
24 V DC, 1.4 A per port, ∑ 11.2 A for 8 ports
IO-Link extra power P24
–
Current consumption from U

S

typ. 130 mA + load
Power supply connection
feed: 1 x 7/8" plug, 5-pin; downstream connection: 1 x 7/8" socket, 5-pin
Distributed clocks
yes
Special features
–
Electrical isolation
500 V
Weight
approx. 440 g
Operating/storage temperature
-25…+60 °C/-40…+85 °C
Vibration/shock resistance
conforms to EN 60068-2-6/EN 60068-2-27
EMC immunity/emission
conforms to EN 61000-6-2/EN 61000-6-4
Protect. rating/installation pos.
IP65/66/67 (conforms to EN 60529)/variable
Approvals/markings
CE, (UL in preparation)
| Housing data | 7/8" infeed |
| --- | --- |
| Dimensions (W x H x D) | 60 mm x 150 mm x 26.5 mm |
| Material | PA6 (polyamide) |
| Installation | 2 fixing holes 3.5 mm diameter for M3; 2 fixing holes 4.5 mm diameter for M4 |