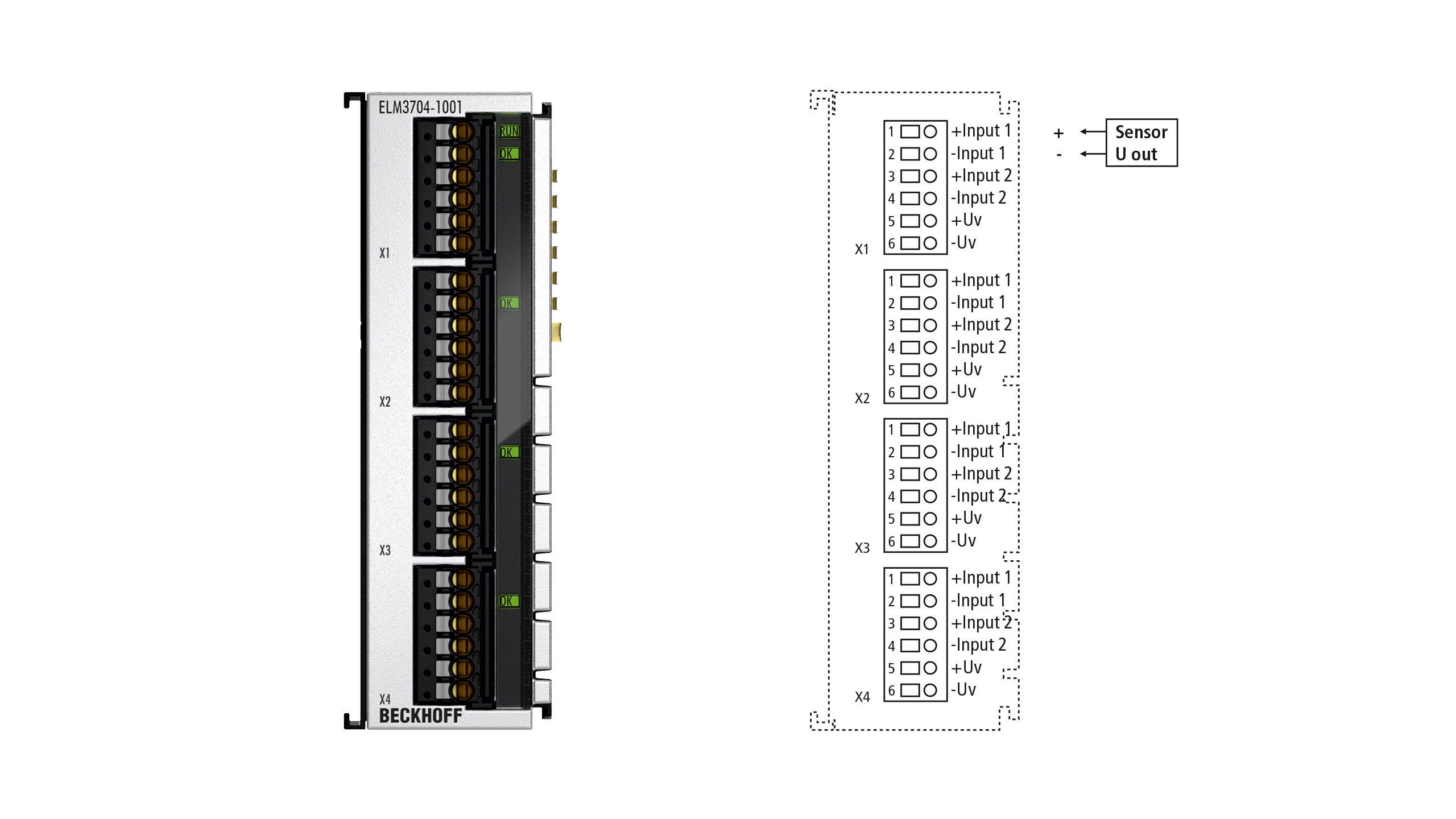 Run LED

OK-LED Channel 1

OK-LED Channel 2

OK-LED Channel 3

OK-LED Channel 4


Channel 1


Channel 2


Channel 3


Channel 4
Top view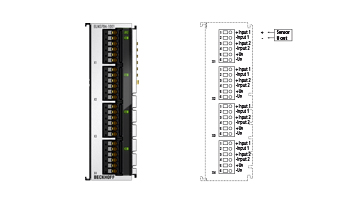 ELM3704-1001 | EtherCAT Terminal, 4-channel analog input, multi-function, 24 bit, 10 ksps, TC compensation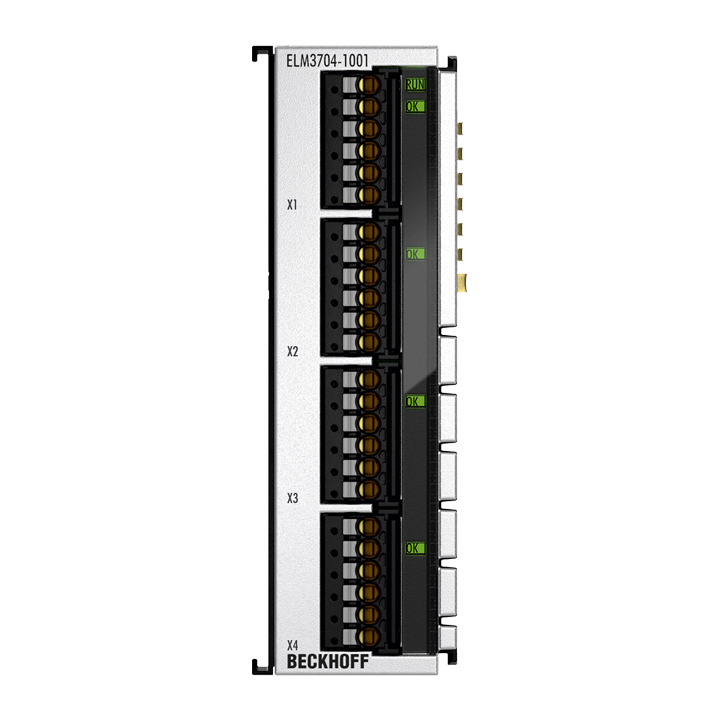 The EtherCAT Terminals from the ELM3xxx series were developed in order to enable the high-quality measurement of common electrical signals in the industrial environment. Flexibly usable measurement modules are especially useful in laboratory and testing technology environments.
The ELM3704-1001 with a sampling rate of 10 ksps is designed for fast thermocouple measurements where the ELM3344 and ELM3348 terminals with 1 ksps per channel are not sufficient. For this purpose, the ELM3704-1001 corresponds to the ELM3704-0000, but is only aligned in the thermocouple and voltage measurement function. Thus, all other measuring ranges from the ELM3704-0000 are available to the user (full/half/quarter bridge, 20 mA, 5 kΩ/RTD, IEPE) if they are calibrated on the system side.
Extensive documentation is available from Beckhoff sales, support or measurement@beckhoff.com.
Product information
| System data | ELM370x |
| --- | --- |
| Voltage measurement | ±60/10/5/2.5/1.25 V, ±640/320/160/80/40/20 mV, 0…5/10 V (2-wire connection) |
| Temperature measurement (thermocouple) | type A1, A2, A3, B, C, D, E, G, J, K, L, N, P, R, S, T, U and others; internal/external cold junction measurement (2-wire connection) |
| Technical data | ELM3704-1001 |
| --- | --- |
| Number of channels | 4 |
| Technology | multi-function (only thermocouple and voltage aligned) |
| Signal type | differential |
| Connection technology | 2-/3-/4-/5-/6-wire |
| Connection type | push-in, service plug 6-pin |
| Max. sampling rate | max. 100 µs/10 ksps (per channel, simultaneously) |
| Oversampling factor | n = 1…100 selectable (max. 10 ksamples/s) |
| Internal resistance | > 4 MΩ |
| Measurement error/ uncertainty | see documentation, e.g. relative to the respective full scale value in TC range e.g. type K typ. < ±500 ppm/0.05 %/0.63 K, in voltage range typ. < ±100 ppm/±0.01 % in some measuring ranges |
| Temperature coefficient | see documentation, e.g. in TC range type K typ. < 13 mK/K, in voltage range up to typ. < 1 ppm/K in some measuring ranges |
| Functional diagnostics | yes |
| Connection diagnostics | broken wire/short circuit |
| Distributed clocks | yes, accuracy << 1 µs |
| Resolution | 24 bit (incl. sign) |
| Electrical isolation channel/channel | no |
| Electrical isolation channel/bus | 707 V DC (type test) |
| Electrical isolation channel/SGND | 707 V DC (type test) |
| Current consumption E-bus | typ. 890 mA |
| Weight | approx. 350 g |
| Operating/storage temperature | 0…+55 °C/-25…+85 °C |
| Thermal dissipation | typ. 3 W |
| Special features | ExtendedRange 107 %, free numeric filter, TrueRMS, integrator/differentiator, non-linear scaling, PeakHold |
| Approvals/markings | CE, UL |
Housing data
ELM-30-xpin
Design form
metal housing with signal LEDs
Material
zinc die-cast
Dimensions (W x H x D)
30 mm x 100 mm x 95 mm
Installation
on 35 mm DIN rail, conforming to EN 60715 with lock
Side by side mounting by means of
double slot and key connection
Marking
–
Wiring
solid conductors (s): direct plug-in technique; fine-stranded conductors (st) and ferrule (f): spring actuation by screwdriver
Connection cross-section
s*: 0.2…1.5 mm²,
st*: 0.2…1.5 mm²,
f*: 0.25…0.75 mm²
Connection cross-section AWG
s*: AWG 24…14,
st*: AWG 24…14,
f*: AWG 24…14
Stripping length
8…9 mm
*s: solid wire; st: stranded wire; f: with ferrule