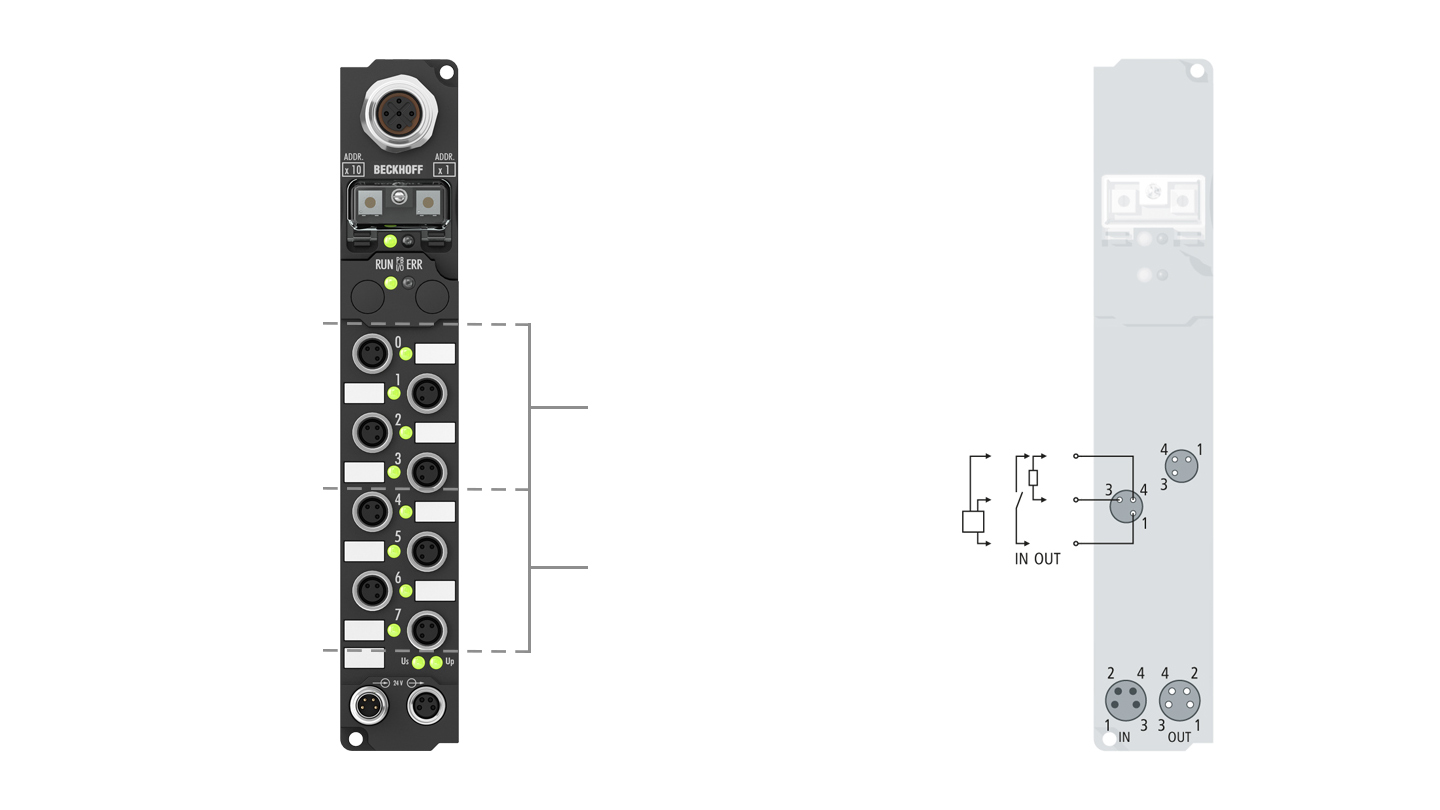 Fieldbus connection (design depends
on the fieldbus)


M8 I/O connection sockets


Signal status display


Labeling areas
Power supply status display:






Power supply feed


Power supply downstream
connection
1 | +24 V DC U
S
3 | GND
4 | In-/Output
1 | +24 V DC U
S
2 | +24 V DC U
P
3 | GND
4 | GND
2-wire
3-wire
Top view
I/O connection
Connector assignment
Inputs
Outputs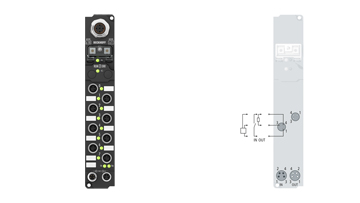 IP23x1-Bxxx, M8, screw type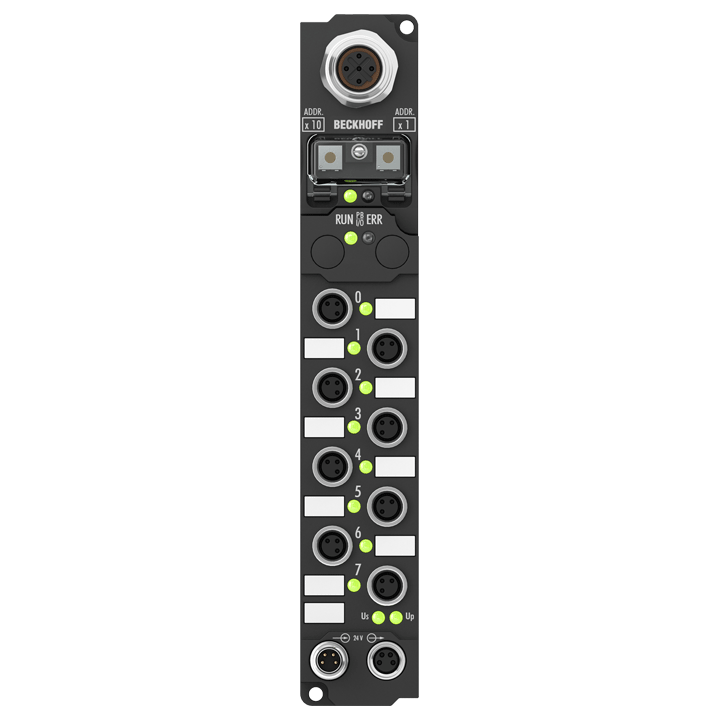 The IP2301-Bxxx digital I/O module combines four digital inputs and four digital outputs in one device. The outputs handle load currents of up to 0.5 A, are short-circuit-proof and protected against inverse polarity. The state of each signal is indicated by means of light emitting diodes. The signals are connected via M8 screw type connectors.
| Product variants | Communication | Bus interface |
| --- | --- | --- |
| IP2301-B200 | Lightbus | 2 x fiber-optic socket for plug ZS1020-0010 |
| IP2301-B310 | PROFIBUS | 1 x M12 socket, 5-pin, B-coded |
| IP2301-B318 | PROFIBUS | 1 x M12 socket, 5-pin, 1 x M12 plug, 5-pin (tee-connector integrated), B-coded |
| IP2301-B400 | Interbus | 1 x M23 female socket 9-pin, 1 x M23 male socket 9-pin |
| IP2301-B510 | CANopen | 1 x M12 plug, 5-pin |
| IP2301-B518 | CANopen | 1 x M12 plug, 5-pin, 1 x M12 socket, 5-pin (tee-connector integrated) |
| IP2301-B520 | DeviceNet | 1 x M12 plug, 5-pin |
| IP2301-B528 | DeviceNet | 1 x M12 plug, 5-pin, 1 x M12 socket, 5-pin (tee-connector integrated) |
| IP2301-B730 | Modbus RTU | 1 x M12 socket, 5-pin, B-coded |
| IP2301-B800 | RS485/RS422 | 1 x M12 socket, 5-pin, B-coded |
| IP2301-B810 | RS232 | 1 x M12 socket, 5-pin, B-coded |