Products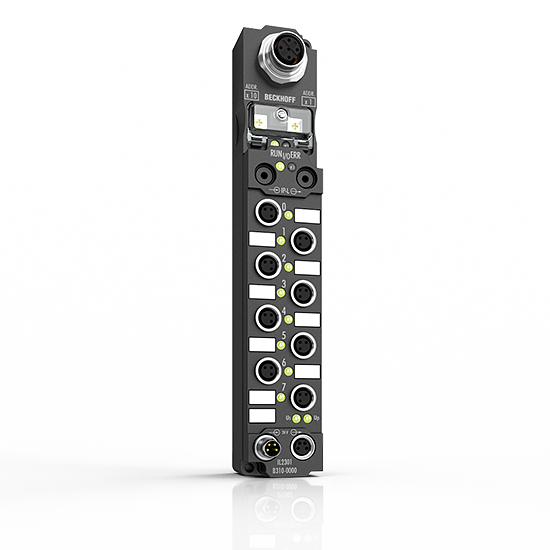 IL23xx-Bxxx | Digital combi
The IP230x-Bxxx Coupler Box modules combine four digital inputs and four digital outputs in one device.
Fieldbus Coupler Box
The Fieldbus Coupler Box gathers the I/O data from the extension modules via the interference-free IP-Link optical-fiber connection. The IP-Link is an optical-fiber communications connection with a data transfer rate of 2 Mbit/s which is capable of transmitting 1,000 items of binary I/O data in approx. 1 ms, rapidly and securely. Smaller configurations are correspondingly faster. Because of the high usable data rate, the IP-Link coupling does not reduce the performance of the fieldbus at all.
The Extension Box modules can be up to 15 m apart. Up to 120 Extension Box modules can be connected to a Coupler Box, depending on the network. The Coupler Box modules recognize the connected Extension Box modules automatically in the start-up phase and map the I/O data automatically onto the fieldbus process image – configuration is not necessary. The coupler appears, from the fieldbus point of view, along with all of the networked Extension Box modules, as a single participating bus device with a corresponding number of I/O signals.
The Coupler Box corresponds to the Bus Coupler in the Beckhoff Bus Terminal system. Beckhoff fieldbus devices in IP20 (Bus Terminals) and IP67 (Fieldbus Box) can be combined without problem – data handling is identical in each case.
Low-priced plug connectors made according to protection class IP67 can be used for the rapid and simple preparation of the IP-Link optical-fiber cable, in situ. The connection does not require special tools, and can be performed quickly and simply. The IP-Link cables can also be obtained with pre-assembled plug connectors if required.
Due to the separate feeding of the output power supply, output modules can be switched off individually. Differing potentials can also be created within an extension ring without difficulty, since the IP-Link naturally has optimum electrical isolation.