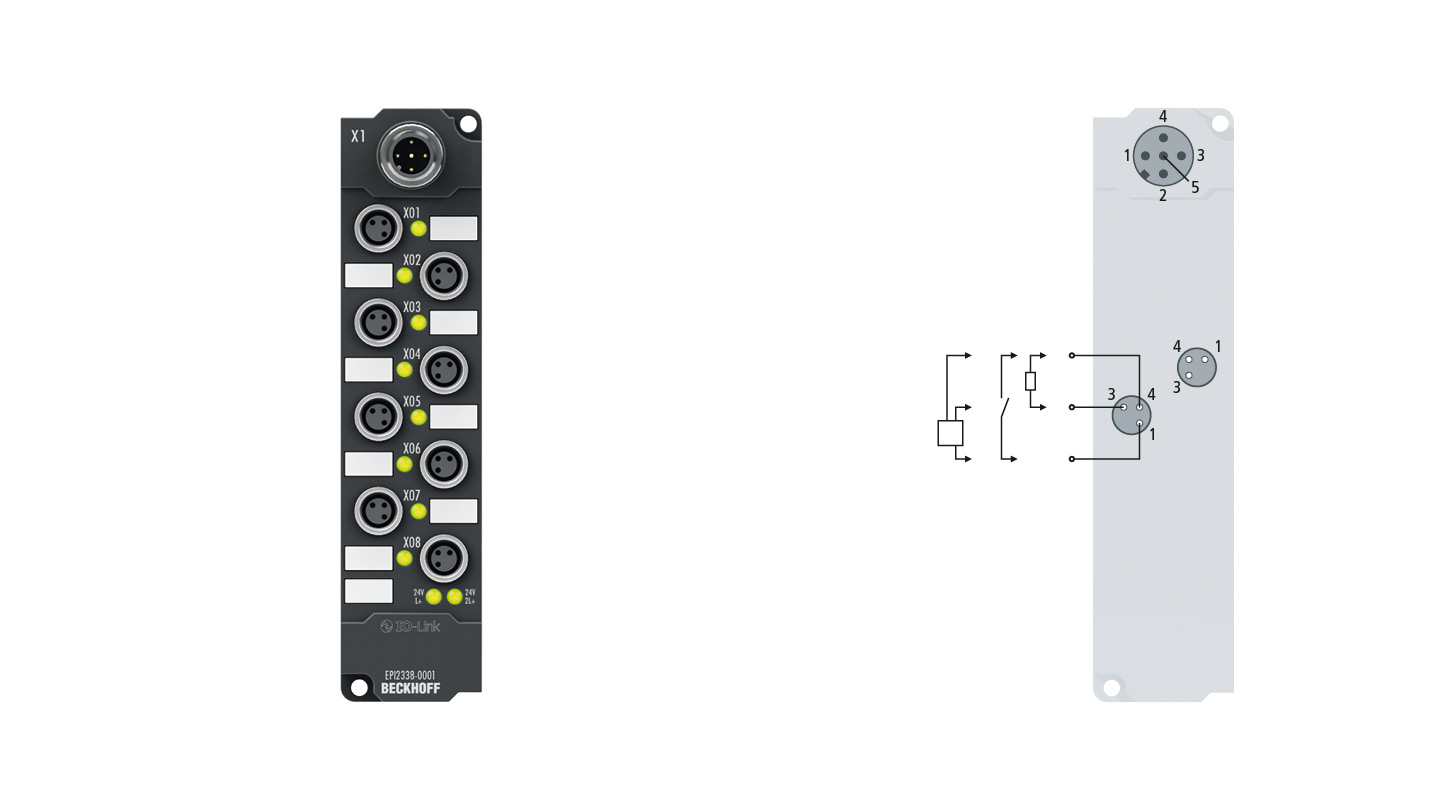 IO-Link interface Class B


M8 I/O connection sockets


Signal status display


Labeling areas
Power supply status display:


LED 24 V (L+)


LED (P24)
1 | L+
2 | P24
3 | L-
4 | C/Q
5 | N24
1 | + 24 V DC P24
3 | N24
4 | In-/Output
2-wire
3-wire
Top view
I/O connection
Connector assignment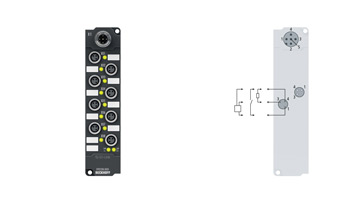 EPI2338-0001, M8, screw type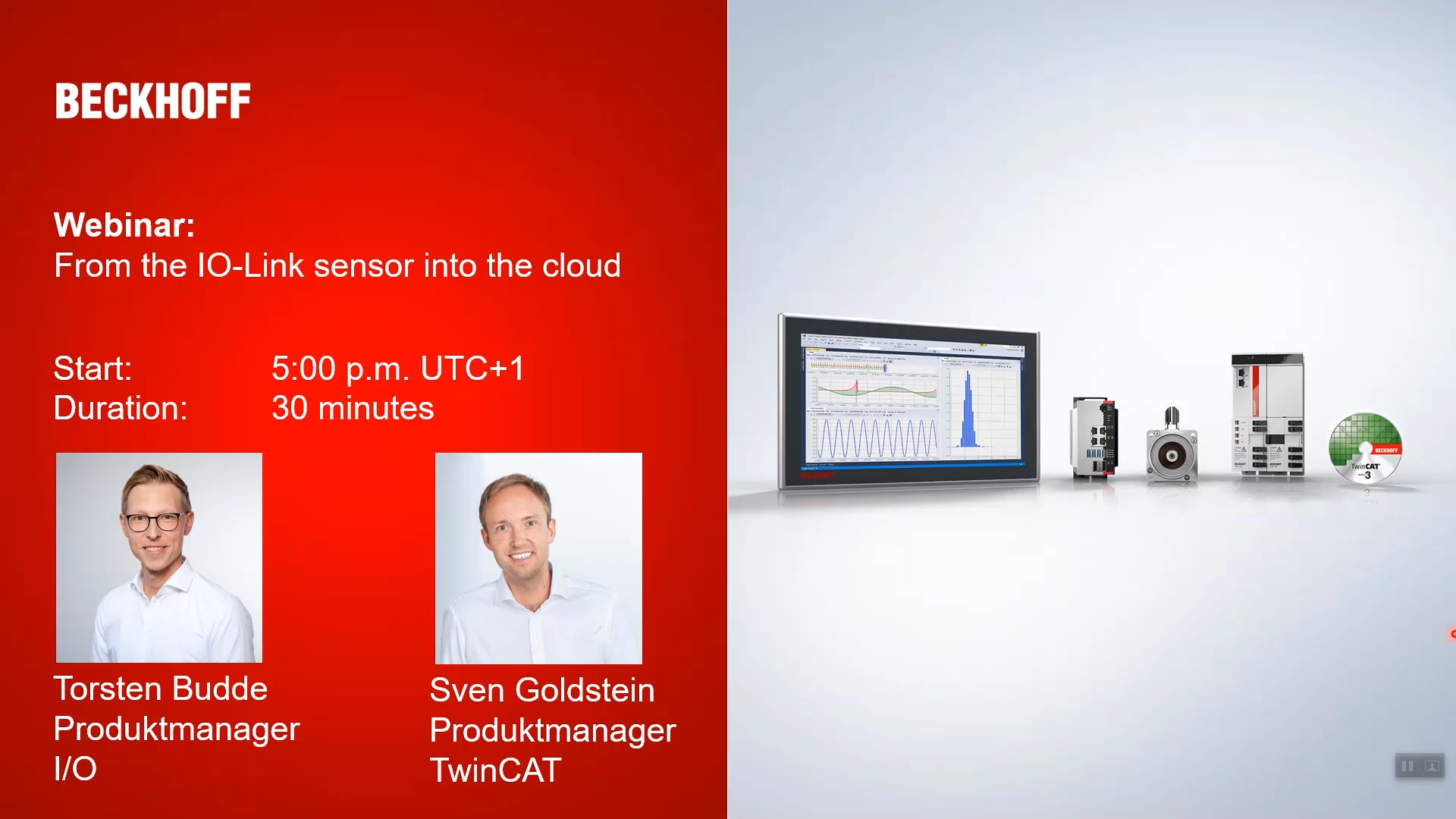 From the IO-Link sensor into the cloud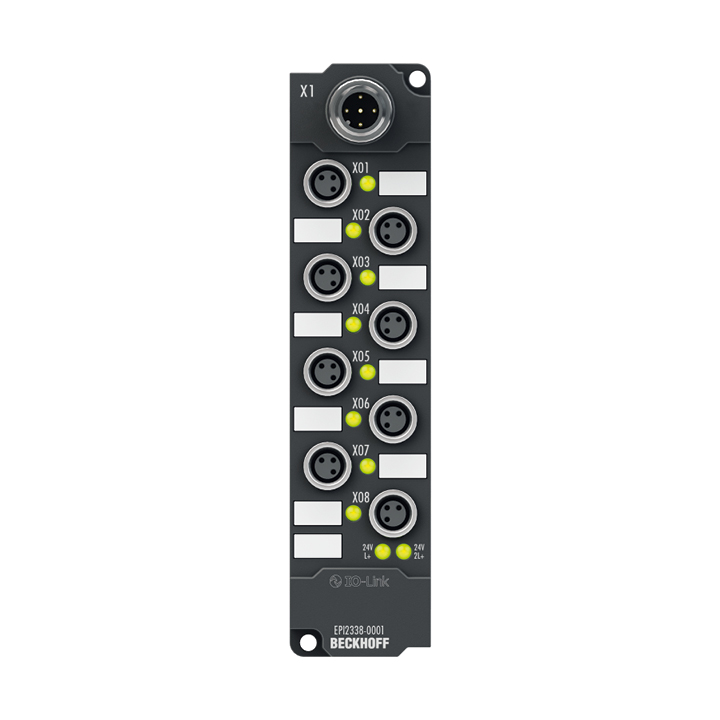 The EPI2338-0001 IO-Link box has eight digital channels, each of which can optionally be operated as an input or as an output. A configuration for using a channel as input or output is not necessary; the input circuit is internally connected to the output driver, so that a set output is displayed automatically in the input process image.
The outputs handle load currents of up to 0.5 A, and although the total current is limited to 4 A, they are short-circuit proof and protected against inverse polarity. The state of each signal is indicated by means of light emitting diodes. The signals are connected via M8 connectors.
Product information
Technical data
EPI2338-0001
Communication
IO-Link
Interfaces
1 x M12 plug, A-coded
Data transfer rates
230.4 kbaud (COM 3)
Specification version
IO-Link V1.1, Class B
Number of channels
8 digital inputs or outputs
Input/output connections
M8, screw type
Input filter
3.0 ms (default), adjustable 0…20 ms
"0" signal voltage
-3…+5 V (EN 61131-2, type 3)
"1" signal voltage
11…30 V (EN 61131-2, type 3)
Input current
typ. 3 mA (EN 61131-2, type 3)
Sensor supply
from P24, max 0.5 A, short-circuit proof in total
Load type
ohmic, inductive, lamp load
Rated load voltage
24 V DC (-15 %/+20 %)
Max. output current
0.5 A per channel, from P24, individually short-circuit proof
Short-circuit current
max. 1.5 A
Current consumption
typ. 100 mA from L

+

Auxiliary power current
typ. 20 mA + load
Electrical isolation
L+/P24: yes
Weight
approx. 165 g
Operating/storage temperature
-25…+60 °C/-40…+85 °C
Vibration/shock resistance
conforms to EN 60068-2-6/EN 60068-2-27
EMC immunity/emission
conforms to EN 61000-6-2/EN 61000-6-4
Approvals/markings
CE, UL
Protect. rating/installation pos.
IP65/66/67 (conforms to EN 60529)/variable
| Housing data | 8 x M8, 4 x M12 |
| --- | --- |
| Dimensions (W x H x D) | 30 mm x 126 mm x 26.5 mm |
| Material | PA6 (polyamide) |
| Installation | 2 fixing holes 3.5 mm diameter for M3 |