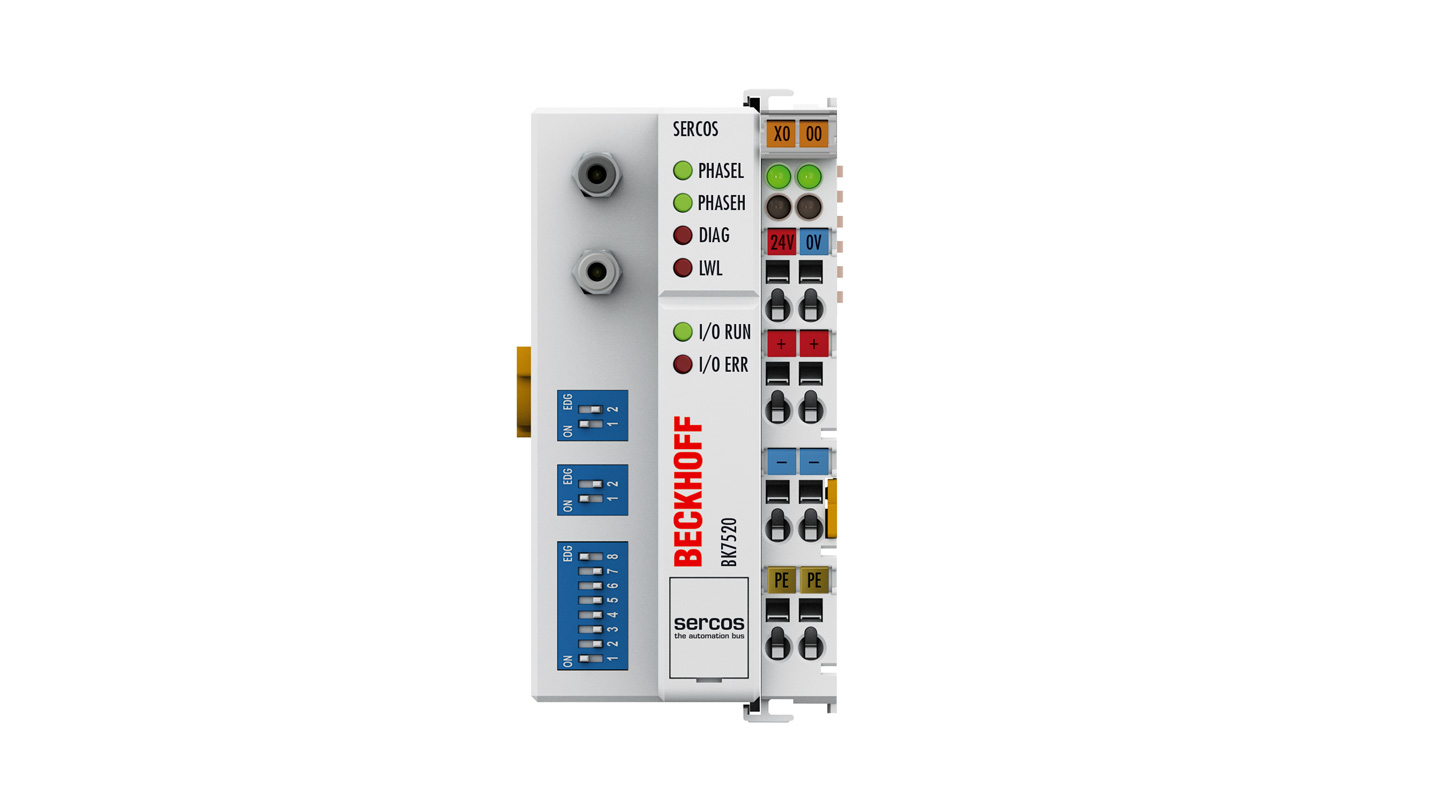 Power LEDs




K-bus

Bus Coupler
supply

Input for
power contacts



Power contacts

Fieldbus signal input

Fieldbus signal output

Configuration interface

Baud rate

Transmit intensity

Address selector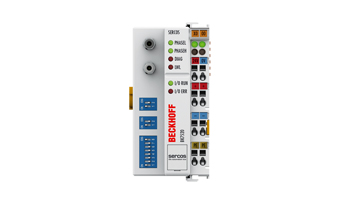 BK7520 | SERCOS II Bus Coupler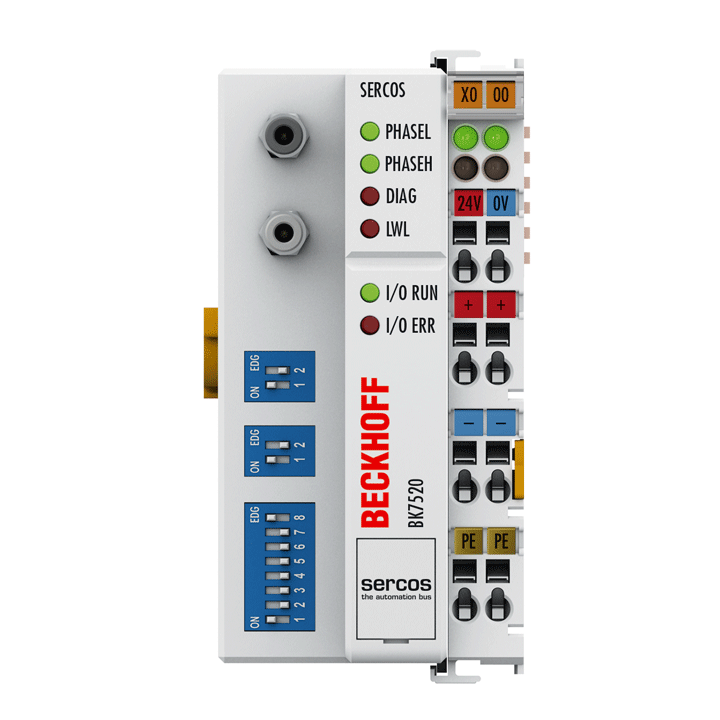 The BK7520 Bus Coupler connects the SERCOS bus system with the electronic terminal blocks, which can be extended in modular fashion. One unit consists of one Bus Coupler, any number from 1 to 64 terminals and one end terminal. The BK7520 allows, with the K-bus extension technology, the connection of up to 255 Bus Terminals to one Bus Coupler. The Bus Coupler recognizes the connected terminals and automatically generates the affiliations of the inputs/outputs to the bytes of the process image.
SERCOS is a fiber optic bus that was developed for use in drive technology as a digital drive interface for drives. SERCOS is an open fieldbus system, which since 1995 has been subject to the international standard IEC 61491 for numerically controlled machines. It is widely used in the drive technology sector.
The bus consists of a master and of a number of slaves. In SERCOS, most of the slaves are drive amplifiers. The bus topology is a ring system, in which it is possible to operate up to 254 stations. The transmission speed is 2 and 4 Mbaud. The BK7520 supports additionally 8 and 16 Mbaud. There are basically three types of telegrams. The master SYNC telegram is received by all the slaves at the same time, and is used for synchronization. The master data telegram is also received by all the slaves, and contains the cyclic data and the service data. The slaves send their data in what is known as a drive telegram.
Parameterization can also be carried out via the SERCOS interface.
Product information
Technical data
BK7520
Number of Bus Terminals
64 (255 with K-bus extension)
Max. number of bytes fieldbus
254 word I/O for the cyclic interface (depending on the master)
Digital peripheral signals
1,020 inputs/outputs
Analog peripheral signals
254 inputs/outputs
Configuration possibility
via KS2000
Data transfer rates
2/4/8/16 Mbaud, adjustable by means of configuration switch
Bus interface
FSMA standard, IEC 872-2
Data transfer medium
1,000 µm plastic fiber optic
Power supply
24 V DC (-15 %/+20 %)
Input current
70 mA + (total K-bus current)/4, 500 mA max.
Starting current
2.5 x continuous current
Recommended fuse
≤ 10 A
Current supply K-bus
1750 mA
Power contacts
max. 24 V DC/max. 10 A
Electrical isolation
500 V (power contact/supply voltage/fieldbus)
Distance between stations
40 m plastic fiber optic
Weight
approx. 170 g
Operating/storage temperature
0…+55 °C/-25…+85 °C
Relative humidity
95 %, no condensation
Vibration/shock resistance
conforms to EN 60068-2-6/EN 60068-2-27
EMC immunity/emission
conforms to EN 61000-6-2/EN 61000-6-4
Protect. rating/installation pos.
IP20/variable
Approvals/markings
CE, UL, ATEX, IECEx
Ex marking
ATEX: II 3 G Ex ec IIC T4 Gc
IECEx: Ex ec IIC T4 Gc
Housing data
BKxxxx, BCxxxx
Design form
compact terminal housing with signal LEDs
Material
polycarbonate
Dimensions (W x H x D)
51 mm x 100 mm x 69 mm
Installation
on 35 mm DIN rail, conforming to EN 60715 with lock
Side by side mounting by means of
double slot and key connection
Marking
labeling of the BZxxx series
Wiring
solid conductor (s), flexible conductor (st) and ferrule (f): spring actuation by screwdriver
Connection cross-section
s*: 0.08…2.5 mm²,
st*: 0.08…2.5 mm²,
f*: 0.14…1.5 mm²
Stripping length
8…9 mm
Current load power contacts
Imax: 10 A
*s: solid wire; st: stranded wire; f: with ferrule