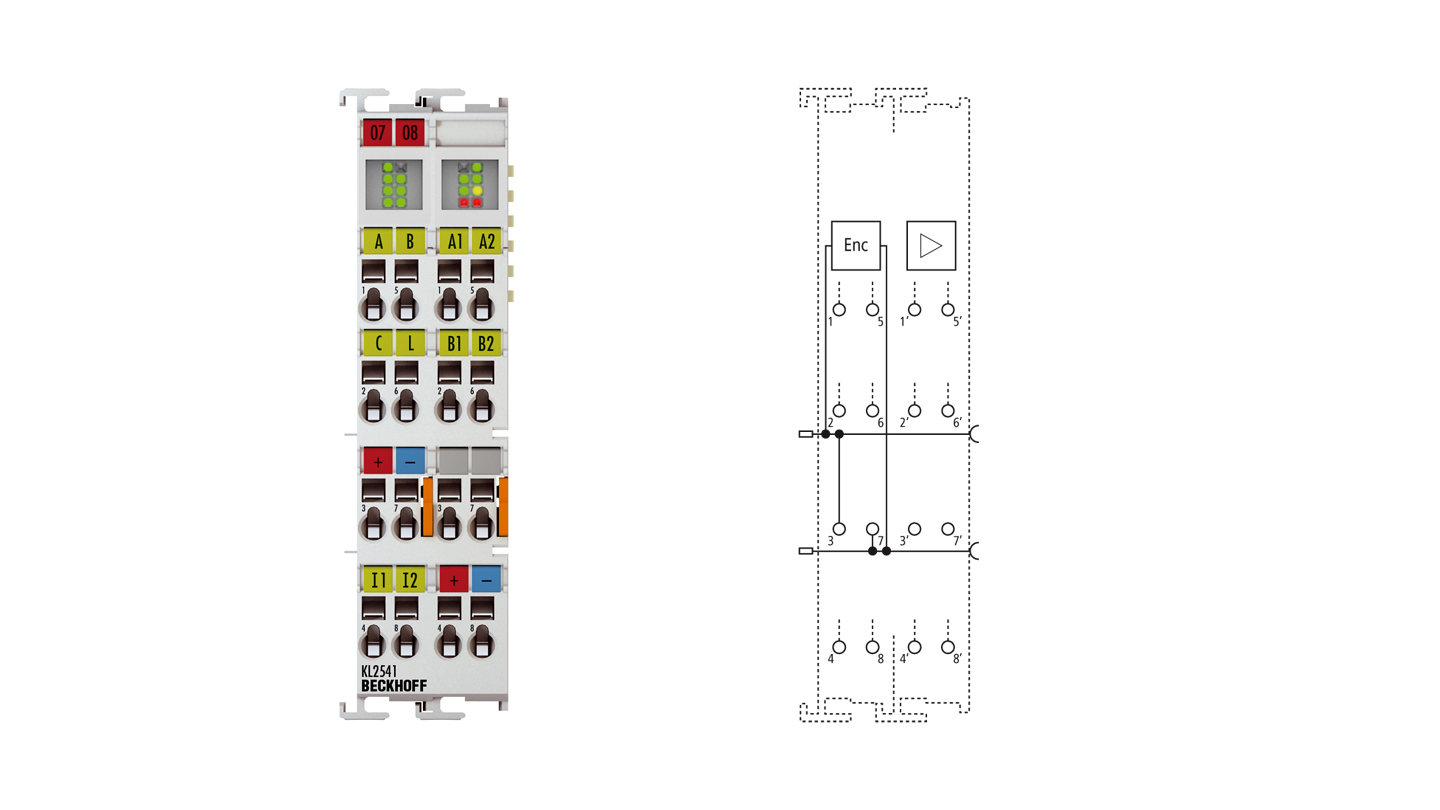 Run LED

A, B

C, Latch

E1, E2

Power

Turn CW, CCW

Enable, Stall det.

Error A, B

Power contact
+24 V

Power contact 0 V

A, B

C, Latch

Sensor supply

E1, E2

A1, A2

B1, B2


Motor supply
48 V, 0 V
Top view
Contact assembly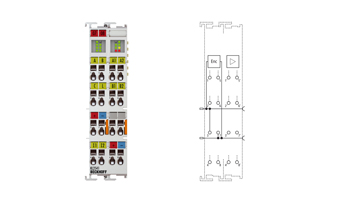 KL2541 | Bus Terminal, 1-channel motion interface, stepper motor, 48 V DC, 5 A, with incremental encoder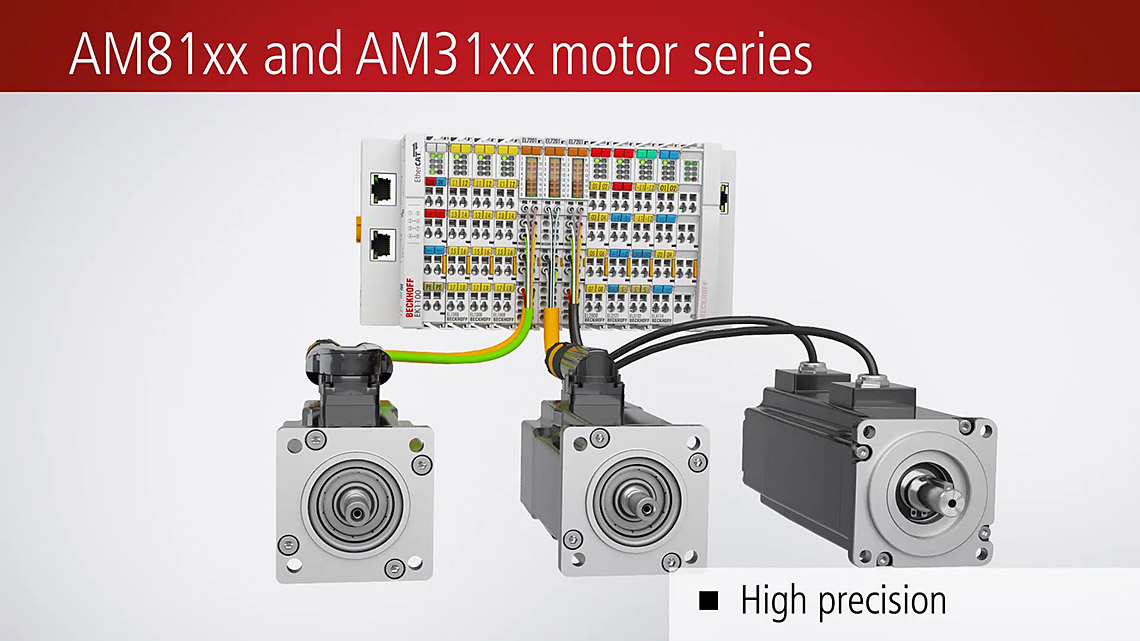 Compact Drive Technology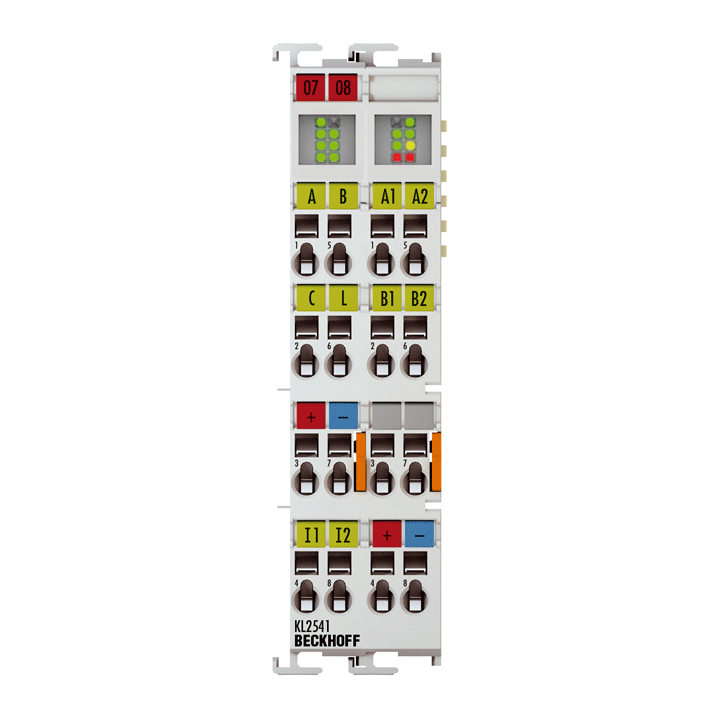 The KL2541 Bus Terminal is intended for stepper motors with medium performance range. The PWM output stages cover a wide range of voltages and currents. Together with two inputs for limit switches, they are located in the Bus Terminal. The stepper motor terminal KL2541 can be adjusted to the motor and the application by changing just a few parameters. 64-fold micro stepping ensures particularly quiet and precise motor operation. Together with a stepper motor, the KL2541 represents an inexpensive small servo axis.
Product information
Technical data
KL2541
KL2541-0006
Technology
compact drive technology
Number of channels
1
Number of outputs
1 x stepper motor, encoder input
Number of inputs
2 x end position, 1 x encoder
Connection technology
direct motor connection
Supply voltage electronics
24 V DC (via power contacts)
Supply voltage power
8…48 V DC (external)
Output current
max. 5.0 A
Encoder supply
24 V DC
5 V DC
Step frequency
max. 125,000 steps/s
Step pattern
full step, half step, up to 64-fold micro stepping
Current controller frequency
approx. 25 kHz
Resolution
approx. 5000 positions in typ. applications (per revolution)
Diagnostics LED
error phase A and B, loss of step/stagnation, power, enable
Encoder input signal
5…24 V DC, typ. 5 mA, single-ended
Input frequency
max. 400,000 increments/s (with 4-fold evaluation)
Current consumption power contacts
typ. 35 mA
Current consumption K-bus
typ. 100 mA
Bit width in the process image
input/output: 2 x 16 bit data + 1 x 8 bit control/status
Special features
travel distance control, encoder input
Electrical isolation
500 V (K-bus/signal voltage)
Weight
approx. 100 g
Operating/storage temperature
0…+55 °C/-25…+85 °C
Relative humidity
95 %, no condensation
Vibration/shock resistance
conforms to EN 60068-2-6/EN 60068-2-27
EMC immunity/emission
conforms to EN 61000-6-2/EN 61000-6-4
Protect. rating/installation pos.
IP20/see documentation
Pluggable wiring
for all KSxxxx Bus Terminals
Approvals/markings
CE, UL
Housing data
KL-24-2x8pin
KS-24-2x8pin
Design form
compact terminal housing with signal LEDs
terminal housing with pluggable wiring level
Material
polycarbonate
Dimensions (W x H x D)
24 mm x 100 mm x 68 mm
Installation
on 35 mm DIN rail, conforming to EN 60715 with lock
Side by side mounting by means of
double slot and key connection
Marking
labeling of the BZxxx series
Wiring
solid conductor (e), flexible conductor (f) and ferrule (a): spring actuation by screwdriver
Connection cross-section
s*: 0.08…2.5 mm²,
st*: 0.08…2.5 mm²,
f*: 0.14…1.5 mm²
s*: 0.08…1.5 mm²,
st*: 0.08…1.5 mm²,
f*: 0.14…1.5 mm²
Connection cross-section AWG
s*: AWG 28…14,
st*: AWG 28…14,
f*: AWG 26…16
s*: AWG 28…16,
st*: AWG 28…16,
f*: AWG 26…16
Stripping length
8…9 mm
Current load power contacts
Imax: 10 A
*s: solid wire; st: stranded wire; f: with ferrule
| Ordering information | |
| --- | --- |
| KL2541 | Bus Terminal, 1-channel motion interface, stepper motor, 48 V DC, 5 A, with incremental encoder |
| KS2541 | Bus Terminal, 1-channel motion interface, stepper motor, 48 V DC, 5 A, with incremental encoder, pluggable wiring |
| KL2541-0006 | Bus Terminal, 1-channel motion interface, stepper motor, 48 V DC, 5 A, with incremental encoder, 5 V DC encoder operating voltage |