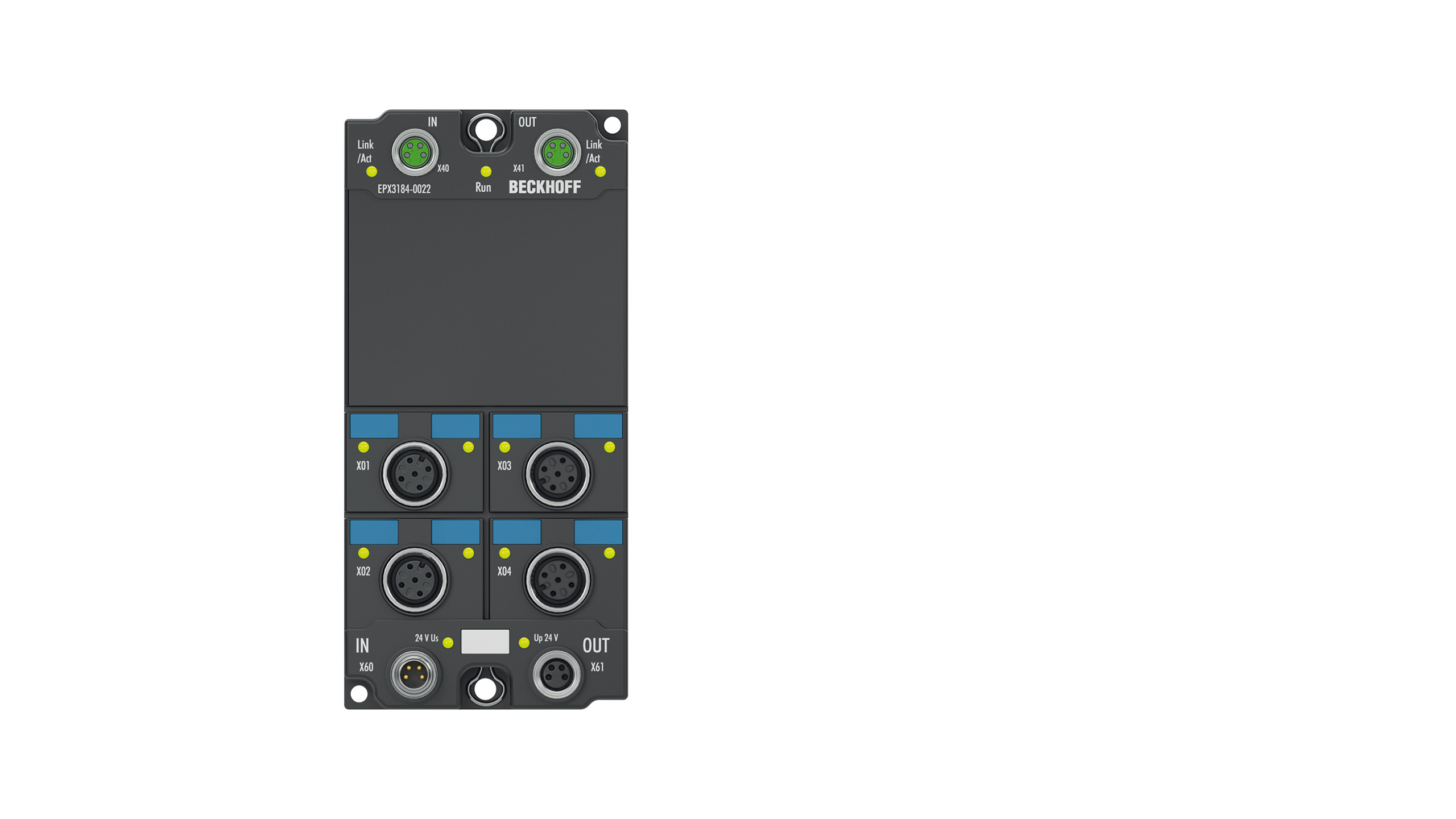 EtherCAT signal input


EtherCAT signal output


M12 I/O connection sockets


Signal status display


Labeling areas
Power supply status display:






Power supply feed


Power supply downstream
connection
Top view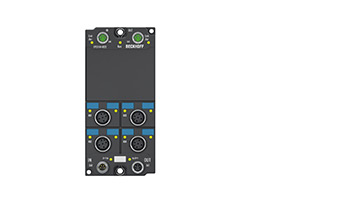 EPX3184-0022 | EtherCAT Box, 4-channel analog input, current, 4…20 mA, 16 bit, single-ended, M12, HART, Ex i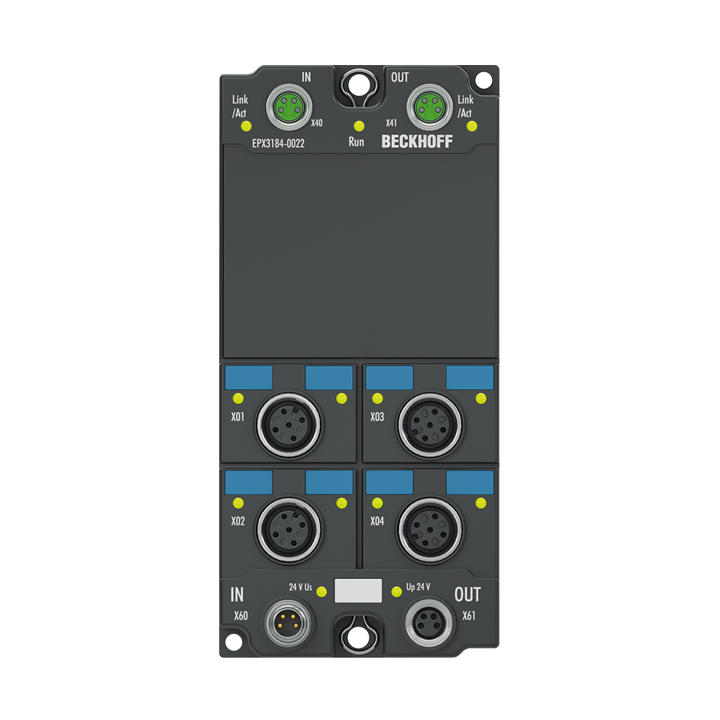 The EPX3184-0022 analog EtherCAT Box allows intrinsically safe HART-capable field devices from hazardous areas of zones 0/20 and 1/21 to be directly connected. It supplies measuring transducers located in the field and transmits their analog measuring signals to the automation device under electrical isolation. The EtherCAT Box indicates the status of the HART communication via LEDs and signals any communication errors.
The HART (Highway Addressable Remote Transducer) protocol enables two-way communication through digital data transfer via the analog 4...20 mA wiring. In this way, further data can be exchanged with the field device via the superimposed digital signal, in addition to the analog current signal.
HART communication can also be used for the FDT/DTM concept. The TwinCAT FDT Container enables field device DTMs to be directly integrated into TwinCAT Engineering. This means that field device configuration and diagnostics are already available in the development environment.
product announcement | estimated market release 4th quarter 2023
Product information
Technical data
EPX3184-0022
Protocol
EtherCAT
Bus interface
2 x M8 socket, shielded, screw type
Specification
HART (version 7)
Number of inputs
4 (single-ended)
Input connections
M12 x 1, 5-pin, a-coded
Connection method
2-wire
Signal current
4…20 mA
Internal resistance
typ. 250 Ω
Resolution
16 bit (incl. sign)
Measurement error/ uncertainty
< ±0.3 % (relative to full scale value)
Conversion time
typ. 1 ms
Input filter limit frequency
16 Hz
Nominal voltage
24 V DC
Distributed clocks
yes
Input filter
configurable
Sensor supply
from load supply voltage U

P

Power supply connection
feed: 1 x M8 male socket, 4-pin; downstream connection: 1 x M8 female socket, 4-pin
Current consumption from U

S

50 mA
Special features
standard and compact process image, activatable FIR/IIR filters, limit value monitoring, NE43 NAMUR
Weight
approx. 250 g
Operating/storage temperature
-25…+70 °C/-40…+85 °C
Vibration/shock resistance
conforms to EN 60068-2-6/EN 60068-2-27
EMC immunity/emission
conforms to EN 61000-6-2/EN 61000-6-4
Protect. rating/installation pos.
IP65/66/67 (conforms to EN 60529)/variable
Approvals/markings
CE, UL, Ex, IECEx (in preparation)
| Housing data | 16 x M8, 8 x M12 |
| --- | --- |
| Dimensions (W x H x D) | 60 mm x 126 mm x 26.5 mm |
| Material | PA6 (polyamide) |
| Installation | 2 fixing holes 3.5 mm diameter for M3; 2 fixing holes 4.5 mm diameter for M4 |