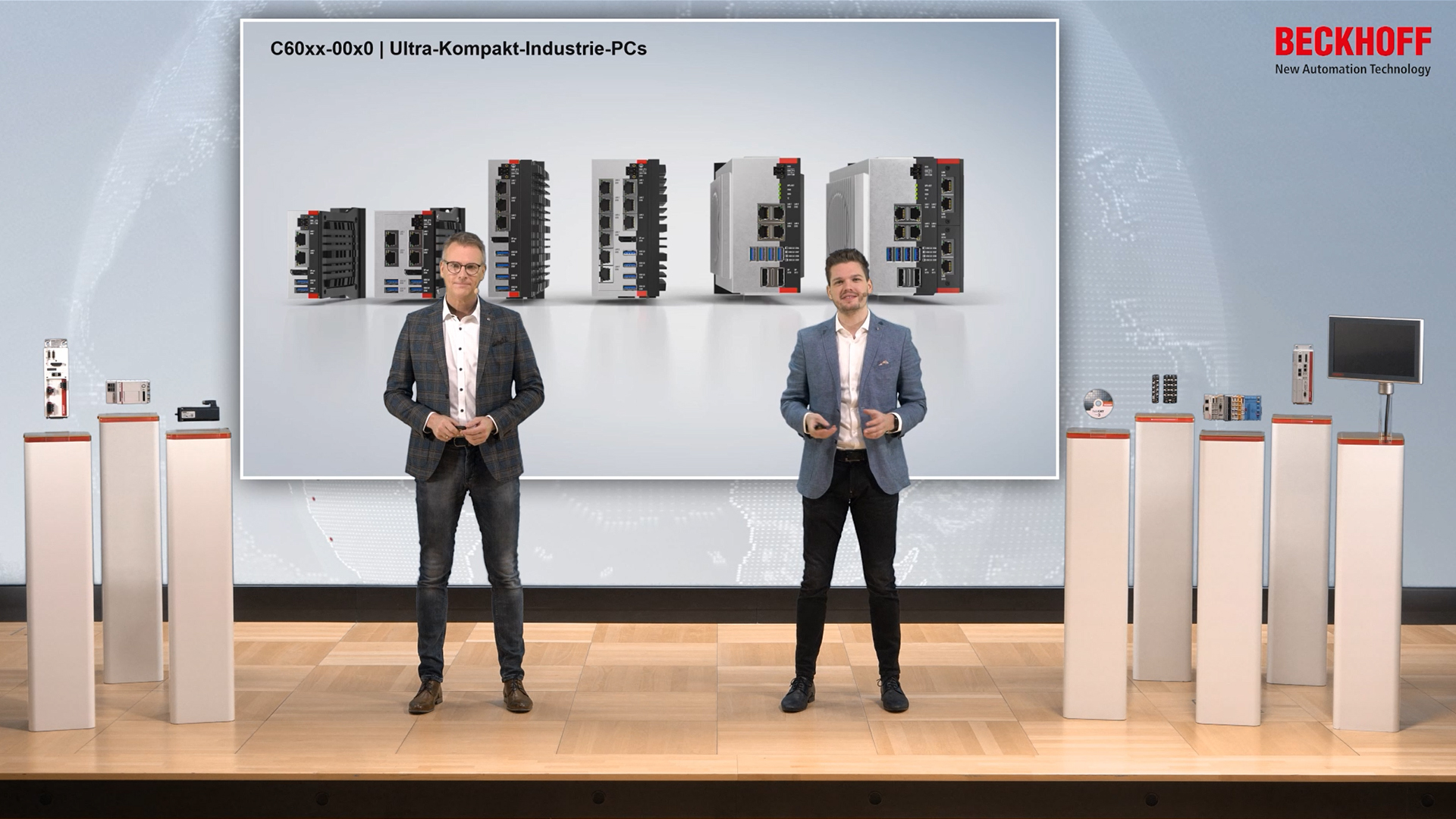 Multi-core capability directly at the machine
Following the current trend, this space-saving IP65 Industrial PC hardware with flexible mounting options is ideally suited for implementing advanced Industrie 4.0 solutions. A wide variety of onboard interfaces enables the networking of machine or plant sections in the cloud or other networks.
Moreover, the integrated EtherCAT P connection offers undreamt-of possibilities for the direct connection of actuators and sensors via EtherCAT P Box modules with IP67 protection. The decentralized solving of complex diagnostic or condition monitoring tasks is thus possible.
Compactness
The Industrial PCs of the C70xx series are among the most compact in their performance class in the Beckhoff portfolio. Thanks to the sophisticated IP65 design the C70xx PCs can be used directly in or at the machine, so that there is no need for a complex control cabinet. This results in space savings of up to 90 % (compare Beckhoff C6640 and C7015).
Due to its small dimensions, the C7015 is also suitable for retrofitting in the field.
Flexible mounting
In addition to its compactness, the C70xx series also offers versatile mounting options for machine or system integration. It goes without saying that this very robust Industrial PC can also be used inside a control cabinet. The connection level can always be freely oriented. The flexible mounting concept, which is integrated ex factory as standard, allows mounting on the narrow rear wall or on the side. Thanks to this flexibility, the C70xx fits into even the smallest space.
Price-optimized
Due to the optimized housing and manufacturing concept, all Industrial PCs from the C70xx series are cost-optimized and are often less expensive in direct comparison with other series in the Beckhoff IPC product area without restrictions in industrial compatibility, quality or durability.
All-in-one motherboard
The basic concept of the C70xx series always includes an all-in-one motherboard. This further increases the robustness and service life of the single-board Industrial PCs. Thanks to extensive on-board interfaces − up to an EtherCAT P connection − countless user scenarios can be realized even when the device is installed in the field, from conventional machine control to advanced Industrie 4.0 solutions when used as an edge device.
Beckhoff is a pioneer in PC-based automation technology and has been developing and producing its own PC hardware since 1986. The technology know-how that has grown over the past decades is incorporated today into all Beckhoff Industrial PCs. Their principle feature is the use of state-of-the-art components and processors of the highest performance class. Combined with a high in-house production depth, including proprietary motherboard production, long-term component availability, extremely flexible configuration, and customer-specific adaptations, Beckhoff presents itself today as one of the world's leading Industrial PC manufacturers.