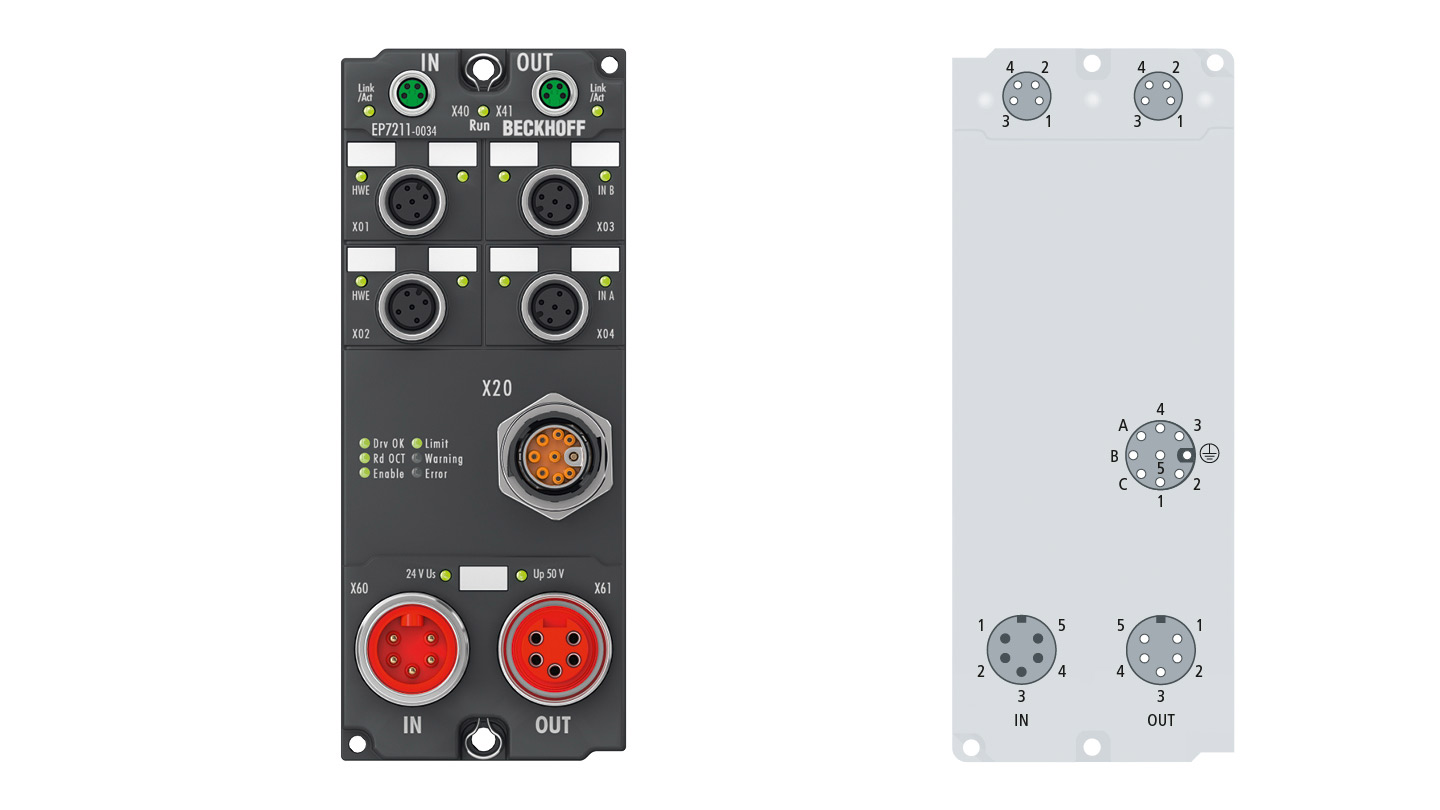 EtherCAT signal input


EtherCAT signal output


M12 HWE connection sockets


Signal status display


M12 I/O connection sockets


OCT motor cable connection socket
Power supply status display:






Power IN


Power OUT
1 | Tx+
2 | Rx+
3 | Rx-
4 | Tx-
A | U
B | W
C | V
1 | +Brake
2 | -Brake
3 | +OCT
4 | -OCT
5 | n.c.
⏚ | FE
1 | GND
P

2 | GND
S

3 | FE
4 | +24 V DC U
S

5 | +50 V DC U
P
Top view
Connector assignment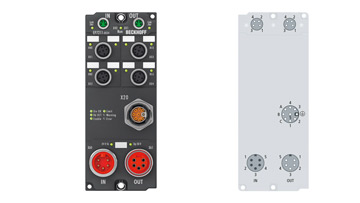 EP7211-0034 | EtherCAT Box, 1-channel motion interface, servomotor, 48 V DC, 4.5 A, OCT, suitable for STO applications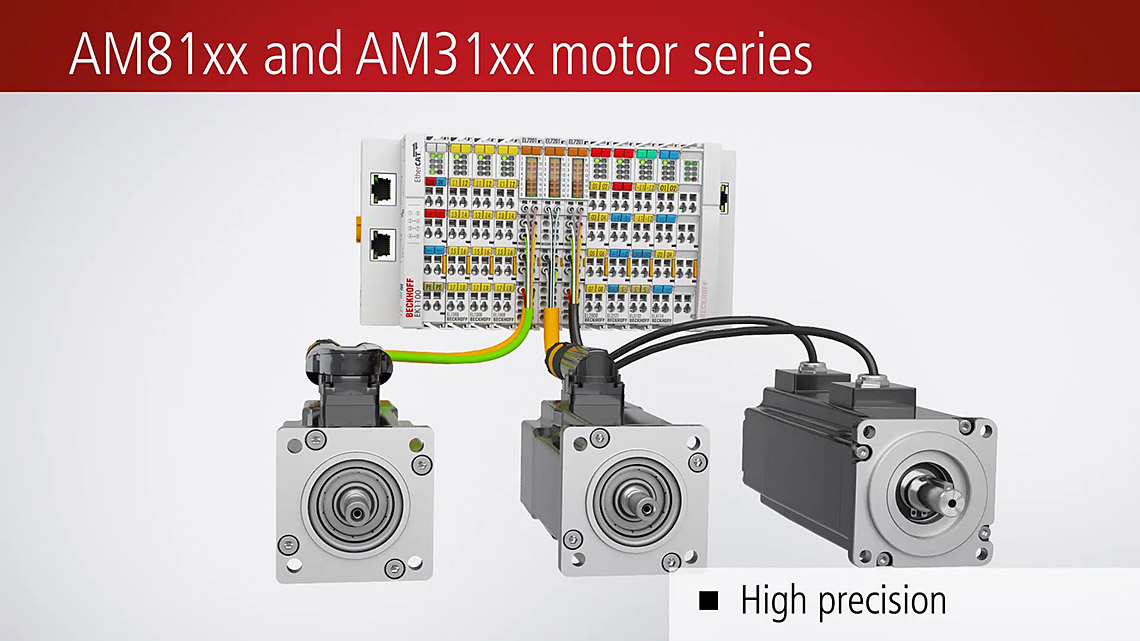 Compact Drive Technology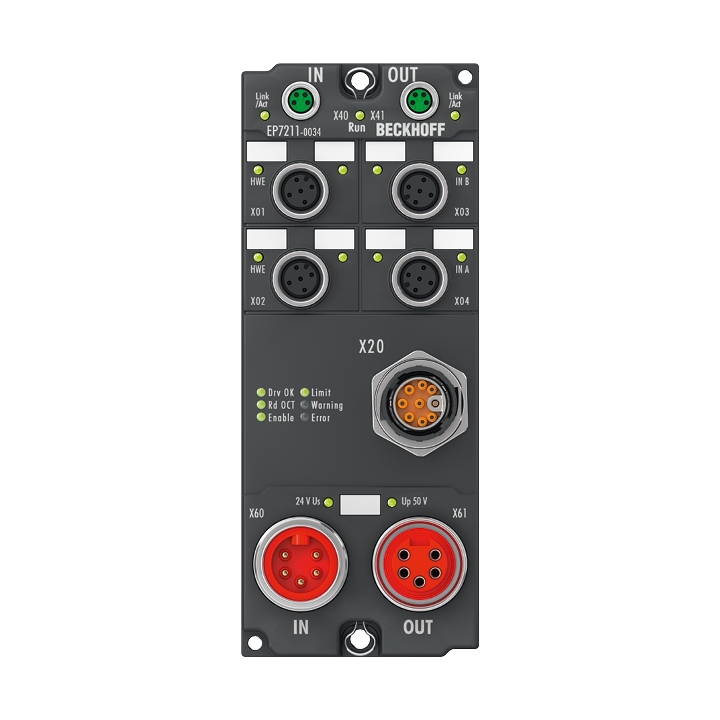 The EP7211-0034 servomotor EtherCAT Box with integrated One Cable Technology (OCT) offers high servo performance in a very compact design for AM8100 series motors with up to 4.5 A (Irms). The One Cable Technology combines motor cable and absolute feedback system in a single cable. The integrated electronic identification plate of the AM81xx motors can be read in automatically by the servo box to configure the motor parameters. In this way, wiring and commissioning requirements are simplified.
The high-performance control technology supports fast and highly dynamic positioning tasks, while numerous monitoring functions offer maximum operational reliability. EtherCAT as a high-performance system communication enables ideal interfacing with PC-based control technology. LEDs indicate status, warning and error messages as well as possibly active limitations. Two integrated digital inputs enable the connection of limit switches.
The STO function according to EN 61800-5-2 can be implemented with the aid of the non-reactive HWE input according to a safety level Cat. 3, PL d according to DIN EN ISO 13849-1:2015 (see document "EP7211-0034 TwinSAFE application example").
Product information
Technical data
EP7211-0034
Protocol
EtherCAT
Bus interface
2 x M8 socket, shielded, screw type
Technology
compact drive technology
Connection method
direct motor connection with OCT
Number of inputs
2 x end position, 1 x feedback, 1 x HWE
Power supply connection
feed: 1 x 7/8" plug, 5-pin; downstream connection: 1 x 7/8" socket, 5-pin
Load type
permanent magnet-excited three-phase synchronous motor
Number of channels
1
Number of outputs
1 x servomotor, 1 x motor brake
Supply voltage power
8…48 V DC (external)
Output current (rms)
4.5 A
Peak current (rms)
max. 9.0 A for 1 s
Rotating field frequency
0…599 Hz
PWM clock frequency
16 kHz
Current controller frequency
32 kHz
Rated speed controller frequency
16 kHz
Output voltage motor brake
24 V DC
Output current motor brake
max. 0.5 A
Current consumption from U

S

120 mA
Distributed clocks
yes
Realization STO
hard-wired via safe output
Special features
compact and system-integrated, absolute feedback, One Cable Technology (OCT), plug and play, STO (Safe Torque Off), preset drive profile MDP 742
Safe stop functions
Safe Torque Off (STO)
Electrical isolation
500 V
Weight
approx. 500 g
Operating/storage temperature
-25…+60 °C/-40…+85 °C
EMC immunity/emission
conforms to EN 61000-6-2/EN 61000-6-4
Vibration/shock resistance
conforms to EN 60068-2-6/EN 60068-2-27
Protect. rating/installation pos.
IP65/66/67 (conforms to EN 60529)/variable
Approvals/markings
CE, UL, TÜV SÜD
| Housing data | 7/8" infeed |
| --- | --- |
| Dimensions (W x H x D) | 60 mm x 150 mm x 26.5 mm |
| Material | PA6 (polyamide) |
| Installation | 2 fixing holes 3.5 mm diameter for M3; 2 fixing holes 4.5 mm diameter for M4 |