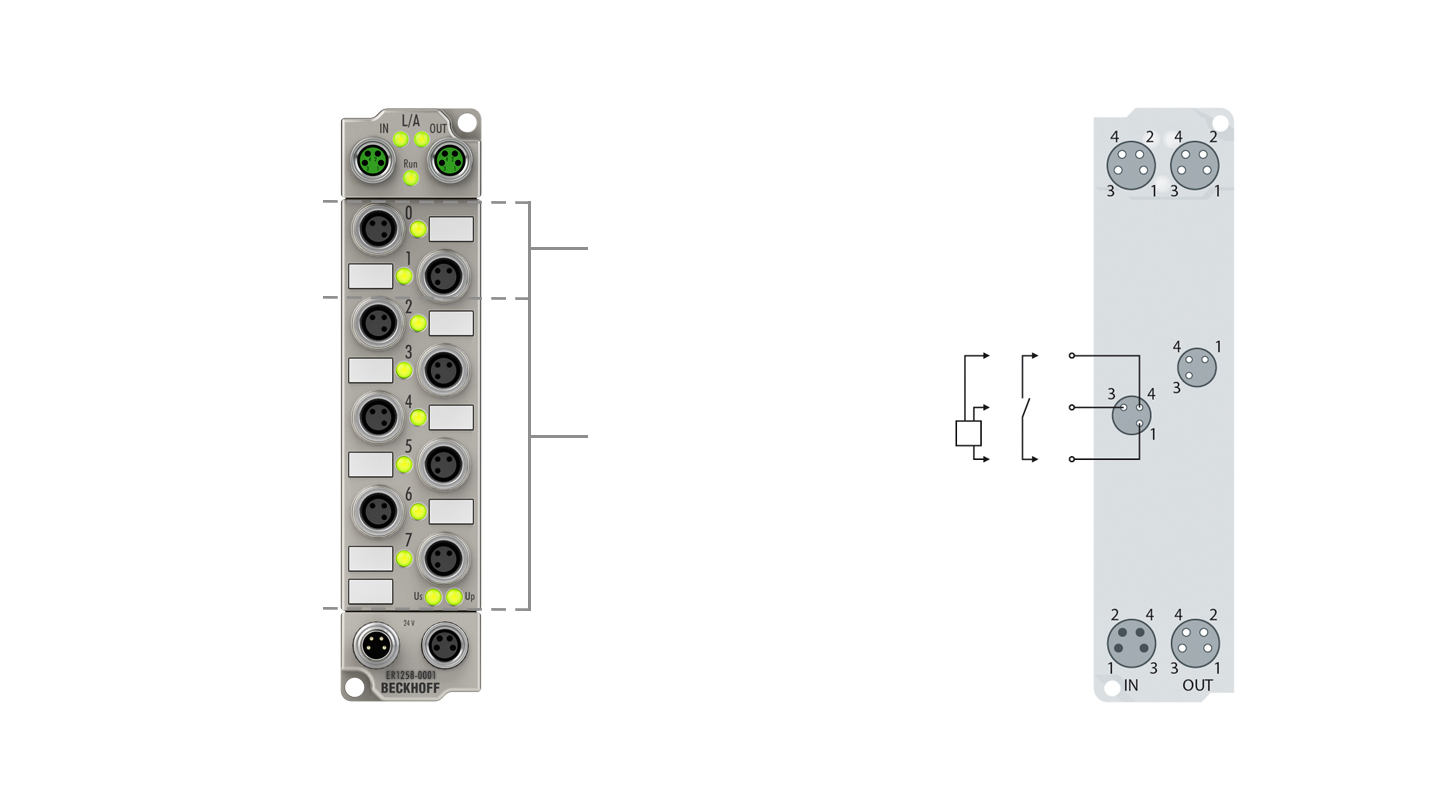 EtherCAT signal input


EtherCAT signal output


M8 I/O connection sockets


Signal status display


Labeling areas
Power supply status display:






Power supply feed


Power supply downstream
connection
1 | Tx+
2 | Rx+
3 | Rx-
4 | Tx-
1 | +24 V DC U
S
3 | GND
4 | Input
1 | +24 V DC U
S
2 | +24 V DC U
P
3 | GND
4 | GND
2-wire
3-wire
Top view
I/O connection
Connector assignment
with time stamp
without time stamp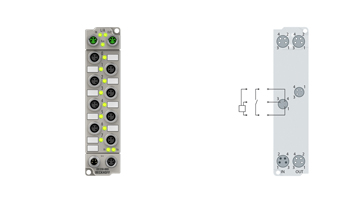 ER1258-0001 | EtherCAT Box, 8-channel digital input, 24 V DC, 1 µs, M8, timestamp, zinc die-cast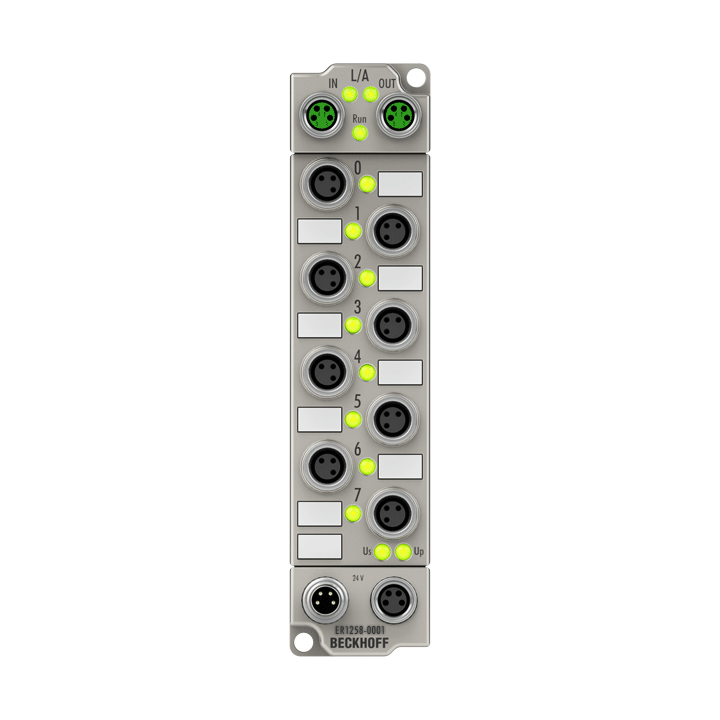 The ER1258-0001 EtherCAT Box with digital inputs acquires the fast binary control signals from the process level and transmits them, in an electrically isolated form, to the controller. The signals are furnished with a timestamp that identifies the time of the last edge change with a resolution of 1 ns. This technology enables signals to be traced exactly over time and synchronized with the distributed clocks across the system. With this technology, machine-wide parallel hardware wiring of digital inputs or encoder signals for synchronization purposes is often no longer required. In this way, the ER1258-0001 enables responses with equidistant time intervals, largely independent of the bus cycle time.
The EtherCAT Box modules with zinc die-cast housing are ready for use in harsh industrial and process environments. With the fully sealed design and metal surfaces the ER series is ideal for applications requiring enhanced load capacity and protection against weld spatter, for example.
Product information
Technical data
ER1258-0001
Protocol
EtherCAT
Bus interface
2 x M8 socket, shielded, screw type
Specification
EN 61131-2, type 1/3
Number of inputs
8, 2 with timestamp
Input connections
M8 x 1, 3-pin, a-coded
Nominal input voltage
24 V DC (-15 %/+20 %)
Input filter
10 µs
"0" signal voltage
-3…+5 V (similar to EN 61131-2, type 3)
"1" signal voltage
11…30 V (similar to EN 61131-2, type 3)
Input current
typ. 3 mA (similar to EN 61131-2, type 3)
Distributed clocks
yes
Sensor supply
from control voltage, max. 0.5 A, short-circuit proof in total
Power supply connection
feed: 1 x M8 male socket, 4-pin; downstream connection: 1 x M8 female socket, 4-pin
Resolution timestamp
1 ns (channel 0/1)
Precision of timestamp
10 ns (+ input delay) (channel 0/1)
Distributed clock precision
< 100 ns (channel 0/1)
Current consumption from U

S

(without sensor current)
120 mA
Electrical isolation
500 V
Special features
timestamp, latch last edge
Weight
approx. 265 g
Operating/storage temperature
-25…+60 °C/-40…+85 °C
Vibration/shock resistance
conforms to EN 60068-2-6/EN 60068-2-27
EMC immunity/emission
conforms to EN 61000-6-2/EN 61000-6-4
Protect. rating/installation pos.
IP65/66/67 (conforms to EN 60529)/variable
Approvals/markings
CE, UL
| Housing data | 8 x M8, 4 x M12 |
| --- | --- |
| Dimensions (W x H x D) | 30 mm x 126 mm x 26.5 mm |
| Material | zinc die-cast |
| Installation | 2 fixing holes 3.5 mm diameter for M3 |